If you're a hardcore Seiko fan, you probably still don't know this, but you wouldn't need to because you'd already have all the movements memorized by now. I've chosen to post this in the public forum so people who are only somewhat interested in Seikos can see it--if you're a Seiko collector, this doesn't make much sense to read since you should be learning all the movements anyway.
The thing is, Seiko makes dozens upon dozens of different mechanical movements at any given period. Some of these have a very tight lineage (7Sxx, 4Rxx, 6R15) and some don't. A lot of the movements are upgraded to work in the upscale models. Take for instance the 6R15, which was upped to 28k bph, had complications added, received a more decorated rotor and upped the jewel count to 31 for the 6R24 used in some JDM models and the Ananta line.
But there is, at least in the modern era, a single unifying feature of all Seiko movements that were intended, from the inception, to be high-end: the use of the diashock shock absorber. Even the mid-grade movements used in some Anantas (like mine) won't have it. So as far as I can tell, and I've looked at a great number over the years, if you see a modern Seiko with a diashock, you can know instantly that it is a high-end movement. So what does that look like?
Here's the part you need to be concentrating on: either this

(low end) or this
(high end).
This is your standard 6R15 (this is actually the earlier version, the newer one is much nicer but my link to the photo broke). This is Seiko's all around entry level movement, featured in a number of affordable watches. Notice the shock on the cap jewel.
Here's your standard 7S (in this case, with a couple bonus jewels):
Here's the brand new 4R36, the hacking, handwinding successor to the 7S used in the new generation of Seiko 5s and some other models.
Here's the new 4R39, and this one is quite convenient since you don't even have to look at the back.
Here's the 4L25 from the Seiko SARA.
So that constitutes a lot of examples of Seiko's "low end" or entry level movements. There are a ton of variations on those (there are three different 6R15s alone), but that should give you an idea.
The new three movements make up a lot of Seiko's "mid grade" mechanical lineup. The 6R2x line is a pretty big step up from the 6R15 line mostly because of the higher beat rate, which obviously required substantially different design, whereas you can see a very smooth evolution from the 7S to the 6R15. While based on the 6R15, they are so radically revised that they may as well not have been.
This is the more upscale 6R20, which is used in the Seiko Premier and the JDM SARC, and a version of which (the 6R21) is used as the entry level Ananta (the only real difference being the power reserve is upside down in the21).
Now, these next movements are featured in much more expensive watches, starting around $2000, so this is where you may not be sure if you're getting a mid grade or a high end Seiko movement:
Here's my very own 6R24. Unbelievably, this 28k, 31 jewel, retrograde day, retrograde date, 45 + hour power reserve and power reserve complication movement is derived from your ordinary 7S26.
That's the 8R28 featured in the Ananta and Brightz chronographs models (different than the famous Flightmaster movement, which you will see below. Brightz actually makes a chronograph using both their "mid level" automatic chronograph and the nicer Flightmaster chronograph, so it can be a bit confusing. The easiest way to tell them apart actually isn't the diashock, it's that the Flightmaster movement has a power reserve complication on the dial).
So note, just because the movement doesn't feature diashock doesn't mean it's entry level, they are featured in Seikos all the way up until you reach the high end.
Now, as far as I know, Seiko has no specific name for this shock absorber. In fact, some Seiko collectors refer to all Seiko shock absorbers as diashock. The name doesn't matter: you just need to be able to differentiate the appearance. In fact, it seems like Seiko itself refers to all of them as Diashock, because if you notice, this SARB has diashock written proudly on the dial:
but inside is an ordinary 6R15:
Now, for high end movements:
You can see the famous "flower" design of the diashock on this Grand Seiko.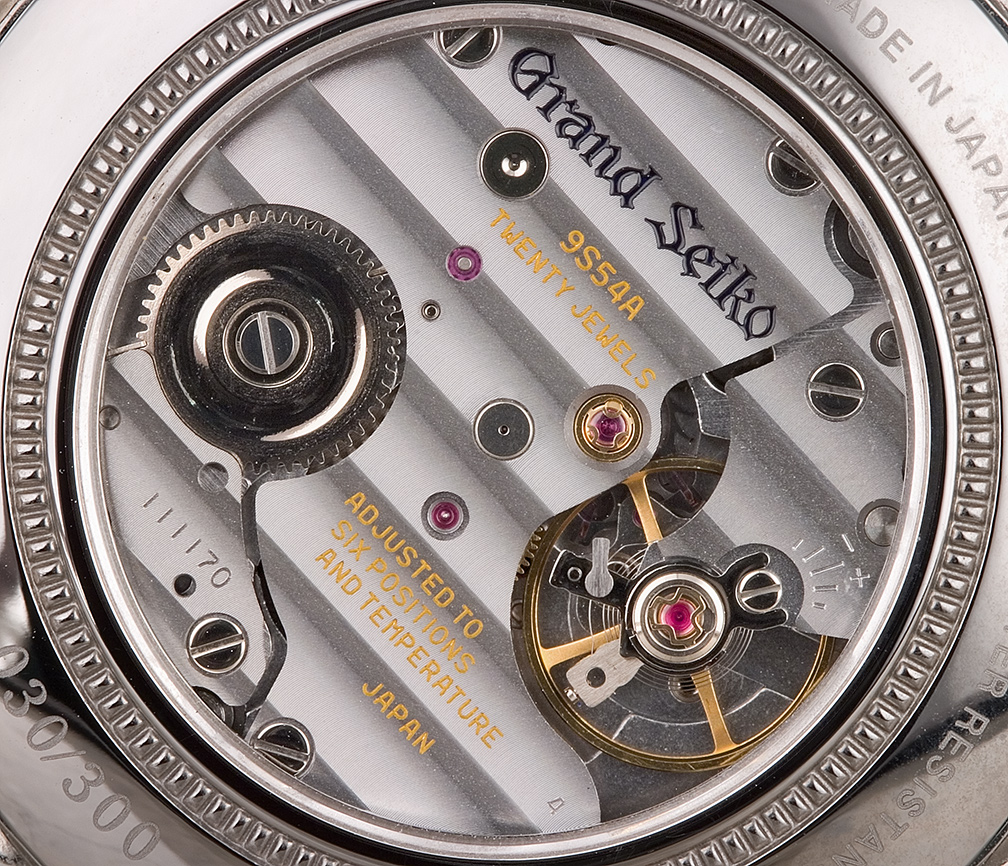 Of course, everyone knows you're going to get a high end movement in the Grand Seiko. You don't need a trick for that. Let's look at lesser known movements.
Unless you're a hardcore Seiko fan, a really hardcore one, you'll have no idea this movement even existed. It was featured in some Credors and the SARN, never in America. The 4S36:
It's so esoteric I couldn't even find a good photo of it. But the point is, you may never have seen this watch before, but just with one glance at the movement, you can see the Diashock and know its place in the line of movements.
With this Seiko SARL, you don't even have to look at the back:
The Seiko 8L35, which is actually a GS 9S cal. undecorated and unadjusted version of the old 9S55 from the first modern Grand Seiko: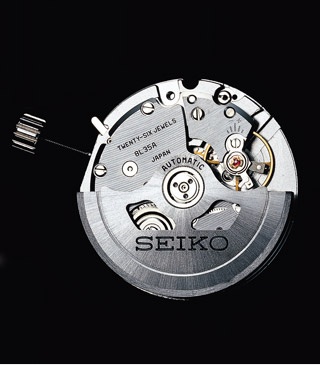 A nice close up:
A Credor with a 6S:
The famous 6S37 chronograph (note the different shock absorber than the 8R28):
And for those that claim it's not finished as well as a certain Swiss adopter:
The thinner Credor version.
Conclusion: Entry level and mid-grade Seiko movements apparently
always
use their other shock absorber, at least on "modern" Seikos (since the 90s) and high-end movements appear to always use the diashock. Now without learning the dozens of different mechanical movements that Seiko makes at any different time, you can immediately identify where Seiko internally thinks these movements should be ranked. Sometimes you get lucky and a high-end gets dropped into a non-prestige Seiko, like the SARN (originally made for a Credor). Other times you may think you're getting a high-end movement, but really you're getting a midgrade, like the mechanical Anantas (not that they don't perform very well, but they're not fully adjusted).
Recap:
High end
Everything else (again, not just low end, but low and middle-grade)
Edit: Now with bonus content. Take a look at this primitive version in an ancient Seikosha (the first name of Seiko, if you exclude the founder's name itself):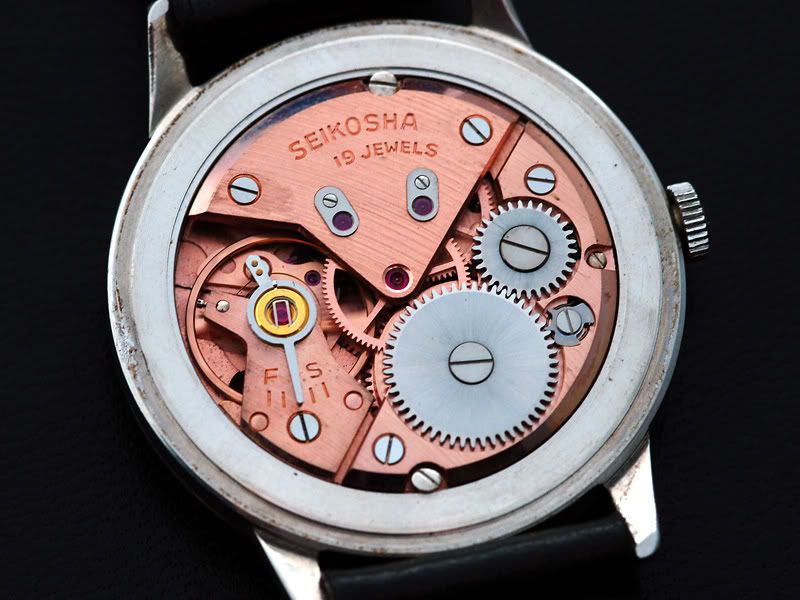 And now, a current generation Diashock: