Discussion Starter
•
#1
•
Looking through an auction site I saw this: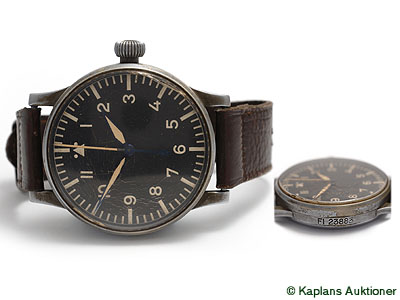 link to the auction page:
http://www.kaplans.se/Auctions/Auction/SelectedAuctionGoods.aspx?SearchType=4&AuktID=1316&VaruTypID=3&VaruSortID=1&Auktnr=0&Varunr=0&SokOrd1=&SokOrd2=&SokOrd3=&MinPris=0&MaxPris=0
I hope its ok i post this, i thought it might be in general interest to Stowa fans. I am not affiliated with the linked site in any way.
the info says:
"STOWA, Walter Storz, Pforzheim, B-Uhr, Pilotur, 55 mm, Cal Unitas 2812, Serie nr. 6224, Ref nr. 127, Boett nr. Fl 23883, vitmetall, manuell, plexiglas, defekt (kronhjul skadat) skadad urtavla (9/10), skadad boett, läderband, ca 1941."
Would make a great present for a pilot maybe