Although it may sound easy, it's really not. The concept of Sinn Spezialuhren in Frankfurt was - and still is - to create watches with a superb price-quality ratio, watches that offer functionality and perfect readability over form and last but not least, using direct sales channels and as little marketing as possible to keep the price as interesting as possible.
How can a brand sell without a proper marketing machine? How will they attract customers with watches that are mainly about functionality and technical solutions?
During the last 50 years, Sinn Spezialuhren accomplished all of the above by mouth-to-mouth advertisement, getting a lot of credits in watch magazines and - since 10-15 years - on the various forums like the ones here on Watchuseek.
Sinn was founded in 1961 by Helmut Sinn in Frankfurt am Main in (then West-)Germany. Helmut Sinn, a former pilot himself had a mission to design and manufacture pilot's watches according to the guidelines described above. Furthermore, Sinn created board instruments for aircrafts such as the Boeing 727, Tornado jet and the Condor.
Perhaps the best example of Sinn's mouth-to-mouth and advertising achievements was the use of a Sinn model 140 S by astronaut Reinhard Furrer in 1985 during the Spacelab-Mission D1. It was the first time that a watch with an automatic movement (Lemania 5100) was used in a zero gravity environment. Reinhard (and Sinn) proofed that an automatic watch could be used in such an environment, by taking it on board and using it in zero gravity. Even today there are still some watch fans who think that the rotor will not work properly in zero gravity, Reinhard Furrer and Sinn clarified the contrary already in 1985.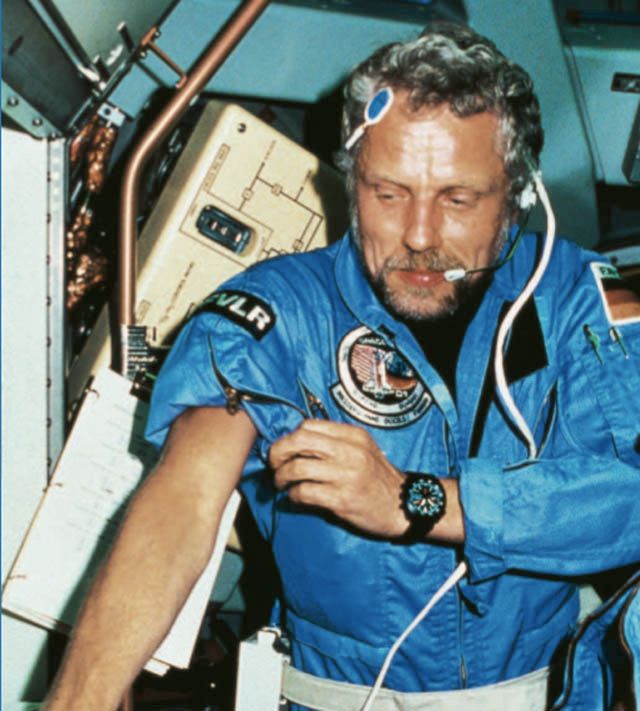 Based on this model 140 S watch with Lemania 5100 movement, Sinn created the 142 model. In 1992, two astronauts (R. Ewald and K. Flade) brought the 142 S model with them during the joint Russian - German MIR-92 space mission. The S stands for Schwartz, which means black in German. Astronauts were therefore probably one of the first that set the trend of these black watches.
Although Reinhard Furrer had an Omega Speedmaster Professional as well (source: M. Ockels, son of W.Ockels, friend and fellow astronaut of Reinhard Furrer), he chose to bring his Sinn watch. Unfortunately, Reinhard Furrer died during an air show in 1995.
Sinn still has the 142 in the collection, although it is a 'Mark II' of the original 142 model as Lemania terminated the production of their famous 5100 caliber. The current 142.II uses an ETA 2892-A2 movement with chronograph module by Dubois-Depraz.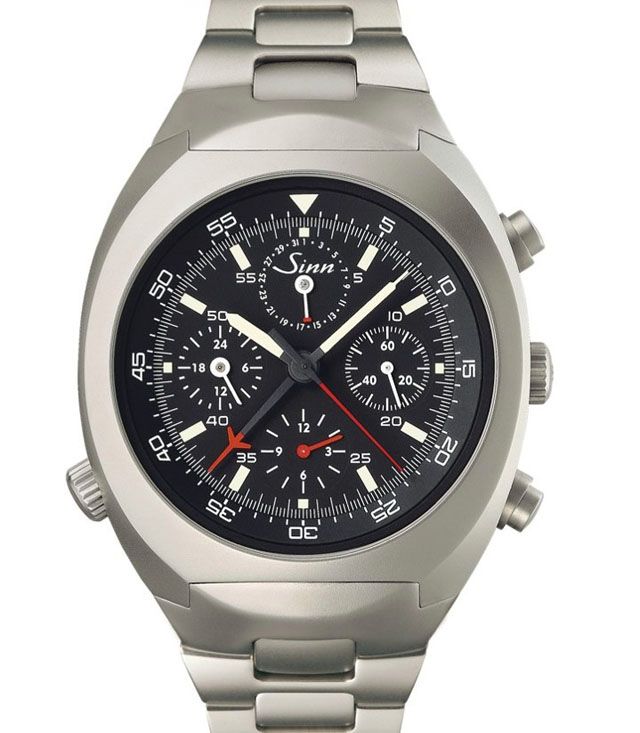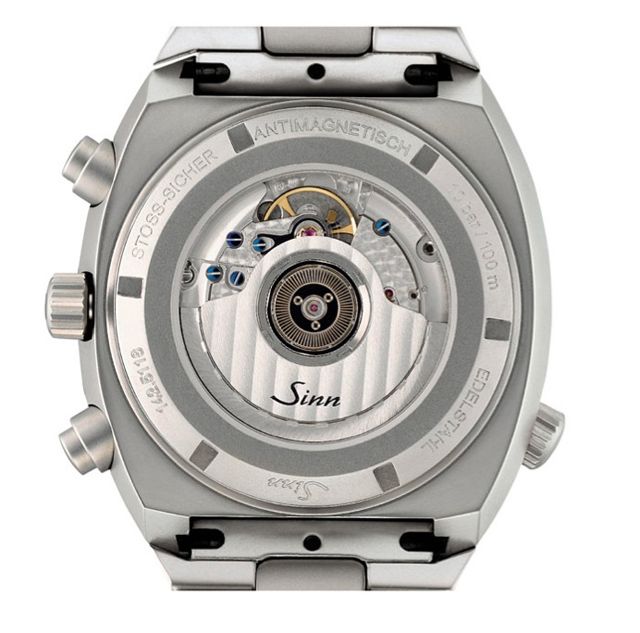 Fast forward to 1993, Sinn works together with designer Bruno Belamich who introduces a 'Bell & Ross by Sinn' line of watches in 1994 to conquer the French and US markets (amongst others). This joint venture lasted till the end of 2001. It was a great opportunity for a starting watch designer like Bruno Belamich to create watches based on an existing and successful formula and a great opportunity for Sinn to get some exposure outside the countries in which they already had representatives/agencies. Every once in a while we see some questions pop up here on Watchuseek about the history of Bell & Ross and Sinn. Now you know.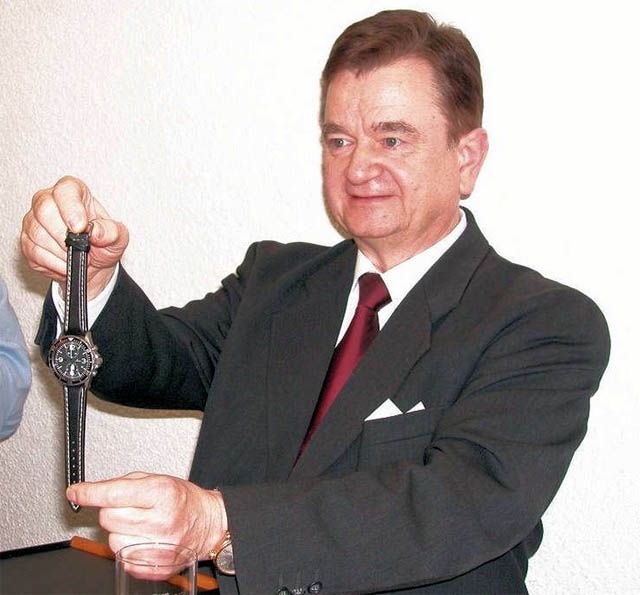 Photo taken by Ron Engels​
In 1994, Helmut Sinn (then aged 78) sold his company to Lothar Smidt, who currently still owns Sinn Spezialuhren. Lothar Schmidt brings Sinn to the next level with his technology driven ambitions for this watch brand from Frankfurt am Main. Lothar Schmidt previously worked for IWC Schaffhausen throughout the whole 1980s and first half of the 1990s. In his last period at IWC, he helped with the re-birth of A.Lange & Sohne, then a subsidiary of IWC.
You could say that in 1994, a new era begun for Sinn Spezialuhren. With Lothar Schmidt's engineering background, the technical solutions that Sinn develops over the coming years are simply overwhelming.
The most significant Sinn developments from 1994 till now are:
- Ar-Dehumidifying Technology
- Captive Safety Beze
- DIAPAL Technology
- HYDRO Technology
- Magnetic Field Protection
- TEGIMENT Technology
- Temperature Resistance Technology
Having some or a number of these inventions embedded in a wrist watch, does not necessarily mean you will have to make design concessions that turn out badly. Some of the inventions are solutions that will help keeping your watch in a good shape, such as the Tegiment technology for instance. This Tegiment treatment will harden the surface of the stainless steel from 220 Vickers to 1200 Vickers to ensure an effective protection from scratches and damaging the watchcase.
You probably know that Sinn is using third party movements for most of their watches. However, with the use of Ar-Dehumidifying and Diapal technology they DO implement their own technical solutions to existing movements. With the mentioned technologies, Sinn is able to prevent oil from aging and keeping friction of parts as low as possible, due to the use of materials that will perfectly work together without lubrication. This also enhances the accuracy of the watch and lever escapement.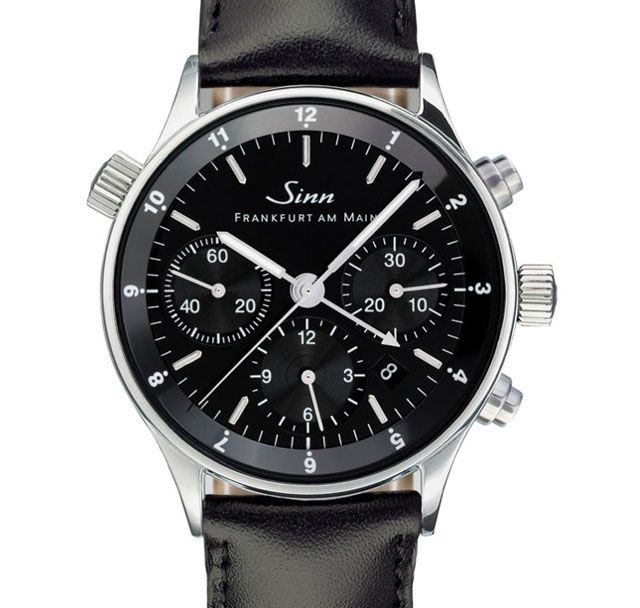 Besides chronographs, diver's watches, special purpose watches (EZM) and navigation clocks, Sinn also introduces the Finanzplatz (Frankfurt's financial district) watches in 1999. These watches have a classic appearance that will perfectly match the pin stripe suit and black monk straps. Furthermore, to keep the functionality-spirit alive, these watches are equipped with an extra time zone, chronograph and/or alarm. These Finanzplatz watches are available from stainless steel to platinum to fulfill the needs of a banker.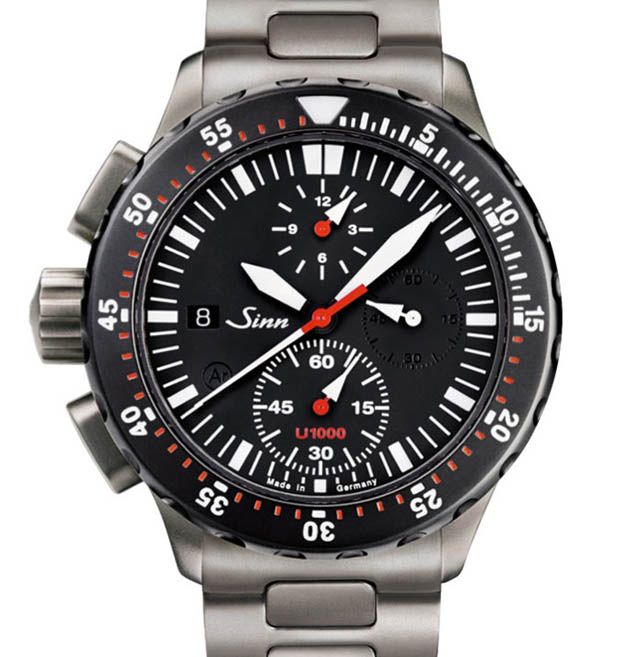 With the U-models, Sinn has shown that they are perfectly capable of manufacturing professional diving watches with the latest technology. Whether it is the use of silicon straps, real U-boat (submariner) steel for casing, Tegiment treatment, chronograph movements, water resistance certification by Lloyd Germany or all these elements in one watch, Sinn's diver watches are useable for professional purposes in any case. Some of the U-models are dubbed EZM (EinsatzZeitmesser), which translates freely into a 'special purposes' watch. Besides diving watches, Sinn introduced the EZM7 for the use by firemen. With this particular model, this watch enables the wearer to keep track of time allowed (using the fireman protection gear) in a space that is filled with gasses.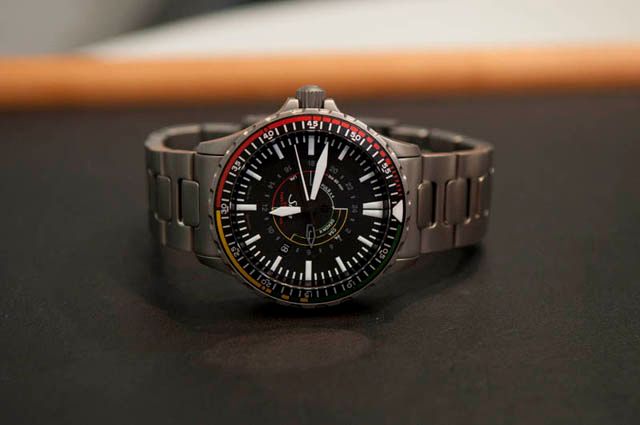 We could go on for hours to highlight Sinn's career in watches since 1961, but we think you got the idea. We do suggest to take a look at the official Sinn website, that is not only a great source on their timepieces, but also on the technologies invented and implemented by Sinn.
In 2011, to celebrate their 50th Anniversary, Sinn introduced the 358 Anniversary Chronograph, based or derived from their famous 356 Flieger chronograph watch.
With only 500 pieces, we are sure that they will be sold out quickly, as the specifications of this Sinn 358 are as impressive as its looks. This 358 model is a very readable chronograph with a case diameter of 42mm and a height of 15.5mm. Both front and back of the watch are covered by sapphire crystals, enabling the wearer to take it off and admire the Sinn SZ05 movement. This movement is based on the famous and proven Valjoux 7750 movement, but certainly isn't! The sub dials are better positioned on the dial due to specially developed movement for Sinn. Also, it only features 2 registers instead of 3 of the 356 Flieger chronograph.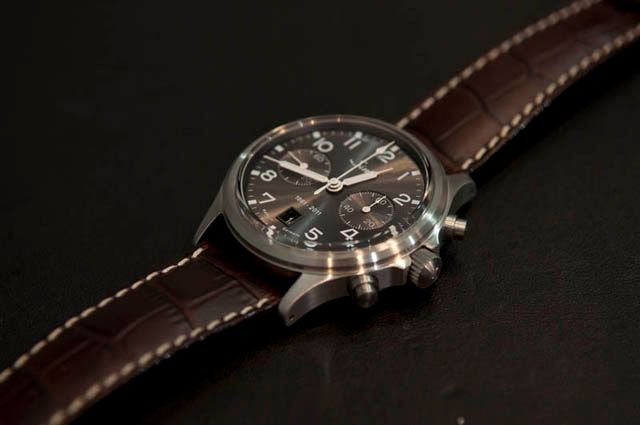 Sinn made sure that this watch has been certified according to all kinds of DIN standards, like the DIN 8310 for water resistance, DIN 8308 for shock resistance and anti-magnetic according to the DIN 8309 standard.
During our visit to BaselWorld I had the pleasure to meet with Mrs Richter of Sinn Spezialuhren and she let me try the Sinn 358 Anniversary model.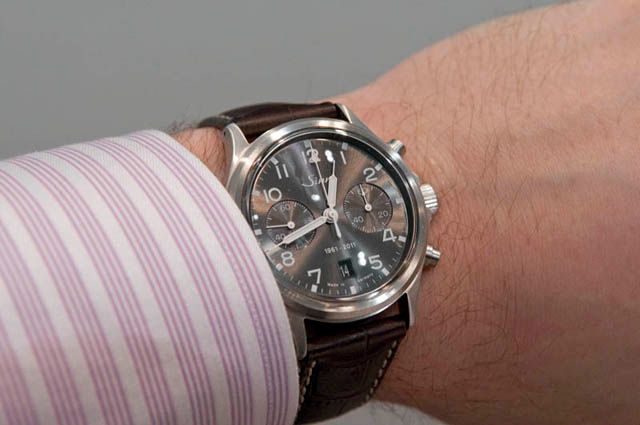 The charcoal grey electroplated dial looks amazing, especially with the brown leather cowhide strap. However, this watch also looks great on the stainless steel satinized bracelet.
Prices for the Sinn 358 are:
1.950,- Euro on a leather strap
1.990,- Euro on a silicon strap
2.175,- Euro on a stainless steel bracelet
We hope you liked our modest coverage on 50 Years of Sinn and if you were not introduced to Sinn Spezialuhren already, to have so now.
Robert-Jan Broer
(Editor for Watchuseek)