You may recall I posted some photos of my recently acquired pre-Moon 145.022 with an unusual
bezel a while ago. No-one on here
could shed any light on it and so I decided to ask the Omega Museum.
​
I've posted the reply below:
​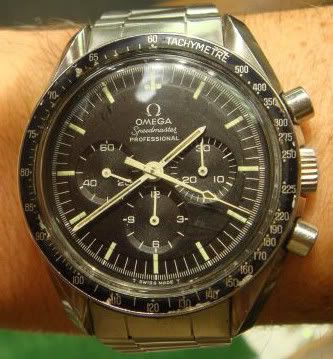 Your Omega Speedmaster chronograph - with movement # 26'5XX'XXX - has been manufactured under the reference ST 145.022 - cal. 861 and delivered to our Agents in South Africa on June 23, 1969.
​
We have compared all documents in our possession with the submitted photos and could not find any bezel having the number " 220 " following the
" 190 " instead of the normal number " 200 ". Basically, a number 220 is too close of the number 190 and should clearly stand as " 200 "
​
Strange enough, we had indeed found the identical watch reference ST 145.0022 - cal. 861 under Lot 211 of the ALASKA PROJECT sold on recent Omegamania and having the identical bezel, i.e. showing the number 220 instead of number 200! However, these "Alaska Project" watches were supposed to be some "prototypes" -
​
We cannot find a suitable explanation for this and if you wish to have this "strange" bezel exchanged for a correct new one with the number "200" following the number "190", then we might do this at no charge for you. ​
Thanking you for having brought this is to our knowledge.
​
Best regards
John R. Diethelm
OMEGA
MUSEUM
- Vintage Information
​
So the watch was shipped to SA a month before the moon landings and even Omega don't have an explanation as to the '220 Bezel'. I think we'll chalk this one up as 'unsolvable'...! Nice to find out the watches provenance though; the Museum staff were very helpful despite their huge workload.
​
Cheers and have a
good Easter!
​