2nd Samson watch arrives
Hello all! My second Samson Watch arrived today and I'm quite impressed. I'll give my initial impressions, however please keep in mind I'm a newbie to this watch bidness. I'm sure I will leave out some info so feel free to post questions and I'll do my best to provide answers. I also just noticed that, in my excitement, I left fingerprints all over the watch in my pics!!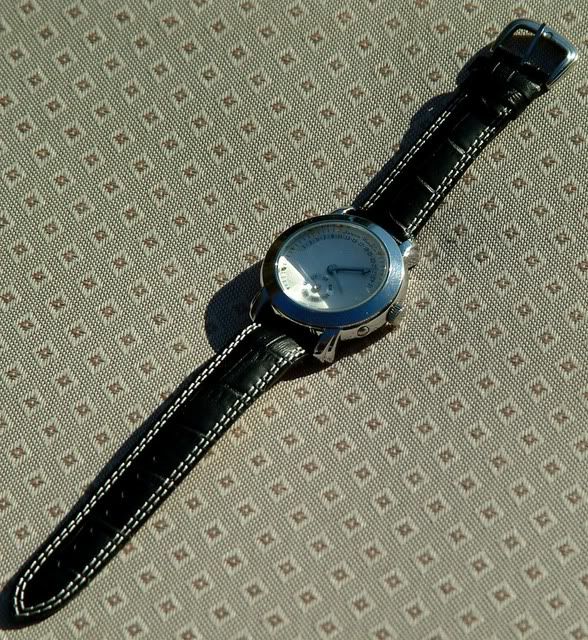 The watch case measures approx 43 mm across, not including the crown. Lug to lug distance is 50 mm. I don't have a way to measure the weight of the watch, however this is a heavy, substantiative watch. Very solid feeling. A lightly domed saphire crystal covers the face and it has an exhibition back showing the automatic movement. If I remember correctly it is water resistant to 5atm.
The face is lovely and elegant in my oh so humble 'pinion. My pictures don't do the watch justice, as you can just barely see the textured pattern. Samson calls this a "Jump Date Watch". Small sub at the bottom shows day of the week and the arched dial/pointer hand show the date. After the 31st the long pointer hand sweeps back to the 1st. Day and date are advanced with recessed pushers. The watch has no second hand which will take some getting used to. Each hour is marked by a gold index, subtle and yet very visible at the same time.
The watch is about 12 mm thick, not so bulky as to really get in the way but it definitely has wrist presence. It came with fairly nice black leather straps with white contrasting stitching. I'll probably be replacing these with something a little nicer though. Lugs measure 20 mm, which really opens up my strap possibilities.
The watch apears to be fairly accurate in the short time that I've had it on, of course without a second hand I can't tell if I'm plus/minus seconds. That's okay with me, I'm not an accuracy nut. I purchased this beauty from ChakSam on Ebay. Here's the link to the auction in case you're curious.
http://cgi.ebay.com/ws/eBayISAPI.dll?ViewItem&rd=1&item=280160925033&ssPageName=STRK:MEWN:IT&ih=018
Just under 78.00USD shipped to my door. Shipping time was about two weeks from Hong Kong. The watch looks and feels like a much more expensive piece! And just to finish up, here are a couple of obligatory wrist shots. (I really need a macro lens!!)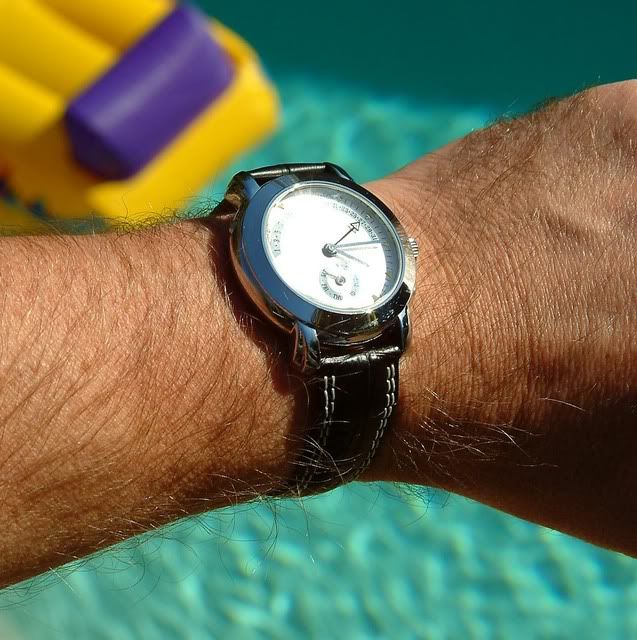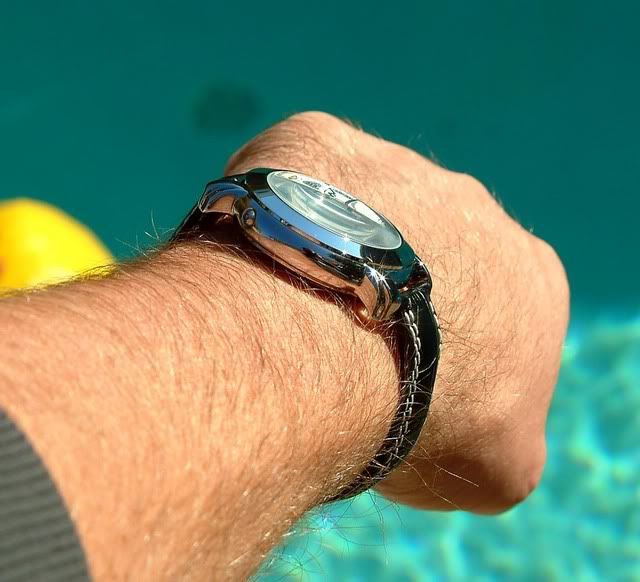 Thanks for looking!