I received a production sample of the new ISOfrane strap two weeks ago and have been wearing it around the clock since then. I haven't dived it, but it's been wet and sweaty and stretched and otherwise treated...like any other rubber strap I own, i.e. rough.
I'll kick this off by repeating Ty's publishing of the specs as supplied by ISOfrane:
Length (buckle half, springbar hole to screwbar hole at buckle): 76mm
Length (buckle half, overall, from springbar hole to end of buckle: 96mm
Length (long half, springbar hole to tip): 132mm
Thickness at lug: 5.5mm
Thickness at end: 3.7mm
Width at lug: 24mm (22mm and 20mm coming in the next few months)
Width at buckle end: 22mm
Country of origin for straps: Italy
Country of origin for buckles: Germany
Color: Black (with blue and orange planned for the future)
My calipers are down for the moment, so I did not measure the strap myself. However as you'll see below, comparative photos are helpful in showing what it looks like relative to some more familiar straps.
Up front I'll state that the vintage isofrane strap as came with the 70s Ploprof is my favorite waterproof strap of all time. It's comfortable, looks good, comes in colors and is reasonably durable. It's as close to 'no strap' (straight wire with gain for you audiophiles) as I've worn. Of course, not many have survived since the 70s and when you can find them these days they are very expensive. I've seen colored isofranes listed for close to 1k USD :think: There are a couple of unique things about the design that make it extremely comfortable. First, the number of fenestrations (holes) in the strap make it wear cool in hot weather, always an issue with rubber. Second, the wide tang and matching slots give the strap a longitudinal flexibility that allows the strap to stretch to accommodate movement, wrist size changes due to heat, etc. It's the rarity and price of those vintage straps that contributes to the warm welcome and anticipation of the new version from ISOfrane.
For the comparative photos below, I used the following 'code' to ID the straps for those folks who may not be familiar with them. All except the vintage isofrane are readily available from their manufacturer. As a dive watch collector, I have to say that I think we're lucky to have such a selection of isofrane-styled straps across such a wide price range available to us.
O7 PU
= Ocean7 PolyUrethane strap, aka 'Oceanfrane'
Omega24/PO Rubber
= 24mm Omega rubber, the modern Ploprof service strap
VI
= Vintage isofrane
Isofrane
= ISOfrane strap from the modern company, subsidiary of Synchron Group
TF
= Time Factors polyurethane
O7 Si
= Ocean7 silicone strap, the one that came on the LM-1 originally (still available on the site), aka 'Floppyfrane'
The straps in this first photo are positioned in order of 'stretchiness', with the stiffest straps on the left and the floppiest straps on the right. IME, design and flexibility of a strap are key characteristics in determining how comfortable a strap will be for long term wear. Stiff straps can be uncomfortable, obviously. However, there is a limit: a very flexible strap mated to a heavy head can give you a sense of impending watch doom with rapid movements or in a current/waves.
Stretchiness was evaluated using the highly scientific method of me pulling on both both ends of the strap at once with an amount of force inversely proportional to both the cost of the strap and directly proportional to the amount of beer I'd been drinking. The amount of lengthening of the strap was similarly scientifically judged and stratified into: not much at all, somewhat, and jeez I thought I was gonna break it!
Note the bottom lug holes are roughly aligned to show the relative lengths of the non-buckle part of the straps.
Comparison of the buckle end of the straps (same order). Again, the top lug holes were roughly aligned to facilitate length comparison.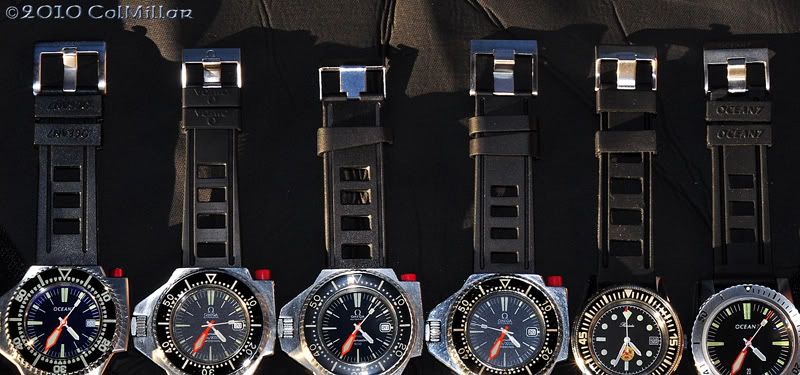 This shot was made in indirect light so the relative shade of black could be judged. As with any forum photos, use all the pics to help judge color as each strap looks a bit different in different light, depending on the finish. Some straps are more reflective, straps with rougher surfaces tend to look lighter in direct light, etc.
The finish on the ISOfrane is mid-way between the pebbled finish of the vintage isofrane (which is partly due to age in most folks' opinion) and the very smooth rubber of the Omega 24mm (aka Planet Ocean rubber - which is how you order the strap from your Omega AD, even though it doesn't fit the PO. Don't ask :roll
.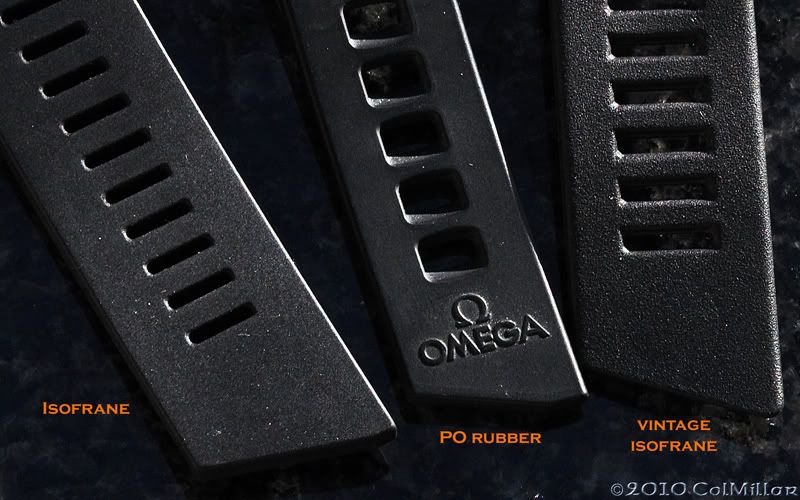 Comparison of the buckles: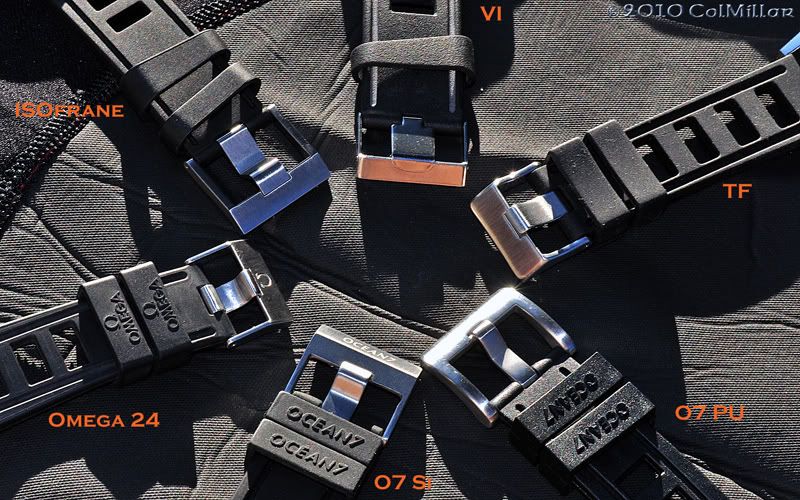 While the vintage isofrane buckle is stamped and lightweight, all of the others are an improvement in quality. Note that all of the above buckles are fixed to the strap with a springbar
except
for the ISOfrane, which uses a screwbar. Note that the ISOfrane buckle is perfectly recessed where the tang rests, preventing any sleeve grabbing or other nonsense that unrestrained tangs get into.
But the stamped always has worked fine for me and adds to the 'no strap' feel or lack thereof. The down side being it's narrow profile, which allows the keepers to slide right off the buckle end, something that can't happen with the others and likely contributed to the number of vintage isofranes missing one or more keepers.
Strap taper is also key to wrist comfort, wearability and durability. A thin strap presumably won't last as long under hard use. I've seen a number of truncated vintage isofranes which broke through the tang slots. Maybe too many slots, too close together on too thin of a strap? YMMV.
I like to see try to match the thickness of the lug end of a strap with the thickness of the case lugs - I think it makes the strap 'fit' the watch better. Equally, I've found that a watch which tapers towards the buckle is both more comfortable and easier to fasten.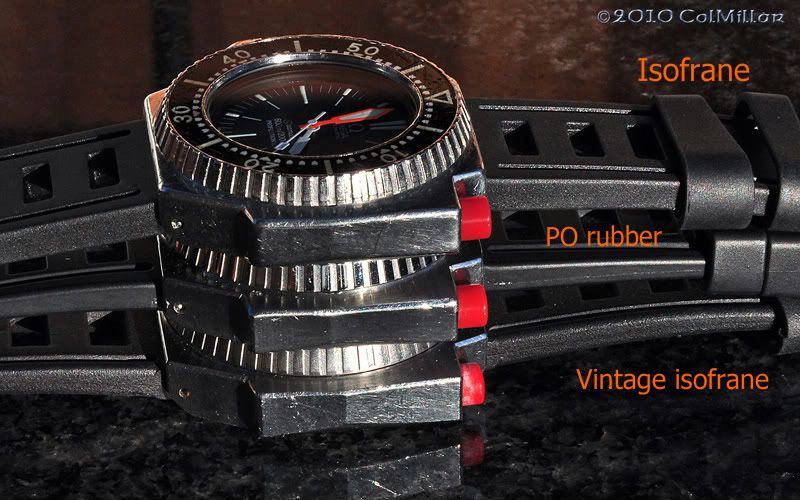 Mold marks and residue are minimal on the ISOfrane, a sign of attention to detail in the manufacturing process :-!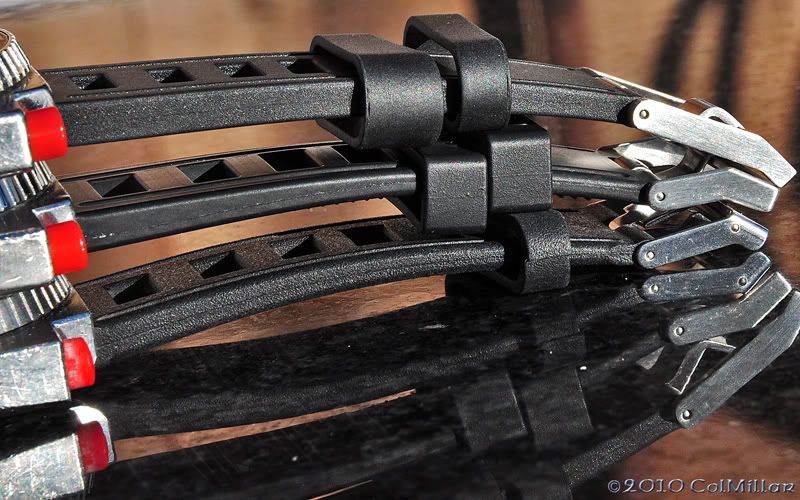 While I have a number of additional comparative photos to post that I will add later with comments, I wanted to get the meat of my impressions into this thread. Keep checking this first post for edits. I have included prices, but won't judge a strap based on price because Value For Money is such an individual judgment.
ISOfrane
100-135 USD
* very comfortable, though not as stretchy as some others; should be very durable; doesn't seem to attract lint or dust; mild vanilla odor; not much break in required; "calamari" keepers are excellent and could probably be used to refurbish a vintage isofrane which is missing one or more (as most seem to be); tapers in width 2mm from lug to buckle which the vintage one does not; black only at this time, 24mm only at this time; 208mm overall, 192mm effective by my measurements. On the LM-7 it'll fit a 9" wrist.
Omega 24mm
135+USD, depending on who you buy from
* smooth finish seems to repel everything; tapers to 20mm width at buckle, fairly comfortable and easy to fasten; comes in blue and black; no aroma.

Ocean7 PU
50 USD
* dark black with a dull shine; not very stretchy lengthwise but molds nicely to wrist with wear and will hold the shape of your wrist for a while, like old slippers; can smell strongly of chemicals, but this varies from strap to strap IME; signed on keepers, strap and buckle; tapers to 22mm buckle; very durable; reinforced (round) lug end can lead to fitting problems and some folks don't like the look, minor shaving required to fit semi-hooded Ploprof lugs; 24mm only; black, orange, blue and purple; 205mm overall length.
Ocean7 Si
60 USD
* design very similar to the O7PU, but not as black and not shiny at all; a bit of a dust/lint magnet; very stretchy, giving rise to the nickname "floppyfrane", and comfortable for long term wear; can't handle heavy watch heads like the Ploprof IMO; same comments on rounded/reinforced lug ends, but since it's softer may not be as problematic to fit; 24mm only, black only; faint rubber smell.
Time Factors
15 GBP, extension 7 GBP
* also very comfortable and stretchy; comes with rounded/reinforced lug ends or with flat lug ends; wet suit extension offered that works with all versions; 22mm and 20mm, black only; 210mm overall length; tapers from 7mm at lugs to 3.5mm at buckle; described as polyurethane on the TF site, but feels like rubber or silicone; no odor.
Vintage isofrane
150+ USD
* still the most comfortable strap I've ever worn; very rare; not very durable, some have hardened or liquified over time; non-tapering; 24mm, 22mm and 20mm; black, blue, red/orange and yellow; faint rubber smell.
Finally, what I would like to see in the next edition of the modern ISOfrane:
1. More of a taper towards the free ends of the strap. I'm willing to sacrifice some durability for even a minor increment in comfort. A thinner end is also easier to feed through the keepers.
2. An extra set of keepers with each strap (or offer sets FS separately). Even with the stouter buckle, keepers will break a/o disappear over time.
3. An option for a lighter buckle of stamped metal. I know this is against the grain of bigger/heavier/higher quality (which is evident in the work done on this new strap), but TBH I've never had a buckle fail and only recently heard about a G10 buckle that broke (the G10 buckle is much more lightweight than the vintage isofrane buckle). Again, I'm willing to sacrifice some durability and beef for a shade more comfort.
4. Supplied with springbars. Now this is an area where I'd like to see some beef applied! More metal is never wasted in a springbar IMO - I have had them fail
several
times.
5. No vanilla. This is a pet peeve of mine and thankfully the production version of the ISOfrane toned things down. None would still be better however. My father worked for Armstrong Tires for over 30 years and as his son and a lifelong diver, the smell of rubber/neoprene/polyurethane is absolutely lovely :-d
6. Make an extension piece available, akin to what was offered for the original isofrane and what is now available for the TF strap.
I realise that implementing the above suggestions will raise the price of the strap, although moving to a stamped buckle should make up for the difference. Even still, I'd be happy paying 110 USD for the above strap. Alternatively, put all of the above into a 'deluxe kit' (buckle choices, extra keepers, extension) and sell it for a single price.
Like everyone else, I'm looking forward to different colors and sizes! :-!