Discussion Starter
·
#1
·
Landed yesterday from Varsaw.
I thought since quite a time to find out a Sturmanskie chrono of this family. The prices of brand-new Poljot re-edition (a re-edition could be have been OK for me too), are still rising a lot and an the affordable examplaries on the bay are becoming scarce nowaday.
When a saw it, I did not exactly understand that it could be a new old stock. The auction was in Polish and not fully explicit for me...Finally I decided to buy it (offered as "buy now" for 500 Sloties/125 Euros).
The watch came normally in a few days and arrived yesterday.
​
It was packaged in a Slava plastic box that I like very much.
​
Open that box...Here is the watch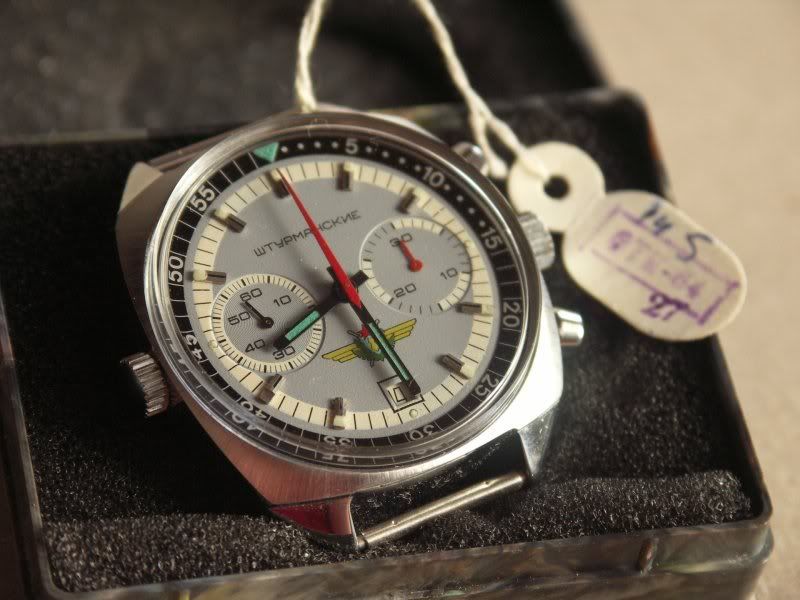 ​
It's the so-called "pale-blue dial" one (p11 watch 19 in the JL's book) with the straight chrono hands that I was no sure they could be original on a Sturmanskie 3133 chrono. The hour and minute hands are black with the rounded tips. The rotating bezel is scaled in second with dots in the 0-15s quarter not as the other variant of Sturmanskie (scaled in hours). The case is made of chrome-plated brass as well as the crows and the pushers.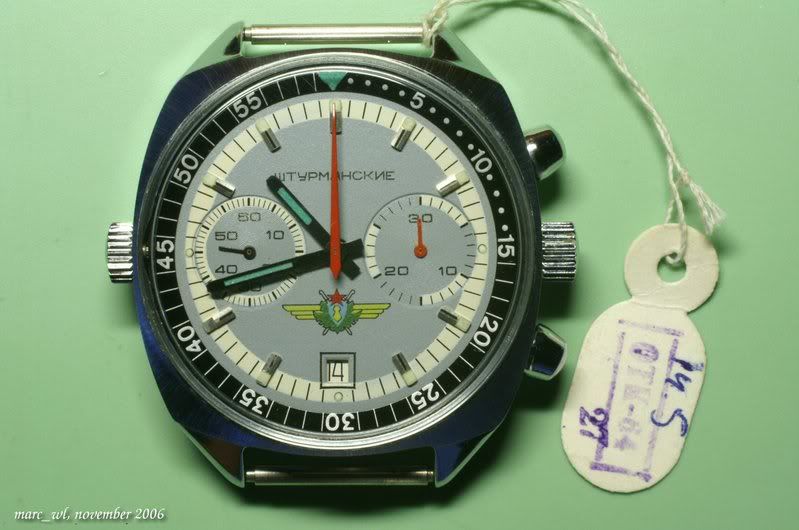 ​
No bracelet came with the chrono, just the spring bars (18 mm) and that typical small sticker attached with a wire of the Poljot factory control indicating : 14-5 "OTK-64" 27 and, hand written on the verso : "86917 Chronograph" (I guess more than I read...). Very similar to the
NOS 31659 chrono
recently posted by Michele.
Let's see a bit the caliber :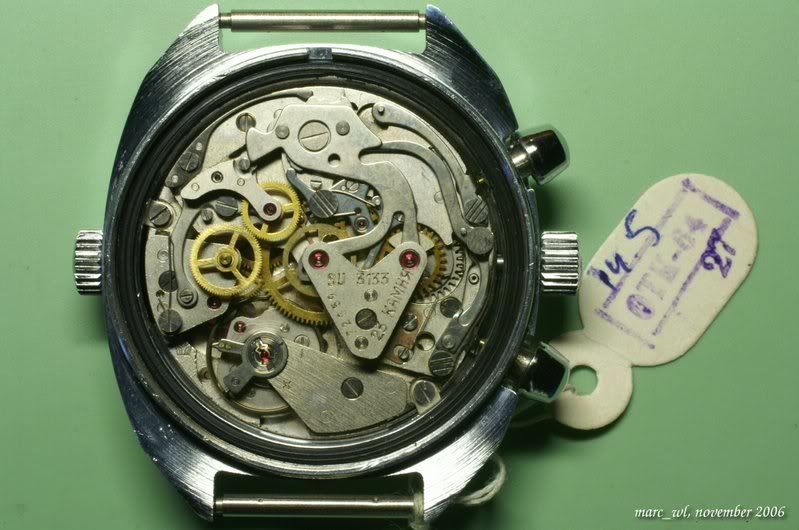 ​
"SU" stands for a USSR production (the very late 1990-1991, I would say) of the 3133 movement, stamped with the Poljot crown near the balance wheel.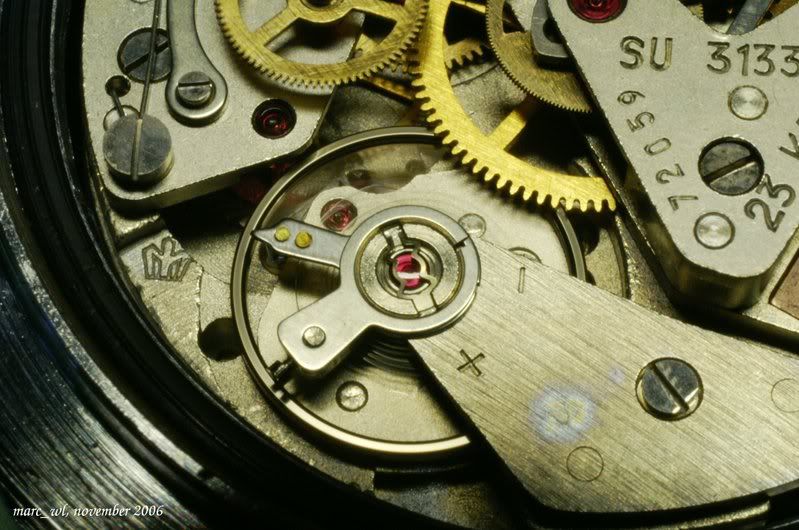 ​
The watch is runing smoothly, all functions are OK. Not a single scratch.
​
Recently I have cleaned a flexible bracelet that I found on a wreck of a 70's chinese cheap watch. I bought it because the watch was fitted with that incredible
Ruhla
mechanical pin-lever movement produced by millions, fully automatically in the former "DDR". I needed the balance wheel to improve my pocket Ruhla watch :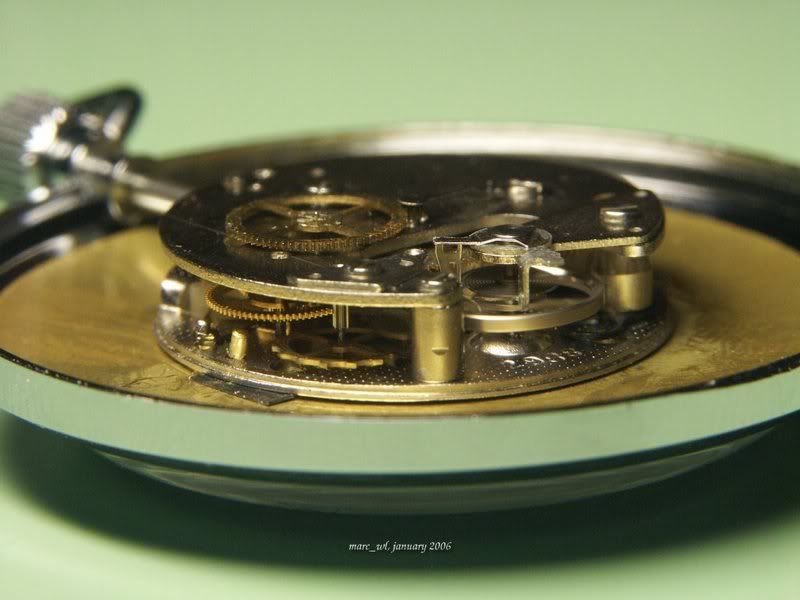 ​
The bracelet fits the 18mm of the lugs :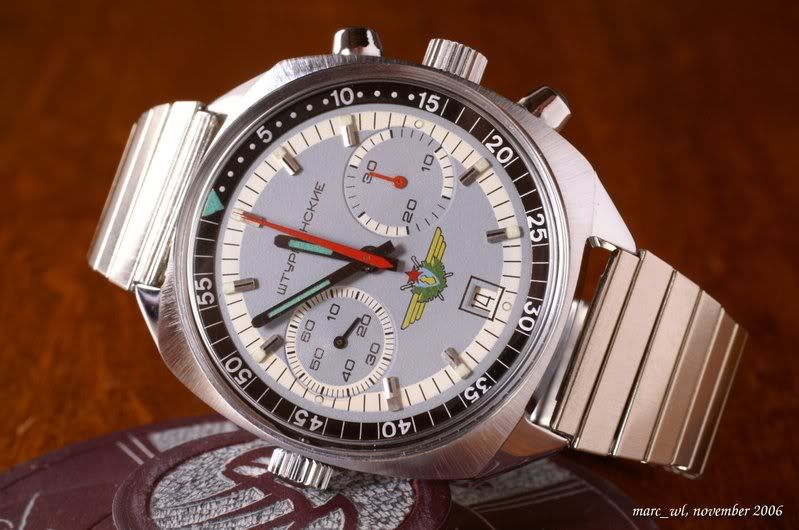 The bracelet is a litlle wider near the lugs ressembling to the original Poljot bracelet provided by Poljot with the issued 31659 (see for instance
that beautiful picture
-as all his pictures!- on
Ill-phill web site
)
What a watch!
​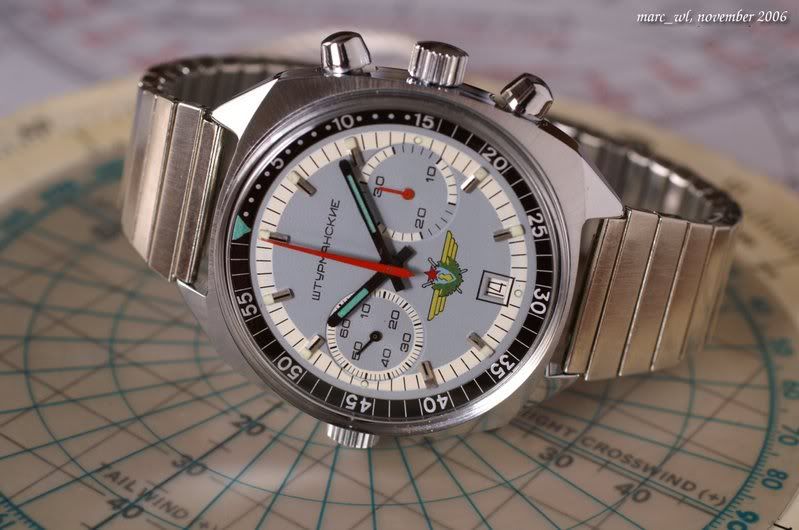 ​
​