I'd say teeritz is the one to blame for starting all this, you see.
Ever since I read his excellent
review
of the Omega Railmaster a year ago, I knew I had to have one. I won't go into the reasons why -
others
have
already
said
it better than I could. Suffice to say I loved the Railmaster's aesthetics, its simplicity, the history behind the name, and the way it hearkened back to the way wristwatches looked fifty years ago. I just knew I had to have one in my collection. If you get it, you already know.
But the fact that the Railmaster had been discontinued for years means that getting one requires more effort than simply fetching the checkbook. Like many things worth having, if you want this watch you have to be patient and wait for the opportunity to present itself. For months I trolled the internet late at night, searching for Railmasters. Finally I found one, a 39 mm model in excellent condition. An agreement was reached. The deal was done. The day came. The watch arrived. It was beautiful. It was everything I'd hoped.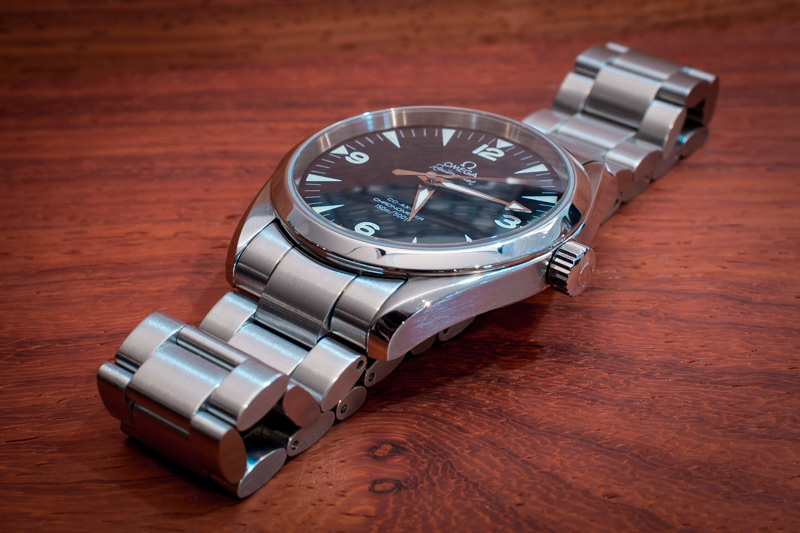 It was also too big. I realized I'd made an expensive mistake.
At 6' 1" I'm not a huge person, and I'm equipped with fairly skinny 6 3/4" wrists. Normally I'm comfortable wearing watches that range from the understated 35 mm size of the 1950's "gentleman's watch", up to a 42 mm diver or chronograph. But the 39 mm Railmaster on my arm looks like a dinner plate. Oh, the case is a comfortable size, but the fact that the dial goes aaaalllllll the way to the edge makes it appear positively enormous in proportion to its surroundings. For instance, take a look at how big the dial is compared to a 42 mm Planet Ocean: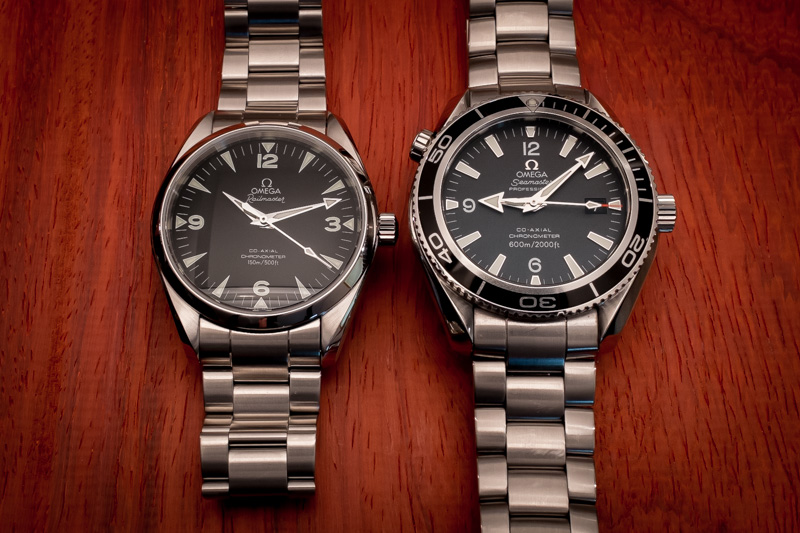 Someone bigger than I am could probably easily pull it off, but on me it's just too big. It's funny how just a few millimeters here or there makes a world of difference in how you perceive the size of a particular watch. Here's the 39 mm Railmaster next to my 38.5 mm Aqua Terra 8500, the latter of which I find quite comfortable to wear. On paper these two pieces are virtually the same size; in practice I found them to "wear" very differently indeed. Look past the case size and compare the distance between the outer edges of the hour markers on the two dials, and you'll see it: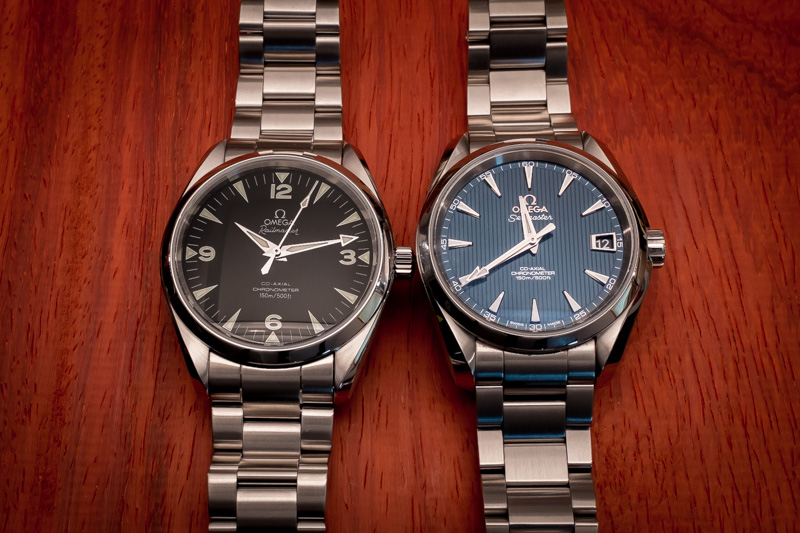 And of course it all comes down to personal preferences as well. As someone who generally goes through life feeling like I was born a few decades too late, I've never got on board with the recent huge watch trend. I simply prefer my watches to adhere to the more classic sizing of years gone by. The Omegas in my collection are intended to be "keepers", and I plan to hang onto them through the next fad, and the one after that. For the most part I tend to only collect watches that I think have a certain extra "something" that gives them an element of timeless appeal... to me, anyhow. It's such a personal hobby, this, and each individual has to decide which ones are worth hanging on to and which ones to let go of. In my experience, if the watch is right for you, you'll just know it when you put it on.
So I knew right away that I should have passed on the 39 mm Railmaster and sought out a smaller 36 mm sized one instead. Unfortunately for me, if Railmasters are uncommon, the 36 mm size in particular is positively as scarce as hen's teeth! I figured I was in for another year of searching.
But by some quirk of luck, I ran across an example of what I wanted barely a month later. Another deal was done. Another watch arrived.
This time it was perfect.
Ladies and gentlemen, I'm pleased to present something that's not seen every day - a 39 mm Railmaster and a 36 mm Railmaster side by side: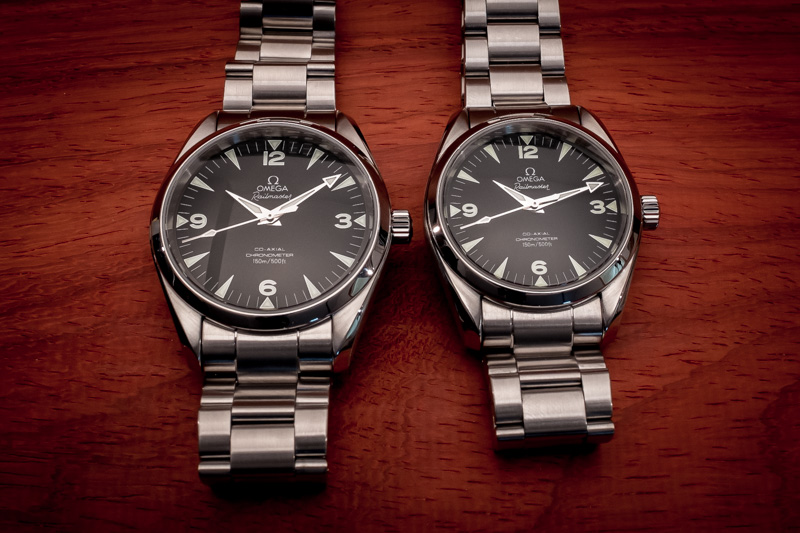 The proportions of the two are ever so slightly different - the lugs on the larger watch appear somewhat more slender, and the crown on the smaller watch looks more substantial with respect to the case. Size-wise, the 36 mm version puts me very much in mind of the original Explorer, which is exactly what I'd hoped.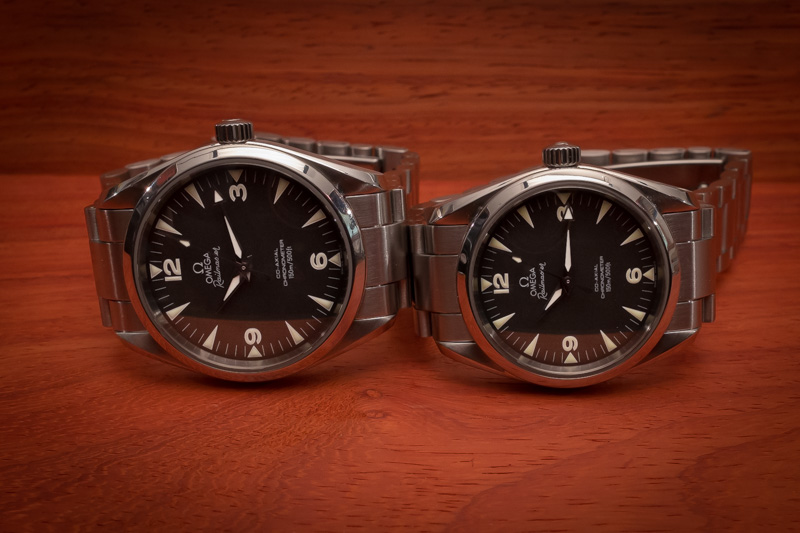 The apparent size of the dial on the 36 mm Railmaster is approximately the same as that of the 38.5 mm Aqua Terra, even though the case is slightly smaller. I always wear the AT 8500 on its bracelet, so I will likely put the RM on a brown leather strap to allow each to have its own separate identity. I find the 8500 bracelet much superior to the 2500 anyway, especially the clasp, so I don't think I'll miss it terribly. The Railmaster
looks great
on a strap
too.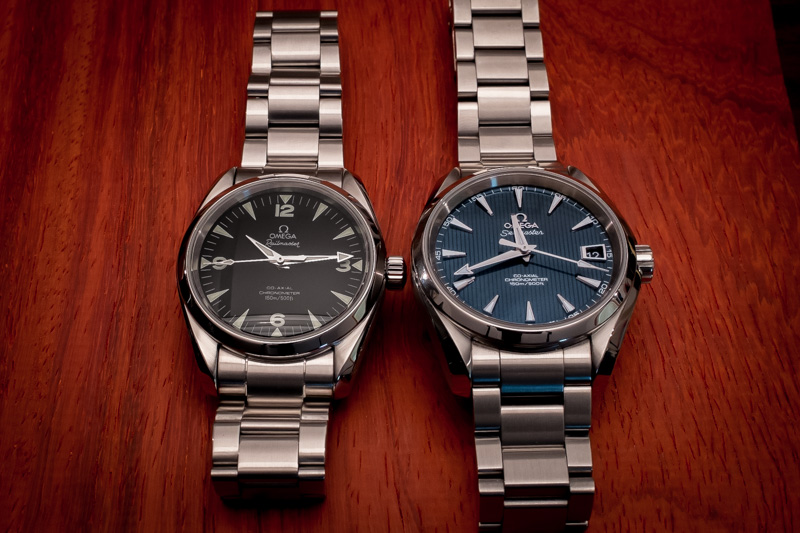 No more mistaking which one is the dive watch and which one isn't!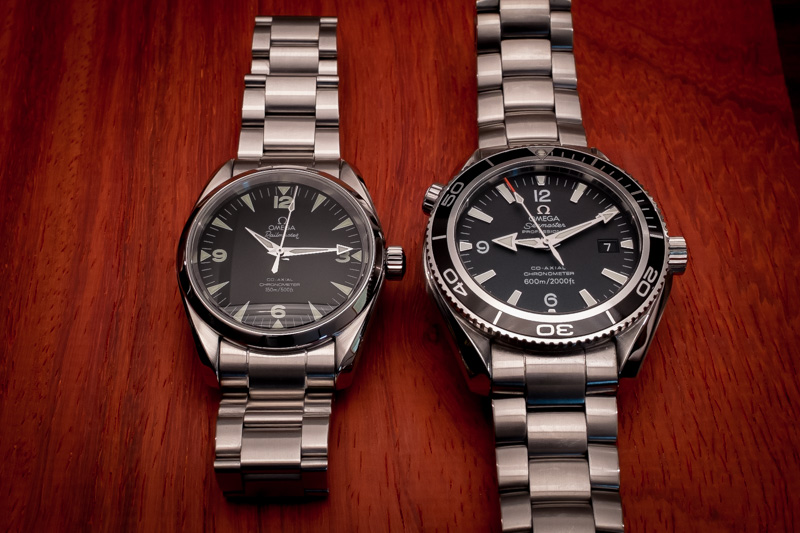 Who's up for a double helping of Railmaster lume?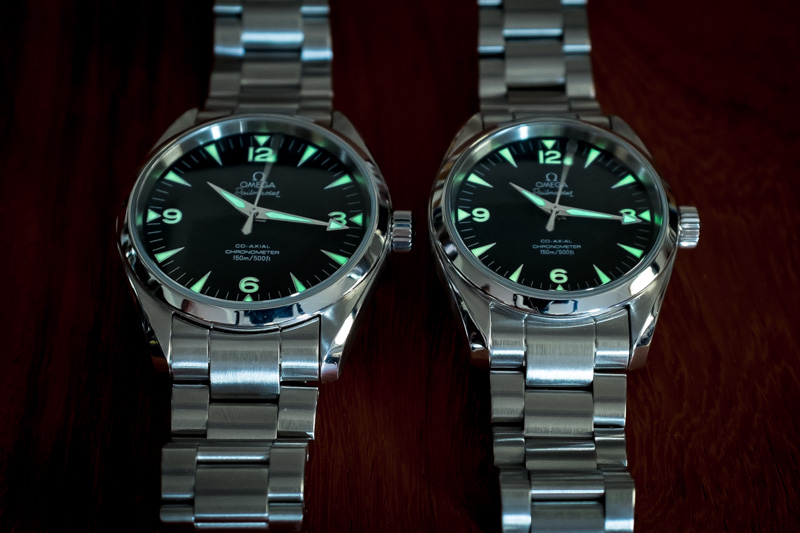 Anyway, thanks for looking, hope you enjoyed the photos. The larger Railmaster will find a new home in due course, I'm sure. Meanwhile, I'm very happy to have found my Railmaster at last.
Oh, and confidential to teeritz - thanks for the introduction to the Railmaster world. I owe you a drink sometime. I imagine we could find something in common...