Discussion Starter
·
#1
·
I've been buying, selling and keeping circa 50-60 G-Shocks in the last seven years, which brought me to the point where I get pretty picky, but also do know exactly what I want.
When it comes down to the most rugged Casio Series, my preferences are pretty much well defined, since I deal with G-Shocks long enough. I do know what the watch should look like or not, which functions it should have or rather not and what the watch should be able to do or not.
Generally speaking it looks like this:
- mainly a dark colour, with few or no coloured applications, especially no red, orange ect.
- all digital
- no square (rectangular) case
- prefered bulky
- no atomic, no Solar (explanation later)
- CR20xx Lithium Battery
- good EL-Backlight with at least 3 seconds duration, No LED illumination
- at minimum, a 24h countdown timer
- at minimum, a 24h stopwatch
- loud, audible alarm
- easy to push buttons
- 5th. dedicated light button
The G-7900 got all those attributes. Many of you already know the module of the G-7900 (3194) from the G-9000 Mudman (module 3031), which is basically the same, only without a moon – and tidegraph. For those of you who are not so familiar with the technical specs of G-Shocks, but might think about to purchase a G-7900, here is a short list of the featured highlights:
- 2x 1000h stopwatch
- 24h countdown timer
- auto el-Backlight switchable for either 3 or 5 seconds duration and automatic shutdown after 6 hours
- 5 alarms (with one snooze alarm) freely programmable for the whole year (target alarm)
- time, day of the week, month and date at a glance
- worldtime with 48 cities around the globe
- high capacity CR2025 Lithium Battery (170mah)
- backlight flasher for visual alarm
- extremely good to operate buttons
- moon and tide graph
- 200 meters wr (20bar)
- long lasting alarm (20 seconds)
- low temperature LCD (-20° celsius)
The G-7900MS avoids any coloured accents. It has a black, matte finished case and a 28mm wide, very comfortable to wear nylon strap. The appearance of this watch can be pretty well described as "uber-stealthy", but without the trade-off of lesser legibility known from negative displays. Unfortunately, Casio was not so stealthy thinking when it comes to the buckle, which is (absurdly) shining polished. Not, that I needed desperately a black PVD buckle, but at least a matt or brushed one would have been nice. Oh well, luckily there are enough brick and mortar stores around and in them you'll find lots of sandpaper
Alright, a few pictures first: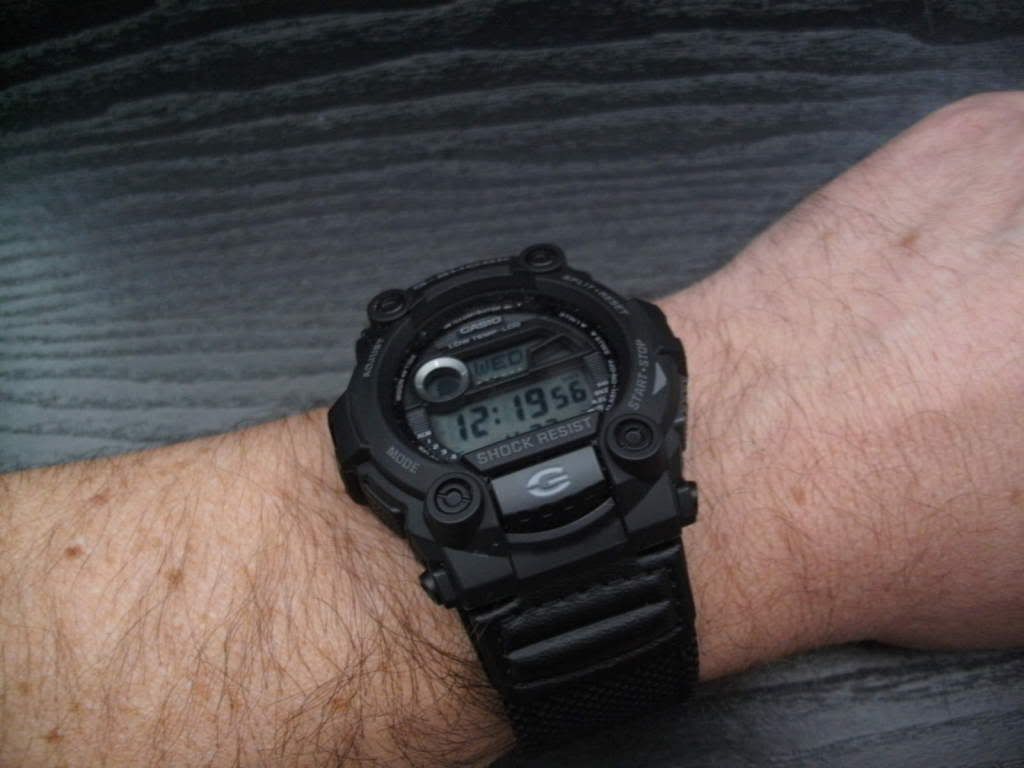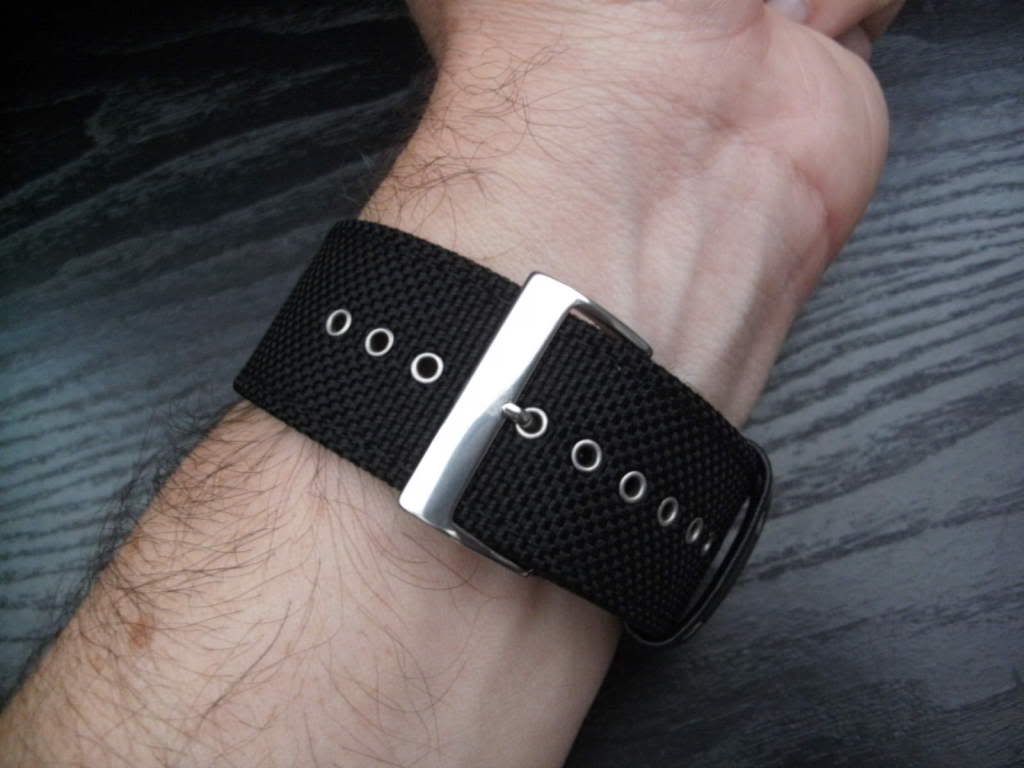 (Mods, please feel free to erase this, if inappropriate)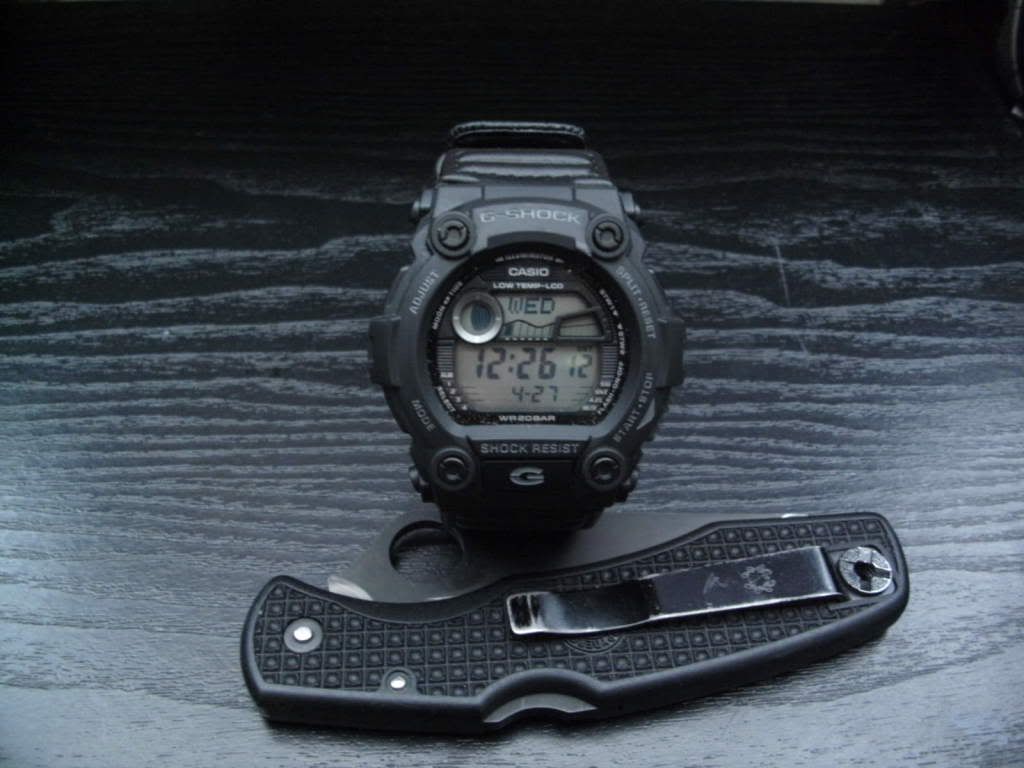 (Mods, please feel free to erase this, if inappropriate)
As already mentioned, the watch avoids all coloured applications and shiny parts (except for the buckle). The writing on the case and the "G" on the light button are painted in a very subdued white, actually it's a rather bright grey. The important thing is, that on one hand the letters never distract from the stealth look, but on the other hand are visible enough, to let the more inexperienced user know the functions of the buttons. The whole upper part of the LCD inlet (which surrounds the moon and tidegraph, both stopwatches and the day of the week) is also made of a non-shiny, dark grey material, which is best described as titanium-grey. It matches the subdued look of the watch very well.
The G(W)-7900 series is one of the bigger watches in the current G-Shock line. With dimensions of W=50mm, H=52.5mm T=18mm, the watch can be considered as a hefty and bulky piece of plastic. Nevertheless, the wearing comfort is excellent and the strap wraps around the wrist very well, which is greatly supported by the two "wings" beneath the strap:
Those two plastic pieces are not to be underestimated. They are the reason, that also people with rather small sized wrists can wear the watch without problems and convenient. As usual with a plastic watch, weight is rather a non-issue. The watch shows 67 grams on my kitchen scales, so it's not exactly made for training your muscles.
The 28mm wide nylon strap enhances greatly the bulky character of the G-7900MS. As already mentioned, the wearing comfort is excellent, but that opinion might differs from others, such as people who might sweat a lot or live in/near tropical parts of the world. In this case I would also suggest to swap the nylon strap for the normal black resin strap which is attached to all "non-MS" models. Here a few pictures of the nylon strap and a comparison to the resin strap. Don't wonder about the O-ring, I attached it to the strap because the retainer tends to slip off: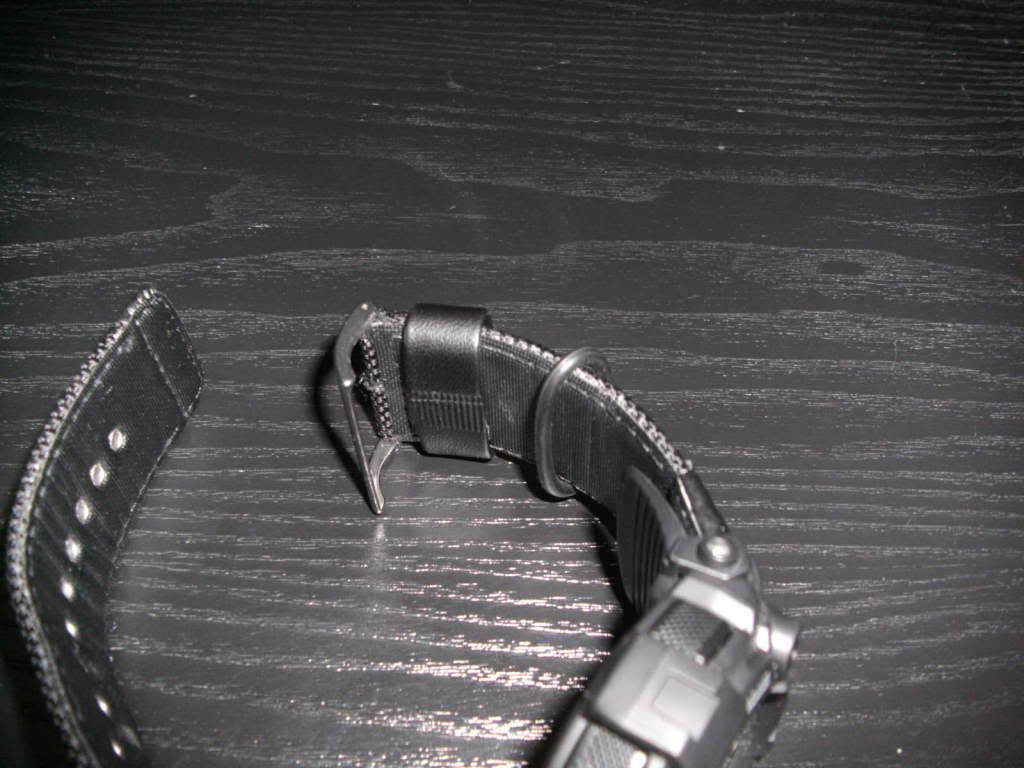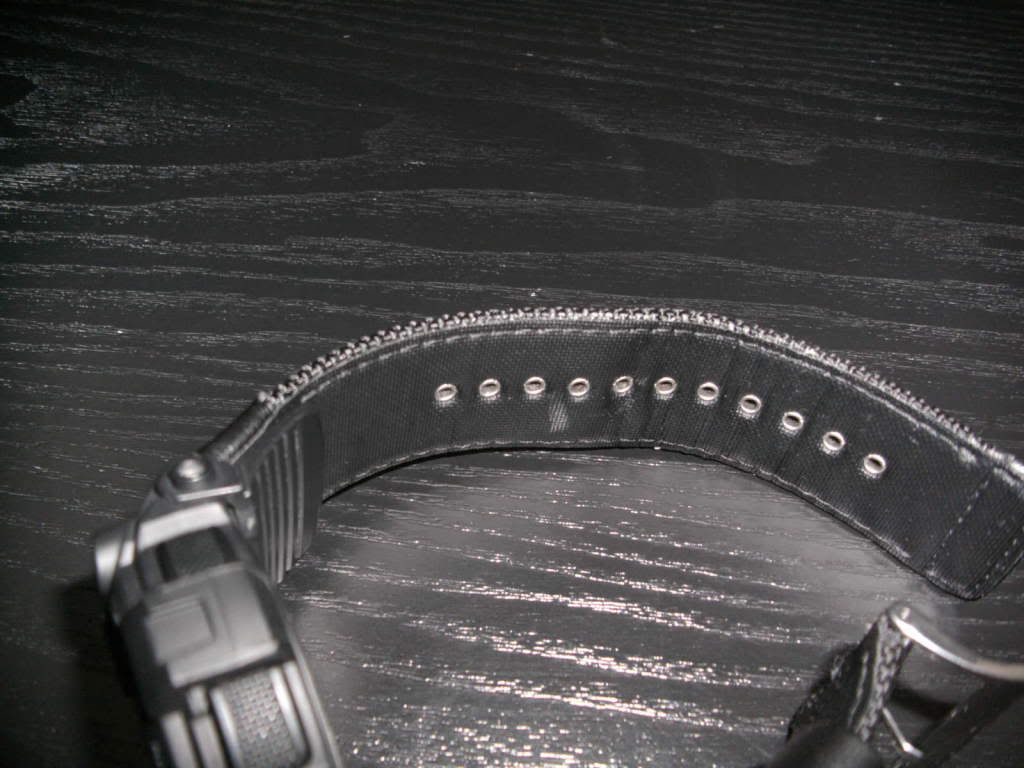 I mentioned above that an ideal watch for me shouldn't have neither atomic timekeeping nor solar. I have several reasons for that:
To put it simple, atomic is at best for me a "nice to have" feature that one can have, but in my opinion is far from essential. Given the great level of precision modern day quartz watches do offer, the aberration of such a watch is seldom more than 6-8 seconds (+) per month . If the watch is worn on a regular basis, its even less to non-existent, keeping the temperature stable due to body heat. I honestly also never understood, the hassle some people go trough, desperately trying to sync their atomics, when a manual, perfect sync can be done in few seconds, given the amount of high precise time sources (cells, internet, rc alarm clocks, ect) we all see and have around us every day. Although not really important, but something to think about is, that any additional electronic device is always a possible source for failure. The old saying "keep it simple, keep it stupid" carries a lot of wisdom…
When it is about solar, I have several good (for me anyway) reasons to avoid it.
First, I had two solar powered watches stone cold dead, without a reason and without any hint. One was a Casio Protrek PRG-80YT, the other was a Citizen Eco Drive Chronograph, which I don't remember the model. It's not that those watches had seen not enough light or something, they just died, the Protrek got into "Recovery Mode" but – you guess it – never recovered, lol. As you can probably imagine, such incidents do not exactly help to gain trust in a certain technology.
Don't get me wrong, right now I have six solar G-Shocks and four of them are also atomic. They sit on a window sill to be charged all the time and the all work fine. But honestly, none of them get much wrist time anymore, whenever I wear one from time to time, it isn't usually longer than a day, because it just doesn't feels right – it's a mind thing I guess.
A watch that houses a CR2025 Lithium battery (or even bigger), drives solar somewhat down the ad absurdum road. There are enough proven cases, (lots of them here in this forum) that CR20xx batteries last for many years, even for decades (!!!). The often heard and read argument of the non-existing battery change with solar watches, became for me so lame, that it fails to put even a tired smile on my face.
Probably the biggest argument against solar watches is in my opinion, the often inferior module, compared to their non-solar counterparts. Functions are often cropped, and that is a fact. It is pretty common in the G-Shock line and as of now, I'm not aware of one single solar model that is superior in functionality to a non-solar model. Not that the GW-7900 is a bad watch – not at all – but compare it to the G-7900 and you have an excellent example of what I just described.
In the end each and everybody has to make the solar vs. non-solar decision for himself, depending what features and functions are high on the priority list. I've made my decision quite some time ago (live is much easier if you know what you want, respectively what you don't want) and couldn't be happier with it.
Utterly positive and well worth to get an extra mentioning are the huge and very easy to push buttons of the G(W)-7900 series. In my opinion, there is no model, which can hold up in this discipline, some other series – like the G-7710 for instance - come close but can't match 100%. Big and handy enough to be pushed even with thick winter gloves, it's made sure the watch is always fully operable (extremely important for soldiers, also in summer). No bothersome fumbling or even the use of fingernails is necessary – Casio have done this as good as it gets. Usually not so worth to get extra mentioned, but still worth somewhat, is the protection of the module and the mineral due to the massive amount of plastic around them. The glass is recessed by almost four millimeters, measured on the highest peak of the bezel, which gives an enormous additional protection:
The Thread title is "A tribute to a (almost) perfect G-Shock" and so I will also explain the things, which could have been done better: Actually it is in my opinion four points which keep that watch from being perfect – without "almost".
- current time visible in all modes (only visible in the countdown timer mode)
- negative (reversed) EL-Backlight for even better night readability and enhanced stealth
- countdown timer settable to the second (can only be set by minute)
- vibration alarm
To be fair, those four points are rather seldom to find in the G-Shock line and I'm not aware of any model that have all four points united.
Conclusion: Even with the (minor) four negative points, the G-7900 represents in my opinion the best G-Shock, Casio brought to market to date (sorry to all fans of the D(G)W-6600, D(G)W6900 and D(G)W-5600 series, but that is how I see it) and because it is most likely, that THE perfect G-Shock will never be made, the all-black G-7900MS and her sister – the olive green G-7900-3V – will stay my undisputed #1 for a long, indefinite time. To close this review, a few more pictures from the two beauties: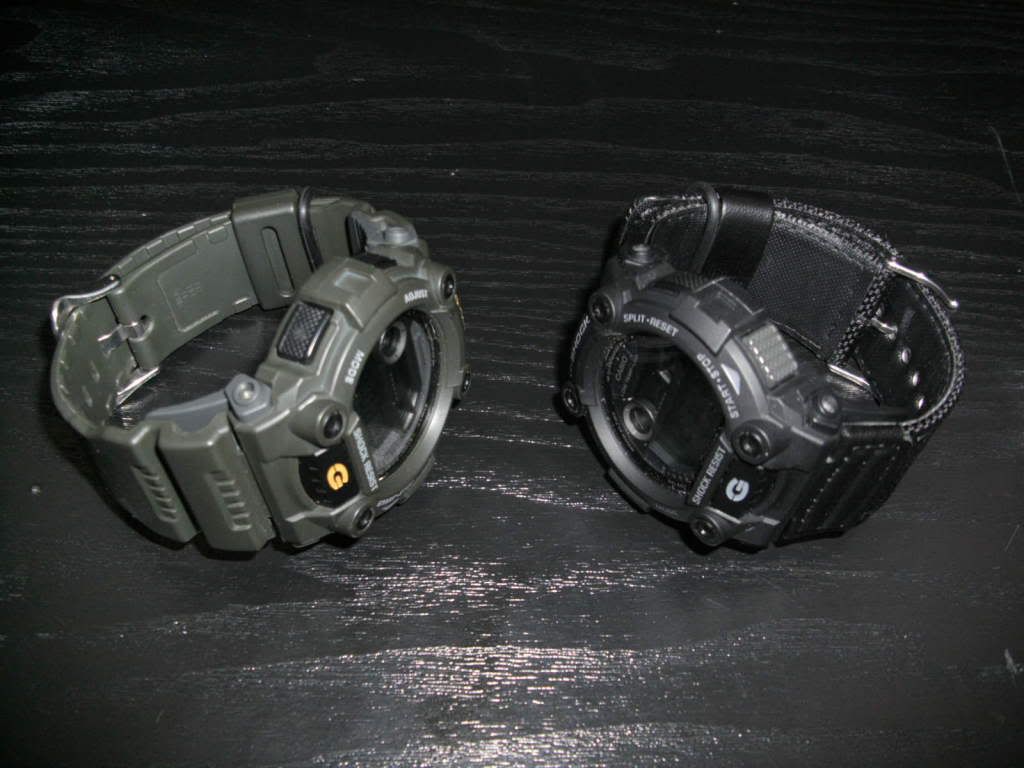 cheers