Discussion Starter
•
#1
•
Acrylic Watch display cases:
The case measures about 18" tall, 10.5" wide AND 4.5" deep.
Used, but in very good condition, no blemishes at all. Lockable with 2 keys.
Distance between each shelf is about 4 ¼ inches, but the bottom to the first shelf is about 4 ¾ inches.
Included are pics of the case with watches in it, and without.
I have 2 for sale, as I'm building my own display case. Buy one at $20, buy both of them for $40, but pay less shipping. Actual shipping costs. I bought these new for $50 each.
The package weighs 6 lbs for one, and 10 lbs for both. I can ship however you like, but I like USPS mail. Here is the shipping calculator link. My zip code is 60625.
USPS shipping calculator:

http://postcalc.usps.gov/
I'm also selling an aluminum tool box I converted into a watch display case. I put about $40 worth of $$$ into it plus a few hours of work. I'm selling for $30 plus shipping and will include some foam glue I purchased for it also.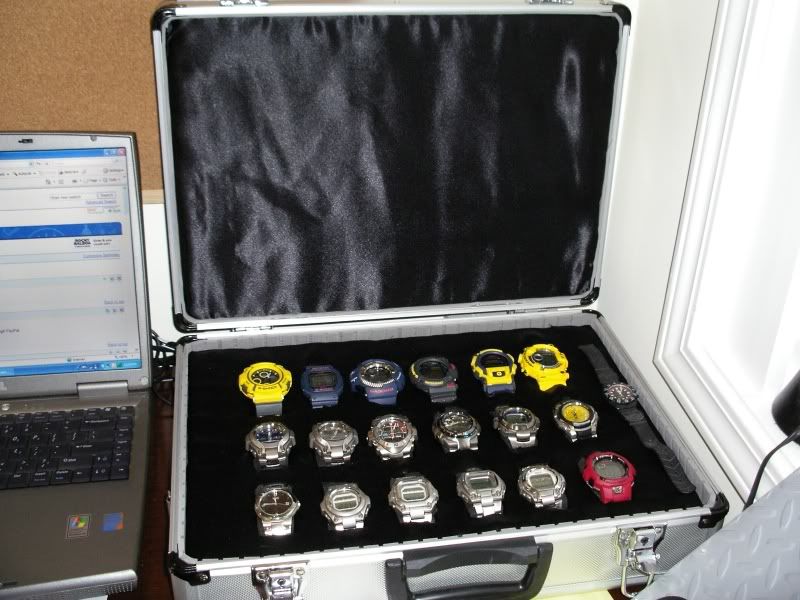 You can see that it can store at least 18 watches. The package will weigh about 12.5 lbs.
Use the shipping calculator or get a quote using UPS if you like. Either way you pay actual shipping.
Please note that I won't be able to ship the cases until after I return from vacation, Dec. 31.
Paypal to

[email protected]