Discussion Starter
•
#1
•
Hi everyone, it's now been almost seven months since I got bitten by the watch bug, and in that time I have bought four watches and received one for a wedding present. Although I've posted my motley collection once before in a "show your collection" thread, what appears to be a recent spate of SOTC threads has inspired me to start one of my own to share in a bit more detail. I'd also like to hear what people think would be appropriate next moves.
So without further ado, here are the pictures (apologies that some are recycled from my other posts and that they were all taken with my phone). I'll then say a bit more about what I'm thinking with respect to the future.
First, a group shot
: The white-faced Timex, Casio F-91w, and dragon motif Fossil Big-Tic are pre-WIS and of somewhat less interest, so I won't focus on them, other than to say that I intend to keep the first two for sentimental reasons and sell off the Fossil as it's definitely not something I'd wear any more.
Next, the vintage Seikos:
a 66-8050 and a King Seiko 4502-7001. I picked both of these up from Ebay. Admittedly they could be in better condition, but there's just something about 1970s Seiko aesthetics that had me browsing Ebay for hours and obsessively checking for new listings. I'm sure many of you have been there before...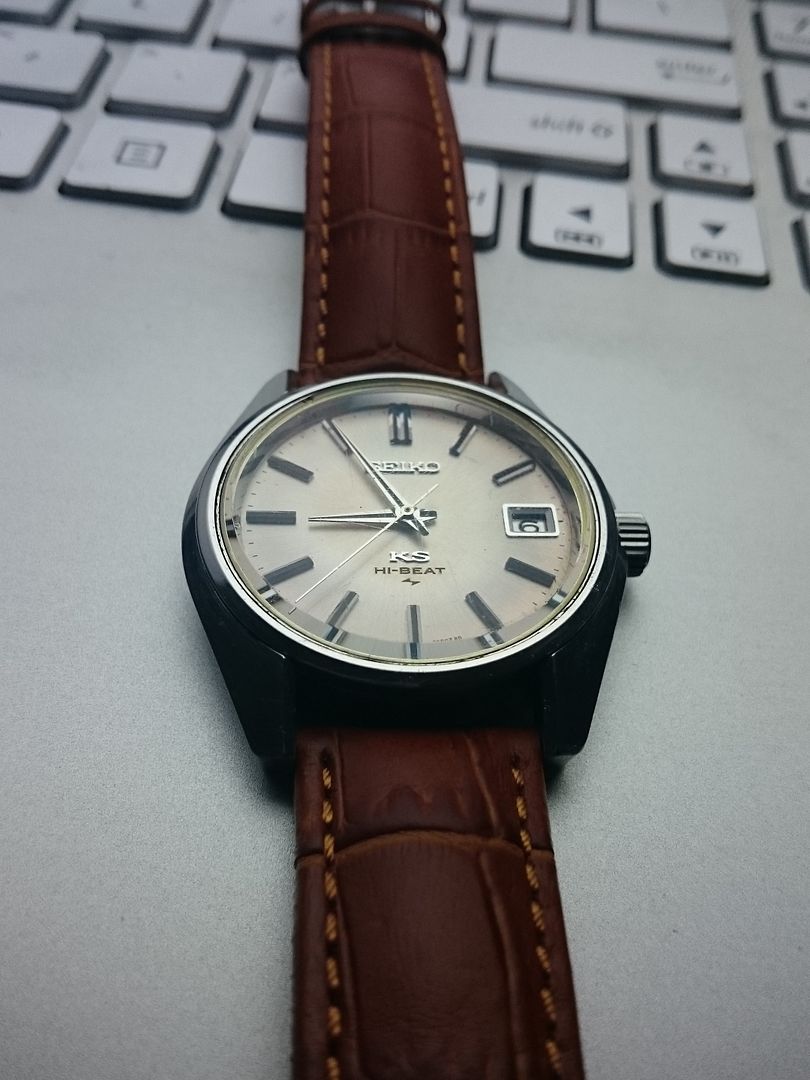 And lastly, the contemporary pieces:
Seiko SBDN001, Oris Big Crown Propilot, and JLC Master Memovox.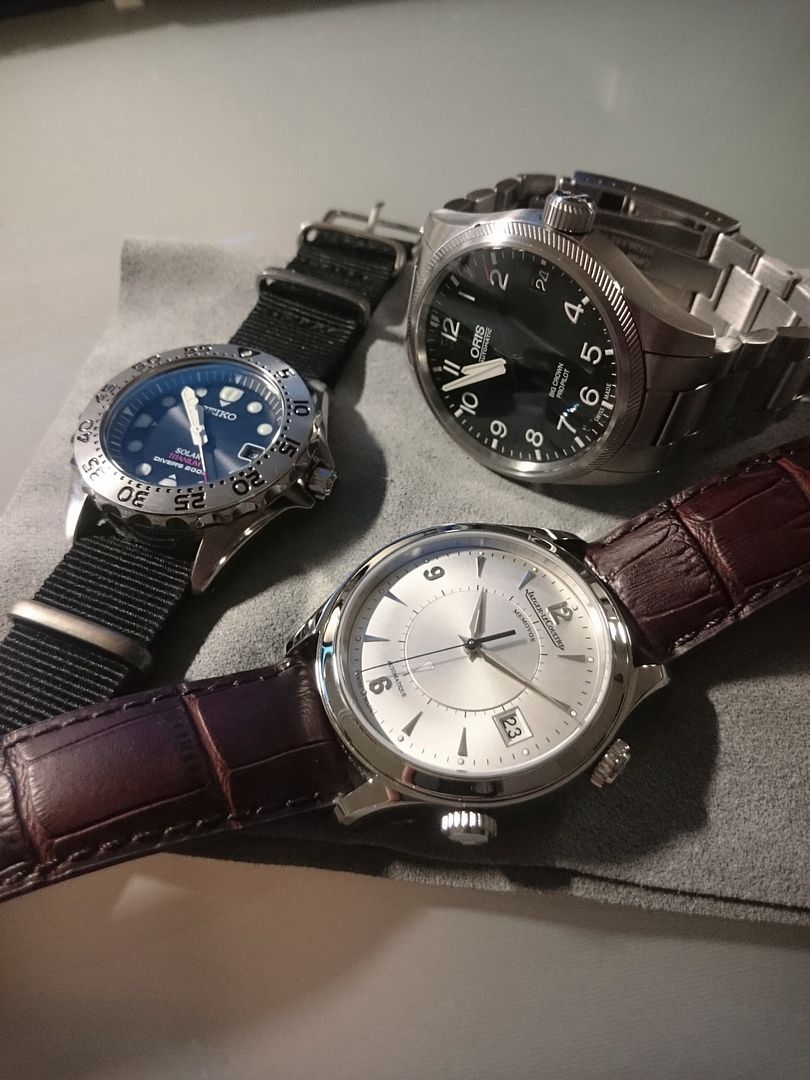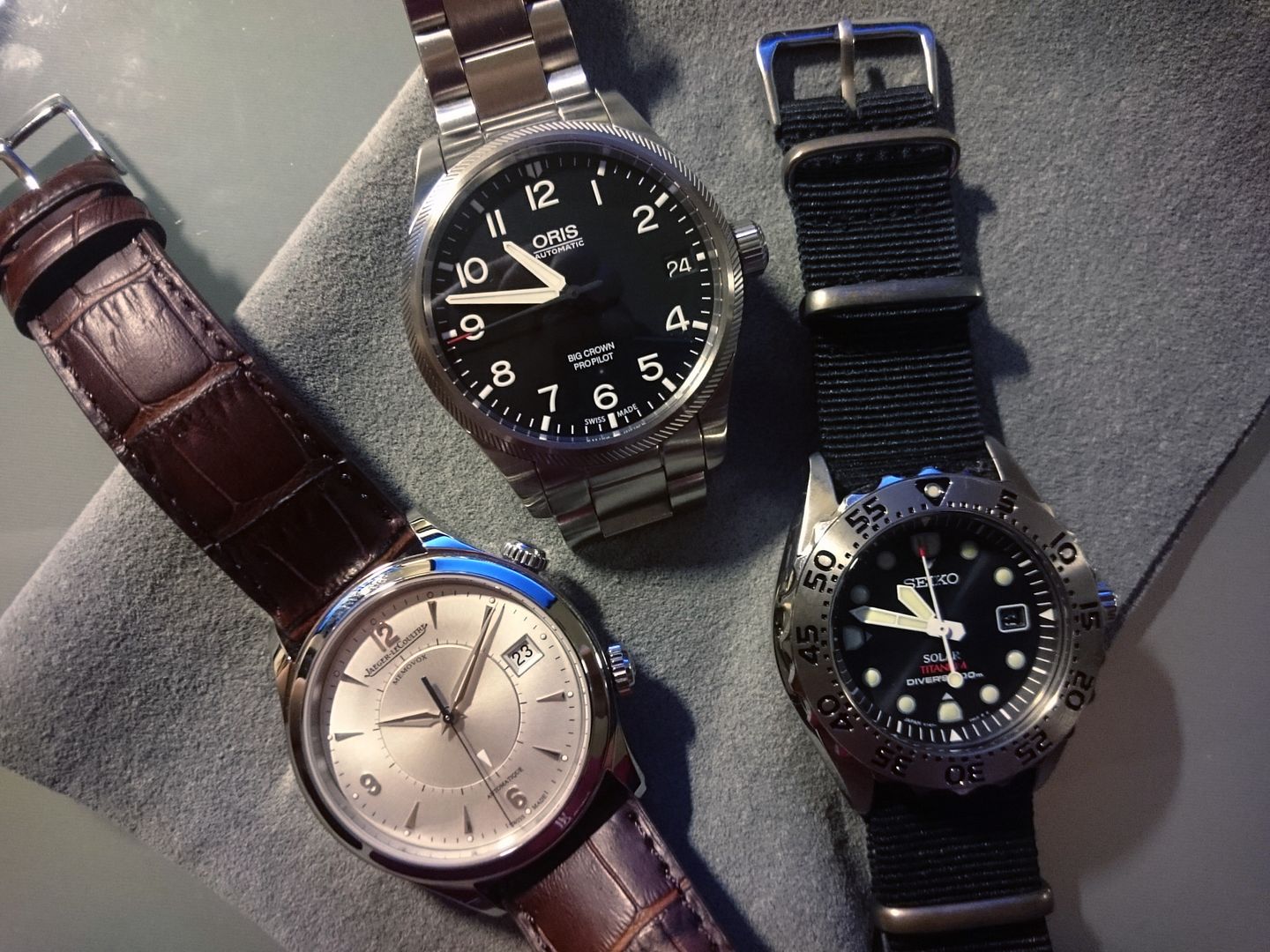 The Memovox is undeniably the proverbial "jewel in the crown" and was my wedding present from my in-laws. It's customary where I got married for the couple to receive watches as wedding presents, and I am extremely grateful that the budget was generous enough for me to go with the Memovox. As readers of the JLC forum may recall, it wasn't an easy choice, but I am very pleased with the watch and it will always be exceedingly special to me.
I actually started the search for a wedding present watch some seven months ago, and it took me five months and many AD trips to make up my mind. Also critical was a lot of forum browsing (thanks WUS!), which is what got me infected (thanks WUS...) and probably brought to the fore a nascent appreciation for watches, which is how I ended up buying the others.
If I remember correctly, the SBDN001 divides opinions on this forum due to its scalloped bezel. I, for one, somehow think it's a really apt detail for a dive watch, looks-wise. The black sunburst dial and brushed bezel both can appear purplish grey in sunlight, which makes me think "what a cool-looking watch" every time I see it.
The Oris is my most recent addition, thanks to a fellow forum member who decided to sell it on for a song. Really like the austere dial, the unique hands, and that turbine-inspired bezel. It's also the most versatile of the three.
I've come to realize however, that eight watches is far too many. Even discounting the pre-WIS watches, the five I presented above seems like a lot because I feel that I can't enjoy enough wrist time with each of them. Also, the collection feels lopsided with three Seikos and three dress watches. As such, I have been contemplating selling off one or both of the vintage pieces. The trouble is, I really do like them a lot, even if I don't wear them as much as the other three. There's some sort of an internal conflict going on between fancying the idea of a streamlined collection and wanting to hang on to the Seikos for the sake of ownership.
As for future acquisition plans, I can't say I really am desperate at the moment to add anything, though a chronograph of some sort would be nice. This will probably be in the next 1-2 years, though it may come sooner if I somehow manage to finish my dissertation, graduate with my doctorate, and snag a decent job next year, thereby giving me a nice excuse to spend a decent amount on something nice. A used Speedmaster Professional is certainly very tempting... but I'd like to shed some weight first.
Anyway, that's it I suppose. I'm curious to hear what you all think--do you agree with my assessment? What would you sell and what would you add?
Thank you for reading this far and thanks in advance for whatever you come up with!