The Backstory:
I've been thinking for months about purchasing a Chris Ward C60 600 to celebrate the birth of my first child, expected in December.
https://www.watchuseek.com/f71/poll-new-baby-watch-before-after-2084058.html
In so doing, I've always figured that I'd sell my Mido Multifort, since it's about the same size, it's lighter, and has a textured dial.
A few days ago, another WUS member said that he "couldn't imagine me without my Mido" (or words to that effect).
Then, when looking for a grey version of the Multifort as a recommendation for another thread, I found an eBay auction offering one for a
very
reasonable price.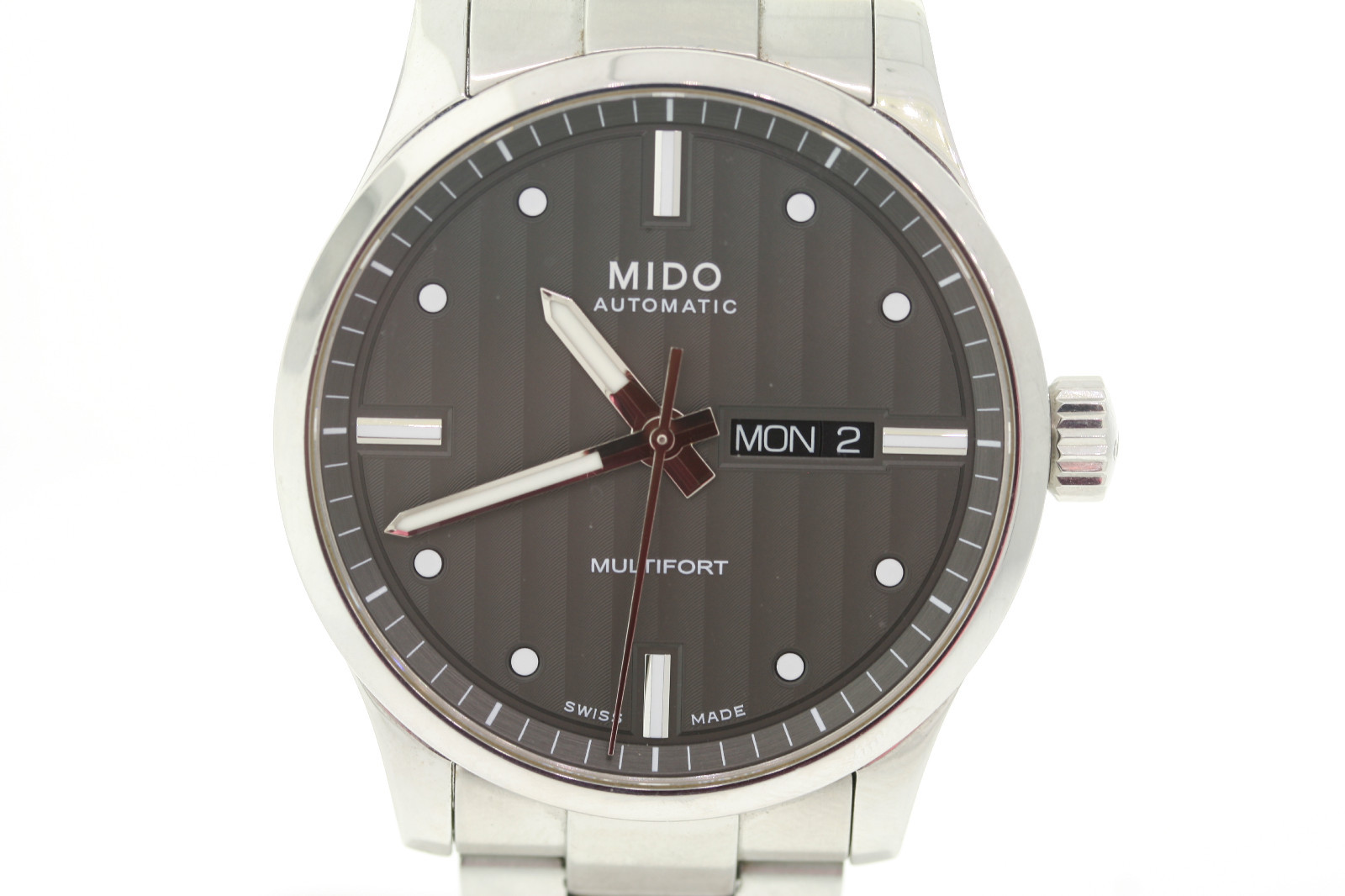 A weird thought popped into my head:
Why not buy the grey one??
What follows is a rough log of my though process in deciding whether to pull the trigger. Does this sound familiar?
My thought process. (Maybe there weren't literally two folks talking in my head, but it felt like it during this decision):


Whoa, that's a crazy good deal! I'm so lucky to have found this while randomly looking for pics for others! Thanks WUS!

Wait, who cares? You already have one, and you think it's a bit big for wearing to work, and you actually plan to sell it to partially finance the CWC60. And
you already have one,
just in a different color.

But the guy on WUS said he couldn't imagine me without one.

So?
Well, if I sell my Mido to fund the CW, I won't have one any more....
So?
And maybe my problem with the size is that the white one just wears a bit too big.... [measures wrist] Yeah, I've got a good 8 mm to spare on my smaller, but quite flat, wrist than the 48mm lug-to-lug of the Mido. And the dial texture... it's so.. mesmerizing. And did I mention the price?

Wait a minute. Haven't you said that you're not going to buy watches anymore just because they're cheap? You're going to look at your collection, see how it fits, what watches won't get wrist time, how much the purchase will delay your grail purchases, you know, plan???

Well, this one fits.

How? You were planning to sell your white one to make room for the CW!

Well, if I got this one, the CW wouldn't be duplicative. And you know I was thinking I needed another mid-casual watch to wear with brown clothes.

The face of this watch is black!!

I know, but it's on a bracelet, so it's versatile. Or I could put it on a brown strap. I liked that look with my Hamilton Jazzmaster, which I no longer have....

Seriously? Oh, and are you ever going to sue the jerks who stole your watches?

Yeah, yeah, but we need to get back on track here. Yeah, I like the dark-grey-on-brown look, like this:

Ooh, that's nice.

Wait, maybe I've been thinking about this all wrong. Maybe I should get the black-faced CW C600 and keep my white Mido! It may be too hard to see the silver hands on the white face...

What!?!? You slaved over this decision for weeks. You e-mailed Chris Ward before they had the white+red bezel. You like to think that YOU got that watch made! Can't go back now. Don't second guess yourself. That's how you get involved crazy thought-conversations, like this one.

[looks at CW Website] Holy cow! If you buy using Euros, the black CW C60 600 is less than $800! And the GMT version is less than $1k! Do I need the GMT? Maybe I'll want to set the GMT hand to the hour the baby went to sleep, so I could time it that way... Maybe I should just forget about the Mido and buy the CW now.

Hold on, cowboy. First, now you're adding more money, and new decisions into the mix. Second, a purchase like this would more than tap you out right now (especially if you bought the GMT! Now you think the GMT is worth the price!?). Third, I know you want to get the watch before the kid is born, so you can wear it (you hope) during the delivery, but that's still more than three months away. And you've got a birthday and three more months of paychecks before then. And the strong possibility that there will be a CW sale of some kind. Let's not go crazy here.

Okay, you're right. No CW for now. But what about this great deal on the Mido?

Do you
really
think you're going to wear the grey one with brown?

I dunno. But I love the Mido dial, and I think I would like to keep it even if I buy the CW. If I had it on grey, it would likely get worn if I got the CW in white. If I kept my white Mido and got the CW in white, I'm guessing it would mostly sit in the watch box. I think I can still afford CW even if I keep one Mido (provided I wait a few months). And I don't know how the grey will wear, so maybe I'll like it even more. Plus, the lume on the grey is cool:

Oh, like you really care about lume on a watch like this.
Fine, fine. But the grey colorway is still compelling. AND THE PRICE!!

The seller is a little sketchy. There are some feedbacks saying that he mails $500 watches in bubble envelopes. And the lightbox photos are so overexposed that you can't be positive about the condition.

Maybe. But it's CHEAP!

What did we say about not buying watches just because they're cheap...

I know, I know.

Plus,
you already own this watch.

I KNOW! I KNOW! But I'm 95% sure that I can flip it for what I paid. And I have this $25 eBay credit for selling an item... it's SOOO cheap.

You already...

...own this watch, I hear you, Mr. Broken record. But look at what this does for me: If I really like the grey Mido, and it works for me, I can sell my white Mido, buy the CW in white, and have two cool watches. If I change my mind and decide that the black CW is the way to go, I can flip the grey Mido, keep the white, and have the grey CW. If I need the funds to purchase the CW, I can sell them both. And won't it be cool, in the meantime, to take pictures of the watches together, "as brothers"? I bet WUS would get a kick out of that!

You're convincing yourself to buy a watch so you can take picture to impress folks on WUS? You've gone mental...

Maybe, but this seems like a plan!!!
[Buys watch on the Bay]
Oh man, what did I do?
...
...

Told ya.

Should I cancel my bid?

No. Your plan, as insane as it may sound to an outsider, is a good one. It also prevented you from buying the CW right now, which was a good idea. You'll get at least 90% of your money back if you sell one or the other. And if the watch is crap, or if the eBay seller is a jerk, you can get your money back or file a claim with eBay. And if you decide that they don't really fit, you can flip them both, though it may take you a while. And... the "brother" pics will be cool. You did good.

Thanks!

Don't mention it.

...
...

Hey.

Yeah?

Can we check out WatchRecon for a while, just to see what's available?

[Sigh.]