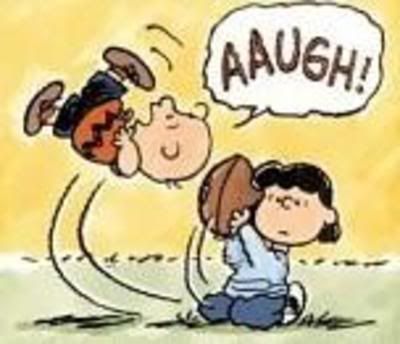 Lucy fools Charlie Brown again. Just as she assured him that he would kick that football like he'd always dreamed of.
I'm Charlie Brown, Lucy is this eBay seller.
Bid on a sweet Seiko Ananta SNR021 on eBay. Lost interest at $2000. Reserve not met and bidding died at $2026.
NIB Seiko Ananta Spring Drive GMT SNR021 | eBay
I get a legitimate "Second Chance Offer" the next day for my max bid of $2000. To which I immediately buy and pay with Paypal (on credit card).
http://www.ebay.com/itm/32077662993...29938&_sacat=See-All-Categories&_fvi=1&_rdc=1
Well, the seller is silent for a day which seems odd on such a purposely sent offer. So I message him thru eBay reminding him of my purchase.
He finally replies today with this:
Hello David,

I'm afraid I maid a really big error when I went to initiate the second-chance offers. I had selected two buyers thinking (my big mistake) here that it would be first-come first basis. I didn't think two people could actually bet set up to purchase the same item in ebay. I really and sincerely apologize for this and have refunded your money just now through PayPal.

I am going to send out to the ebay support staff on this and see fi they can fix this problem.

Again, I really am sorry for this mix up and I offer my sincerely of apologies.

Also, if you do want one of these Spring Drives, I know that the jeweler I bought it from could give you a great deal. You can contact Michael Fischer at

[email protected]

or 858-259-1819. You tell him I sent you his way.

Again sorry about this mix up.

Regards,
Ron


Just a bunch of bull I thought I'd share with you guys.