Discussion Starter
·
#1
·
Hello all,
Further to my recent love affair with the EF-546D, I found an older, used Edifice on Ebay this weekend. It arrived this morning, and is the EF-503D white dial.
This is the one that's sometimes referred to as a poor man's Speedmaster, especially in the black dial version, but I'm not sure. You can be the judge of that. Again, this is one of those watches which doesn't seem to have a lot of clean pics on the web, so hopefully these will help anyone interested in this model.
The Ebay pic was less than clear :-d.... so I was taking a bit of a gamble, but I paid next to nothing for it....
However, after it arrived I cleaned it up and resized the bracelet, and it started to look like this: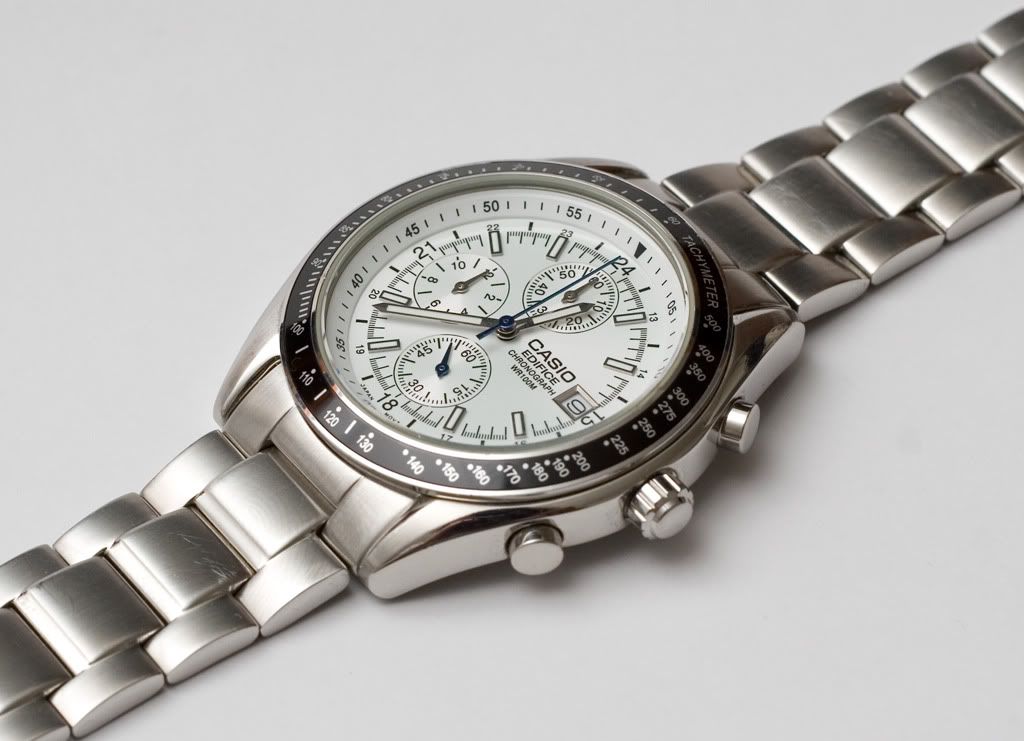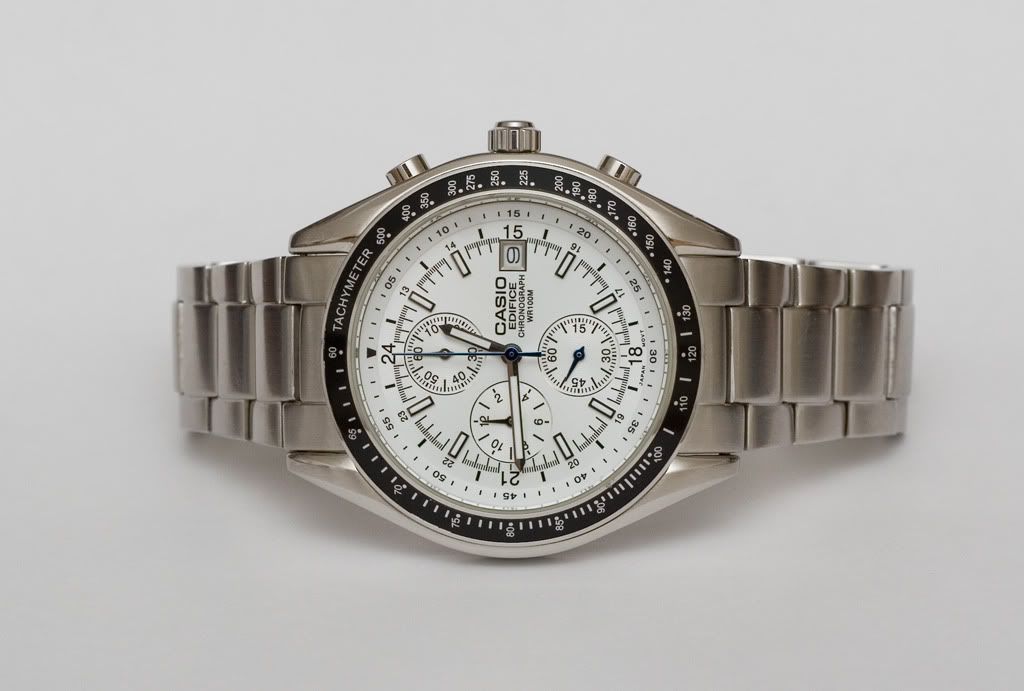 It has a screwback and solid end links: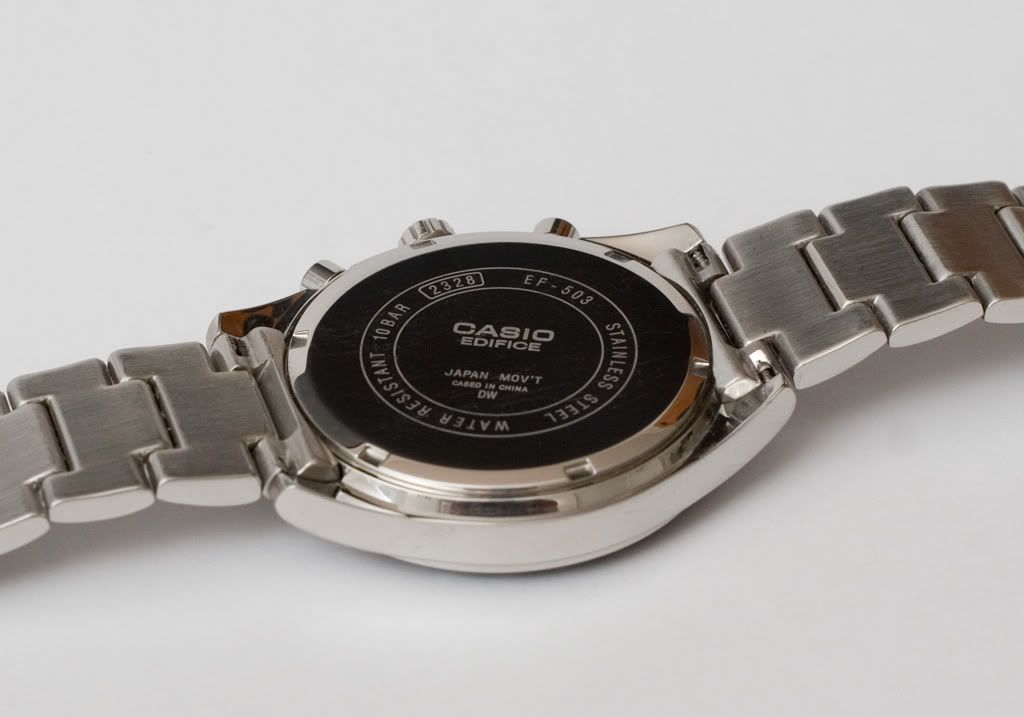 The chrono is similar to the EF-546D, as in it's pretty basic and counts in one second increments. Unlike the later Edifice, this one's main branding is Casio first, Edifice second. It also omits the Edifice logo from the crown. Both the time seconds and chrono seconds hands are a nice shade of blue - probably not blued steel, but they still have that bright shiny blue appearance when reflecting direct light.
Regarding size, it's significantly smaller than the EF-546D, but it's probably more comfortable as a result. The lugs and bracelet can easily hug the wrist, which in my opinion makes it more suitable for those with small wrists. I know some people have expressed concern that the 546D is too big for them, so this could be a better choice at a similarly small price. The diameter excluding crown is between 41 and 42mm, which is just about identical to my Seamaster. Height is 10mm, so that combined with the more compact dimensions and rounded design means that it easily slides under a cuff.
The lugs appear to be 20mm width, although I'll confirm that when I try a strap on it. The bracelet is comfortable and like the 546D, the clasp includes four fine-tuning positions.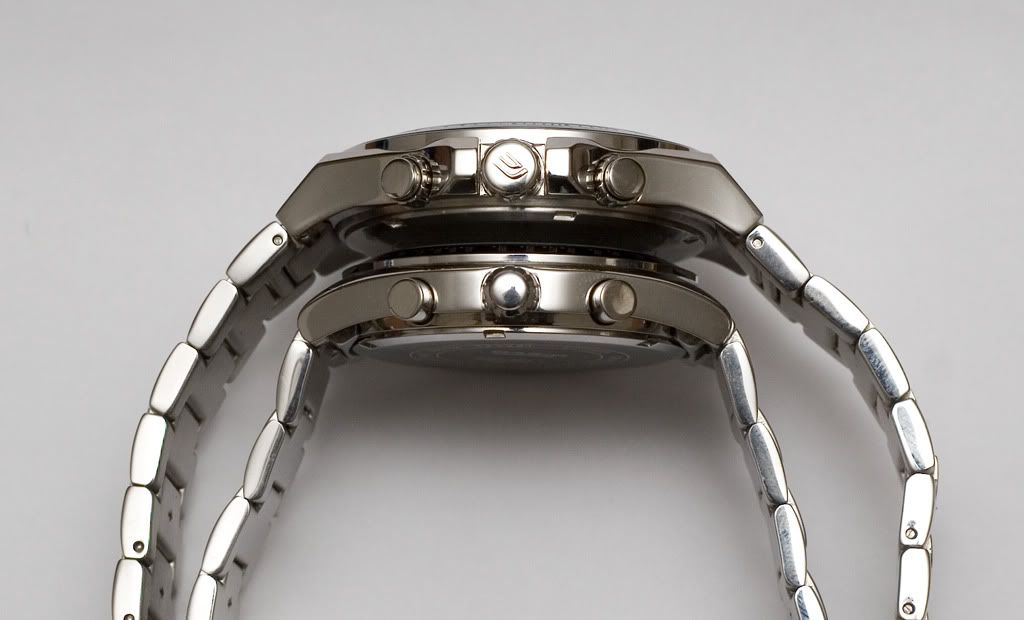 So, all in all I'm pretty happy with it. It doesn't have the wow factor or the more contemporary feel of the 546D, or indeed the many other more technical Edifices which are available, but I can see it playing a more subtle, understated role on a regular basis. Now, what strap should I put on it? :-d