Discussion Starter
•
#1
•
So, I have an Antman. It looked like this:
Yesterday, some polarising film arrived in the post from a very kind fellow forum user (big thanks to lowtech! |>). So, today I took my Antman apart and removed the native film, then replaced it with some of the film from lowtech, orientated at the right angle to produce a negative display, which now looks like this:
In addition to changing the display, I wanted to make this little plastic bezel insert black: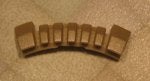 ...but upon being dunked in hot RIT dye, the thing melted. :roll:
So, I nipped off to ebay and picked up some Milliput Black 2 Part Epoxy Putty, which I suppose will arrive in a few days. The plan is to plug the gap in the bezel with this black epoxy putty, which if I do it well, might even look better than the original (to be honest, the only thing I never liked about my Antman was the gold bezel insert. ...Not just because of the colour, but because it was an obviously fake antenna, which frankly wouldn't convince anyone who has ever dabbled with radios before).
Tomorrow I'm going to visit a local modelling shop and buy some black enamel paint for the G in the light button, and for the red writing on the top of the bezel.
I've also removed the chrome strap plates, just to make the watch as stealthy as possible (although I may put those back later ...not sure yet).
More pics to come when the project is complete...