Hi there,
since I havn't got any feedback from anybody asking for opinions and/or experiences on the Archimede Outdoor Sport, I simply ordered one after Christmas...
Background information:
I have been looking for a watch, that I could use for sailing (so it should stand at least 100m) without being too big or too expensive. My investigations lead me to a short list of two watches: Damasko DA 36/37 and the Archimede Outdoor Sport. In fact, the final decision was based on pricing... My female minister of finance (for those of you, that are not married - my wife) insisted to put a new kitchen on the top of the shopping list, so budget was a bit limited this year. :-( So the Damasko will have to wait some more months...
What's about the Archimede? Well, first of all it provides a great value for money ratio! The Outdoor sport is delivered with a perfect steel case (Mr. Ickler started as a specialist for watch cases) sapphire glass and metal strap (regards to Damasko...) for € 295,-. In fact, this thread could also be interesting to the affordables forum!:-!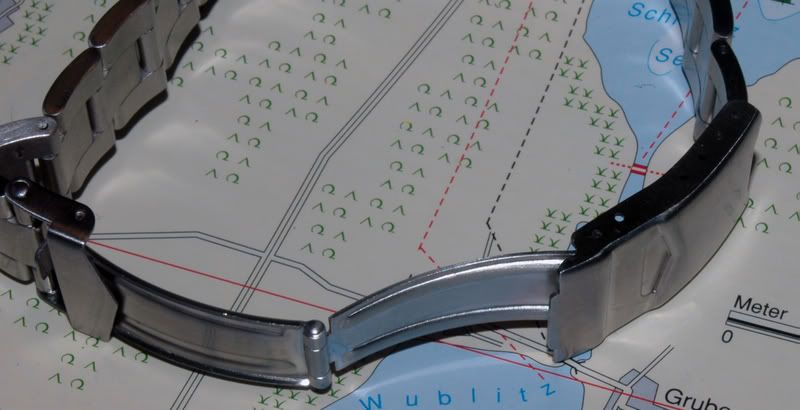 For this money, you get a 200m waterproven watch (don't waste your time with nasty questions: That's of course not the depth I use to go sailing at...) equipped with the 'workhorse' 2824-2.
Another argument to me have been the small dimensions of the Outdoor Sport. I know that large watches are fashionable nowadays, but for sailing it is important, that a watch doesn't constrain your operations. With a diameter of 38.7mm and a heights of 10.6mm, the Archimede is probably designed at the smallest possible dimensions for a waterproven automatic.
I received the watch two days ago and I really like it! Of course, the design of the watch is not made to get really emotional. It is neither a real pilot watch, nor a tool watch and also not a diver. But its a timeless, classy design which will fulfill its assignment very good. The position of the date window is clearly an issue to me (like for many others here in the forum). I understand the idea not to destroy the symmetry of the dial, but the location at 'half-past-four' looks a bit lost...But in total, I really like this watch and can hardly wait for the next chance to experience the Archimede in its elements.
After my next sailing trip, I will give you some more information how the Outdoor Sport performed in practice.
Regards Nauticus (Niels)
P.S.: This is the first time, I try to use the html inclusion of pictures. So if it goes wrong, I will reply to my own post to try it again...