Discussion Starter
·
#1
·
Hello,
I am a complete newbie with regard to mechanical watches, and everything I think I know comes from this site.
This is my first post. I have two questions:
Is Ashford grey-market or not?
What is daily inaccuracy is considered defective for a watch like this new Hamilton Broadway Chrono (H43516171)?
It seems to be 20-30 seconds fast/day. This has been confirmed with beat counting phone apps, and actual measurement. Swatch service center says -10 to +15/day is within spec.
Background:
I recently purchased a Hamilton Broadway Chronograph like this, from Ashford for a really good price (1/3 retail).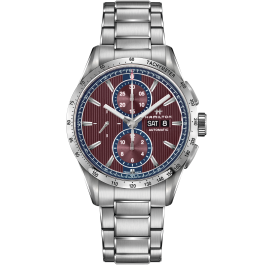 Broadway brings burgundy to the Hamilton collection for a modern, fresh look that stands out from the crowd. The Automatic Chronograph demonstrates how style and substance can be perfectly balanced in a watch that's made for the city. It comes with a choice of leather strap or stainless steel...

www.hamiltonwatch.com
It came with a blank international warranty card.
I thought Ashfored was grey-market, and therefore there is no manufacturer warranty.
However, As you can see in the link above. Ashford claims to be authorized dealer, and if you go to warranty pages, the explicitly states Hamilton has manufacturers warranty.
Not taking Ashfords word for this, I called Swatch service center, and they stated that Ashford is an authorized dealer, and that no warranty card is required, and that a receipt is all that is required.
FWIW, the local authorized Hamilton dealer said they could only come down 15% or 25% (I forgot which) from retail without suffering Hamiltons wrath. When I told them the price, they said there is no way that it is not grey-market and will be factory serviced under warranty. They also said the price was below cost, and advised me that because the price is so good, I may want to keep it, if it is real, and have it regulated/repaired, and not return it.
As a side note, I would not have been alerted to the inaccuracy if I had not bought a Tissot PRS516 powermatic 80 3 days earlier, that keeps time within -2-4 seconds/day under identical conditions. Yes, I went from no mechanical watches to 2 in 3 days.