2 years ago my wife bought me a pre owned Tag Heuer Aquaracer for my birthday. Now I know that few on here are going to be impressed by a Tag Heuer, especially a quartz model but for me this was a proud moment and thought it looked stunning. One thing that always bugged me though was the second hands not landing on the seconds markers. Last Wednesday I decided to take it to a watch dealer for a quote, not an official Tag Heuer dealer but my local who also specialised in watch repairs. They asked if they could have a look and before I knew it and to my horror, they had it apart, slapped the case and glass face down on the dirty, rough wooden counter and started fiddling around before announcing that they couldnt do anything.:-|

They gave it back to me and I left. I quickly noticed that a piece of dirt was trapped on the second hand so I begrudgingly took it back for them to take it out. When I got home I noticed that more dirt had crept it and that the back of the case was badly marked. :rodekaart. That was it, no chance I was taking it back there so I wondered- how hard could it be? A quick youtube search later I whipped out some makeshift tools; a pair of scissors to unscrew the case back and a needle to release the crown.






I didn't take a photo of the face out of the case as I wanted to minimise the chance of any further dust getting in so it had to be a slick operation. I have to say that I was shocked at how easy it was to do and even more shocked at the price dealers charge for a simple, non pressure tested battery replacement.

Taking off the bracelet I noticed how dirty the case was between the lugs so decided to get the brasso out and give it a good clean.






As I finished I thought I would see if I could improve the case back by rubbing some brasso wading over some white polishing grade compound and rubbing in a circular motion to maintain the brushed effect.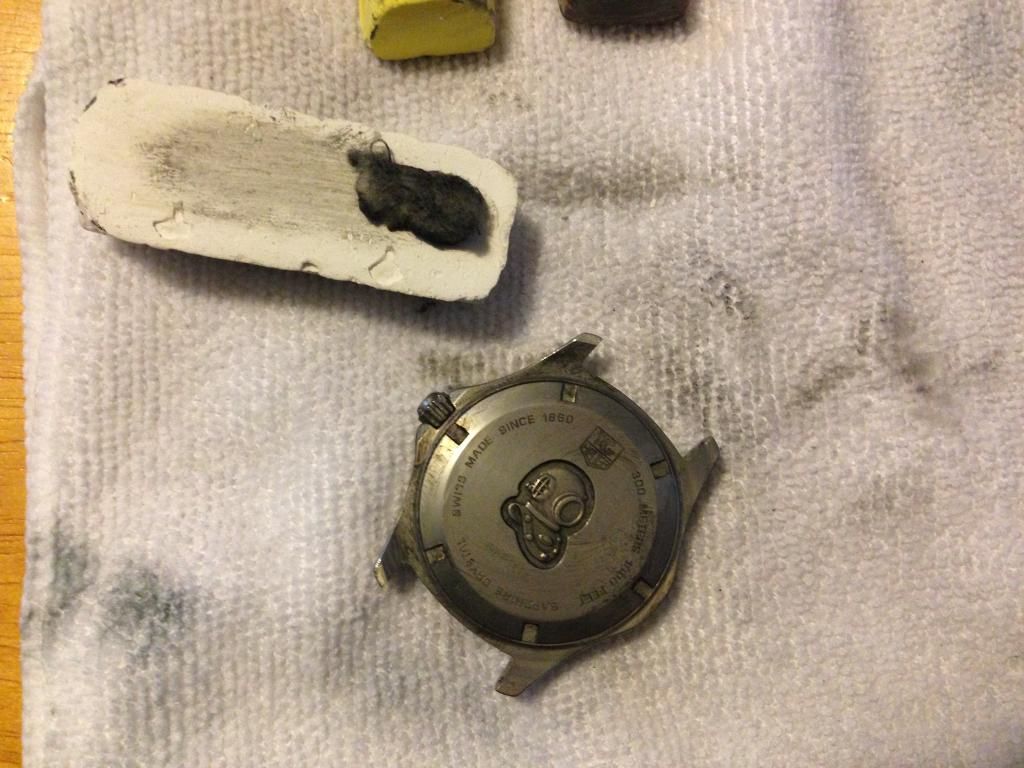 The rest of the inside of the bracelet looked as though it needed a clean so I carried on.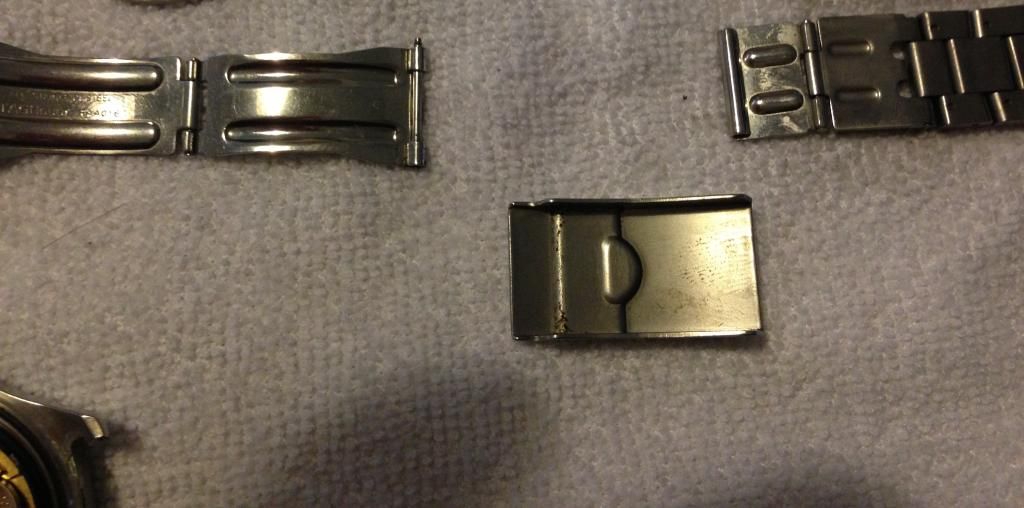 The camera phone showing its inability to show shiny/darker matt contrasting surfaces...or it might just be my photography skills.






With the bracelet finished I took to the main case/front of the watch which had quite a few battle scars including one large dent on the edge of the bezle to the right of the 12 lume dot. Having read many threads on here I knew I had to be very careful so as not to destroy the lines. I took some course black compound and used the block itself to ensure I maintained a sharp line as I started to cut away at the 2 sides of the bezel. By the time I had cut in enough it was looking a state. Unfortunately I was concentrating so much at this stage that I completely forgot to take any pictures. Anyway, I painstakingly, over a couple of hours worked my way up the compound grades using smaller and smaller pieces of wadding to put back the fine splayed brushed steel effect.

As can be seen below I dont think the lines have changed to any perceivable amount so now it was time to work on the worn away black paint increments, so out came the acetone to clean the markers before applying the nail polish.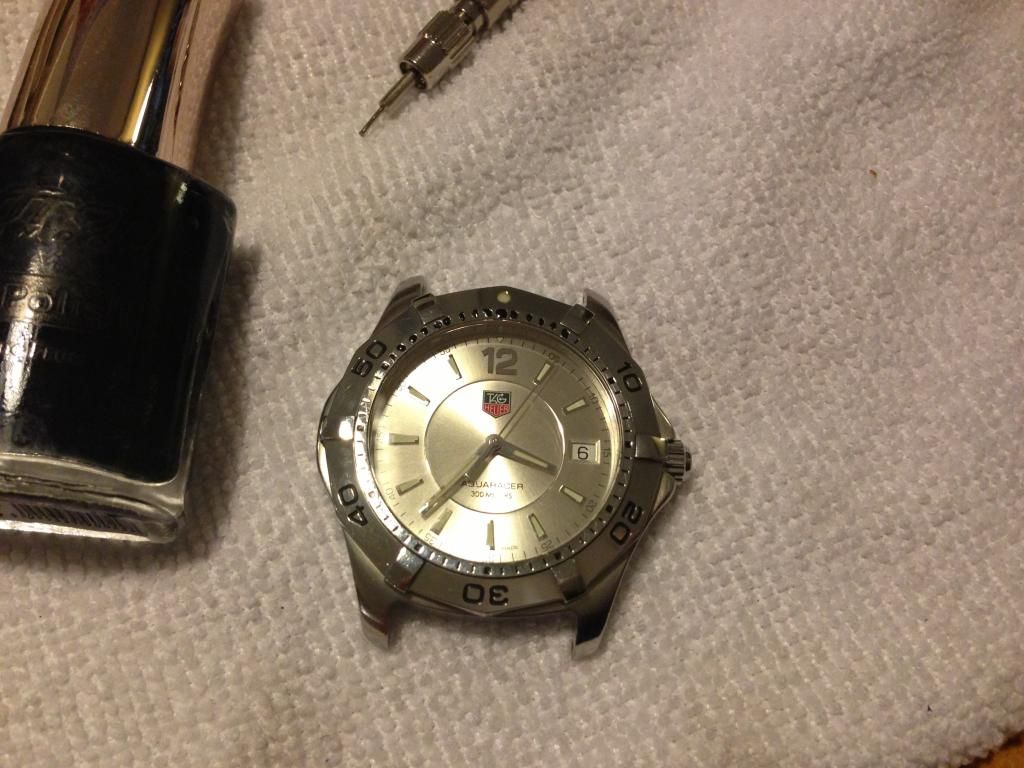 To remove the overspill I applied the acetone to a cloth and wiped away. I can't tell you how frustrating this part was. The first time I did this I wiped the whole lot away and had to start again. It took quite a few attempts before cracking the technique of waiting a few seconds, pulling the cloth tight over the finger and using a flicking motion to wipe away the excess.






I spent another hour or so fine finishing other blemishes that stood out until I was happy with what looked like a barely worn almost new watch.
In the end what was a bad dealer experience led onto a snowball effect of restoration that has now resulted in this seeing more wrist action than any of my other watches. Although this sounds strange I have bonded with it far more and have now become considerably less obsessed with the misaligned second hand...plus now I will save a packet every time it needs a simple service/battery replacement.