This is the Bernhardt Binnacle
[SOLD in less than 15 minutes]
. For those who have read about Bernhardt, then you know that Fred B. Amos has numerous WIS fans, and when I first opened the box to the
Binnacle
, I understood why. It is an exceptionally built watch for the price. (Do a search if you would like to read up on what fans of this watch has to say.)
Automatic, screw-down crown, Sapphire crystal, 200m WR, 40mm case, 316L stainless steel, and housing the famously reliable Miyota workhorse -- the little engine-that-could. 2 YEARS LEFT warranty. (The Binnacle reminds me of the Rolex Milgauss.)
I just purchased this Binnacle last month, and has worn it literally in the house only, and then placed it back into its box (I had another watch arrival). This is, thus, practically a brand new watch. You can order it from Bernhardt for the full price, or you can buy this one for:
$139.
This is a ridiculously low price that I've set in order to move it, and first one to offer this amount will be its owner.
This Binnacle will come fully loaded with everything: outer and inner boxes, signed cards, and both original bracelet and leather strap. The stainless steel bracelet (with screws) has NEVER been used.
Paypal. I ship only CONUS, and I will pay for all fees. You will get practically a brand new, beautiful Bernhardt Binnacle. Here are pictures of the actual watch you'll receive: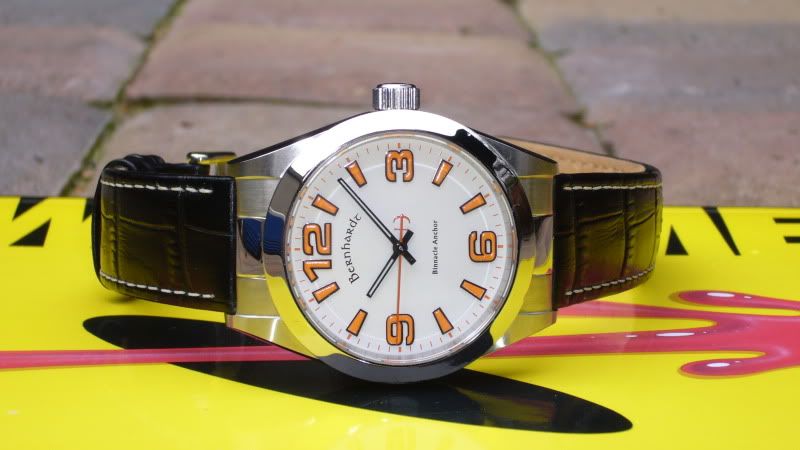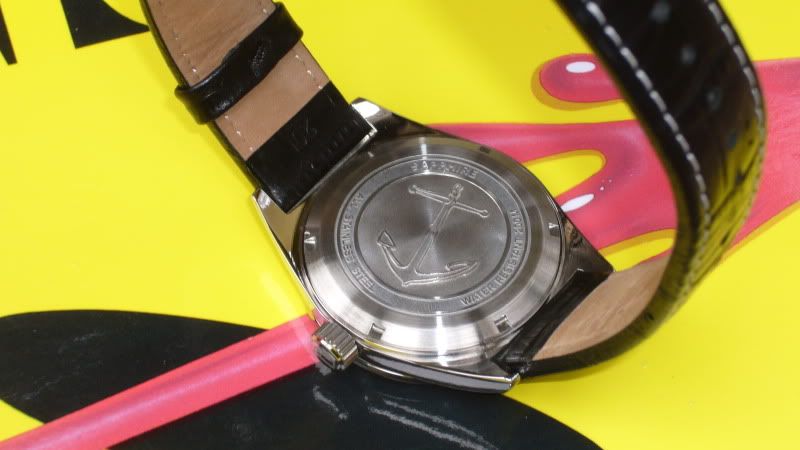 All original material will come with this watch: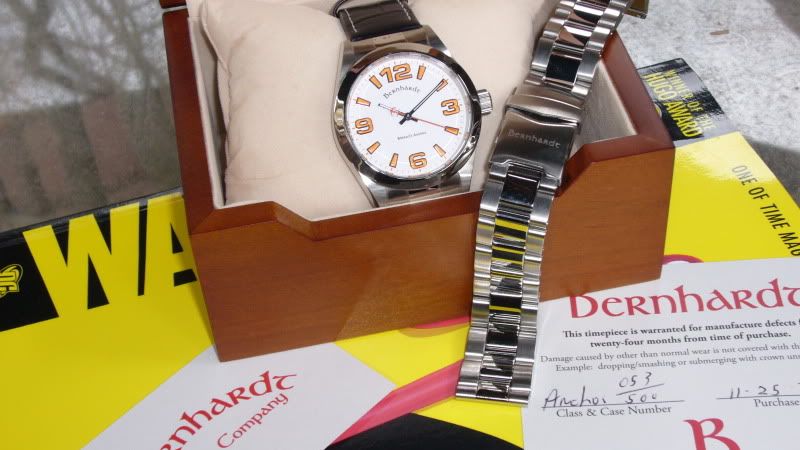 The wooden box itself is very beautiful.
Please PM me, or you can email me at: popmartini @ gmail . com (not my paypal address.)
I'm selling several watches at the same time, so please indicate which watch you'd like to buy.
Thank you and good luck.
Best,
Johnny