Discussion Starter
·
#1
·
WUS MEMBER DISCOUNTS…discount code on my site for coupon code for WUS members:
wus10ovr50
orders over $50
Please visit my site by clicking below
<a href="http://www.fredawatchstraps.com"><b>Freda Watch Straps</b></a>
to view my full selection of Di-Model straps.
Here are some of the notables of the top strap companies that you'll find on my site: Di-Modell, Hirsch, Jurgen's, Axel Jost, Hadley Roma, ABP, Camille Fournet, & My "European based Freda Collection"
Or email or PayPal me at
[email protected]
Shipping & conditions below, free (USA) shipping for WUS members, use coupon code WIS.
Free spring bar tools with product orders exceeding $40
Thanks
Kenny
BEST SELLER – The Chronissimo bu Di-Modell, Germany
Chronissimo Waterproof
– The top selling strap on the market. Great for chrono's or divers. Special length*, 100mm waterproof and loop anchor. MSRP $91.95
Forum (PayPal) Forum (Paypal direct) Price $77.50
I am a Di-Modell Authorized Dealer, you can check their site under Partners
Free priority mail or worldwide shipping* (see included countries below) when you mention WUS
How to order
– sent me a Paypal directly for 77.50 cut and paste the following email address and your strap selection in the appropriate fields and submit.
[email protected]
Black with white stitch
Chronissimo 20Short
Chronissimo 22Short
Chronissimo 18Regular
Chronissimo 20Regular
Chronissimo 22Regular
Chronissimo 24Regular
Black with Red or Brown with White
Chronissimo 20Regular
Chronissimo 22Regular
Lengths: regular 85x120, short 75x115, thickness 7.25mm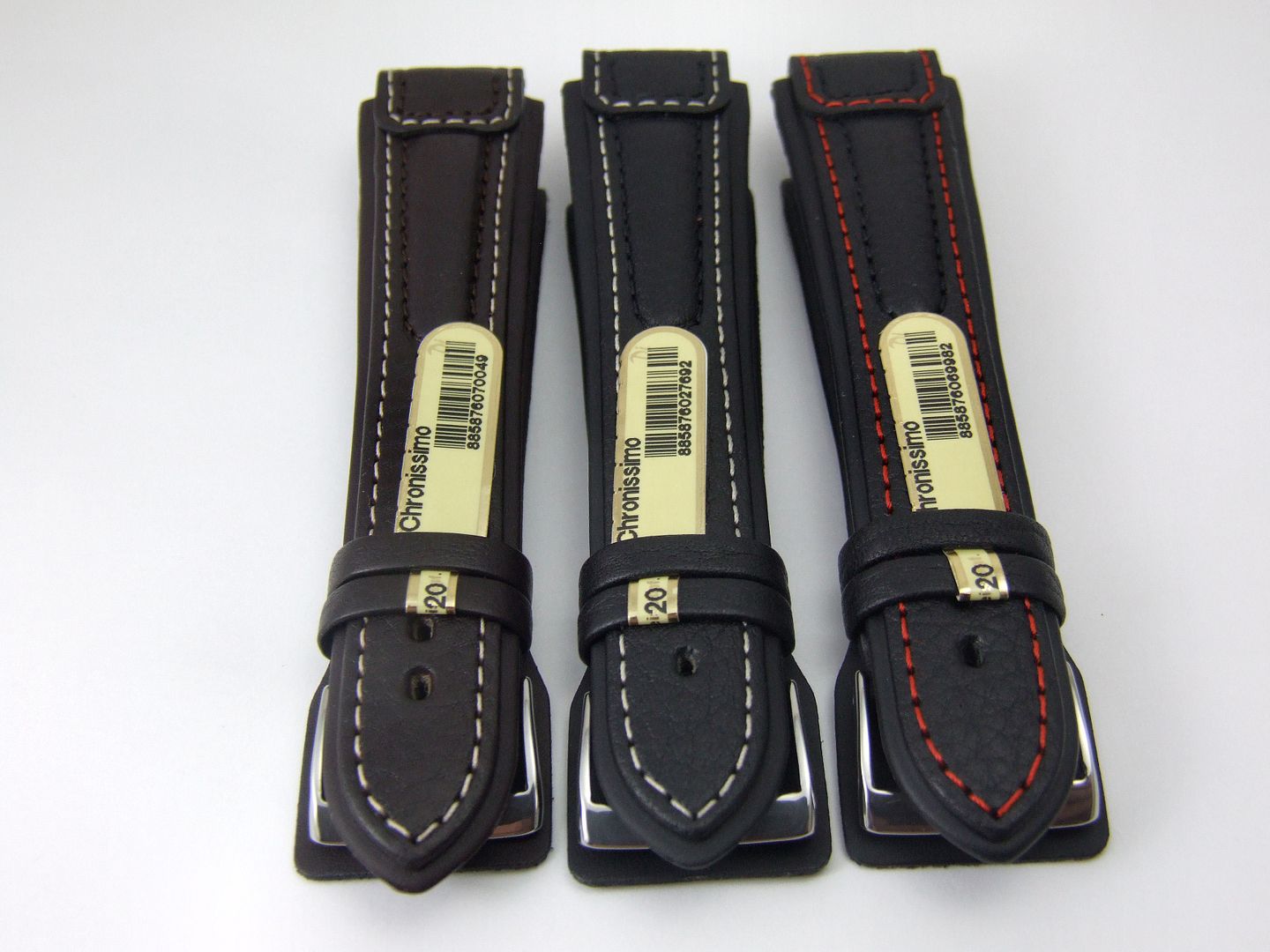 Straps by Hirsch
On my site you will find
Hirsch Deployants
Precious/Exotic Skin Straps
Premium Leather Straps
Premium Caoutchouc
Best Sellers
Other Popular Straps.
<u>Hirsch Strap Lengths</u>
"M" = 70mm x 110mm Ladies Regular or Gents Small
"L" = 80mm x 120mm Ladies Long or Gents Regular
"XL = 100mm x 120mm Gents Long
Ayrton
– UPPER: Carbon styled hi-tech leather with pin holes, scratch resistant, LINING: Pure Caoutchouc Rubber. The underlisting has vertical and horizontal channels to wick away moisture. MSRP $124.95, forum price $112.50
Dimensions:
Length: 80 x 120
Strap width and thickness:
20mm x 18 x 6.0,
22mm x 20 x 6.5,
24mm x 22 x 7.0
Colors: Black with red, orange, blue or yellow lining which is visible from the sides.
Buckle: Hirsch matte black finish
….A really nice match for the this Black Steel Avenger
Straps by Jürgen of Germany
High quality straps hand made by Jurgen's Germany. Leather or Gore Tex lined, finely detailed, an absolute complement to your fine timepiece, particularly Pilot and Military styles.
BIG PILOT - Tropical
IWC styled Big Pilot Buffalo MIL strap 18, 20 , 22 and 24 mm NEW topic style rubber backed black or brown Hand made in Germany , nice Pilot's straps made from genuine Buffalo Leather , soft and very comfortable. The off white stitching looks great . We use ss screws and rivets on them but they have NO open ends! They are available in 18, 20 22 and 24 mm, regular or tropic styled available in black and brown regulars are made of 2 sheets of genuine buffalo leather with one sheet of special anti-stretch material between the leather sheet, tropics are made with one sheet of Gore-Tex material and a genuine sheet of black rubber on the inner side to protect the leather from $99.00
Sizes: 20mm, 22mm
Colors: Black, Dark Brown
Made in Blackstone Valley, USA


This is my own line of straps, handmade here in Blackstone Valley, MA.
These are all hand cut, lined, stitched by me. Prices are introductory and a superb value for a USA hand made strap. Email me if interested. 100% satisfaction guarantee, if you decide its not for you when you open the package, email me and I will email you a return label.

Horween strap and/or bunds $39 each or add a bund to a strap for $30. Black, brown, tan, natural, burgundy, vintage red
Oil Tan Strap and/or Bunds: $29 each or add a bund to a strap for $20. Espresso, Maduro, Pebbled camo tones, Burgundy, Tan

100% guarantee on these items, if for some reason you decide the item is not for you, just contact me and I will send you a return label for the unworn item.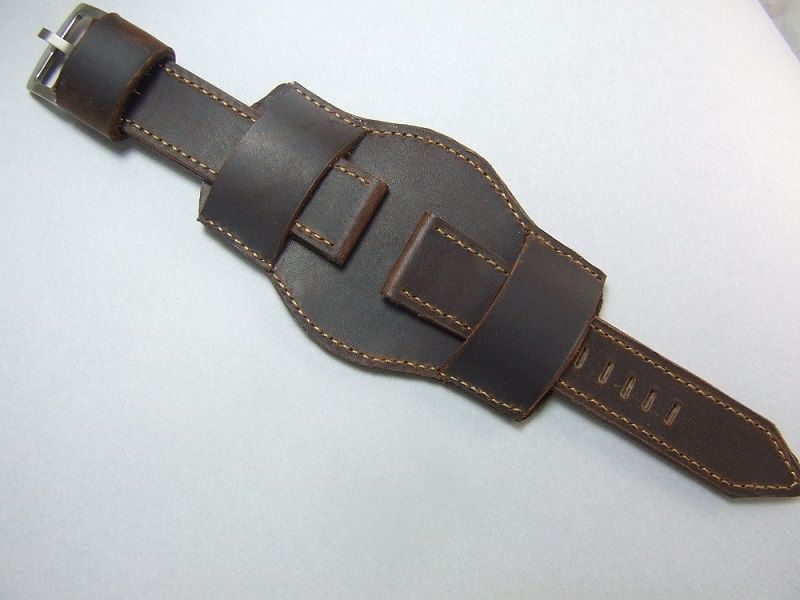 Straps by HADLEY ROMA, USA

Genuine Saddle Leather Extra Heavy (5mm) Pad Self Lined MS914 Contrast hand stitching. Water resistant, very thick padding, Thumbnail buckle. Plus extra wide floating keeper. MSRP $59.95, forum price $52.50

Sizes: 20x20, 22x22, 24x24, 26x26
Colors: Black and Tan
Length: 80x125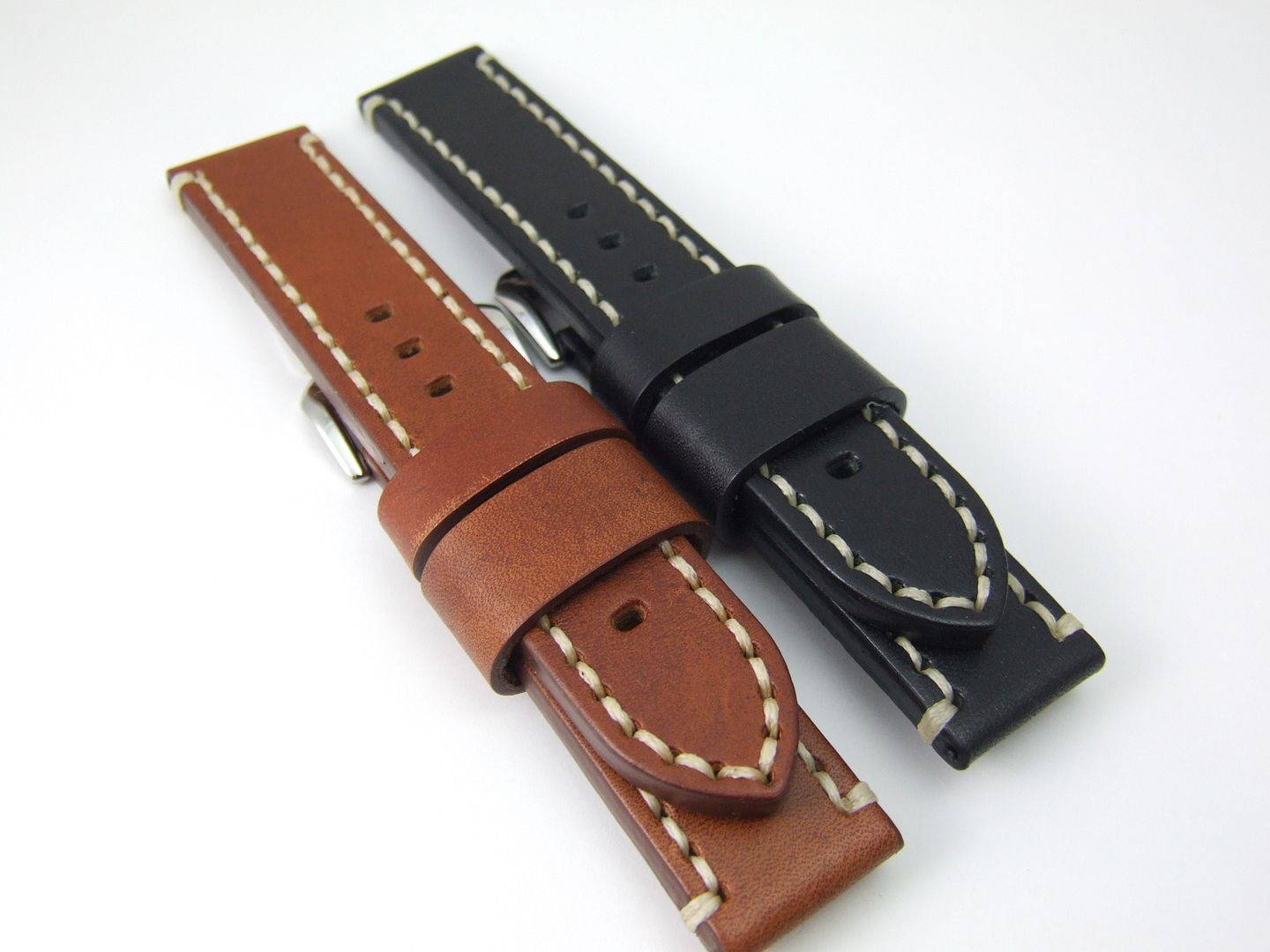 Return Policy – Returns allowed as long as the following conditions are met (non warranty returns):

1. straps can not be worn or tried on (it puts a bend in the strap and can't be sold as new)
2. tags still attached and packaging intact
3. must be exactly as sold.

Please take all measurements before attempting to mount the strap.



Shipping Charges (updated January, 2018):

Inside the U.S. -

Orders over $39.95 and paid directly through PayPal are free 1st class with delivery confirmation.

1st Class with delivery confirmation..............$2.70

add $1.00 for insurance coverage

Priority Small Package (smaller mailboxes).....$7.75

Express Mail Flat Rate.............................$21.95(includes $100 in insurance)


Outside the U.S.

Airmail, no insurance or tracking..................$15.50 See Comments Below***

Includes E-delivery confirmation
Priority International 4-6 days, no insurance or tracking.......$35.00 See Comments Below***



Important notes/terms of sale

The postal system around the world generally does an outstanding job; my experience has been a worldwide delivery rate over 99%. I provide (reasonable) evidence of shipment.

***If you are concerned about in transit loss, and not in an "E-delivery Confirmation country"....please select a secured or insured method as the terms are FOB shipping point, seller is not responsible.

Items insured must have a visible declared value equal to the amount of insurance coverage.

Please contact or paypal me at

[email protected]

. Thanks for looking.

Thanks, Kenny

Note: this post supersedes any prior posts or offers.