Discussion Starter
·
#1
·
Breitling Aerospace



A brief history to aid identification and dating
​
Since its launch in 1985 the Aerospace has undergone a bewildering number of changes with a policy of continual updating being followed by Breitling. These notes attempt to help make sense of these changes and to help with identifying and dating an Aerospace.

Please note it is not uncommon to see Aerospaces with bracelets either earlier or later than the watch. (This can happen if a dealer fits an older design bracelet for a customer when the watch is new, or fits a newer design to an Aerospace originally sold on a strap). Usually though the bracelet type can help give a good indication of the age of a watch.

1985
Breitling launch their new pilot's watch, the Aerospace. Although the actual model name is Aerospace, initially like all Breitling pilot's watches in the early to mid-1980's the watch is classed as a Navitimer. The Aerospace is named "NAVITIMER" on both the the dial and the case back.

Available dial colours are titanium grey or ivory.
The case is either all-titanium metal or bi-colour (titanium with gold-coloured rider tabs).
A 24-hr UTC (Universal Time Co-ordinated = Zulu time = GMT) module is an option but in plain titanium only, not bi-colour.
The crystal is mineral.


Aerospace ref 80360 with titanium grey dial (NB: "titanium grey" is the dial colour, not the material it is made from.)




Aerospace ref 80360 with ivory dial
​
The model reference in the 1980s is 80360 which is stamped into the case back.


Aerospace ref 80360 case back
​
The seven-jewel quartz movement is based on the ETA 988 calibre.


Aerospace ref 80360 movement (battery removed)
​
Unusually for a watch with LCD screens, a polarisation-sensitive dichroic filter enables the LCD to display in "inverted mode" giving "gold" text on a dark background. (Normally LCD screens show black characters on a light-coloured background).


The manual has "DICHROIQUE" - french for dichroic - on the cover

(Manual supplied in 1988)




Advertisement for Aerospace ref 80360 Bi-colour in the June-Sept 1987 Sporty's Pilot Shop catalog
​
The bracelet is also named "Aerospace" and is available in plain ti or in a bi-colour version with alternate gold-coloured links.


Bi-colour "Aerospace" bracelet with spare links.

(Bought in 1990)
​
Some watches have the name "AEROSPACE" on the dial instead of "NAVITIMER". Currently it is not known whether these dials are original or later replacements made during servicing. An enquiry to Breitling SA has so far not produced a definitive answer on this.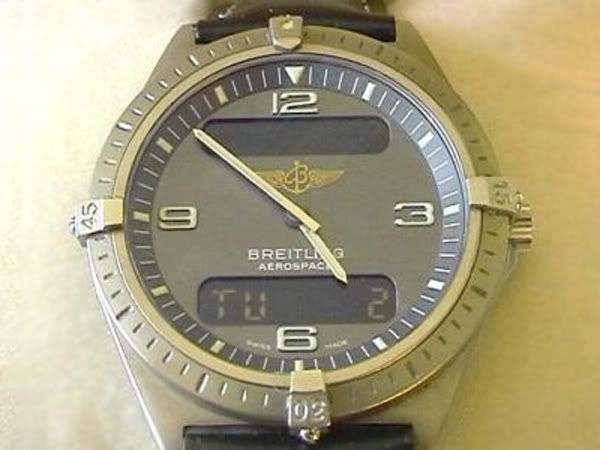 Aerospace ref 80360 with "AEROSPACE" dial
​
1990
Available dial colours are now dark grey (called "black") or light grey (called "titanium")

1990/91
Breitling change the model reference system for all of their watches. The Aerospace becomes the E56059 for all-titanium or F56059 for bi-colour titanium & gold. The "56" refers to the B56 quartz movement, Breitling's reference number for their use of the ETA 988. Initially the new model reference is stamped on the previous ref 80360 case back.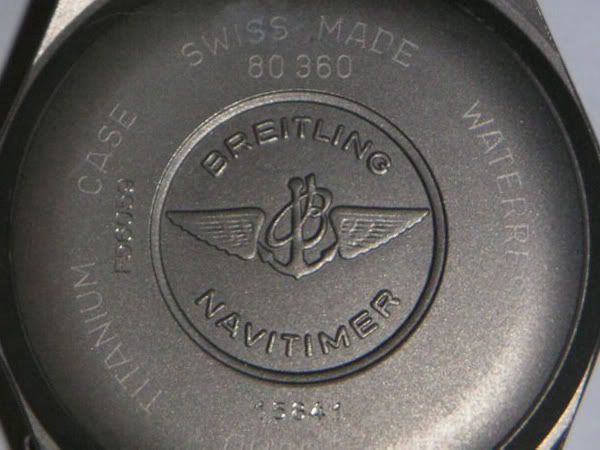 New model reference "F56059" stamped vertically to the left of the Breitling wings on ref 80360 case back




E56059 "NAVITIMER" case back
​
Later ref 56059 case backs have french text and "1884" replaces "NAVITIMER" (like the ref F56060 in the image below).

Model refs E56059, E56060 and E56061 were issued between now and 1994. Most have "AEROSPACE" printed on the dial but some have "NAVITIMER".

1991
UTC now available in bi-colour

1992
In the Breitling catalogue the word "AEROSPACE" replaces the previous "NAVITIMER" on the dial. The dial is now also available in blue. A 12-hr UTC module is now available.


Ref E56059 with "AEROSPACE" dial and "Aerospace" bracelet




Ref F56059 with "AEROSPACE" dial, later-type crown and bi-colour "Aerospace" bracelet
​
1993/94
Bracelet choice of "Aerospace" or "Professional".


A ref F56059 on a rare bi-colour "Professional" bracelet.

This bi-colour version was abandoned after a short time for a return to a redesigned "Aerospace" bracelet.




Ref F56060 case back.

The inscriptions are now french and "1884" has replaced the previous "NAVITIMER".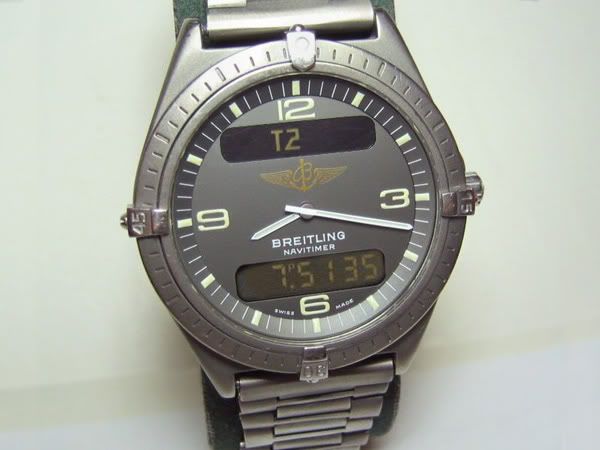 Ref E56061 with "NAVITIMER" dial
​
1994
The Aerospace is updated and to differentiate it from the previous versions is now temporarily named the Aerospace II. The lower digital LCD screen is larger in height than previously with bigger, easier to read digits. The unidirectional bezel is marked in numerals at 5-minute intervals. The new model reference is E56062. Diameter not including crown is 39mm.


Aerospace II ref E56062 on "Professional" bracelet
​
The bi-colour "Professional" bracelet reverts to the "Aerospace" but in a revamped version; the middle connecting links which previously were all-gold are now titanium with gold ends.
18K white or yellow gold versions of the watch and bracelets are available.

1996
Revised Aerospace released with B65 chiming movement and bidirectional ratcheted bezel.
​
The dial has REPETITION MINUTES replacing the previous AEROSPACE and has supplementary 24-hr numerals. Diameter not including crown is 40mm. Available dial colours are dark grey, light grey, blue, or yellow.
Model refs are E65062; F65062; K65062 for ti; ti & gold; 18K.
​
1997/98
Greenish-grey dial available.

1998/99
Hour markers on dial now italic numerals.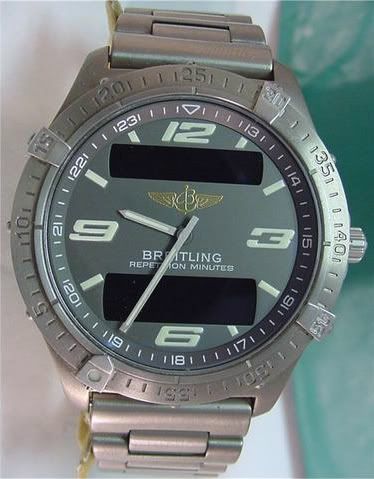 Ref E65062 with italic hour numerals
​
1999
From ca. 1999 Repetition Minutes Aerospaces are COSC-certified with model references: titanium E65362; titanium and gold F65362; yellow 18K gold K65362.


Aerospace ref F65362 with UTC module




The ref 65362 case back is a new design with additional wording. The serial number is the number allocated by the COSC to the movement and also appears on the chronometer certificate.

The diameter not including crown remains 40mm.




Ref F65362 and UTC module on Aerospace bracelet
​
2001/02
New B75 SuperQuartz movement. Model refs are E/F/K75362.
CHRONOMETRE AEROSPACE replaces REPETITION MINUTES on dial (watch still has chiming repetition feature).
The diameter not including crown remains 40mm:


Aerospace ref E75362 with grey dial and "Professional" bracelet
​
The Chronometre Aerospace is available in ti; ti and yellow 18k; yellow 18K; or white 18K. The "Aerospace" bracelet is available in ti or ti and yellow 18K. The 'Professional' bracelet is available in ti, yellow 18K or white 18K. The leather strap option has a buckle in polished stainless steel or gold to match the watch.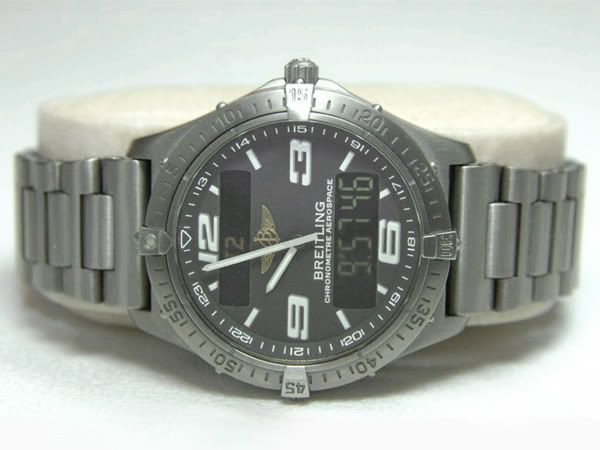 Aerospace ref E75362 with grey dial and "Aerospace" bracelet
​
Dials are available in a choice of four colours; black, blue, grey-green or grey. On ti and gold or yellow gold Aerospaces the words and outside numbers on the dial are printed in gold and the hands are gold coloured. On all-ti watches the dial printing and hands are white.

2005
In the 20th anniversary year of the Aerospace the new Aerospace Avantage (french for "advantage") is announced in March and shown at the Basel watch fair in April. It begins to reach dealers in September/October 2005 but is not widely available to the public until 2006.

The case at 42 mm diameter/10.35 mm thickness is larger than the previous 40/9 mm model and the movement is the new SuperQuartz B79. The dial has been redesigned and the LCD screens have a backlight function (like the Breitling B-1). The alarm is appreciably louder than the previous Aerospace ref 75362. The bracelet is the new Professional II with 'diagonal' links.

Model refs are: titanium E79362; yellow 18K gold K79362; white 18K gold J79362.


2005 Aerospace Avantage, ref E79362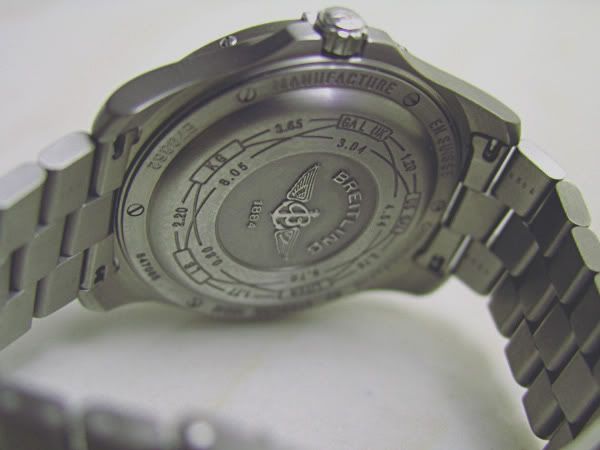 The Avantage case back is held on with six screws
​
Movement:
Analog and LCD digital 12/24 hour display. 1/100th of a second chronograph, countdown timer, 2nd timezone, alarm. Audible time indication function (minute repeater). Digital leap-year calendar with day and date display in 4 languages. Backlight function (NVG compatible) remains on for 5 seconds when actuated.

Case:
Titanium, 18K yellow or white gold (limited series). Water-resistant to 10 bars (100m/330 ft). Sapphire crystal, glareproofed both sides. Rotating bezel. Diameter of 42 mm, thickness 10.35 mm.

Straps/bracelet:
Barenia or crocodile leather strap; rubber Diver Pro strap; or Professional II titanium bracelet.


Avantage ref E79362, blue dial option, on Professional II bracelet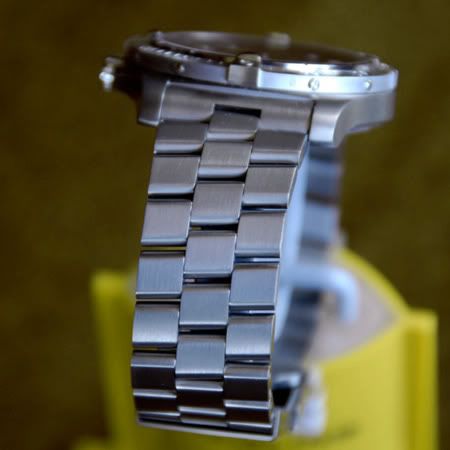 The Professional II bracelet has "diagonal" links
​
2006
The Aerospace ref 75362 is now discontinued.

A replacement for the UTC module is announced for the Aerospace Avantage at the 2006 Basel watch fair (it will be made available for other Breitlings at a later date).

The new "Co-Pilot" auxiliary module has an LCD screen and shows two time zones; for example typically for a pilot, either UTC or local time in 12 or 24-hour format. It also includes a chronograph function which records not only duration but also start and stop times which are denoted as TKOF (Take Off) and LDG (Landing) times. The multi-functions are controlled by two pushers mounted either side of the LCD screen. Like the Aerospace Avantage, the Co-Pilot is rated water-resistant to 10 bars (100m/330 ft).


Co-Pilot auxiliary module showing take off time (chronograph start)
​
The Breitling catalogue for 2007 is released in late 2006. The name "Avantage" has now been dropped and was apparently a temporary model name while both it and the previous Aerospace ref 75362 were simultaneously being retailed. What was called the "Aerospace Avantage" from its release in 2005 is now called plain "Aerospace".

2007
The wording on the dial is changed from CHRONOMETRE CERTIFIE to CHRONOMETRE AEROSPACE.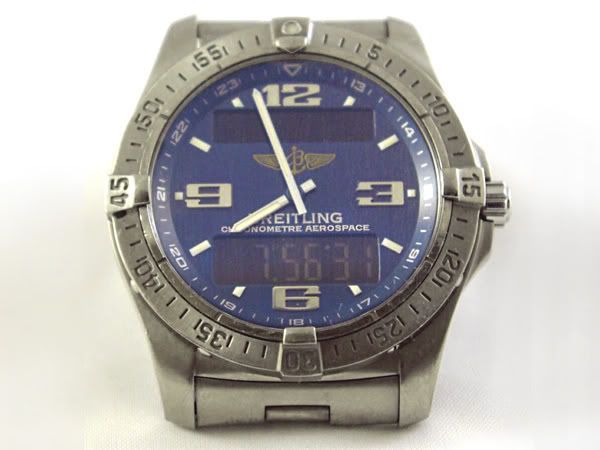 Circa 2007 Aerospace with CHRONOMETRE AEROSPACE on the dial

- B -
​
To all readers:

I hope you have found these notes useful. I am always wanting to improve this information and welcome suggestions as well as more/better images.

Please click here if you can help with a contribution to the Aerospace history article

With many thanks to all contributors...

Alan
If you have any questions or wish to discuss Breitling watches please click here for the forum.
(Then click Register at the left end of the black menu bar to enable you to post).
Please click here for more Breitling articles
Copyright © 2005/2006/2007/2008 Alan Trott. All rights reserved.
​