Breitling SuperOcean, SuperOcean Professional and
SuperOcean '2002' - Queen/King of the Seas

A brief history to aid identification and dating​



The different versions of the 1990's to 2000's SuperOcean often lead to difficulty in identifying the model and approximate age as well as confirming authenticity. These notes hope to make things clearer.

1995
A new diver's watch derived from the military-inspired Breitling Colt is introduced, the Colt SuperOcean, reference A17040.

Quote from Breitling:

"Matching the specifications of the U.S. Navy's combat swimmers, the SEALS, the COLT SUPEROCEAN was designed as a truly professional diver's watch. The COLT SUPEROCEAN features the strongest, most rugged watchcase ever designed by Breitling; its steel back is 3mm thick while its 3.7mm-thick crystal can withstand pressures equivalent to one ton."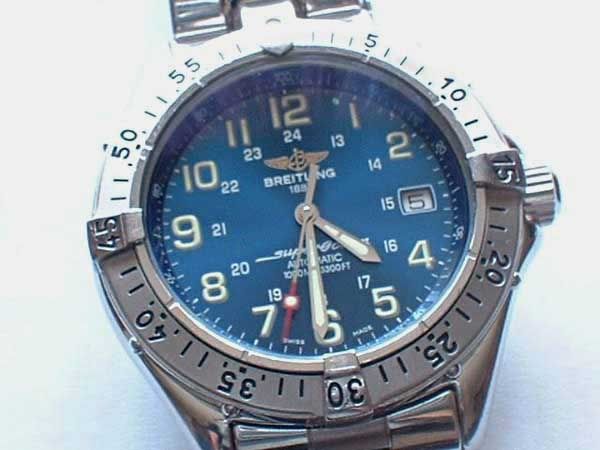 Colt SuperOcean ref A17040, blue dial option
Breitling caliber 17 movement in SuperOcean ref A17040
Helium decompression valve on side of case near 10 o'clock​



Movement: Breitling cal 17, automatic with date, basis ETA 2824-2.
Dial colours: black or blue.
Case: 41.50 mm diameter, polished stainless steel.
Crown: screw-locked double watertightness protection.
Bezel: Brushed steel, unidirectional, ratcheted.
Crystal: Mineral glass, anti-glare coating both sides.
Water resistance: 1000 M (3300 feet).
Bracelet/strap options: 'Professional' bracelet with polished side links and matt centre links; rubber 'Diver' strap; leather strap.

1996
18K yellow gold ref K10040 and white gold ref J10040 versions introduced with COSC-certified B10 movement based on ETA 2892-A2.


SuperOcean ref K10040 has COSC-certified movement​



1997
Orange dial (called "coral" by Breitling) now available as well as black or blue.


SuperOcean ref A17040 with coral dial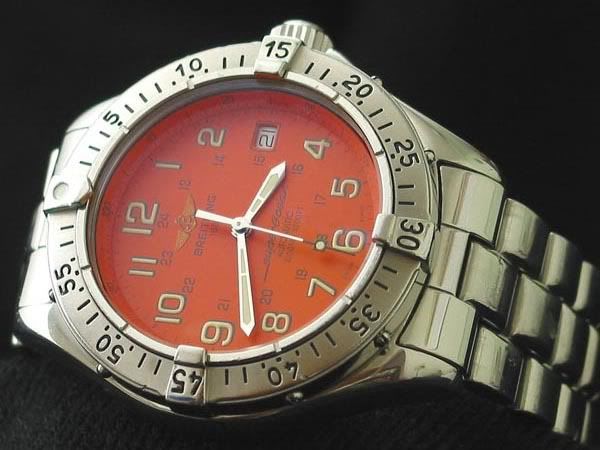 Another SuperOcean ref A17040 with coral dial​



1998
Colt SuperOcean Professional ref A17045 is introduced (in addition to the Colt SuperOcean).


Superocean Professional ref A17045, yellow dial option​


The SO Professional is water resistant to 5000 feet/1524 M; dial colours yellow or black; all-matt finish including Professional bracelet. Available in steel only (no gold version). Other details same as SuperOcean.

Quote from Breitling about the SOP's all-matt case:
"...it avoids glinting liable to attract potentially aggressive fish."


Superocean Professional ref A17045, black dial option
Superocean Professional ref A17045 case back

​



New rubber strap 'Diver Professional' available for both SO and SOP.


Diver Professional strap

​



(An additional smaller watch the 'Colt Ocean Automatic' is also introduced in 1998. It also has the B17 movement.)

1999
All SuperOcean and SuperOcean Professional watches are now COSC-certified. New model references now include a '3' in line with all other Breitling models from 1999 onwards. The already-certified gold versions of the SO also now have the '3' in their model reference. The new SO model refs are A17340, J10340, and K10340. The SOP ref is now A17345.

Both the SO and SOP now have sapphire crystals instead of the previous mineral glass. The words "CHRONOMETRE OFFICIELLEMENT CERTIFIE" (French for 'Officially Certified Chronometer') are added to the case backs.


SuperOcean ref A17340 with its yellow COSC-certified tag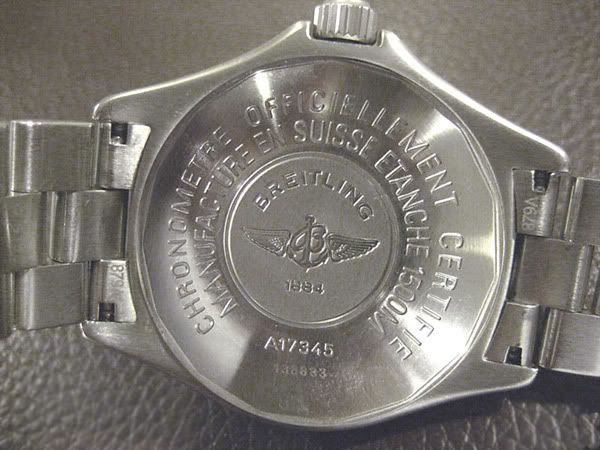 SuperOcean Professional ref A17345 case back​



2000
"Colt" dropped from names; the watches now comprise their own line. Now called "SuperOcean" and "SuperOcean Professional".

2002
The SuperOcean A17340 and SuperOcean Professional A17345 are discontinued. A revised model is introduced, temporarily named the SuperOcean "2002" and also known as "Queen of the Seas" ("La Reine des Mers"). This watch replaces both previous models and includes characteristics of both as well as some new ones. The new model reference is A17360.


SuperOcean ref A17360 on Professional bracelet​



Dial: black, blue or orange with redesigned font for hour numerals and including the word "CHRONOMETRE".
Case: Redesigned polished case, 42 mm diameter with squarer edges and non-pointed crown guards.
Bezel: matt.
Crystal: sapphire.
Water resistance: quoted as 5000 FT 1500 M (SOP dial was marked 5000 FT 1524 M).

2003
'2002' dropped from name; and now called SuperOcean "King of the Seas" - not "Queen".


SuperOcean ref A17360 with blue dial on blue rubber strap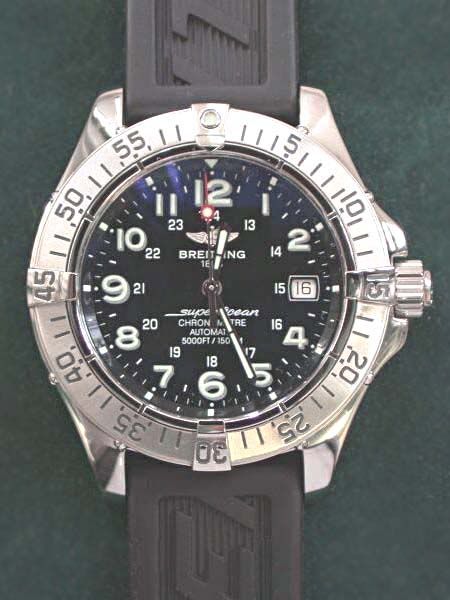 SuperOcean ref A17360 with black dial on black rubber strap​



2007
The minute and hour hands are slightly wider and contain more luminous compound. The red marker on the sweep second hand has been redesigned as a luminous-filled red triangle at the tip of the hand.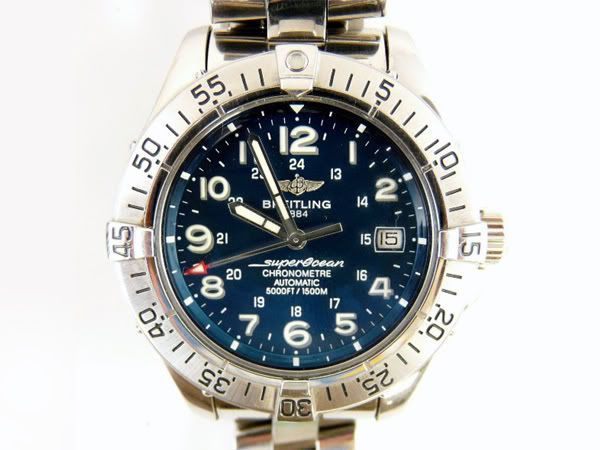 2007 SuperOcean ref A17360 with black dial on Professional II bracelet
2007 SuperOcean ref A17360 case back (Professional II bracelet)​



2008
The hour and minute hands have been revised again and there is a change to the hour indicators on the dial.

The hour hand now ends in a large triangle; the minute hand has parallel sides and is not divided into sections.

Only the 6, 9, and 12 hour numerals are luminous, the others being just outlines.

Available dial colours are black, blue, yellow and orange as before.

[Awaiting images - please contribute if you can!]


FAKES
There have been several fakes of the 1995-onwards SuperOceans and some can be quite convincing to the unwary or unknowledgable.

The fake below is easy to spot - some of the most obvious mistakes are that the A17040 was never issued with a white dial and the hands are very wrong:


Fake A17040
Fake ref A17360 models can be harder to pick - fake on the left, real on the right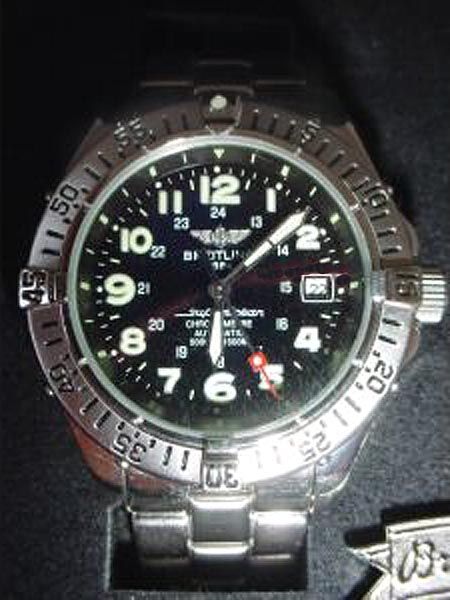 This fake A17360 has a correct-looking divided minute hand but not the hour hand
Fake ref A17360 with blue dial
The lettering and logos on a genuine Breitling back are deeply engraved or die pressed. The shallow lettering on this fake has a completely different appearance (see genuine case back earlier in this article)
-
B
-​
To all readers:

I hope you have found these notes useful. I am always wanting to improve this information and welcome suggestions as well as more/better images.

Please click here if you can help with a contribution to the SuperOcean history article

With many thanks to all contributors...

Alan
If you have any questions or wish to discuss Breitling watches please click here for the forum.
(Then click Register at the left end of the black menu bar to enable you to post).
Please click here for more Breitling articles
Don Indiano's
My Breitling SuperOcean Professional
Copyright © 2005/2006/2007/2008 Alan Trott. All rights reserved.
​