Discussion Starter
•
#1
•
Full disclosure, I am a big Bremont fanboy. It doesn't hurt that one of my best friends works for the company, has been to Henley-On-Thames to do the full Bremont training and can't talk highly enough of the company overall. He's worked for Rolex, Omega and Moser so that is high praise indeed. I've met Giles and Nick, the heads of Bremont and they seem to be great blokes.
Anyhow, the Bremont Endurance is one of my favorite watches sold to me by my friend and worn daily. Seen here on a Sinn ZULU. It has a titanium, 500m trip-tick case with the groovy GMT hand which is the titanium version of the S500 diver they have. It is also one of the Bremont line with the anti-shock case (the same anti-shock tech as the Martin Baker watches) which has been tested to extremes of shock.
I've been wearing it for the last couple of weeks pretty much exclusively and thought that I would check the accuracy on WatchCheck - as I normally do. I've worn it surfing or diving daily plus have run quite a few kilometers in it so it has been shaken up quite a bit.
Well, you can see the results below: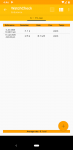 Honestly, it can't get much better than that. That is better than the accuracy in most quartz watches.
Now I know Bremont watches are expensive, but my friend told me how long they take to regulate each watch before packing and sending. I thought it was a bit of marketing fluff, but I'm pretty well convinced now.
I really do love the dial and hands though they might not be for everyone. Good lume too.