Thanks to a few members on WUS, I've been infected with a strong appreciation for the G-2000. This is not an exceptional watch by Casio functionality standards, but the visual design and feel of it is really well done. When I finally managed to obtain one, I was pleasantly surprised. It also had me intrigued when I learned on the G-Shock Wiki that there were quite a few additional variants, another 11 to be exact. Those other versions were released in the JDM (Japan Domestic Market) only, so they seldom come up for sale in the USA markets.
So, some background on the G-2000 is in order, I think.
To commemorate the new millennium, Casio created the G-2000. It wasn't marked with anything specific to celebrating the year, except for the model number matching "2000". But it was an important milestone for the Casio G-Shock line. It also marked the ending of the screw back case for standard G-Shocks (a couple of other models had them, but the last G-2000 made in November 2001 was the end of it), except of course for a few exclusive limited editions (GW-5000 reissue, DW-5025D 25th anniversary, DW-5000SL "Spike Lee", etc) and the Frogman.
The G-2000-1JF was the starting model, in January 2000.
MarineMaster
wrote a terrific review about this model, entitled "
The Fortress
" (warning: image intensive). One could say this watch is the "round" version of the venerable DW-5000. And you can see in that review some great comparison photos showing the two together. Functionally they're about the same, so I won't be repetitive and go into those details. The one key difference is that the G-2000 has an EL back light, instead of a small bulb as on the DW-5000. It sits a bit higher on the wrist, but not awkwardly so. It just feels rugged.
So, I kept this watch on my radar... saw a few examples pass me by at prices higher than I wanted to pay, then finally got one at a price I liked and in the condition I wanted. I wasn't look for perfection, as some minor signs of use would actually be welcome. Here's what I got:
I find it to be one of the more handsome G-Shocks Casio ever made, for the size. It's nowhere nearly as enormous as a GX-56 King, yet not too small that you'd feel like you're wearing a "junior" watch. To me, it's pretty much perfect. And so as I got to know this watch better, I became a bit more curious about it and the other variations. Casio made the G-2000 in different colored resin bezels/bands, a variety of colors in dial face and lettering, and LCD segments in black, purple, or reversed. There is even one model with a cloth band, and one with a silver metal bracelet. Again, these were only available in the JDM, so little is shown about them outside of Japanese regional websites. All I could do to learn more about them was through the G-Shock Wiki, which was very helpful. But rather than leaving it to you to wander about it, I've consolidated the list here with images: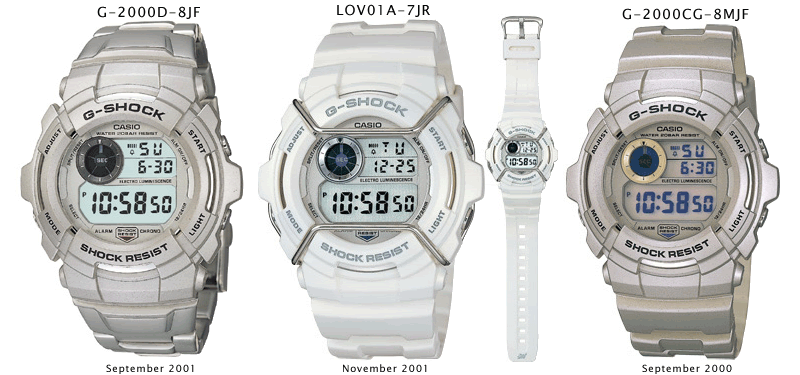 January 2000
G-2000-1JF - First G-2000 model debuted. All black resin case and band. EL blue.
March 2000
G-2000A-2JF - Second G-2000 model, based on VICE EYE ("Vice i") series. Dark purple resin bezel and band, purple seconds ring, and light gray dial. EL blue.
June 2000
G-2000BM-1MJF - First G-2000 model with reverse LCD display, called "Raven". All black resin bezel, band, and dial face. White G-Shock and Shock Resist, and blacked out pusher labels. EL blue green.
July 2000
G-2000CK-3MJF - Named "Viper", with dark green background in seconds ring. Very dark green resin bezel and band, with tan LCD background. White G-Shock and Shock Resist, and blacked out pusher labels. EL blue.
September 2000
G-2000CG-8MJF - Silver resin bezel and band, with purple background in seconds ring. Purple LCD digits with white background. Black labeling. EL blue.
February 2001
G-2000BK-1MJF - Named "Real Black", based on the "Raven" but with all labels completely blacked out. Reverse LCD display with tan segments. Dial writing is all white (including the triangle in "shock resist"). A white bat appears on the lower band.
April 2001
G-2000SD-8MJF - Named "Dragon", with medium blue dial face and lettering. All dark silver resin bezel and band, with dragon emblem. EL blue green.
June 2001
G-2000FL-6JR - Metallic black resin bezel and band, with light gray dial face. Yellow G-Shock and Shock Resist, and blacked out pusher labels. EL blue green.
July 2001
G-2000BS-2JF - Deep blue semi-translucent bezel and band, with black dial face. Yellow G-Shock and Shock Resist, and blacked out pusher labels. EL blue green.
September 2001
G-2000D-8JF - Only G-2000 with silver metal bracelet, with silver bezel. Black lettering on bezel. El blue green.
G-2000TD-2MJF - Named "Fire G". Based on "Dragon", but with brighter blue lettering and black resin bezel. Fabric band with blue and black blotch pattern. El blue.
November 2001
LOV01A-7JR - A G-2000 version with "Lover's Collection" all white motif, featuring gray dial face and silver bull bars. El purple.
So, that about covers it. Everything you wanted to know about the G-2000 model series, and perhaps a bit more... except, for why it was discontinued. There are some speculations floating around, but none definitive. I think it was due to a shift in focus, whereby more feature laden modules needed a larger case and Casio was ready to move onto other designs. At least an interesting variety of G-2000's were made. A great watch for Casio G-Shock history.