The CASIO G-Shock line is
immense
. Actually, it has its own sub lines. You have all digital, digi-analog, and full analog; basic functions and special sensors; plain black and a myriad of color combinations; square casing, round casing, and asymmetric casings. And then of course there are special editions... When it comes right down to it, Casio is very skilled at milking the market. But putting that aside, quality is excellent and there are many reasonably priced models.
But for me, the DW5600 square casing epitomizes what a G-Shock is all about. No need for a hulking piece of rubber coated metal on your wrist to protect against impacts. Keep the watch slim and low profile, thereby avoiding a lot of knocks to begin with. ;-)
When I saw the GW-M5600BC, I instantly felt that "I want it" grabbing at me... and now that I own one, I felt compelled to write a review. It has already been reviewed a number of times, but each one has its own perspective and so here's my take on it:
GW-M5600BC
DW-5600C
for comparison purposes
The GW-M5600BC essentially echoes the visual design of the DW-5000/DW-5600 models. The retro styling of this model has the nice distinction of having a wrist band comprised of resin and metal segments. It's a very classy bracelet with spring locked clasp. The resin segments have a black matte pattern that contrasts well with the semi-gloss black metal segments. Spring pins secure them together, making it easy to perform adjustments. Also, the clasp features a micro position adjustment for more precise wrist sizing. Although the clasp has a rubberized bracer to help minimize scratches to the clasp, the metal segment immediately adjacent has a tendency to get scratched. Also, the segment gaps are large enough to allow sand to slip in between and narrow enough to help keep them there (meaning, it's a pain to deal with and so caution is suggested for those who wear this model while on a beach). But the clasp design fits nicely flush to the bracelet, so the wrist comfort is excellent.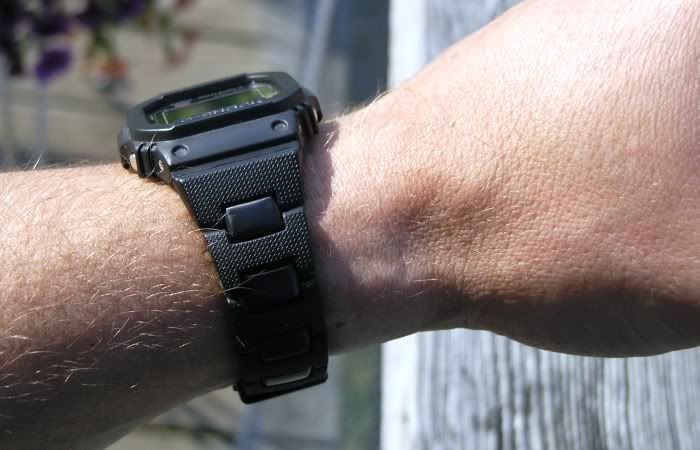 Functionally, the GW-M5600BC is far more advanced than its ancestors.
Solar powered (with battery indicator and power-saving function).
5-band atomic (calibrates with all world atomic clocks, minus China)
World time selection (48 cities).
Stopwatch with a resolution of 1/100th of a second.
Countdown timer (max 60 minutes).
Five daily alarms (Alarm #1 has a snooze option).
Electroluminescent backlight.
Perpetual calendar (day and date are visible simultaneously, a big plus).
Waterproof to 200 meters, or about 650 feet.
The butttons on this model remain a bit small and don't protrude as much as on the original DW-5600, so there is a bit more effort required to operate the watch functions. The caseback is secured by four partially recessed screws rather than a screw threaded caseback, but the chizeled design is attractive. Although the casing is covered in hardened rubberized material, the core of it must be a fairly thick steel, as the watch has some decent heft to it--much nicer than the super light weight of a nearly all plastic watch.
Casio went with a reverse or "negative" display on this model, meaning that the whole LCD face is black with "blank" segments used to construct the informational displays. It's more difficult to read than a positive LCD display, but then it makes for a stealthier appearance. That was Casio's cosmetic theme, as the "Protection" and "G-Shock" inscribed lettering has a dark gray paint (instead of white) to avoid drawing attention. The all black theme, except for the stainless steel buttons, works really well. From a distance, the screen looks completely black and does not scream "DIGITAL WATCH".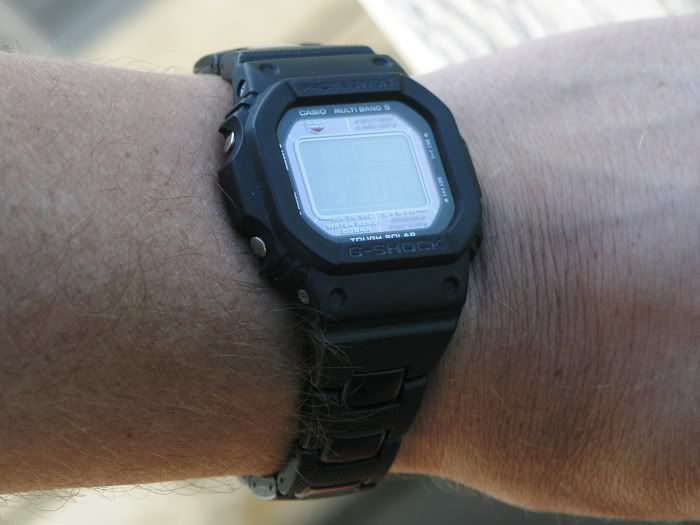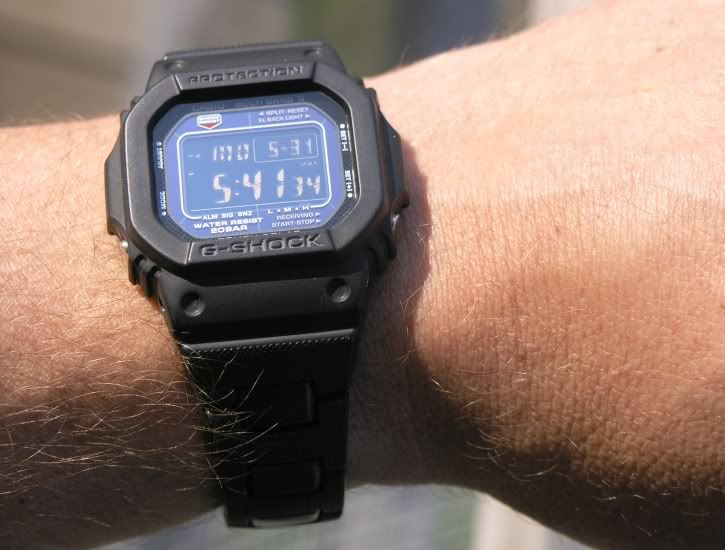 I find I'm able to read this watch in most conditions, except in dim light. But thankfully there is illumination available. Casio incorporated an auto-illumination feature. When tilting the watch in a way that suggests the wearer is looking at the time, it activates the illumination for almost 2 seconds. This can end up using a lot of energy if participating in activities that cause the wrist to rotate a lot, so Casio provided an option to turn it off. So, it's really best to keep it off if you're going to be moving around a lot.
The 5-band atomic radio signal calibration executes nightly, starting at 12AM. If an attempt to synchronize fails, the watch tries again at the next hour, repeating with a last chance at 4AM. If the signal still remained too weak, synchronization is abandoned and tried again over the next night. When synchronization is successful, the watch will show a "rcvd" indicator and the exact date/time may be reviewed if so desired (the "rcvd" indicator turns off on the next day, if no synchronization occurs). Because the energy used up in trying to synchronize causes enough battery drain to be significant over time, there is an option to turn of auto-synchronization. One can always perform a manual synchronization as well, though best done at night when the signal strength is much greater. However, I find it more prone to synchronization failure when done manually. The timepiece is accurate to within +/- 15 seconds per month, without any auto-calibration. For most people, this is perfectly acceptable, so I am surprised that Casio didn't provide an option to have the synchronization happen weekly instead of daily, if so desired. I conducted a test, whereby I shut off sync for a week and the watch gained about 2 seconds--very good performance.
Because this is a solar powered watch with secondary battery, Casio decided to be conservative in some respects. The illumination stays on for 1.5 seconds (would be much nicer to have 3 seconds) and all alarms function for only 10 seconds, at a reduced volume compared to non-solar models. Actually, the chosen frequency of the audible alarm is a problem for some people who have minor hearing loss or tinnitus. Casio should have chosen a lower frequency, but perhaps that would require more power to achieve the audible level they felt would be sufficient. Personally, I find the alarm almost
useless
unless I am in an extremely quiet environment and take the watch off. It's a bit frustrating, as I find the countdown timer useful. So, I'm forced to glance at it periodically to be sure I haven't missed the zero count. Note that the sound is much lower from the back and sides, so be sure you have the front facing you. If there was a DIY modification to increase the sound with only a minor increase in power consumption, I'd do it. Unfortunately, the only thing I've found so far is that a higher voltage battery would have to be used, which wouldn't be compatible with the solar function.
Overall, I really like the design job Casio did with this watch. The stealthy black appearance, reasonable heft, convenient clasp bracelet that is comfortable to wear, and useful design of the 5600 model casing makes this an enjoyable watch to wear. I'm not surprised it has become the "go to" watch for a number of owners who've posted about it on-line. It certainly has for me. It's partly due to the band, which is so easy to put on and comfortable to wear.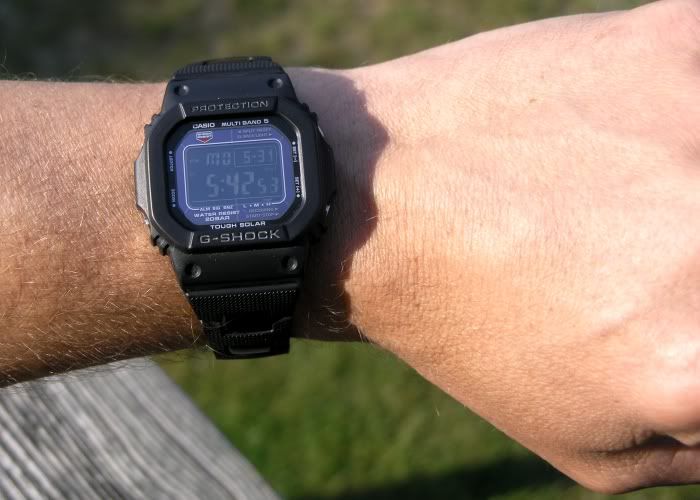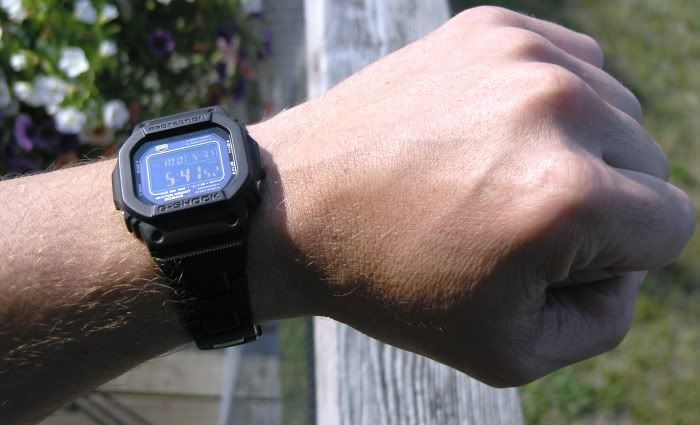 This model is
discontinued
, but there is still NOS inventory floating about. Prices on the used market can vary quite a bit. I spotted one used model close at just under $100 on "that auction site", while another shot up to over $150. And NOS are commanding over $200. There is also a GW-6900BC model that sports the same bracelet, but without the chiseled case back. I think the GW-M5900BC looks better anyway. ;-)