Discussion Starter
·
#1
·
Casio WVA320 Report --> "The Ultimate Casio" . . . Indeed!
I've been enjoying my new Casio Wave Ceptor WVA320J since it arrived a few weeks ago. My friend Gary, author of
The Ultimate Casio
thread, recently introduced me to this watch. He has impeccable taste, and our preferences are highly compatible on most things watch related. So when he sang the praises of this new Casio, I sat up and took notice. I had the chance to try out his watch and examine it up close, and was extremely impressed by it. I wasn't in the market for a new watch, my collection was actually in a nice equilibrium, but I ordered one for myself almost right away. And just like that, it's one of my favorites. The watch is a real winner, with appeal that goes far beyond its modest price. If you're open to it, thanks to its sheer utility and quality, for daily wear it potentially could end up taking the place of more expensive, more "prestigious" pieces in your collection. Overall, I really dig the overall design and vibe. Here's a few comments and observations: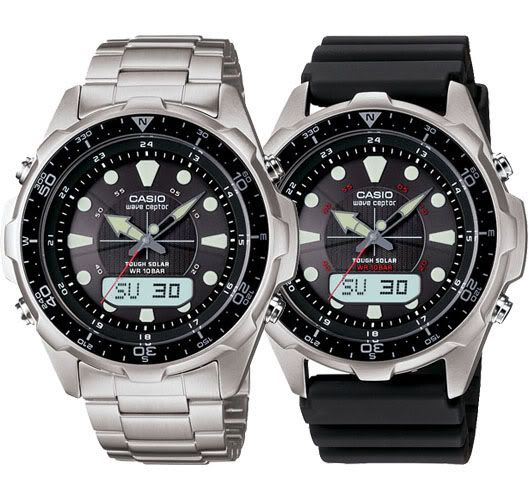 Arrival
When mine arrived, it was in "power save" mode, and it hadn't synched since last June 13th. It still was set to Tokyo as home time and had the little Japanese symbol showing for the day of the week. I reset the home time zone and manually set the digital time, using my GW-M5600 as my reference, but the hands were all out of whack. So I had to then use the "H. SET" feature to manually synch the hands with the digital display. Which was easy and kind of fun. The watch had been in a box for who knows how long, and the battery indicator was on "MID". It charged up to "HI" with exposure to ambient light over the next couple days, where it has stayed since. It automatically synched the first night I had it, and has continued to successfully synch overnight at 00:05 every night.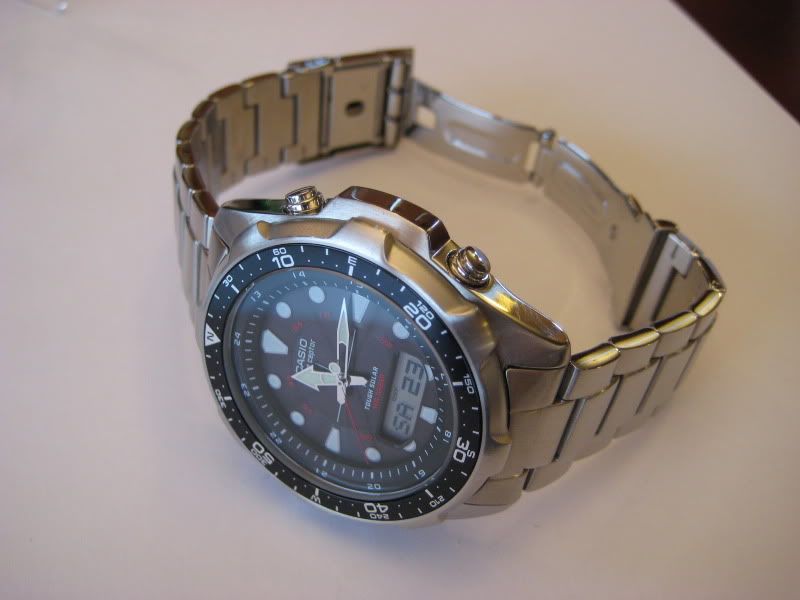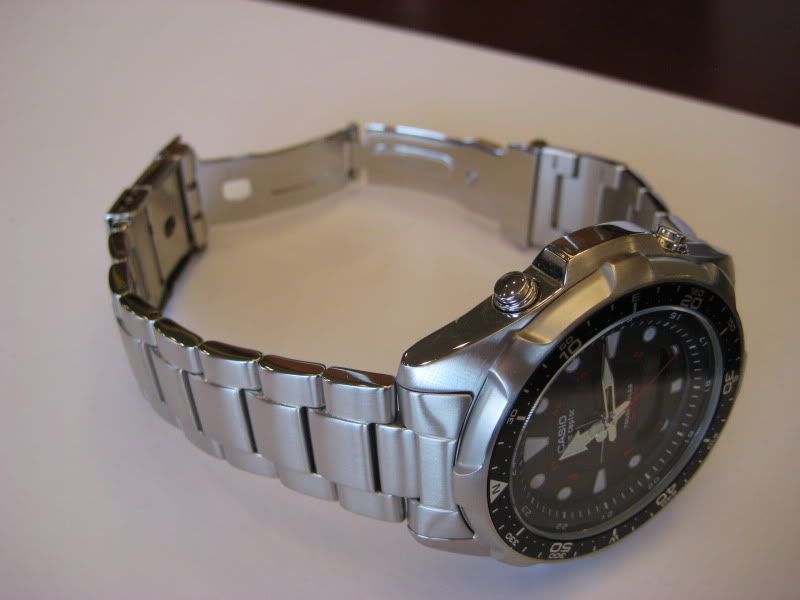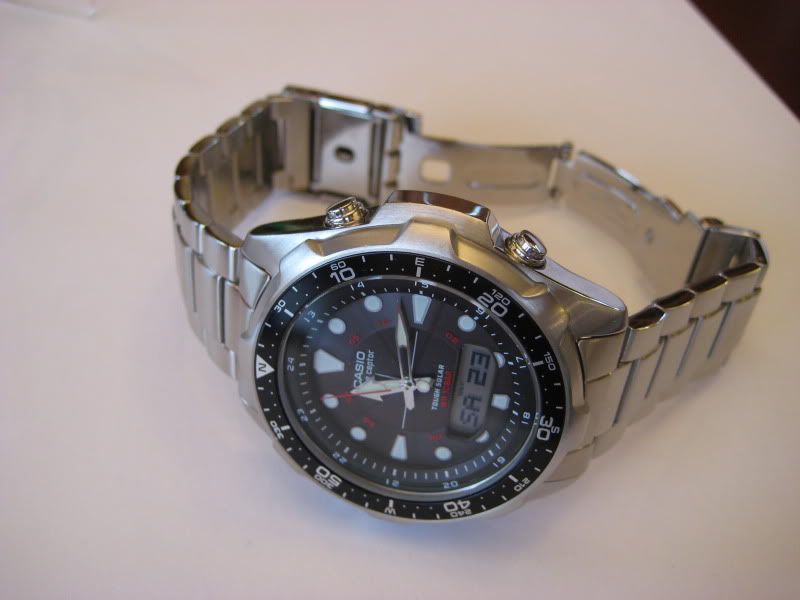 Strap / Bracelet
I purchased mine off eBay on the rubber strap as a WVA320J model (for just over $100), and bought the WVA320DJ bracelet separately ($75). I actually really liked the rubber strap. Thick and beefy, yet supple & comfortable, it has kind of a lush look and feel. I like the deep, velvety matte black finish of the strap, and it feels appropriate with the design of the watch. All the same, I prefer a watch like this on a bracelet, and this is a very nice one. I think the watch looks very handsome and complete on it. It is a nice and heavy solid link oyster-style with a very high quality clasp. The bracelet does not have solid end links, which would have been nice, but I don't see that as too big of a flaw because the end pieces are very thick and sturdy and they fit extremely tightly with zero slack. Very comfortable, secure, and well-crafted. Bracelets are sometimes not Casio's strongest suit, but this one definitely satisfies. No complaints that I can find.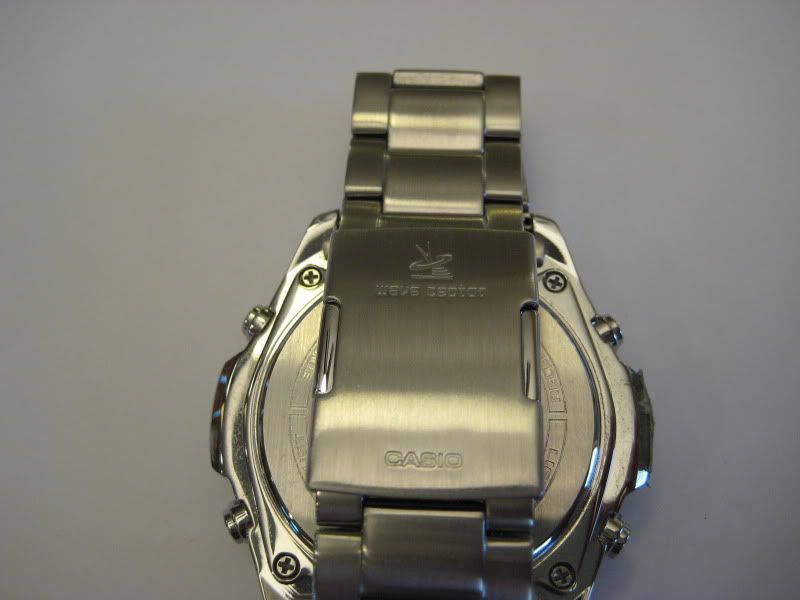 Size
The watch is indeed kind of large for me. I generally don't prefer extra big watches that are much more than 40 to 42mm, so I was apprehensive it would be too large. But so far, so good. It is appreciably larger than my Rolex 16710 GMT. Yet the "ears" on the side (which really serve as effective button protectors) are what contribute to a 47mm official dimensional specification that is quite a bit larger than it actually "wears." The bezel diameter measures out at 43-45mm, depending on if you measure it at the majority of the circumference or at the outside of the eight grip protrusions. The bezel insert measures 39mm across its outer circumference and the crystal is 33mm in diameter, all very comparable with more typical 40mm-ish sport watches. This watch is not overly thick or tall (at 12mm), and its shape helps it slip under your shirt cuff very smoothly and easily. So for me, it is very manageable for a larger piece. You can see it compared with a couple common size benchmarks as follows: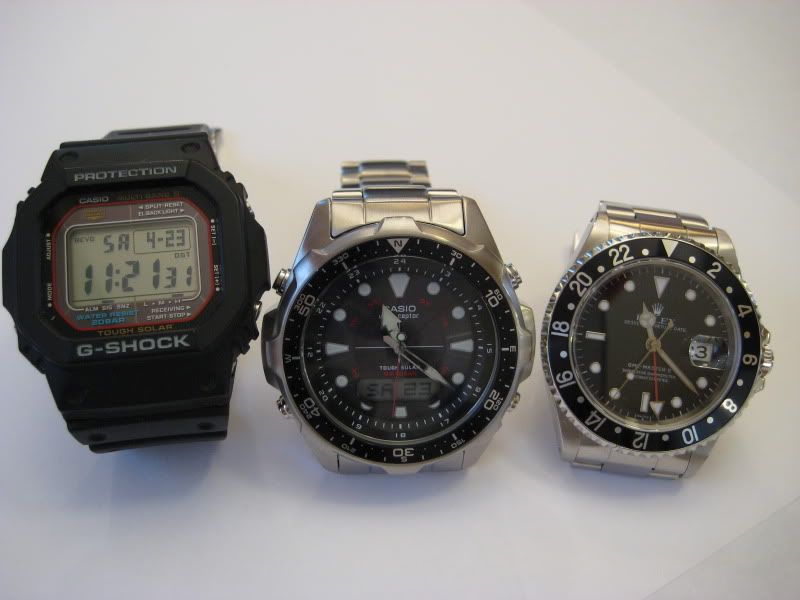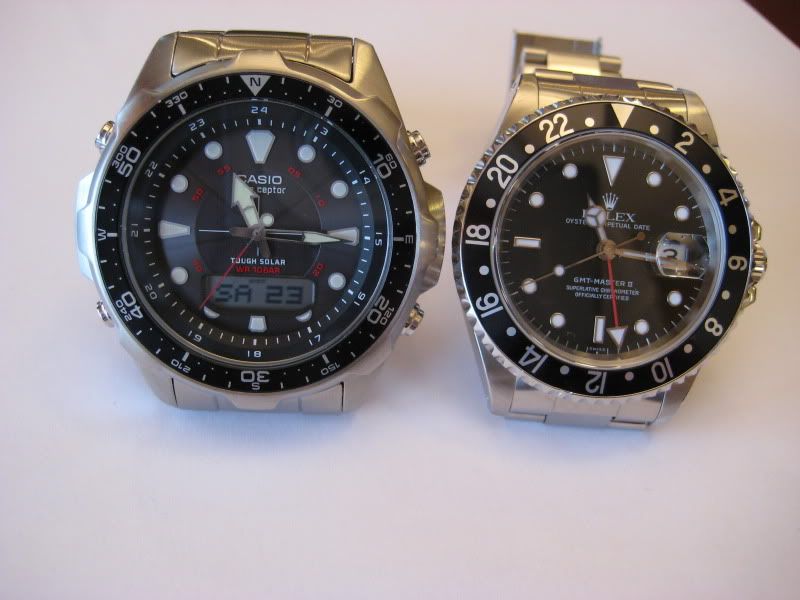 Dial & Hands
The dial is great. The multi-planar effect with the metal ring immediately above the dial, then the beveled chapter ring, then the "13 thru 24" ring, topped off by the frosty effect of the flush crystal setting, provides visual interest without distraction. I do think the minute hand could have been a touch longer. At a quick glance, it doesn't jump out quite as legibly as it could of if it were slightly more lengthy, or if both segments of the minute hand were filled with lume (versus just the outer segment), and/or if its shape was less "needle nosed".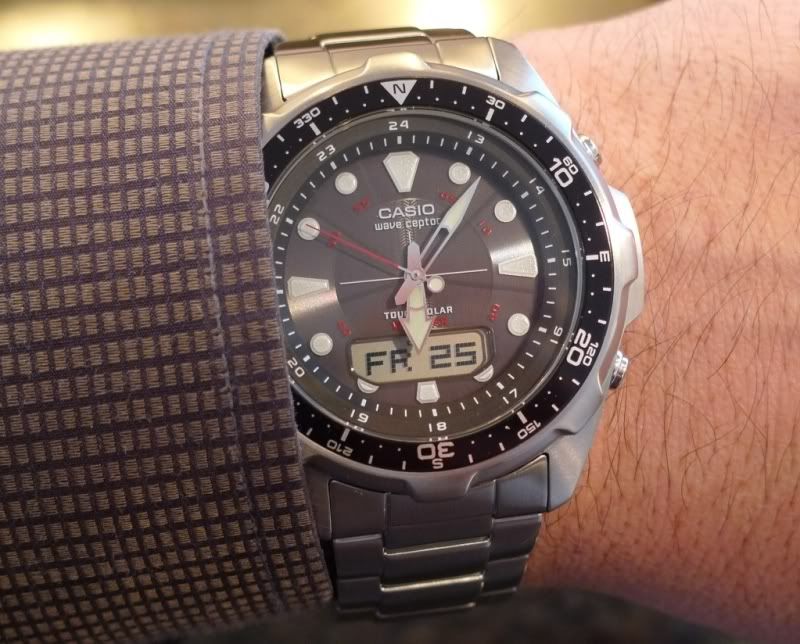 Love that hair-thin red second hand. Love how the second hand hits the markers absolutely perfectly all the way round the dial. Other than an Oysterquartz, I've never seen a Swiss quartz watch that could do that. It's also fun how the minute hand advances in its little 1/6th increments precisely when the second hand hits every 10 mark.
What's with those four shadowy lines emanating from the hub to the :09, :17, :43, and :51 markers? In pictures, they looked like reflections on a textured, satin sheened dial. But Gary and I discussed it and we believe they the "shadowy lines" must be the edges or borders of the solar cells. Part of the thread he started on WUS turned into a debate on whether or not high end consumers would accept the look of a solar dial. Various pics were shared on how different manufacturers have managed to hide the solar cells. Personally, I like the look and think this is a way to showcase the technology without detracting from the legibility of the watch.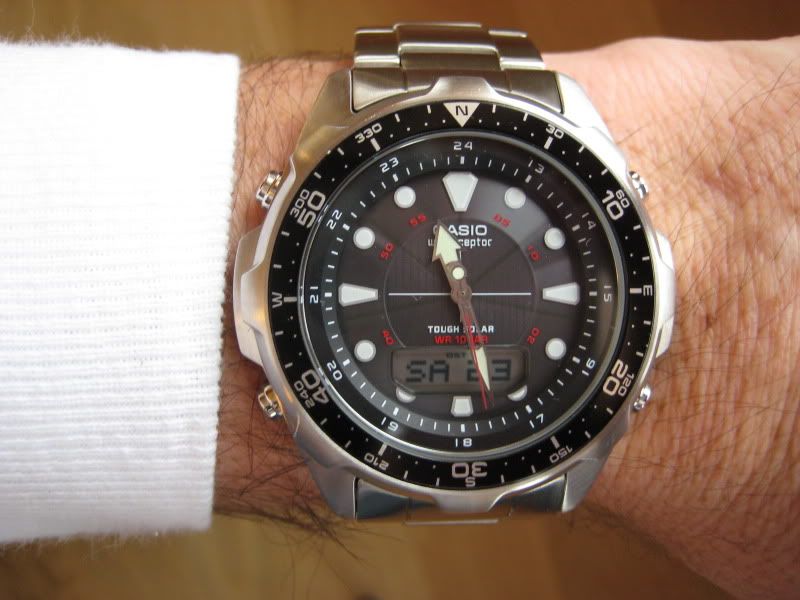 Really like that wave texturing on the inner circle of the dial. Seems appropriate for a "diver" watch that also has "wave" as part of its model naming. Nice touch.
I like having the minor red accents on the dial (the 5-10-20-40-50-55 and the "WR 10BAR"). In red, they sort of disappear visually. If they were in white (like the WVA320DJ model) it would add just enough more visual clutter to make the dial probably border on being too cluttered. It's a very minor distinction, but one that I appreciate.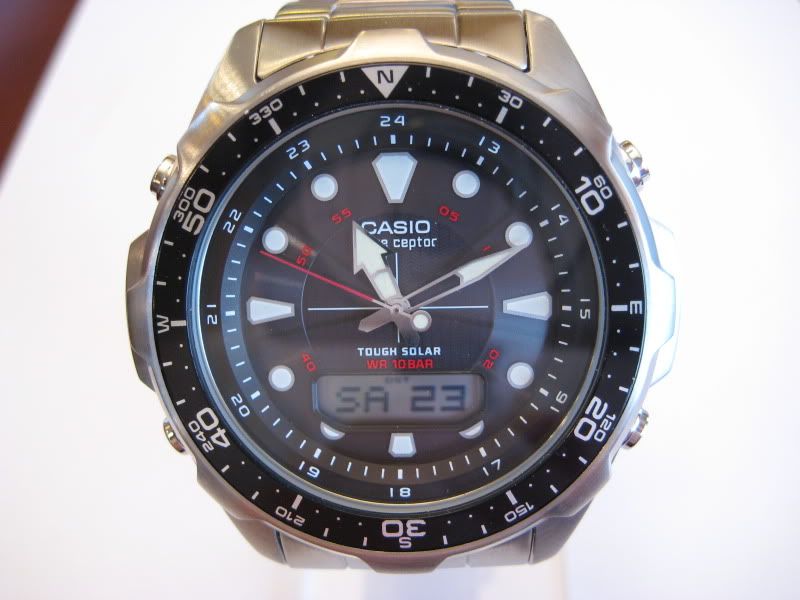 Functionality
The operating ergonomics of this watch are basically flawless. The buttons are silky smooth and a pleasure to operate. The flow of menus and screens is typically Casio well-thought-out perfection. Overall, being a familiar G-Shock user, the watch is fully usable by me right out of the box. I think the simple setup of this watch is so vastly superior to using overly complicated multiple subdials or extra displays. A natural comparison here is the Omega X-33, a watch I used to own, and which has a very clean and well integrated ana-digi combination that was specially designed to be easy to use. I think the ergonomics of the WVA320 are even better than the vaunted X-33, which is somewhat over- featured for me (a non-astronaut). The mission timer, mission alarm and UTC alarm just got in the way on that watch. Meanwhile, I've also owned Citizen Skyhawks, ana-digi G-Shocks, Edifices etc with super busy dials, multiple LCD displays, and/or that required way too many button pushes (and keeping the owner's manual at hand) to accomplish basic tasks. "K.I.S.S.!" -- Casio's got it all figured out on this one. Although I agree with Gary that the lack of a countdown timer is a curious omission.
I'm pleasantly surprised how good the lume is. It is still quite visible at 5am. Interesting that in daylight, the lume on the hands is a noticeably different color (greenish) than the markers on the dial (white), and in the dark the hands glow quite a bit brighter than the markers.
Of course, with electric illumination, good lume is rendered "nice to have" versus "mission critical". I'm impressed with the WVA's amber LED illumination. It lights up the whole dial plus the LCD display very effectively and clearly. I think it works better than if the watch had electroluminescence. On an analog, this way they can offer a "normal-looking" dial and still provide great illumination. Well done, Casio.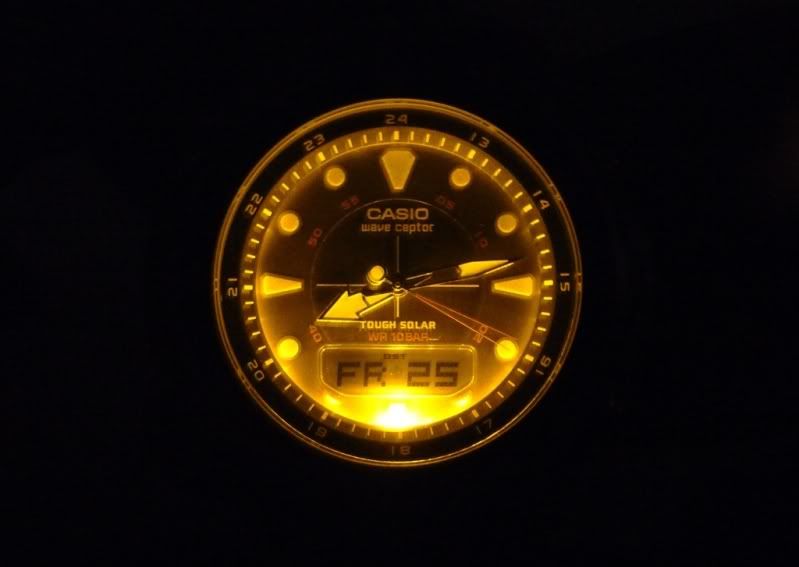 I appreciate having the hourly chime, and it's unusual to get that feature on an analog watch. And just like a good G-Shock, when you are scrolling through the modes you get a higher-pitched beep as you return to the home screen -- so you can do it by ear.
Bezel
The rotating timer bezel is a feature I use almost daily. This one is as easy to grasp and manipulate as any, without being too easy to turn unintentionally. The amount of resistance is just right. I like the thin width of the bezel insert. And all the markings thereon don't bother me. While the compass rose is unnecessary (and the triangle for North takes the place of what should have been a lume "pip"), at least the font is attractive and those markings are very small and subtle. I generally don't like bezels with too-large and obnoxious numerals. On the WVA, the combination of lines and dots, with the "10, 20, 30 . . . " markings, are busy, but aesthetically appealing. The 120-click bezel action is good, not quite as silky smooth as a Rolex (or certain Seikos) but still quite good. The indices of the bezel insert line up perfectly with the ratchets on mine – thank you, Casio assembly line worker.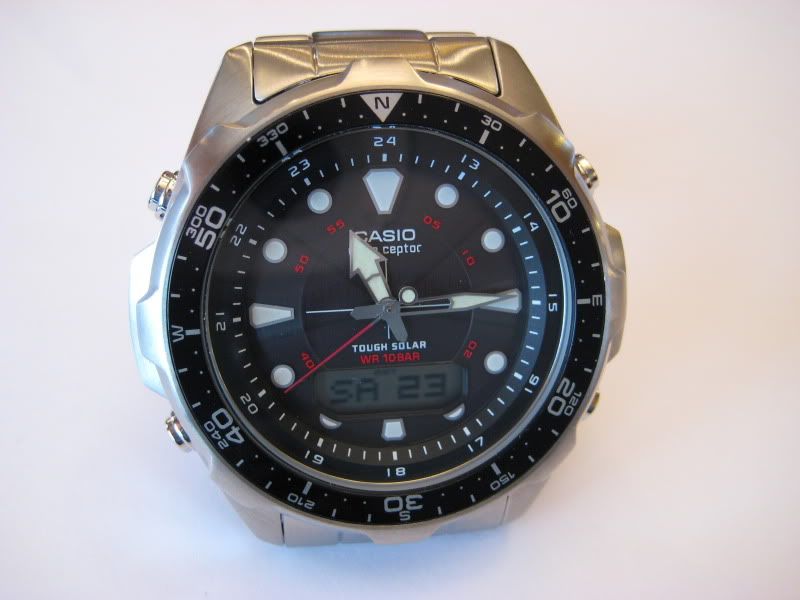 Summary
Overall, the craftsmanship and quality of materials is impressively high, and on my example, the fit and finish appears flawless. I have surfed around the whole watch under strong light with my reading glasses and a loupe, and I could not locate any manufacturing defects.
So in summary, again -- it's a winner. Gary is correct that this could prove to be a highly satisfying, long term member of the fleet. He actually just sold his Omega X-33, because he found that this watch provided better functionality, comparable aesthetics, and a more practical overall daily-wear package – at a ridiculously low price. Along with their G-Shock range and their also-wonderful $50 MDV102 diver, it's just amazing what Casio can accomplish at such a low cost. Without sacrificing quality, at all!
I really respect Casio as a company and brand. They bring a vibe that's their own – they don't copy others; as this diver isn't a Seiko copy or a Rolex copy, but something of its own style . . . not too far "out there", but with some Casio brio. A faultless base of quality, engineering and durability. Impeccable finish quality. Handsome, yet not derivative, styling. This thing just oozes competent perfection and an aesthetic that quietly, yet confidently, presents its own charisma.
Conclusion: If it cost over $1,000 this watch would be highly recommended. For under $200, it's a must.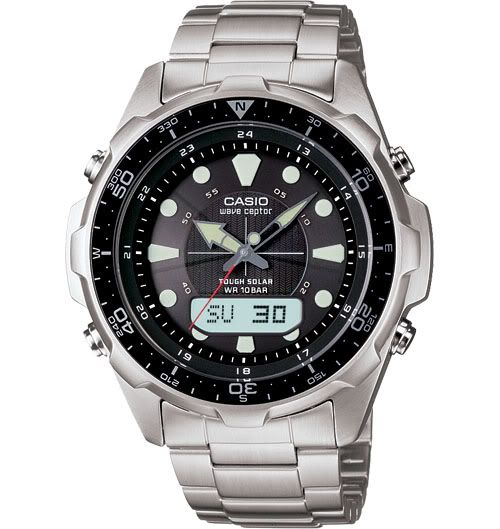 Side note. . . . and a possibly provocative editorial conclusion:
Let me go on a little farther about the respect and affection I've developed for the Casio brand. I liked them back in the early '80's when my first "good" watch as a teenager was a digital W-200 Marlin that went everywhere with me. Sting wore a Casio, and they were cool and innovative. Over the years, I have grown up and have had the pleasure of owning a huge variety of high-end Swiss, other European, and Japanese watch brands, and have enjoyed many, many different pieces. It's undeniable that the luxurious feel, aesthetic appeal, and authentic heritage of, let's say, a Rolex sports watch, is very compelling on the wrist. Yet, I am fully convinced that the Swiss brands, and too many of their fans, unfairly scoff at a watch like the WVA320 and dismiss it as cheap, pedestrian, and soulless, which I think is dramatically incorrect. The inventiveness and capability to design, perfect, execute, and efficiently manufacture a watch this good, at a price point this low, demonstrates incredible character, discipline, and soul to "get er done". I suspect the Swiss brands unfortunately just do not possess the depth of capability to develop and manufacture a watch like the WVA320. Even if they could (maybe Breitling or Omega would deign to fit it into their lineup?) it would probably cost $4,000 if they did. And what would be so impressive about that? Anyone should be able to make a good watch if you charge thousands of dollars for it. Where Casio really impresses . . . where they demonstrate real application of technology and inventiveness . . . is to sell a watch that's packed with modern-age features, built with impeccable quality and durability, and has strong aesthetic appeal, for just a few hundred dollars instead. This is what Casio does every day in the ordinary course of business, with no fanfare. Kudos to them.