Well, it looks like Christmas came early this year boys, and good ol' Santa must believe I have been a good boy this year... |> b-) ;-)
I thought I was done buying B's for the year but I came across a deal I could not pass on. Found a guy that had a CWSLE he wanted to sell, and after nabbing it at a great price, I found out he had a couple more B's he wanted to sell too. All the watches were complete with all boxes and papers and in very good condition. The price was very right so I went for it and got them all - and now I have 3 new B's for the collection !! :-!
The CWSLE is just a freaking gorgeous piece, with the 2-tone head and the white face. It is on a Brown deployant croc strap which I absolutely love. This has to be one of Breitlings nicest pieces ever :-d
The Superocean Chrono was the first B I took a look at when I first wanted to buy one way back when, so it is nice to finally get my hands on one. I love the black face and the clear day/date combo.
I bought the Crosswind because I could not say no to the package price I got for all three watches. It is big, two-tone (head and bracelet) and has a BEAUTIFUL blue face. Gosh I love this big roman numerals. Great piece. And I found out from Ron I can use the 2-Tone bracelet from the Crosswind on my new CWSLE!! ;-)
I really can't believe I bought another 3 Breitlings
- totally unplanned and not in my budget. I am all tapped out as far as my discretionary income goes for the year, so I will need to keep these new B's close throughout the holidays as they represent all the money I had to spend on fun holiday gifts for myself this year...but what else could I really need now that I have these new B's?? :think:
And now on to the pictures. Here are the three new bad boys: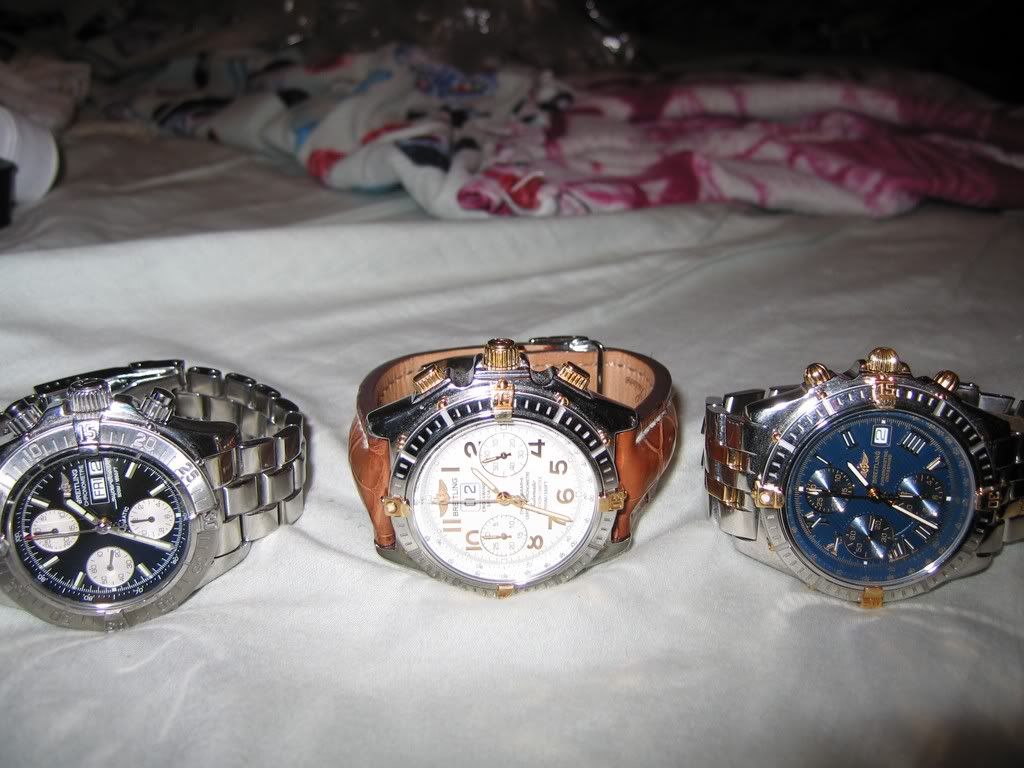 Check out the CWSLE!! I love that Big Date!!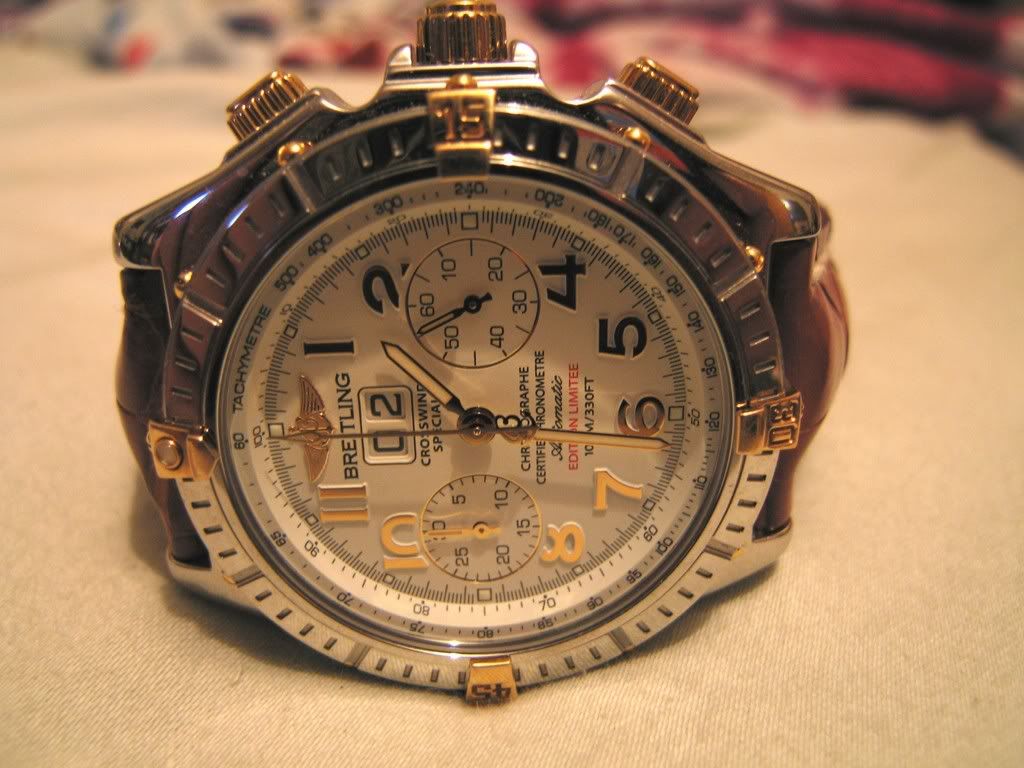 The Crosswind is a big watch, as well. And I just love the Two-Tone Monster!!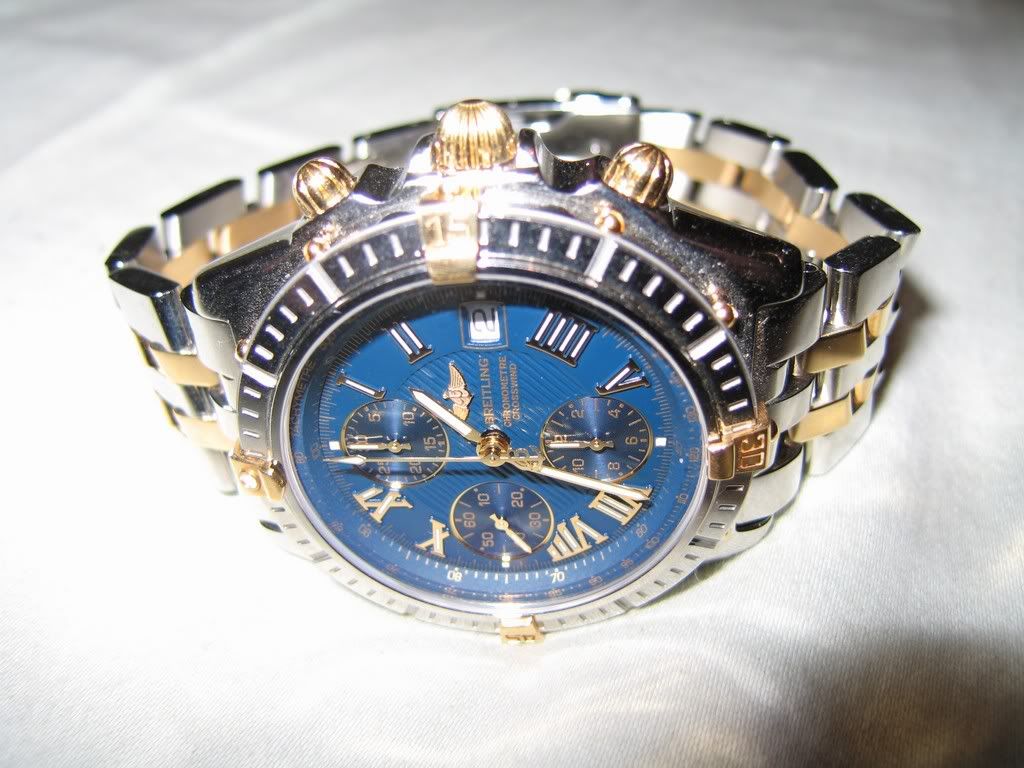 Last but not least the Superocean Chrono. Simple. Elegant. Functional. Beautiful.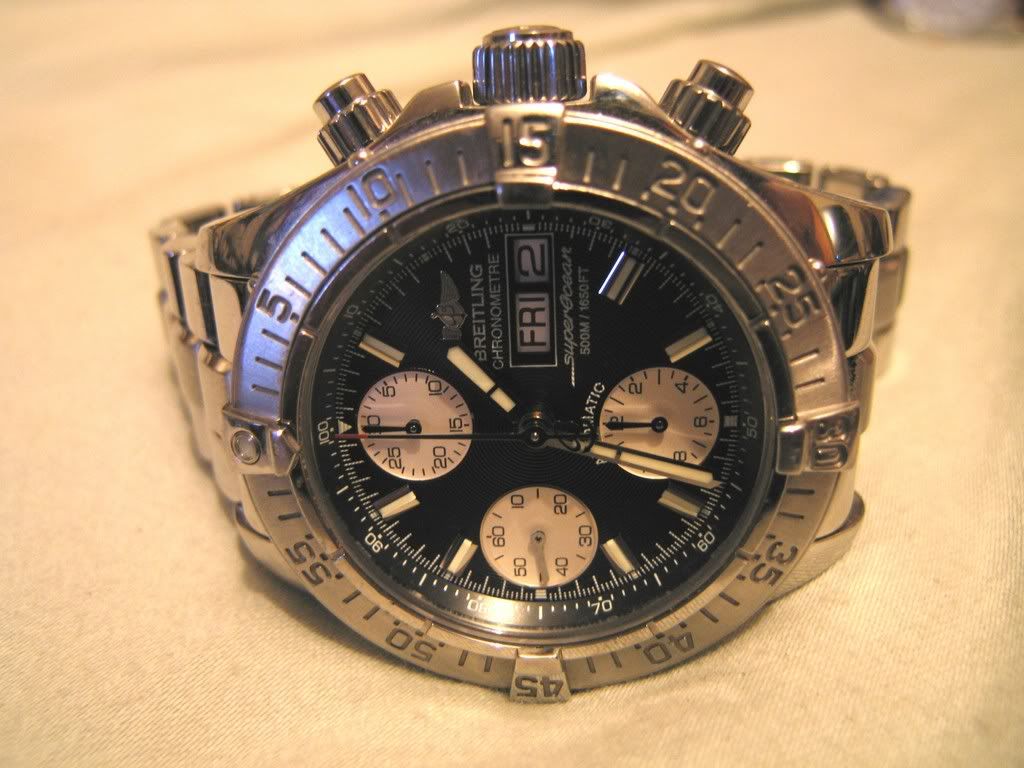 This is the second time in 2 weeks that I have come home with 3 Breitlings in one day. o| I know it might sound like I have a really big problem but I like to look at it as really good luck. Both deals for these recent B's have been to good to pass on!!
I am really excited to have all three of these new pieces in my collection!! They all are in very good condition, especially the CWSLE (barely worn at all), and all came with all boxes and papers. The Superocen and Crosswind are in very good condition but were both worn a little bit - which is good because it will allow me to enjoy wearing them without worrying about knicking them up!!
So what do you all think of the new pieces??