Hi everyone,
I'm neither a photographer or a journalist (failed the admission test, no joke) but hopefully this review will help give someone who's considering these excellent Citizen models some valuable info that can help them make a decision. As we all know, making the choice between two (or three!) watches can be a painstaking decision. I've caught myself coming down with a case of buyer's pre-morse (the feeling that you'll regret the purchase you're about to make before you've made it) several times but finally, I pulled the proverbial trigger on this watch and I'm very happy I did.

Why did I choose this watch? Well, it's a long story, but in the end it was this vs. the SARB033/035 which I had been drooling over for months while saving up some funds. I was looking for an automatic I could wear every day and in the $500 range. This is not $500 but you can find good deals if you look around a bit ; currently they go for around $745 at various online retailers but I did better than that from a forum sponser/AD which I'll get back to later. I wanted to buy the best watch I possibly could for the money I was going to spend and I think I did that. It covers so many bases and the versatility it has makes for another compelling argument as to why I should buy this watch.
This is my first review and it's of the nicest watch I've ever owned, the Citizen Signature Grand Classic model NB0040-58E (black dial, silver hands). Other models like this are the white dial with blue hands and the silver with silver hands.

Basic specs:
41.8 mm case not counting the crown guards.
Sapphire crystal front and back, interior and exterior AR coating. Domed crystal.
100M WR although not screw-down crown.
24 jewel Miyota cal 9011 movement. It was cal 9010 in the earliest releases but apparently it was changed to 9011 according to several posts on this forum. Mine is 9011 as well as the pics show. 28800 bph for a nice smooth seconds hand.
For reference, my wrist is 6.75 inches in circumference, but flat on top and very skinny. I think I can pull off a larger watch than my wrist size would indicate because of the "flatness".
But, enough talking for now, let's take a look at this puppy: (sorry for smudges and fingerprints).
Nice blue box: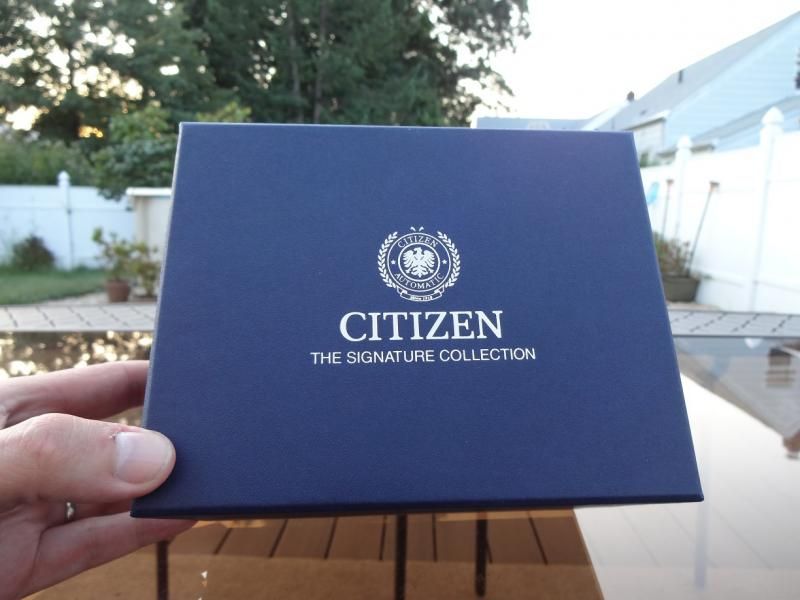 Instruction manual and warranty info: (5 year Citizen warranty + an additional 1 year if you register online)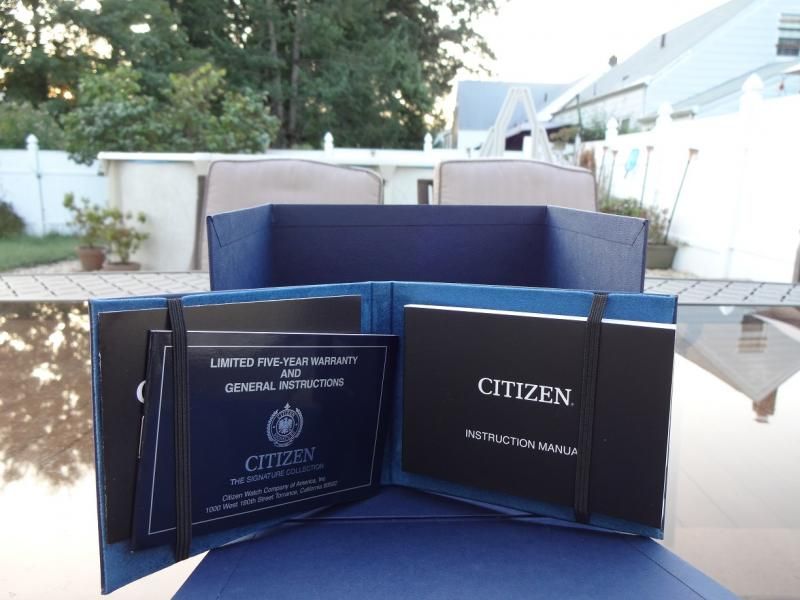 Very nice inner box: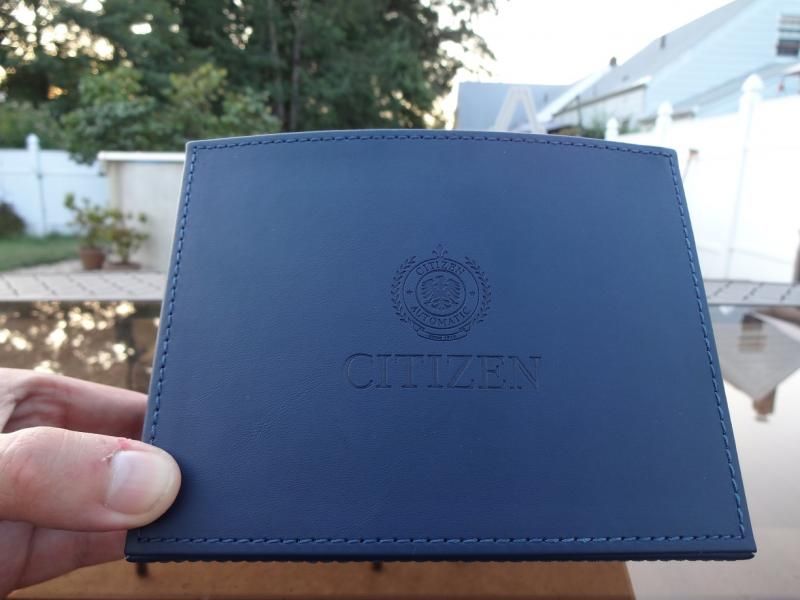 And here she is!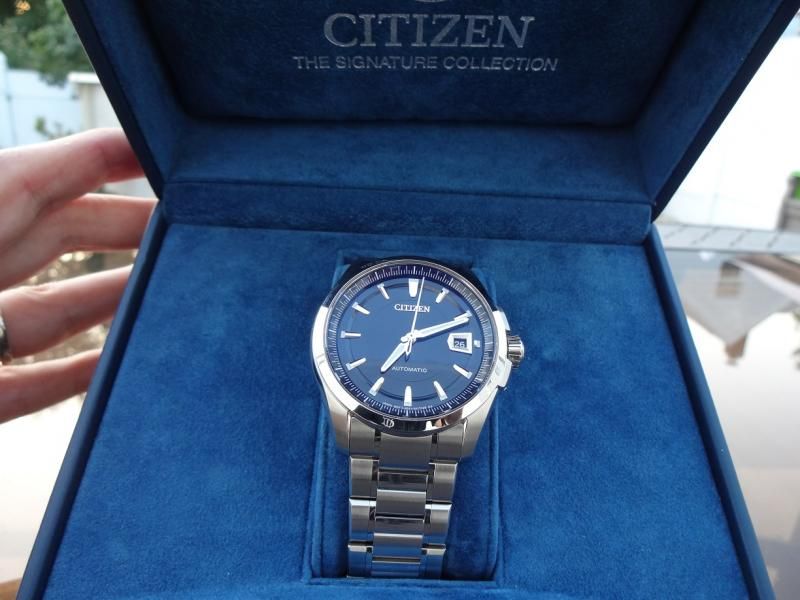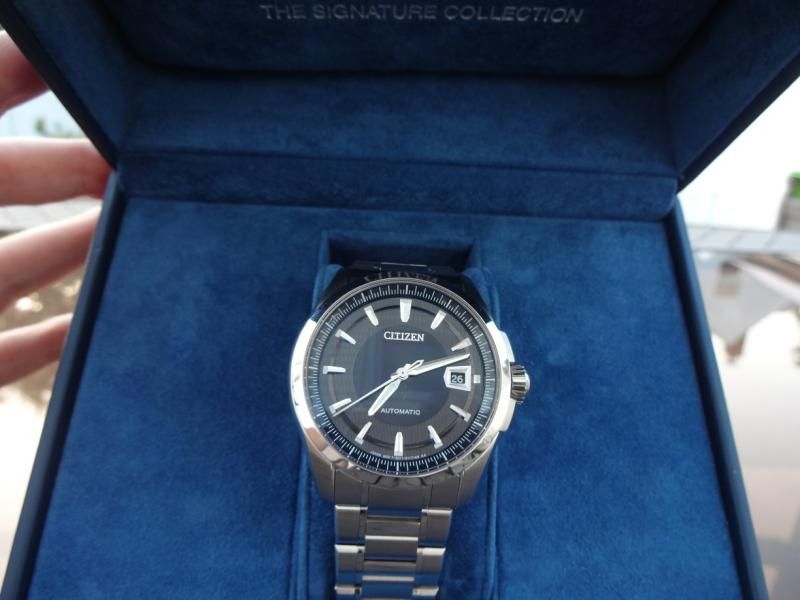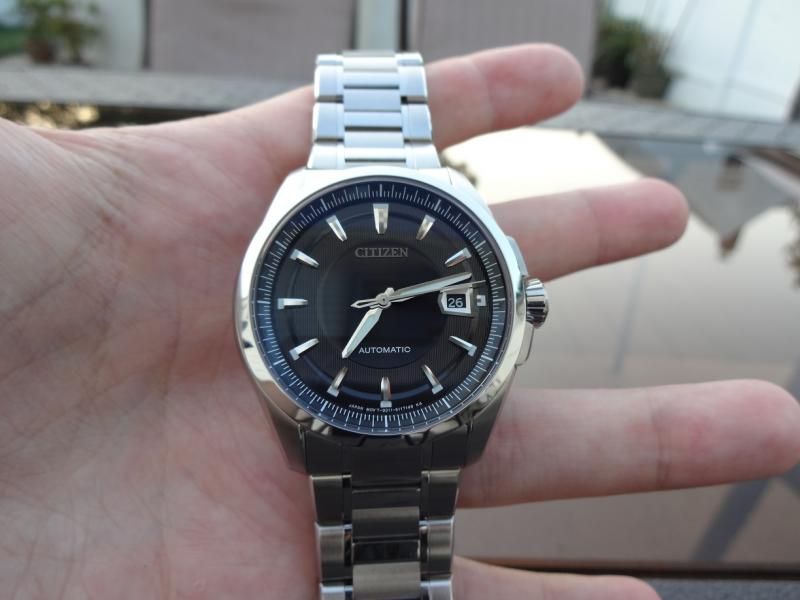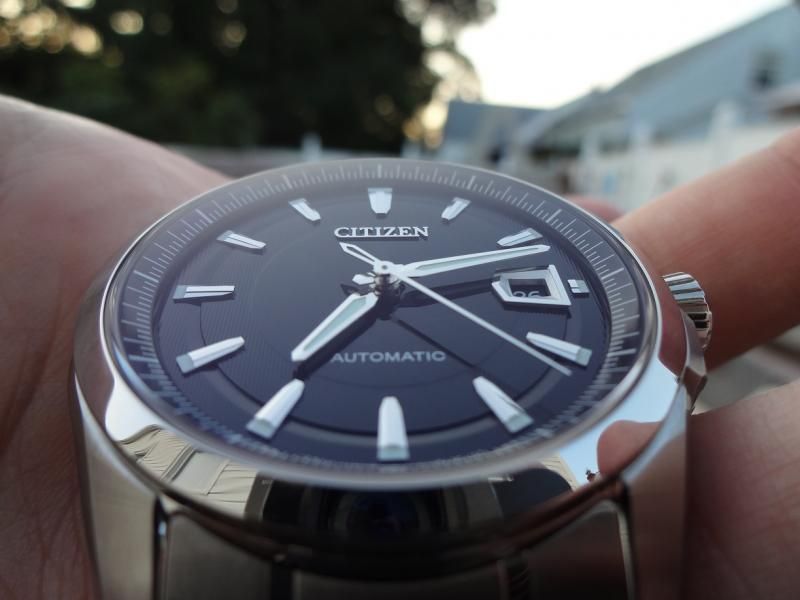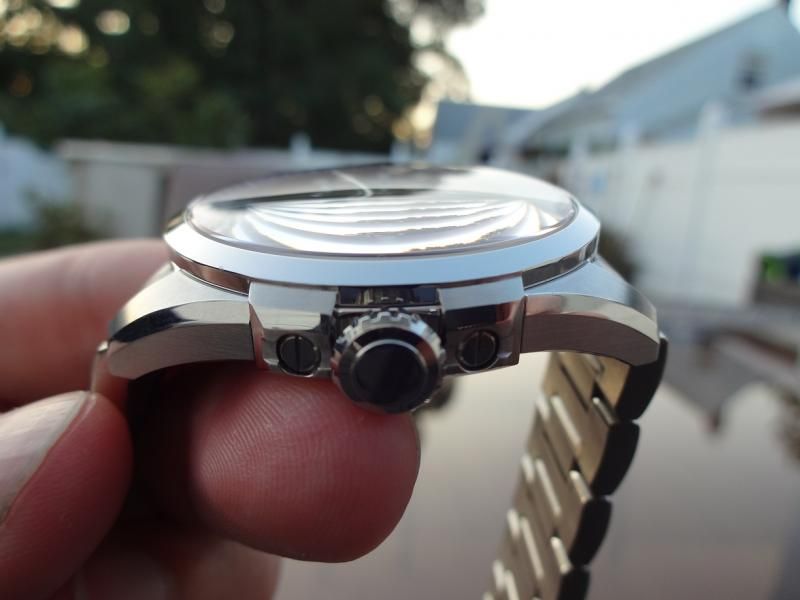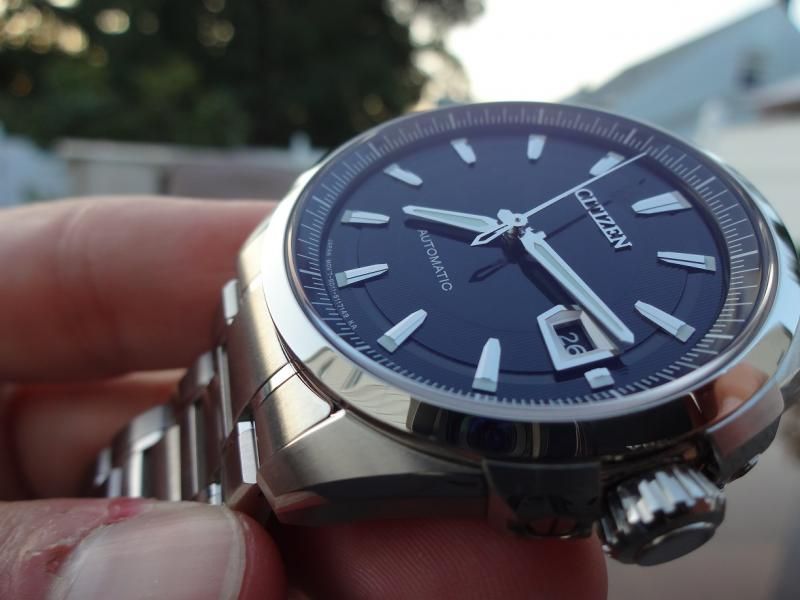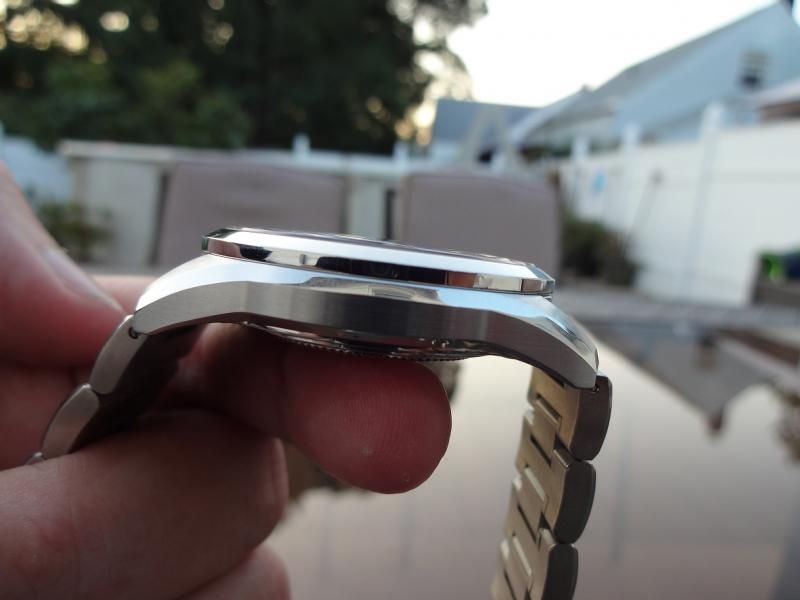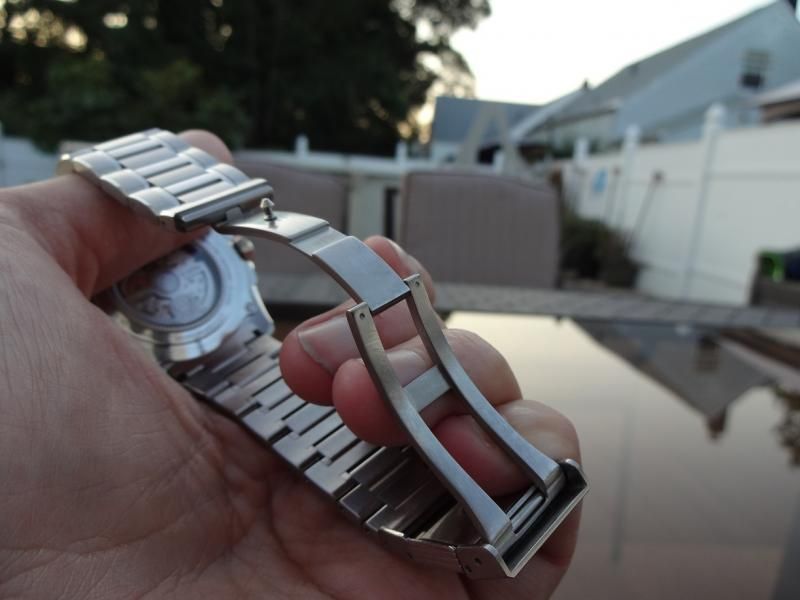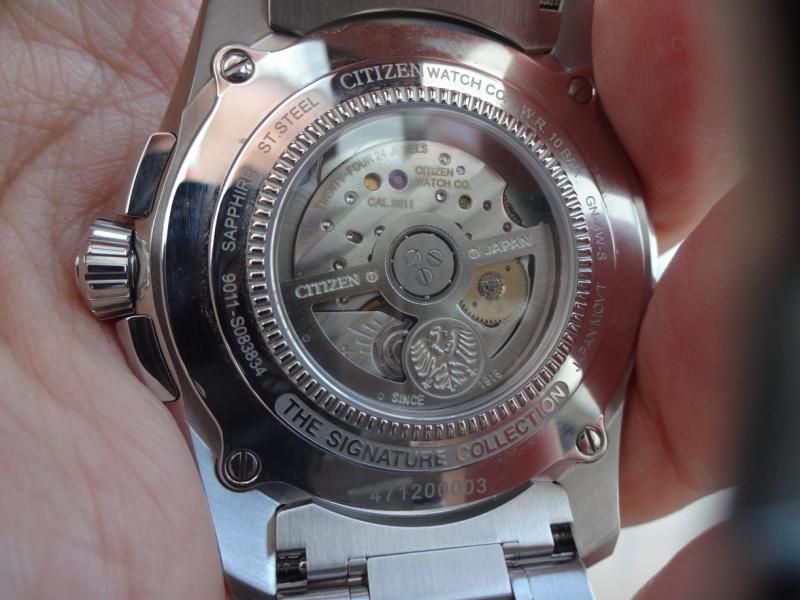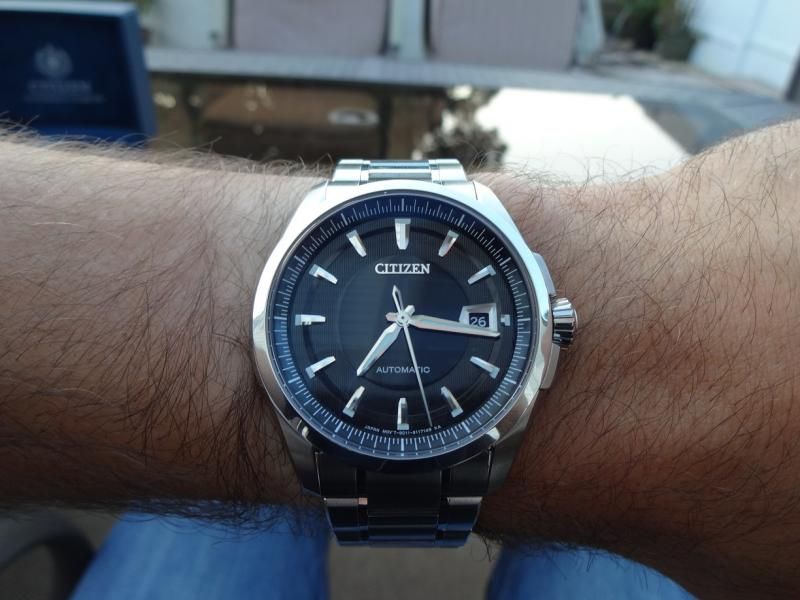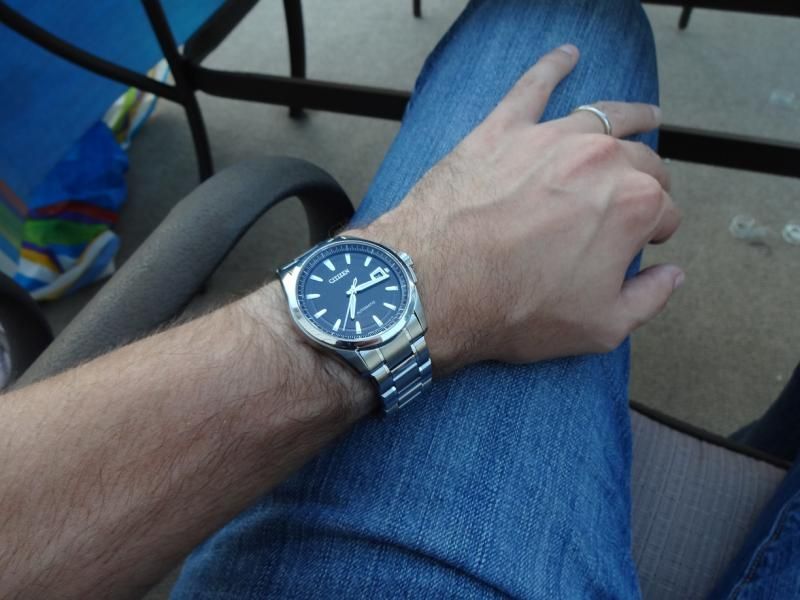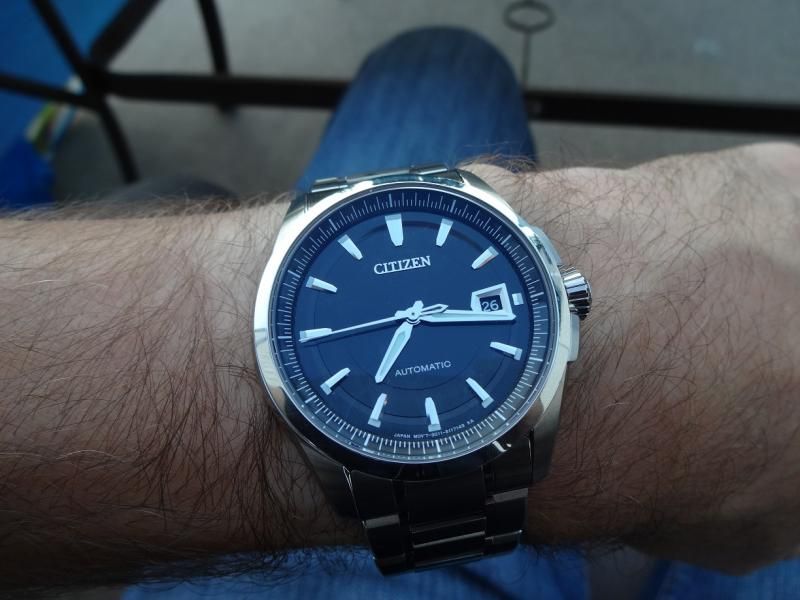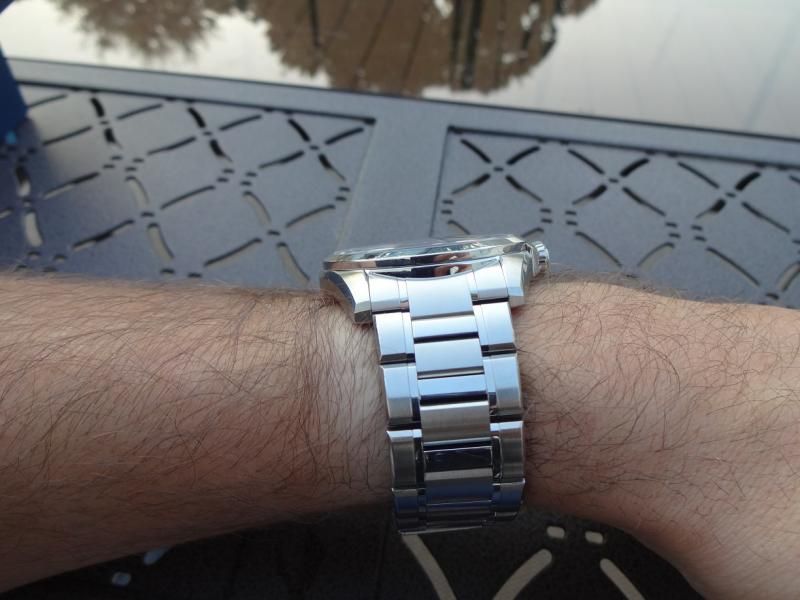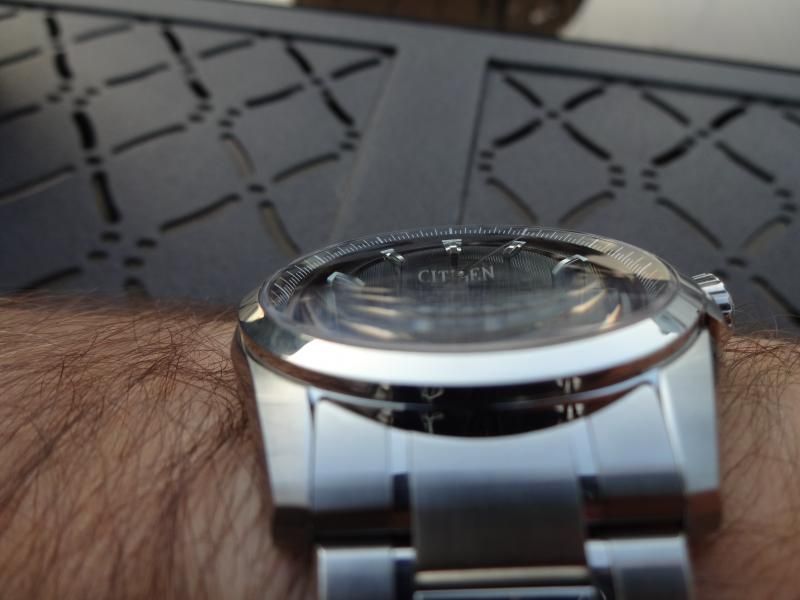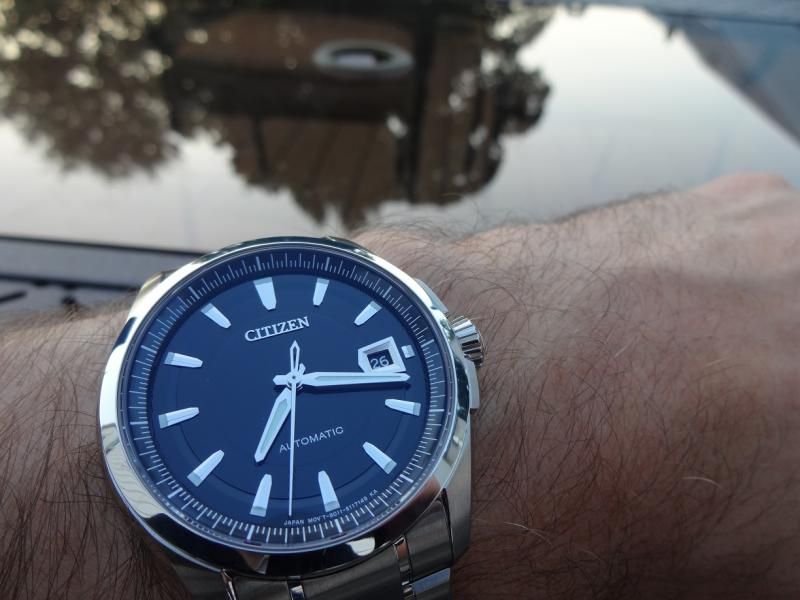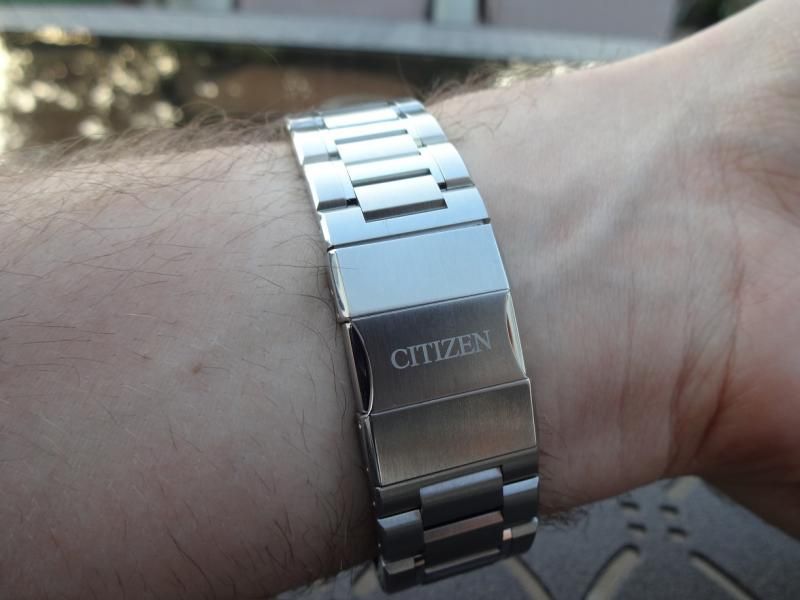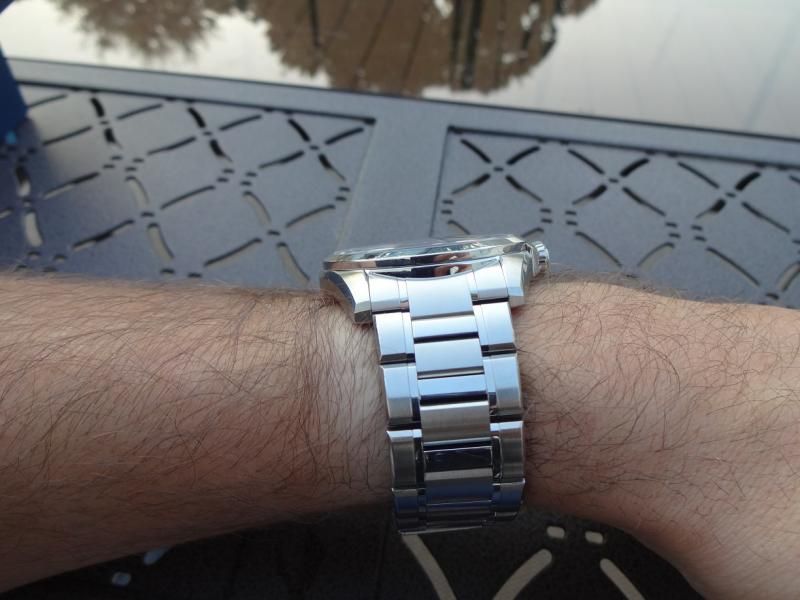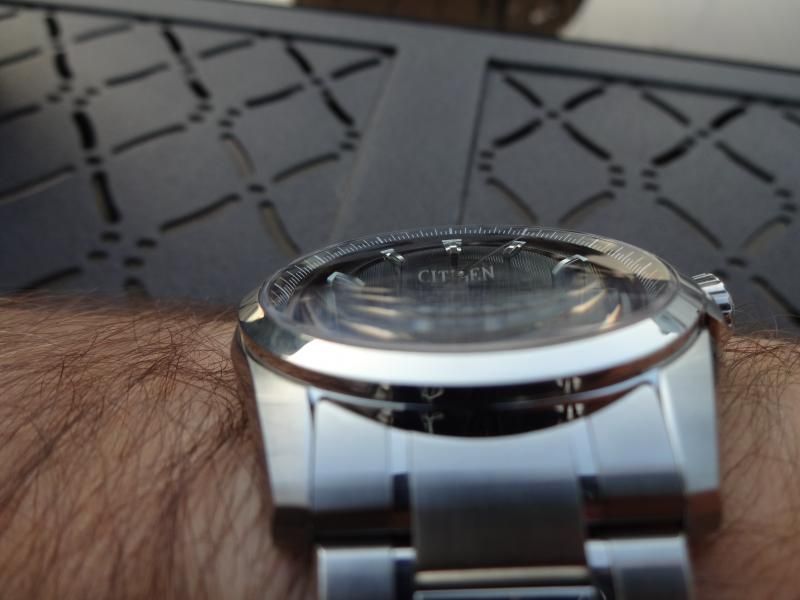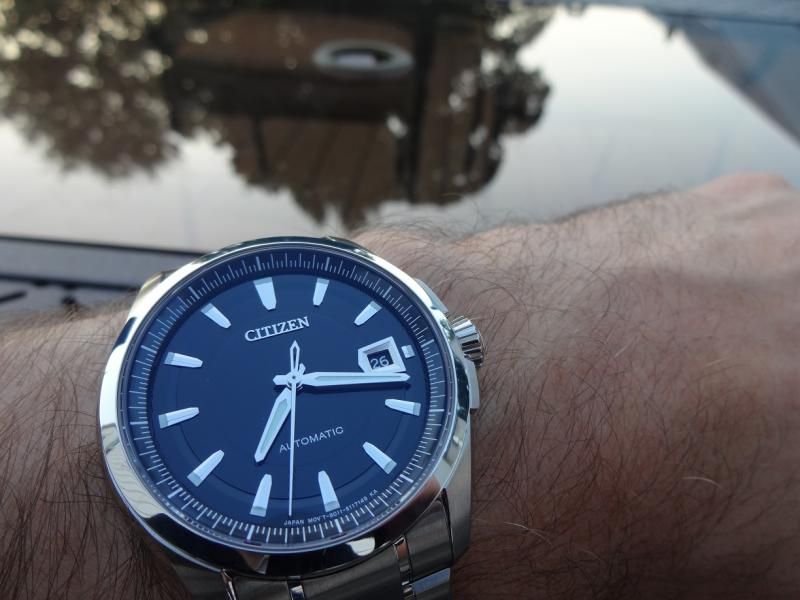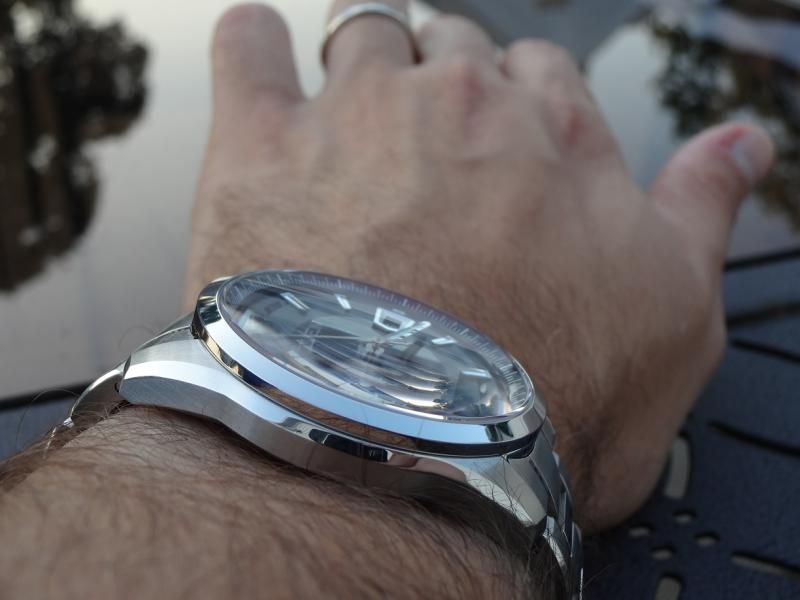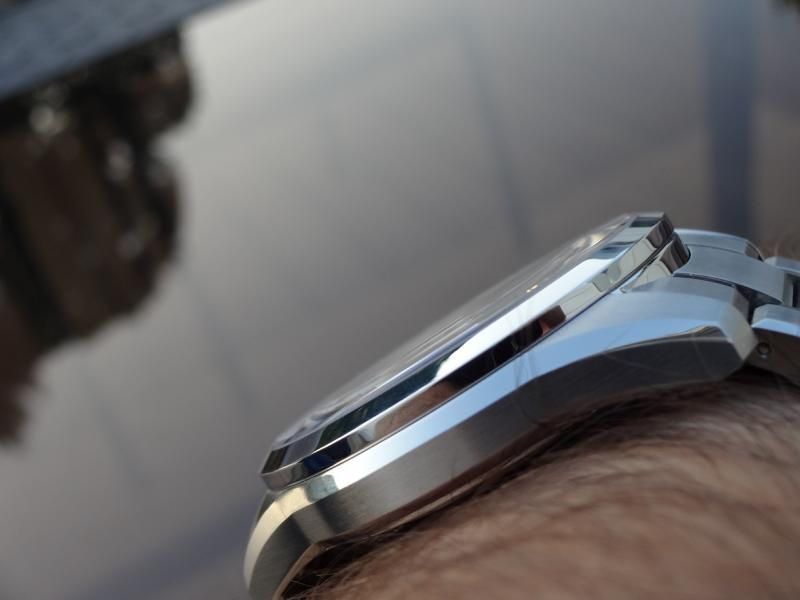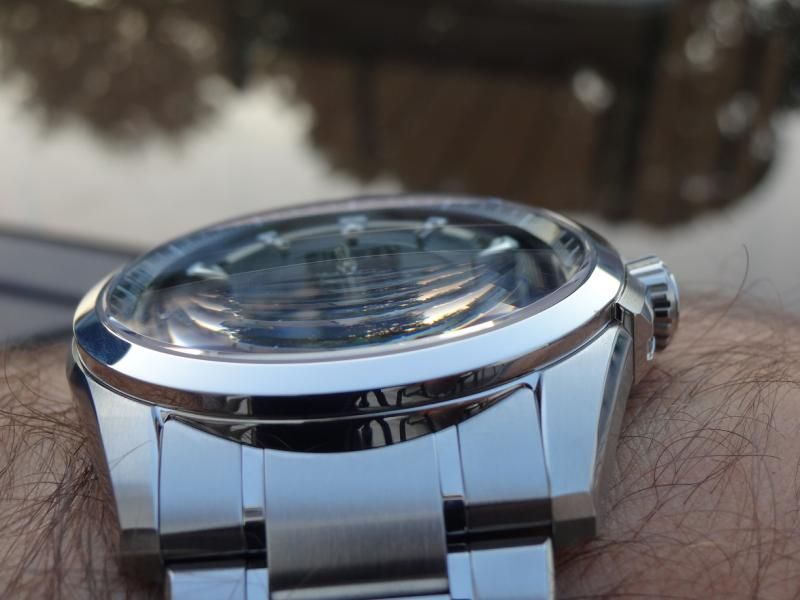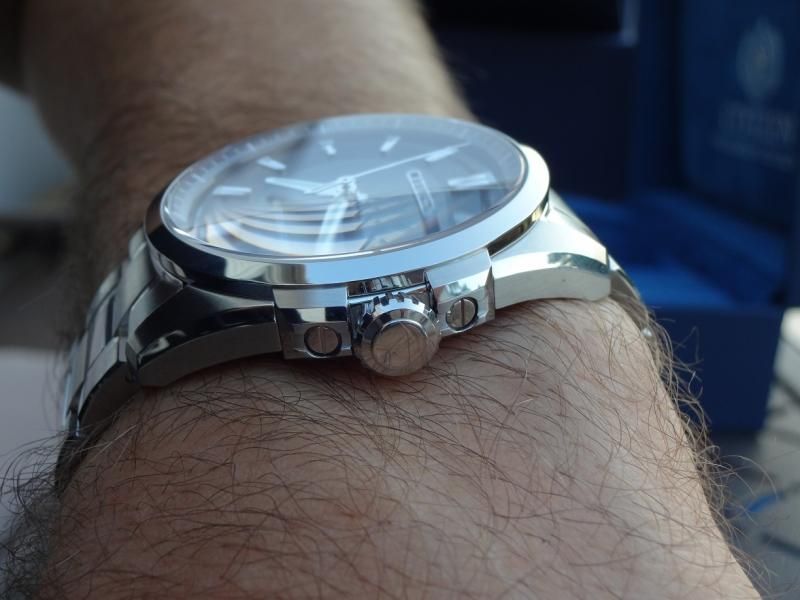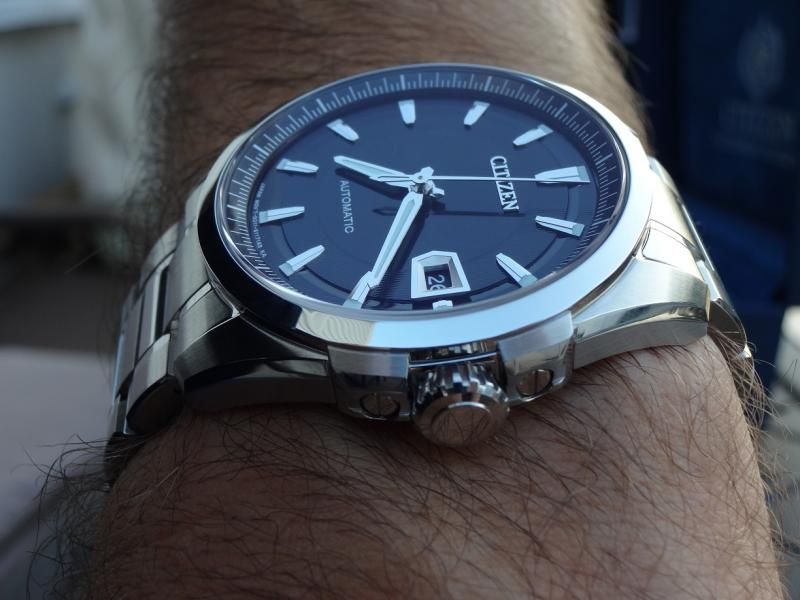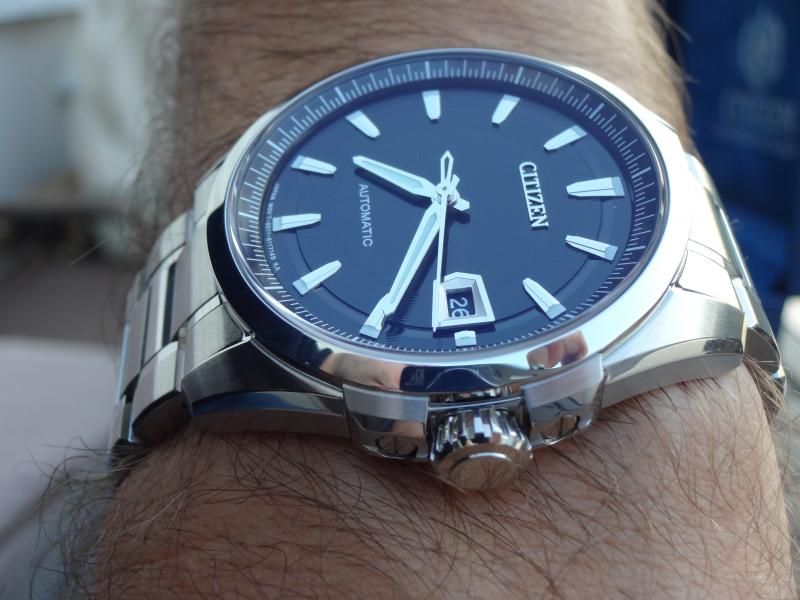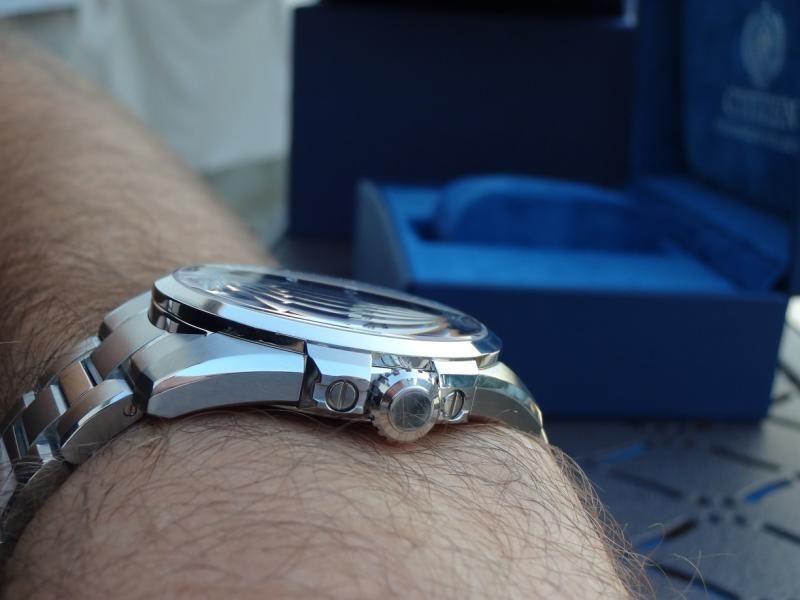 I love how it looks. I tried showing as many angles as I could.

The dial almost looks blue in certain lighting conditions, both to the naked eye and to the camera. Maybe it's the reflection of the black dial basically mirroring the sky in the shots where it looks blue-ish.
I think it looks absolutely fantastic and it's very comfortable to wear. It does not have half links and it does not have micro-adjustments so you might have a slightly too tight or slightly too loose fit. I prefer my watches slightly loose so it's perfect for me.
*EDIT: it does have one half link! Thanks to AZ for pointing that out. So, you'll likely be able to size it just about right regardless of wrist size*
I made a little video as well because if pictures say 1000 words, videos may say 10000:
https://www.youtube.com/watch?v=tQZI4lP8iVw&feature=youtu.be
I hope this helps show off the watch in greater detail and how it looks in "the wild" as we say.

Here is a recent thread dedicated to the Signature Collection from Citizen: (if you got one, show it off there)
https://www.watchuseek.com/f21/show-your-citizen-signature-collection-watch-1075624.html

And one that's a bit older:
https://www.watchuseek.com/f21/official-citizen-signature-thread-868791.html
Other threads about the GC watches on WUS which have helped me and may help you as well and will save you some time searching WUS for more info on these watches:
https://www.watchuseek.com/f305/citizen-grand-classic-review-976728.html
https://www.watchuseek.com/f21/citizen-signature-grand-classic-automatic-%96-nb0040-58a-nb0040-58e-726278.html
https://www.watchuseek.com/f71/citizen-signature-grand-classic-impressions-photos-834782.html
https://www.watchuseek.com/f21/citizen-signature-grand-classic-901118.html

All in all, I think this is an excellent watch that looks great with jeans and will look great with more formal attire as well and should look equally good while wearing shorts and sandals. Save for the most formal of occasions like weddings and the like and the outdoorsy stuff where damage might be expected, I think this will serve as a great "daily driver" and will occupy 90% of the wrist time for the foreseeable future.

Some people have reported incredible accuracy from this watch (+/- 2-3 seconds per day) and I hope I'll be in that club as well. Using Time.is as a reference, my watch is gaining 4.5 seconds per day which I find to be excellent. I've only had it for two days so it may settle down some but if it stays like this I'll be more than happy.

A big thanks to everyone who posted their pictures and impressions which helped me zone in on this watch as a prime candidate and to CitizenM for his excellent posts and insights on this watch and movement. As others have said, maybe he should get a commission from Seiko/Citizen!
Finally, let me tip my hat to Joe at AZ Fine Time from whom I purchased the watch. Joe was great to deal with. The watch wasn't in stock when I first inquired about it, so he ordered a brand spanking new one for me and it arrived in about a week at my house. Couldn't ask for better service and I hope he can assist me if I ever accumulate the funds (and the bravery) to splash for GS. If you are interested in this watch or one of its siblings, I suggest you call, email or PM Joe.

I hope you enjoyed the pics and video.
Jacob