Thanks to Mini, Dr. Roberts, COA and everyone who helped me make my latest and greatest purchase.b-)
Presentation
Citizen's Grand Complications come 3 boxes. An outer shell, a secondary box and then the actual watch box. All the boxes are dark blue. My GC came unopened wrapped in protective plastic. Very nice presentation.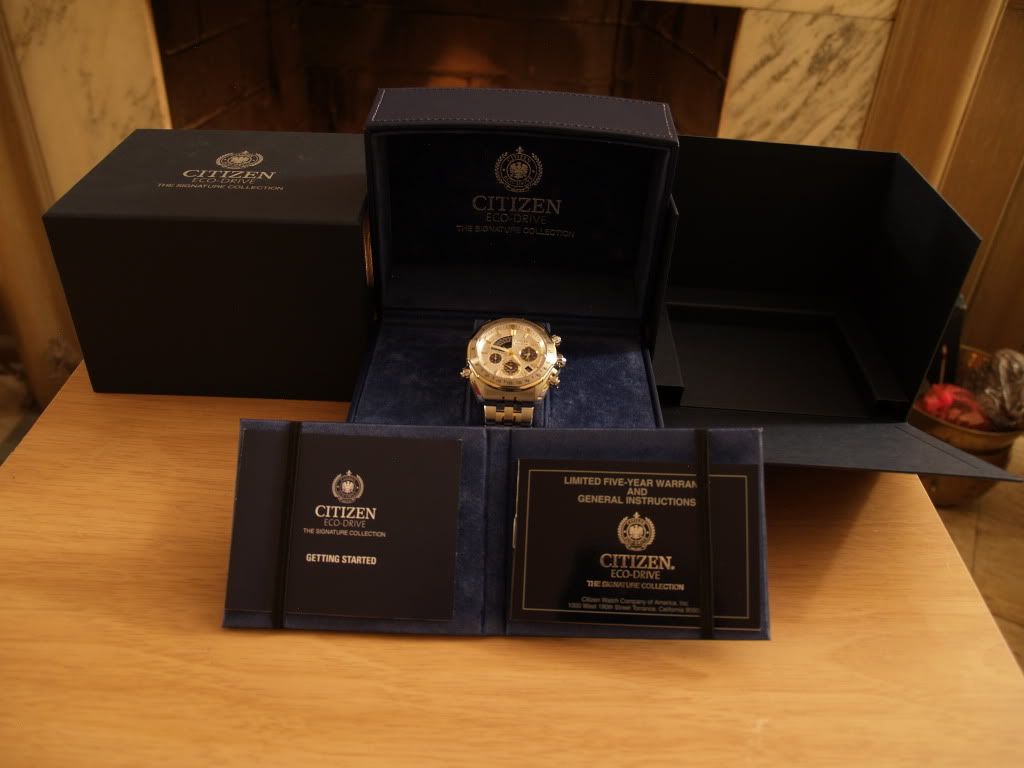 Dial/Face
Absolutely stunning imo. You have 4 colors. Black, white, yellow and steel. Normally, these colors may not play well together, but Citizen's Grand Complication pulls it off wonderfully.Gorgeous, classy, tastesful and attention to detail immediately came to mind, when i first laid eyes on this beauty.
The combination of colors are beautiful, with none overpowering the others. In ambient light the face color looks like a titanium color, instead of white. The white face and the and the holes lend depth and character to a busy face. I love the way all the information is intelligently and thoughtfully laid out. Attention to detail is the prevailing theme here fellas.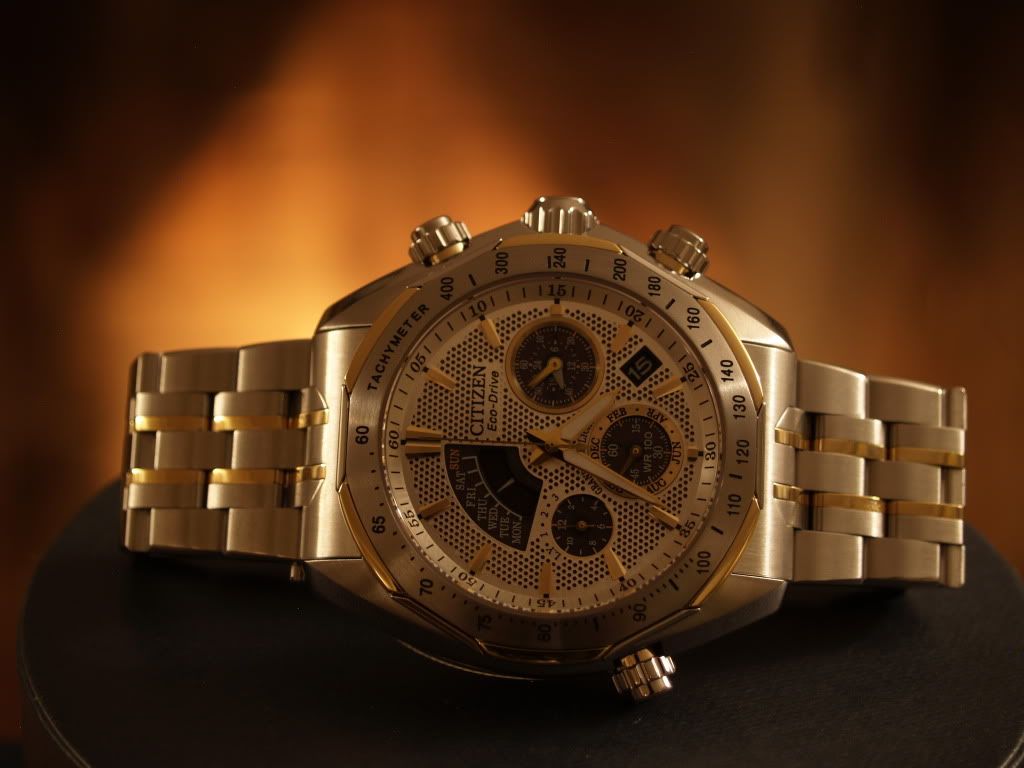 Bracelet
The bracelet is very comfortable and the best i've ever worn. Its fit and finish are top notch. Brushed and polished to perfection, it relects light beautifully. The clasp/buckle is the kind with the hidden release and looks very nice as well. At 182 g, the watch feels perfectly balanced on my 7' wrist. Only thing missing is a micro adjustment.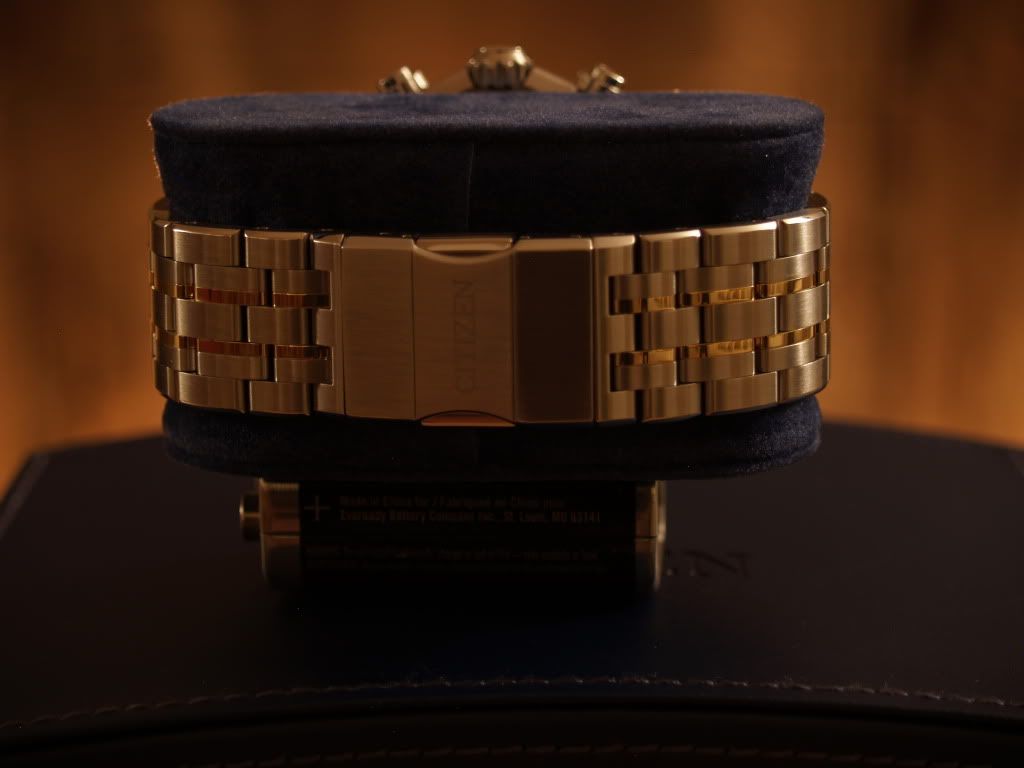 Caseback
The is very cool. Citizen's fiery phoenix is deeply etched in the center and the holes for the minute repeater chime look precisely machine cut. 4 main screws securely attach the the caseback.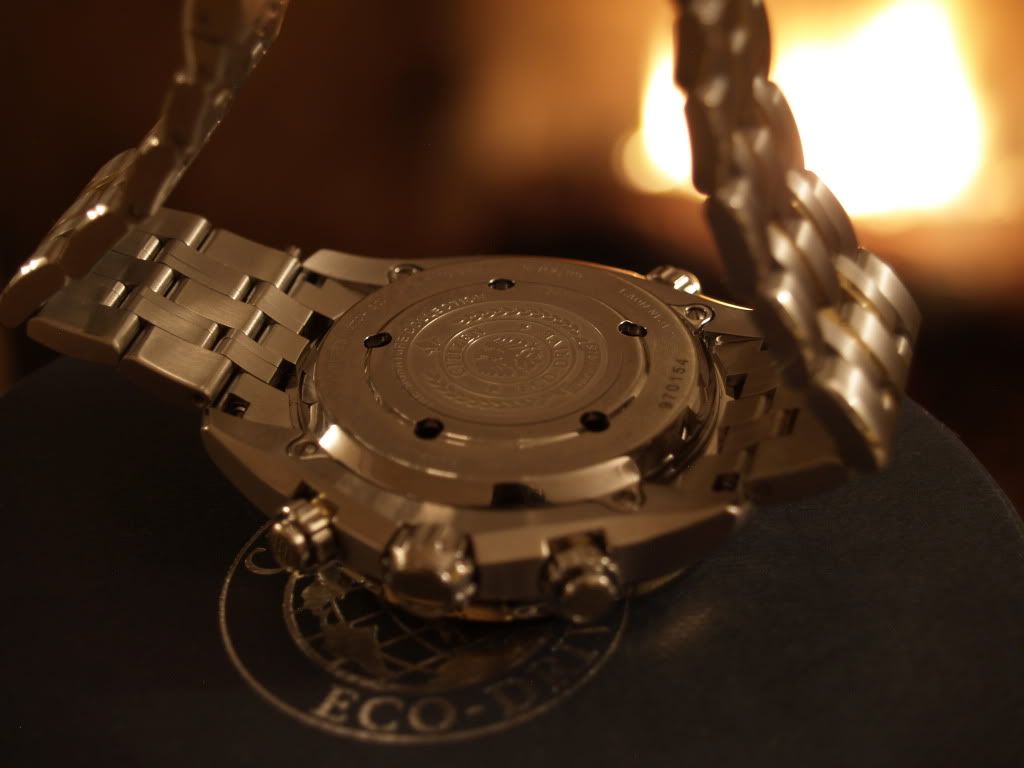 Crystal
What can i say. This double AR coated sapphire goodness is almost invisible at every angle. I feel like i can reach in an touch the hands. Looks better than my jdm promaster imo.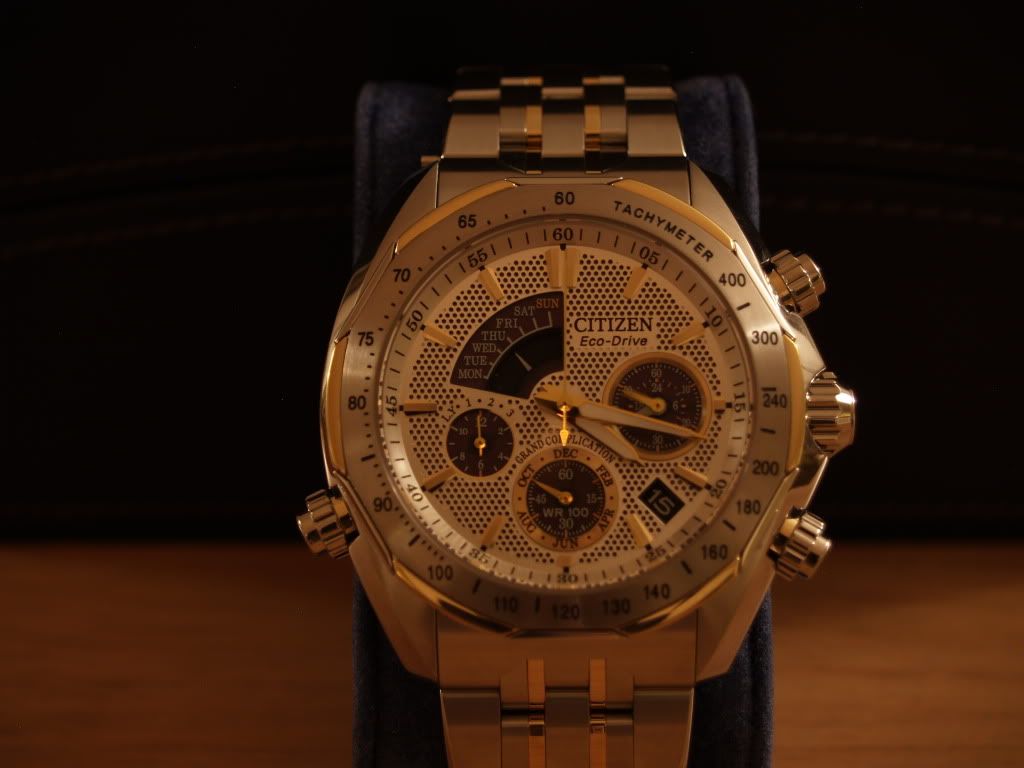 Lume
The lume is Citizen's cool blue. The lume is only applied to the hour and minute hands only. None on the indices or on any of the other hands. The lume is bright and will probably last loooong into the night. I'll post some when my camera recharges.
Features
The minute repeater sounds simply wonderful. A musical treat for the ears and a nice departure from the same ole 'ding' from regular alarms. The 12 hour chrono works great and is a snap to access. Citizen's included interactive cd make operating the watch a breeze.
Conclusion.
Citizen has a winner on its hands. The Grand Complication is an outstanding timepiece and an AMAZING value for the money. Now i need to watch the cd and set the time, lol. Thanks for lookingb-)