Discussion Starter
·
#1
·
I posted this over on the DOXA forum to shed some light on a thread regarding how the orange dial looks underwater. However, I originally conducted these tests for myself, as well as for anyone who doesn't dive, to give them a better understanding of color behavior at depth. Maybe it will also help you see why we divers groan a lot when we see dive watch companies use colors that are of little benefit underwater.;-) Hope you find it beneficial......

Over the Easter Holiday, I was able to carry out some color tests that I'd been wanting to conduct for a while. My main interest was in how fluorescent colors behave at depth, but I also included spectral(non-fluorescent) colors to help further compare and contrast.
First I had to make the sample cards, and I started by obtaining the required colors from Home Depot's paint center(except for the fluorescence). I chose the most vibrant examples that I thought represented the color in it's truest form, and mounted them to a piece of white card stock for contrast. Using a strip of black tape, I bordered the colors on the opposite side to show how the colors contrast with black. Both examples were then laminated with a thick, transparent laminate...similar to what you'd find on a driver's license. The fluorescent samples were obtained by first painting a flat white base-coat on a color paint sample, and then painting the card with Krylon fluorescent spray paint.
Here you see the cards in bright sunlight with the spectral colors on the right. The fluorescent examples are on the left.
Now we'll take a look at the same cards at 60 ft. The water quality in the Gulf of Mexico was poor that day. Flooding and record breaking rainfall in the North had brought a heavy influx of fresh/tannic water to the region. Visibility was approx. 12 ft with a heavy level of particulate in the water. Not the best for sight-seeing, but pretty good for conducting tests such as these. As a side note, this photo is straight out of the camera with no filters or adjustments for white-balance, color, etc. In other words, the colors look axactly as they did through my eyes underwater.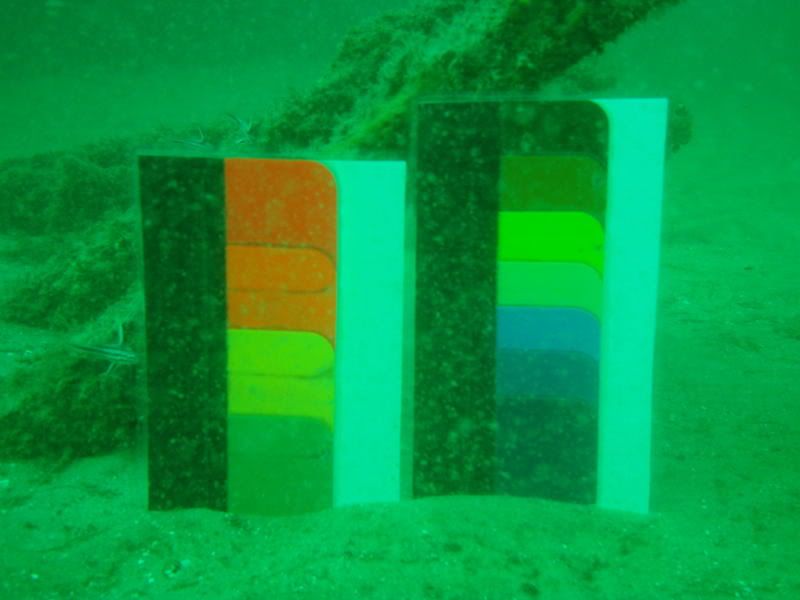 As you can see, the spectral red is completely gone and difficult to distinguish from black. The orange now looks drab and almost an olive-green. Yellow holds fairly true, but green is now looking closer to yellow. Blue and indigo are OK, but violet contrasts with black about as well as red.
Now for the fluorescent colors. In my studies, I'd read that flourescent colors fluoresce(glow) due to ultra-violet light. Since UV is present as long as there is ambient light, fluorescent colors remain mostly unaffected as long as there's light to view them by. In other words they're immune to the filtering effect that plagues spectral colors. Looks like what I'd read was essentially correct.
The fluorescent red and orange are still very vibrant, and the fluorescent yellow contrasts well with black and white. I am a little surprised by the performance of the fluorescent green. It is more stable than the spectral green, but didn't glow as I thought it should. I suspect it may have something to do with the green tint in the water, and water with a purer blue color may give a better result.
Of course to be more conclusive, the test should be conducted over a wider range of depths and in blue water as well. For me though, this was a good place to start.