Everything came out spot on. One of the advantages of owning a half dozen ABC watches is there is enough watches to compare the accuracy of any new ABC watch.:roll: I thought I might have to look at the manual because its been about 8 months since I had a Core. It all came back to me and I instinctively found the correct buttons and menus on the first try. It felt like a old fried was back on my wrist again.
First impressions on the Regular Black Core:

I forgot how big the display on the Core is. Its massive compared to my other Suuntos. The positive display is crystal clear. So much easier to read than my last negative display Core. I can read it from sharp angles on my wrist and read it from 10 feet away. This would be the watch/display for anyone with a visual impairment. Every pixel on the barometer graph is sharp and looks fantastic. Almost like its in High Definition compared to its negative display brother.
This is also the Core model I would recommend to any hunter or military personnel.


My watch has a 922xxxxx serial number and it obviously has the latest firmware. I checked its contrast and it came factory set at 3. I did bump it up to 4 (not that it needed it). The positive display has little to no ghosting. I played with the contrast to see how high I could go before the pixels looked crushed and it seems to be around 7-8 contrast. The display looks very washed out at that level. I dont really see why any new Core owners would have to even adjust the positive display from its #3 factory setting. I ran the RB Core's Barometer though its test to see where its factory absolute pressure was set at. It seems to be spot on with my Highgear Altis and Suunto Observer. In fact the Observers can be globally adjusted, and I was going to adjust it to match the Cores, but it did not need it. Kudos to Suunto for being consistent with its factory reference points. I will say this right now: The Core has THE best barometer graph out of any and all ABC watches. It is extremely accurate and detailed. So accurate that it will show a one pixel up blip if I go out side for only a second and come back in my house where I originally calibrated the watch at. No other watch comes close to this kind of documentation. Suunto must have also fixed the lose bezel issue because the last couple of Cores I owned turned smooth and solid. This watch has a different bezel than my All Black Core but it turns the same.
The multi tone alarm sounded great and the altimeter was typical Suunto spot on with my other ABC watches. I tested it by wearing a Observer, Altis, and Core on my arm while I climbed up and down my 3 story home. The Core's altimeter was always slower changing numbers while I was moving. It tends to wait until stopped and slowly come to the final altitude number. My last Core did this and I believe it is to eliminate pressure drift.
Compass also checked out to match my Observer right to the exact degree. The temperature also was spot on in and out of the water. The push buttons on the RB Core is round compared to my last All Black Core that had serrated push buttons. They seem to sit more flush and I would bet they will not snag my hunting jackets sleeve as much as the serrated buttons. Button push was firm and much better than the 1st and 2nd generation Cores.
The back light also seemed brighter on the positive display. It still has the patented Core flicker in the compass mode:roll: and the light duration was 5 seconds from the last push of the buttons. I can tell right now, the large size of the display and being positive display, I will be able to read the entire display in low light before I need to activate the back light. The battery is a Energizer. I always open a new ABC and lube the battery hatch seal.|>|> I am very happy with the Regular Black Core. I figured the display was going to be clear but it is even much sharper than I thought it would be. So the Core has passed its tests without any negative surprises. :-!:-!



Details like the floating second hand and the barometer trend arrows come to life on the Positive display.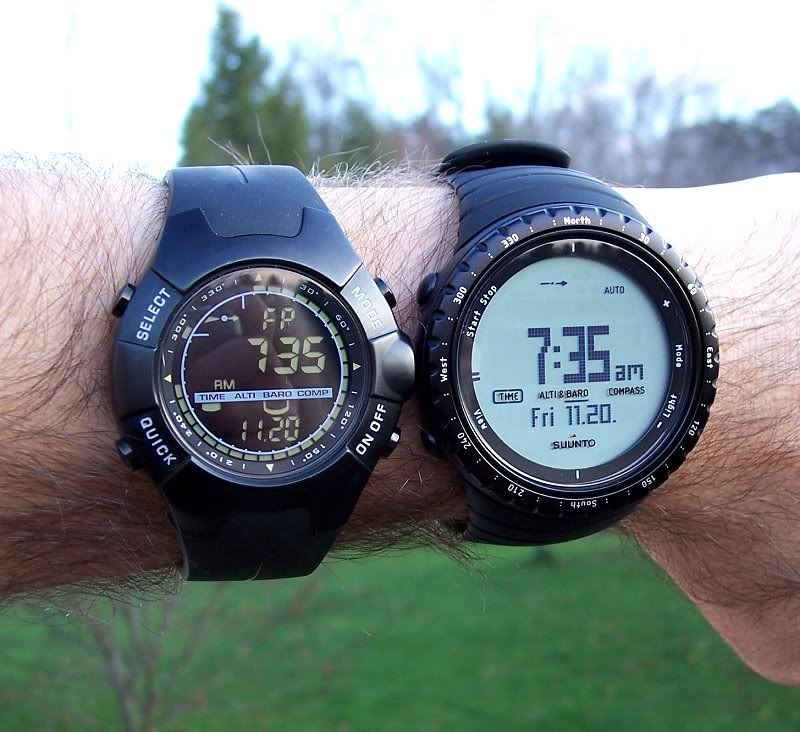 R
egular
B
lack Core and Observer '
B
lack
C
ollection"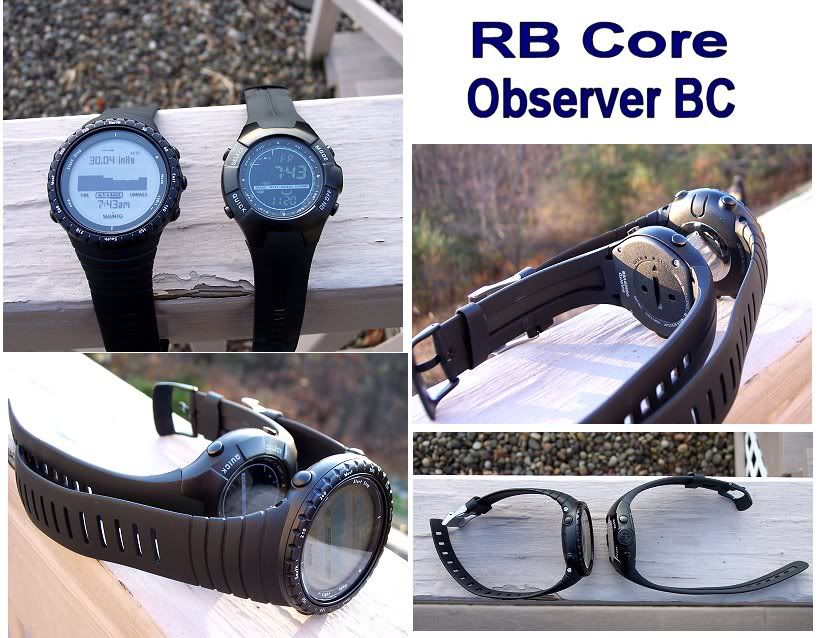 Little light to no light...
Compass in "Bearing Tracker" mode. Basically point the compass to the direction or object in the distant you want to go to, push top left button and that position is now locked. Arrows will direct you to that position.
Putting the RB Core through its water depth testing. I am using a rubber made wrapping paper tub (wife doesn't need to know;-)). It wont quite fill up to 24" of water.
My Core required 16" of water to read 1'. This may even out above 2 feet but I don't have the ability to test beyond 22" of water. My fresh water hot tub will not go deeper than 20" of water. I ran it in that
(without jets on)
for 30minutes to test its WR.
Depth:
Past
Water Resistance:
Past
|>|>:-!|>|>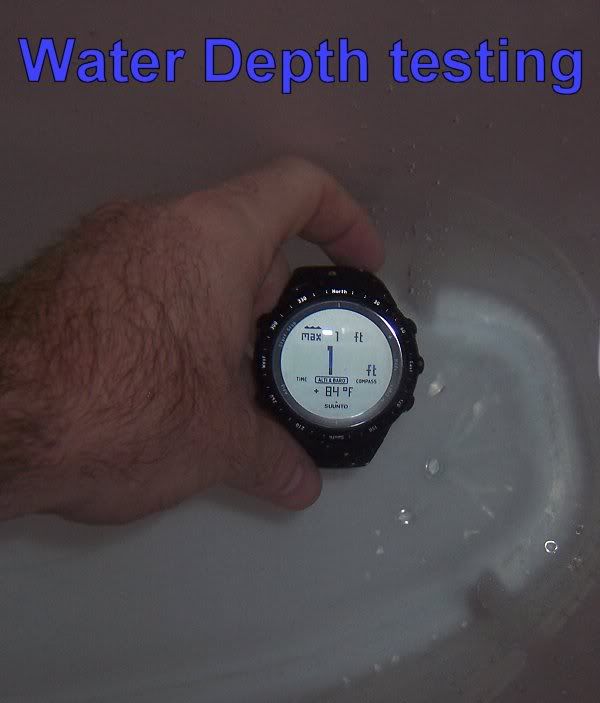 Follow up:

The Altimeter:..The Core does it different than any other ABC.

I forgot how sensitive the barometer graph is. It will show a pixel blip when I go out side for only a few minutes and then come back in my house where it was initially calibrated.b-) Very impressive. Now that I have got to test and own quite a few top-shelf Suunto ABC watches, I am getting a over all feel for the personalities of each watches technologies.
For instant....The way the Core use and calculates its altitude is different than the way the Observer, X6M and Highgear Altis does. I believe it uses a more advanced way of programing and calculating pressure change. If I take all three watches and calibrate the altitude. I then race up 3 flights of stairs watching each display. The Observer, X6M and Altis change almost instantly and consistently as I rise up the stairs. All three watches are almost in sync. The Core takes a different approach. It will start to rise after about 7 feet of change and then start to rise. By the time all 4 watches are at the top floor of my house. The 3 watches are reading the altitude and maybe flutter up and down but eventually settling to the correct altitude. The Core slowly reads right under the correct elevation by about 3 feet and then locks there for about 20 seconds and then displays the correct elevation. Very seldom does the Core read higher than the correct elevation when ascending up. The Core is more skeptical of minor elevation changes unlike the other 3 that will instantly flutter up or down without thought. I believe the Core does it this way to avoid minor pressure drift. In other words, its programed to take multiple readings when the pressure changes slightly to determine if it is a elevation change of minor fluctuations with the pressure. Its less likely to flutter around up or down 3 feet like the others. The Core will change rapidly with fast elevation changes like riding in a car because the pressure changes are obvious. This is a all new way of calculating elevation than any other ABC watch I have ever owned.