Discussion Starter
·
#1
·
So i'm currently in the market for a nice Submariner watch, I guess you could call them a 'homage' as I can't afford the likes of Rolex/Tag etc!
I've been looking around in lots of places for watches, a few people recommended a Seiko so I was having a look for possibly a nice condition second hand one on eBay and came across these! (apologies if i'm not allowed to share eBay links)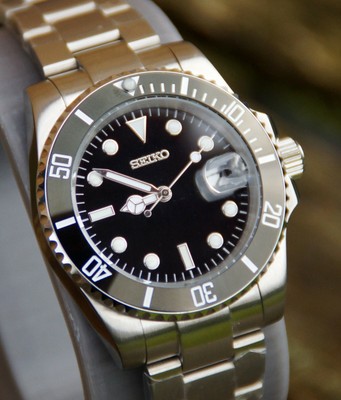 Case - 43mm - 316 Stainless Steel - Brushed top, polished sides. Custom Submariner Style Automatic Stainless Steel watch. Dial - Seiko - Black Plain. Bezel - Black Diver - Ceramic - 360 Degree Rotation.
It says modded, I've read the description but i'm no expert.. Is the movement decent, is it going to be a good watch for the money? Obviously it's an auction so not sure what it'll end up going for but would it be a decent purchase is what i'm trying to find out, or do I pay a little bit more and get something from a branded website properly.
Cheers