Discussion Starter
·
#1
·
Copied from German Watches Forum​
Where to start with this watch? I suppose my fascination began when I realised that I didn't have a pilot style tool watch in my collection. I soon developed a need for something that was clean and easy to read at a glance, so the hunt was on. Eventually I managed to wittle the shortlist down to 3, the Sinn 656, NB Yaeger Delta and the Damasko DA36.
The Sinn 656
I like the simplicity of the Sinn, there is nothing on the dial that doesn't serve a purpose which I find appealing but also a little austere. The date display I have issues with. I can understand that they don't want it to be too large and ruin the symmetry of the dial but I think it's too small and looks lost and apologetic. I'm not too keen on the logo, between the centre and 6, which is thrown into sharp relief against the matt dial either. I do like the arabic typeface and the fact that there's only 12,3,6 and 9 on the dial.
The NB Yaeger Delta Sector
Tha main reason I was drawn to this was the teal colour on the second hand and dial. Daft I know, but I'm a sucker for a little colour even on a tool watch. I also like the slighty unusual typography and the cross hairs. The date is also well resolved on the dial and the cross hairs framing it is a nice touch. But, and it's a big but, is it a bit too funky for it's own good? Would I look at it in 3 years time and regret not buying something a little less timeless. Also I'm not too keen on the logo replacing the 11 on the face, it completely throws the symmetry.
The Damasko DA36
For the main reason that I like the NB Yaeger I love the DA36, yes the yellow second hand. I know a lot of people have issues with it, even owners of the watch, but I love it. Just a simple bit of colour brings the whole watch to life, especially when compared to the Sinn, which suddenly looks very drab in comparison. The cross hairs also help to break up the large face. The day and date window position I'm not entirely convinced about. I think it would look better if they were in line with the 3 and the cross hair framed them but then I've no idea where you would put the Damasko logo. So I suspect it was a compromise.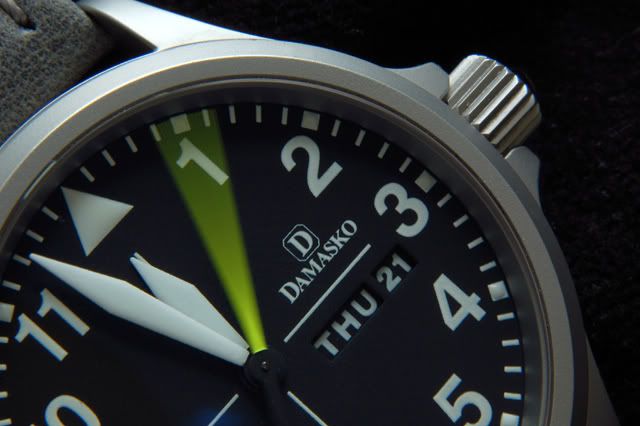 The other thing that swung the DA36 in favour is the case technonlogy. It's "ice hardened" to coin there marketing terminology. The reality of this means that the case is 4 times harder than stainless steel, this acheived by removing nickel from the steel completely. In a tool watch I think this is a very useful feature to have. I've seen a few examples of these watches that have been worn everyday, for 6 months or more, and don't have a scratch on them. In fact my own example is 8 months old (I bought it second hand) and is unmarked.
It's also anti-magnetic to 80,000 A/m or 100 mT, whatever that means, has advanced gasket design and materials and a host of other technologies that take Damasko to the forefront of watch design and research.
Here's the spec:
Case
Stainless steel, nickel-free, bead-blasted, entirely hardened
Ice-hardened to guaranteed 60 HRC* or 710 Vickers
Integrated anti-magnetic inner cage, anti-magnetic to 80,000 A/m or 100 mT
Sapphire crystal with anti-reflective coating on both sides, AR coating on the underside only available on special request
Crystal gasket resistant to UV radiation
Solid screw back with O-ring Viton™ gasket
All gaskets made from Viton™ which offers a premium chemical resistance and which is superior to most other materials used in the watch industry
New patented crown, crown stem is machined with minimal tolerances and leaves almost no gap between crown and case, but nevertheless does not scratch. Crown is also equipped with a permanent lubrication cell which eliminates friction. (Self lubricating crown).
Screw-down crown with protective shoulders, crown tube screwed into case for easy maintenance ("System Damasko")
Crown, stem and tube hardened to 60 HRC
Water resistant to 10 bar/100 metres according to DIN 8310
Crystal has a secure fit even in case of a sudden negative pressure
*HRC - The Rockwell Hardness Test presses a steel or diamond hemisphere-conical penetrator against a test specimen and measures the resulting indentation depth as a gauge of the specimen hardness. The harder the material, the higher the HR reading. The special martensitic steel used for the cases of Damasko watches is four times harder than standard 316L stainless steel.
Dial
Matt black with white numerals
Hour markers and triangle at 12 coated with luminous compound Super Luminova™ C1 (white)
Hands
The minute and hour hands are painted in matt black with luminous compound Super Luminova™ C1 (white).
The centre seconds hand is painted matte black with yellow dayglo (not luminous)
Movement
ETA 2836-2 chromometer grade, fully decorated with Geneva stripes and perlage on all plates and bridges
self-winding, mechanical movement
25 jewels
28,800 bph
Shockproof according to DIN 8308
Anti-magnetic according to DIN 8309
Adjusted to COSC performance (but not certified)
Hour, minute, permanent central sweep second
Day/Date window with new, modified position
Dimensions
Diameter: 40.00 mm
Dial width 34mm
Overall height: 11.9 mm
Lug tip to lug tip: 47mm
Lug width: 20.00 mm
Weight without strap: 75 grams
Strap and Bracelet
High quality water resistant black leather strap
Bead blasted signed steel buckle
So am I pleased with my choice? You bet, the whole watch just screams quality, from the action of the crown when you adjust the time/date, (so far I've only set the time once and that was when I bought it) to the impressively deep markings on the case back. This is one seriously well designed and constructed watch. Currently in the UK there's a minimum of a 6 week waiting list for this watch. The factory can't keep up with demand it's so popular and I can really understand why. At the price point (£450 new) I seriously doubt that you'll get a better watch for your money.
Thanks for reading, and if anyone would like to know more just get in touch. Here's some pics of my watch so you'll hopefully see what I've been raving about. The NB Yaeger and Sinn photo's are lifted from the net, my sincere apologies to whom it may concern.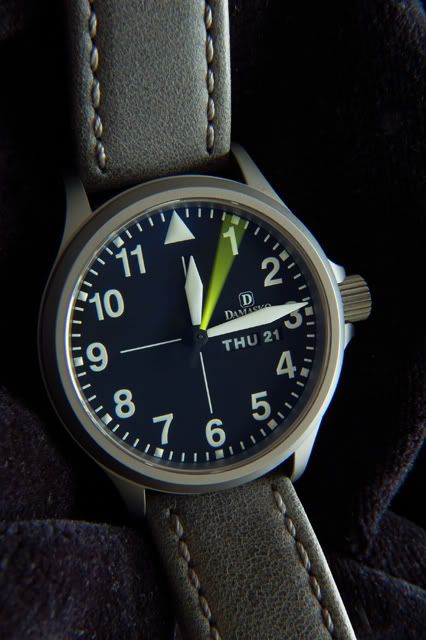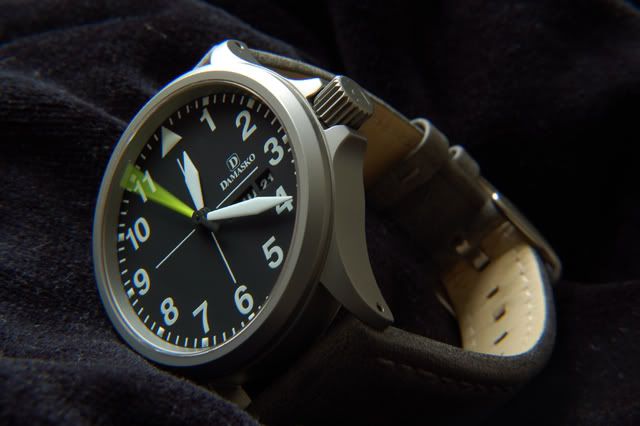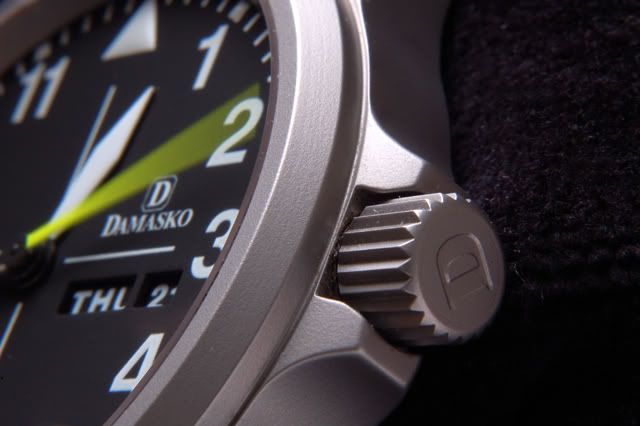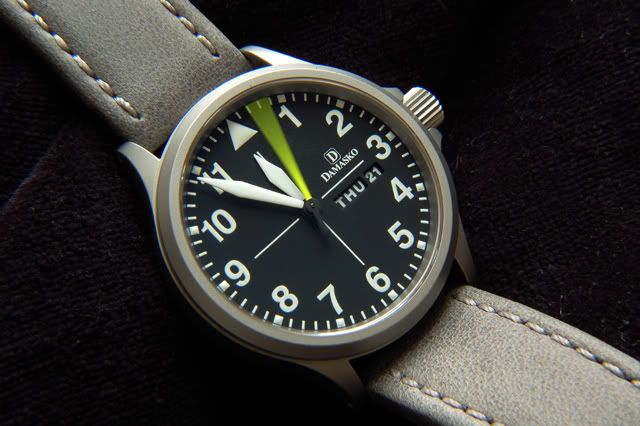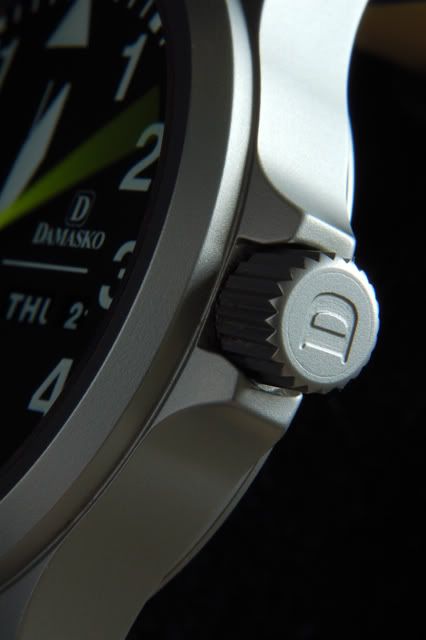 The above strap is not he original just something I was experimenting with at the time. Here's the original: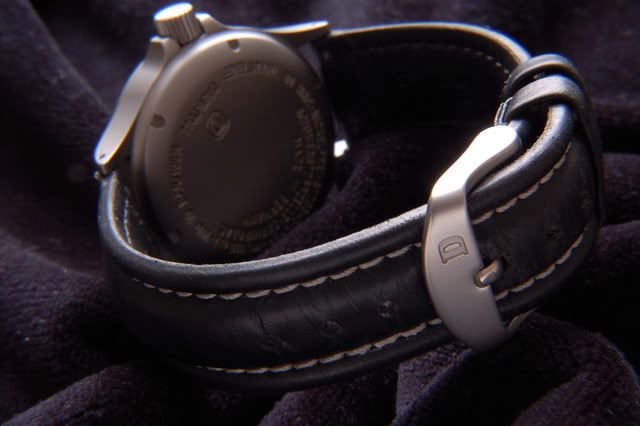 Hope this review helps anyone considering this watch.
Cheers
Gary