Discussion Starter
·
#1
·
Based on what I've read here and elsewhere, I've got a problem that is quite common amongst owners of 1601s: I need to replace the old jubilee bracelet. Despite all the reading I've done, and despite bringing the watch into an AD, I've still got some questions. Figured I'd go to the experts here on WUS.
First, I don't know exactly what bracelet I need. The watch is a 1601, serial 22XXXXX, and I inherited it from my grandfather a few years ago. See below:
He had been wearing it on an aftermarket (I think) two tone jubilee, seen below:
What I assume is the original bracelet was kept in the box, completely stretched out, in pieces, and incomplete... no outer clasp. See below: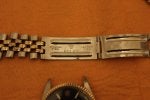 Now, after looking around, it seems that I need a 6251H bracelet... but I'm not sure. There are no model numbers on the "original" bracelet. And the "Rolex" text doesn't look quite right.
Second, once I know what bracelet I need, what's the best way to go about getting one?
I'm terrified that I'm going to send it in to Rolex and they're going to tell me that it's $3k or something. I know the replacement for the current TT Datejust is listed at $4700, which is just absurd. I understand that they generally offer some kind of turn-in value on original bracelets, but mine's busted and incomplete. At the end of the day, I don't think I would spend much more than $1k or so on a replacement. After all, the watch itself probably isn't worth much more than that. Seems like any bracelet directly from Rolex is going to be out of my range.
I'm also very wary of paying good money for something on eBay, as I've read that a lot of the bracelets on eBay are made up of a mix of aftermarket and genuine parts. And I certainly don't have the expertise or the patience to learn the vagaries of 1970s-era folded links.
The watch needs service, so I was hoping there might be someone who could both service the watch and find a good bracelet for me. Any ideas?
I know this is a common query, so I apologize for spamming up the board. But any help would be greatly appreciated.
Thanks,
RM