Discussion Starter
·
#1
·
The Deep Blue Master Explorer 1000m
:
I tend to collect high value watches, with a preference for Orients and other Japanese brands. In November 2011 I saw this watch on another WIS forumTimezone. I was interested and began my research of the Deep Blue brand. From what I have gathered, the brand is all about water resistance, fair pricing and has a large fan base with some detractors. The primary DB complaint is the way in which the watches are marketed on a shopping TV network. I can not say this influenced me at all, I am more concerned about how the brand handles itself not how it reaches the market required for brand sustainability. My loving and patient wife got this for me for Christmas, nice eh?


The Stainless Steel Case:
45.18mm diameter measured across 2:00 - 8:00
16.52mm thickness
51mm overall height, shoulder to shoulder
24mm lugs
7.9mm diameter screw down crown, 3 complete turns to lock down.
6.9mm diameter screw down Helium escape valve, 1 turn to lock down
Finish: brushed sides and matte finish shoulders.
Solid screw down case back with polished background for insignia.
Sapphire Crystal with AR coating inside surface only.
The details of the case and the care of finishing are impressive, more so for the MSRP of this watch. The screw down crown and the He valve are seated into machined lands on case, impressive for the benefit of keeping the projection of these crowns to a comfortable level and also more robust for their protection. The primary crown is smooth and feels very high quality, excellent action and the machining of logo is classy. The He valve is hard to undo and tighten, as there is no grip. The owners manual calms any concerns as the 1000m resistance applies for open or closed He valve. It would be better to have some texture on this valve to assist with action. I admit that I don't dive, will not likely ever see more than 10 metres depth, but we WIS love excessive levels of redundancy!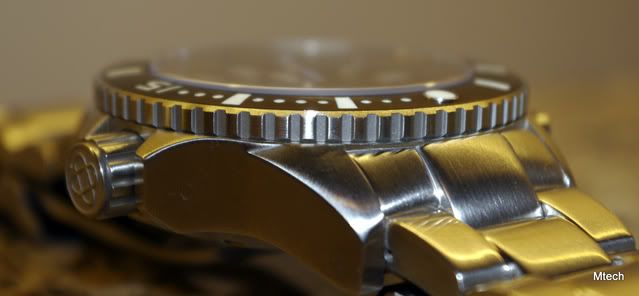 He valve opened up.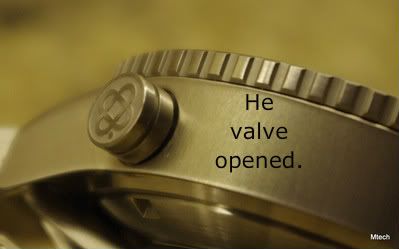 The Bracelet & Clasp:
Solid Stainless steel, solid endlinks, springbars, 24mm tapering to 22mm x 4.88mm thickness with pins for removable links, the classic oyster style is done with a faux 3 piece look across the width of the links, these are actually stamped & machined from 1 piece. I think this is a very robust and cost effective way to ensure that the bracelet remains solid and rattle free for years.
For my 7.5" wrist, I had to remove 1 link and move the micro adjuster on the clasp in by 1 position. Stan of Deep Blue asked that I mention that half links are available from Deep Blue if needed.
The wet suit extension is stamped stainless and is easily opened and closed. Clasp is machined scissor fold with 2 button release, safety cover held by spring pin posts.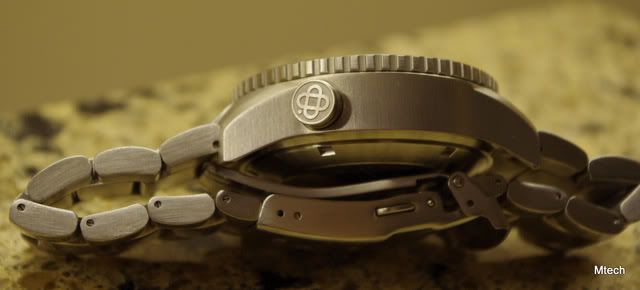 The Bezel:
45.18mm diameter, stainless steel
90 clicks uni-directional
SuperLuminova filled numerals, 5 minute marks, lumed inset pip.
Black PVD plating of bezel top surface, with slight texture giving appearance of being an insert, but I suspect it is all one piece.
The bezel turns with slight effort, is very solid with no lateral play. I think the bezel is slightly noisy in its rotation. IMHO, best in class bezel is still the Seiko Monster. The bezel lume is AMAZING, so much stronger than the dial or hands that the difference is almost distracting.



 
 
 
 
The Dial:
Burst pattern on dial with raised, applied hour markers
Hands, lumed but not as bright as bezel
Hour markers, lumed but not as bright as hands.
The dial is very easy to read, the blue sweep seconds hand is a nice touch. The date changeover starts at 11:00 and is done by 12:04am
The text on the dial is actually very small, well done. The texture is a nice effect, so many watches in this category are hard to distinguish; in this example the burst dial helps give some needed character.


 

The Miyota 9015 Movement:
 
One of my primary reasons for choosing this watch was to try out this new Japanese movement, the specs are:
24 jewels
28,800 vibrations per hour.
26mm diameter x 3.9mm thickness
42 hours minimum power reserve (actually amount TBD)
Hacking, hand winding
Rotor winds in CCW direction, spins free otherwise. Slight wobble with sudden wrist flicking.
From the first day of wear, December 25[SUP]th[/SUP], the watch has not shown anything other than +5 secs per 24 hours. It doesn't show any positional sensitivity to my attempts to slow it down overnight (crown down or up) The sweep is very smooth, just as my ETA 28xx series watches. Normally for a review I open up the case for inspection, and photos….sorry not this time!

note this photo borrowed from web, not mine !


 
Conclusion:
 
This is a big solid watch. With removal of 1 link from the bracelet the watch weighs 261 grams, by far my biggest for mass.
However it wears very comfy, and does not seem to move around on my 7.5" wrist. The details are well done, there are many aspects of the construction that are very impressive for the MSRP. The only things I would fault would be the lume of the dial and hands when compared to the bezel. SuperLuminova works best with a thick layer, the machined numerals and 5 minute marks on the bezel support good fill depth with the lume compound = Blazing glow and fast reaction to any light source.
Before this review I sent e-mail to Deep Blue to ask a technical question on the PVD coating of the bezel, I got a response from Stan (DB owner) in less than 15 minutes. This result matches comments from other DB owners and fans that Stan is there for his customers. I would not hesitate to recommend this watch and this brand to others who also want a robust, well made watch without having to pay an inflated price.
Thanks for viewing!
Ken