Discussion Starter
·
#1
·
Straps by Di-Modell, Germany. "Perfection in detail!"
Di-Modell authorized dealer since 2004!
​
Di-Modell
Germany provides hand crafted straps and has been producing and marketing watch straps for over 30 years. They are a top tier supplier in this industry and boast a motto of "perfection is our passion". All their straps are of superior craftsmanship and include such features as: a patented aero/anti-allergic lining, stitched keepers, nickel free gold plated buckles, reinforced spring bar holdings and loop anchor protection to keep the stitched keepers from drifting.
The patented "AERO Lining" is guaranteed sweat resistant with a porous inner lining and a humidity layer. All of their straps are water resistant, some down to 100m.
As with all the Di-Modell straps, and as anyone who has purchased these straps know, the quality of these straps are unequaled.
Free spring bars, shipping in the US and mini spring bar tool for order over $39.95.
You can see all my strap selections at
Freda Watch Straps - Watch Straps by Di-Modell, Hirsch, Hadley Roma, Camille Fournet, ABP
You can also follow me on Facebook and Twitter, where you won't be pestered with numerous tweets, but will use those social sites to announce new products or special sales.
Reminder: If you see a strap factory fitted with a gold plated buckle, I automatically send a free SS buckle at no charge.
Alligator Louisiana
- High quality alligator skin in classic design and colors with the patented AERO Lining and loop anchor protection. Available in 18, 19 & 20 & 22 in black, brown, gold and blue and long . MSRP $225.95
Forum price $169.95
Gold plated buckles also available on request.
Thickness (approx): 4.80mm
Length: 80x115
Lug/Buckle 22x18, 20x18, 19x18, 18x16
Matching stitch;
Black: 18, 19, 22
Brown: 18, 19, 20, 22
Dark Honey: 18, 19, 20, 22
Navy Blue 18, 19, 20, 22
Contrast Stitch
Black: 18, 19, 22
Brown: 18, 19, 20, 22
Dark Honey: 18, 20, 22
Navy Blue 18, 20, 22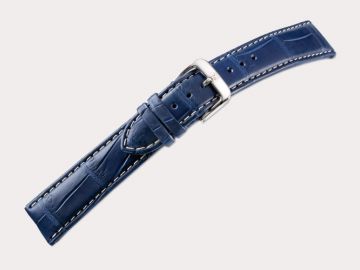 Chronissimo Waterproof
– The top selling strap on the market. Great for chrono's or divers. Special length*, 100mm waterproof and loop anchor. MSRP $91.95
Forum (PayPal) Forum (Paypal direct) Price $77.50
FREE WORLDSIDE SHIPPING*
*only countries listed below
How to order
– sent me a Paypal directly for 77.50 cut and paste the following email address and your strap selection in the appropriate fields and submit.
[email protected]
Black with white stitch
Chronissimo 20Short
Chronissimo 22Short
Chronissimo 18Regular
Chronissimo 20Regular
Chronissimo 22Regular
Chronissimo 24Regular
Black with Red or Brown with White
Chronissimo 20Regular
Chronissimo 22Regular
Lengths: regular 85x120, short 75x115, thickness 7.25mm
Free: Mini Spring Bar Tool, Spring bars.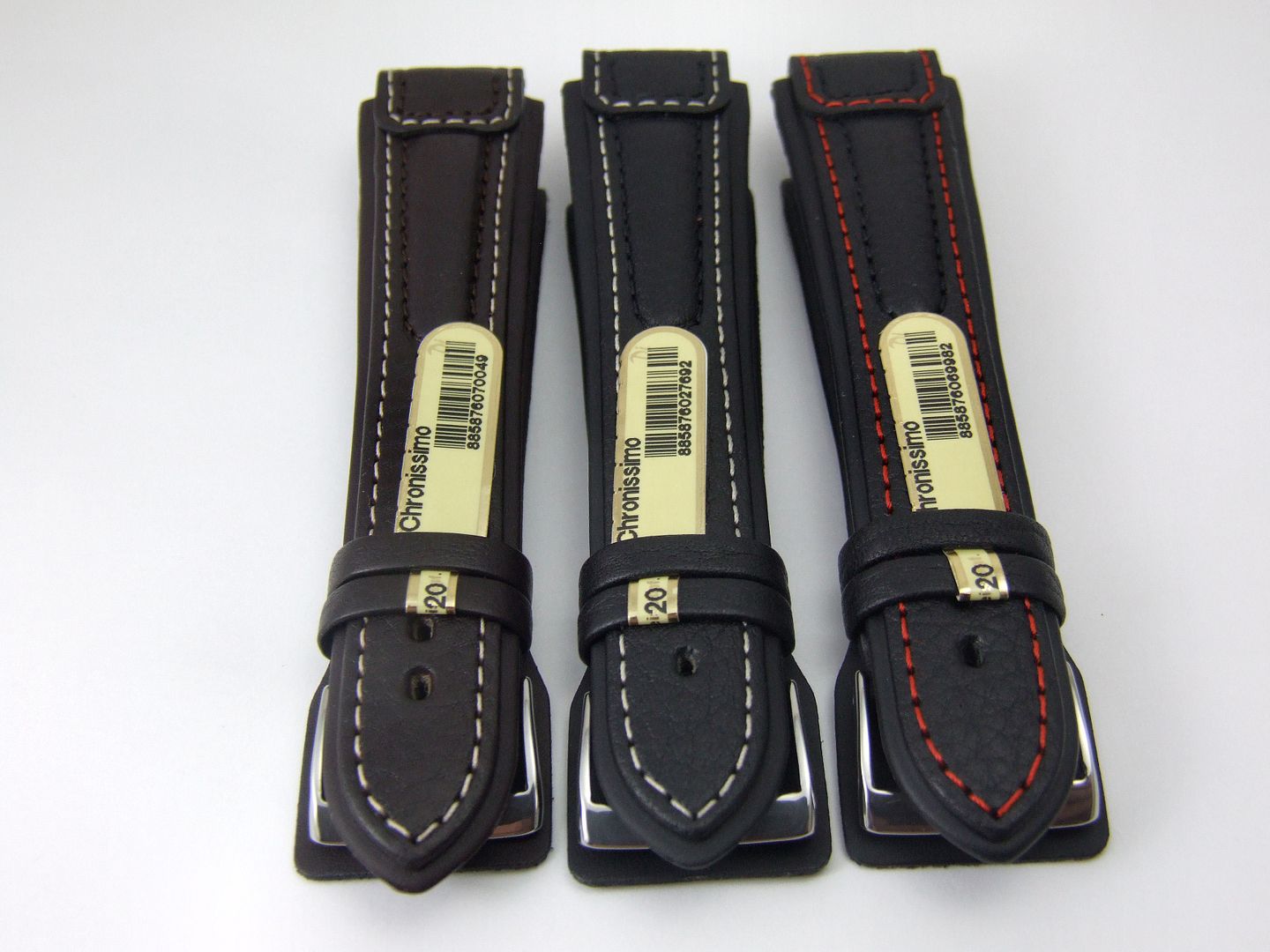 Rallye Waterproof Racing
– Sporty perforated calfskin, double tang buckle, 100mm waterproof, loop anchor. 18 & 20mm black MSRP 49.95
Forum Price $43.95
Free: Mini Spring Bar Tool, Spring bars.
Off Road
MSRP = $60.95 (forum paypal price $48.95). High quality leather, black leather liner, special buckle and steel keeper.
Available in 20, 22 black and tan (red brown)
Bali Chrono
MSRP = $45.95 (SUPER SALE! $24.95). Top quality large scale alligator grain, take a look at the close up for finer details.
Available in 20 black, brown and golden brown and 22mm black, dark brown, golden brown
80x120
http://i115.photobucket.com/albums/n283/fredawatchstraps/balichrono1e.jpg[/
IMG]
[IMG]http://i115.photobucket.com/albums/n283/fredawatchstraps/balichronoclosee.jpg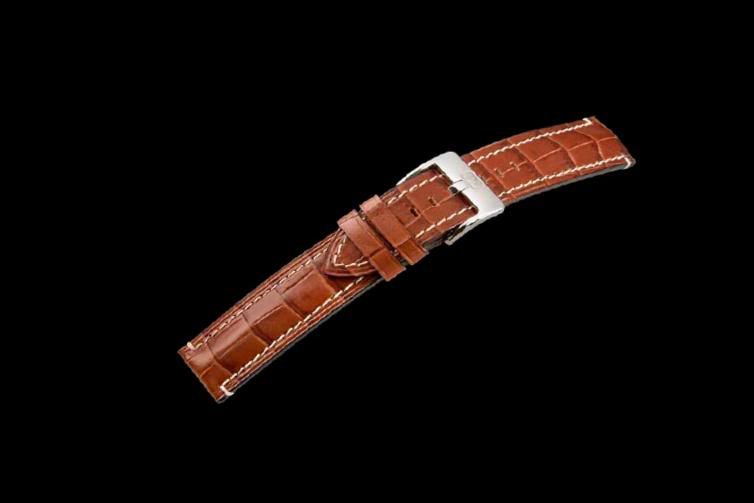 Return Policy – Returns allowed as long as the following conditions are met (non warranty returns):
1. straps can not be worn or tried on (it puts a bend in the strap and can't be sold as new)
2. tags still attached and packaging intact
3. must be exactly as sold.
Please take all measurements before attempting to mount the strap.
Shipping Charges (updated January 27, 2013):
Inside the U.S. -
Orders over $39.95 and paid directly through PayPal are free 1st class with delivery confirmation.
1st Class with delivery confirmation……..……$2.00
Need insurance?.........................................Add $1.00 per $100 coverage.
Need Signature Confirmation ………………+ $2.00
Priority Small Package (smaller mailboxes)…..$6.50
Express Mail Flat Rate………………………..$19.95(includes $100 in insurance)
Outside the U.S.
Airmail, no insurance or tracking……………...$6.50 See Comments Below***
Includes E-delivery confirmation to:
Australia
Austria
Belgium
Canada
Croatia
Denmark
Estonia
Finland
France
Germany
Great Britain & Northern Ireland
Hungary
Iceland
Ireland
Israel
Italy
Latvia
Luxembourg
Malaysia
Malta
Netherlands
New Zealand
Poland
Portugal
Saudi Arabia
Serbia
Singapore
Spain
Sweden
Airmail + Registered with $43.73 insurance…...$21.00 (required for orders $100 and up)
Priority 4-6 days, no insurance or tracking…….$24.00 See Comments Below***
Global Express w $100 ins. & tracking………..$45.00
Important notes/terms of sale
The postal system around the world generally does an outstanding job; my experience has been a worldwide delivery rate over 99%. I provide (reasonable) evidence of shipment.
***If you are concerned about in transit loss, and not in an "E-delivery Confirmation country"….please select a secured or insured method as the terms are FOB shipping point, seller is not responsible.
Items insured must have a visible declared value equal to the amount of insurance coverage.
Please contact or paypal me at
[email protected]
. Thanks for looking.
Thanks, Kenny
Note: this post supersedes any prior posts or offers.