Hi, I just signed up to the forums today to try and figure out what type of Omega I received as a gift. After doing a lot of research here I have to say the forum is great!
I am trying to discover (without going to a jeweler) if my watch is a 1438 or a 1441. Based on Omega's Vintage watch site it cannot be the 1458 since it was purchased in August of 1989 (Omega's site states that the 1458 was produced after 1993). Hopefully all this information is correct, seems like Omega seems like they can be tricky sometimes
Here is a picture posted originally by WIS_Chronomaster.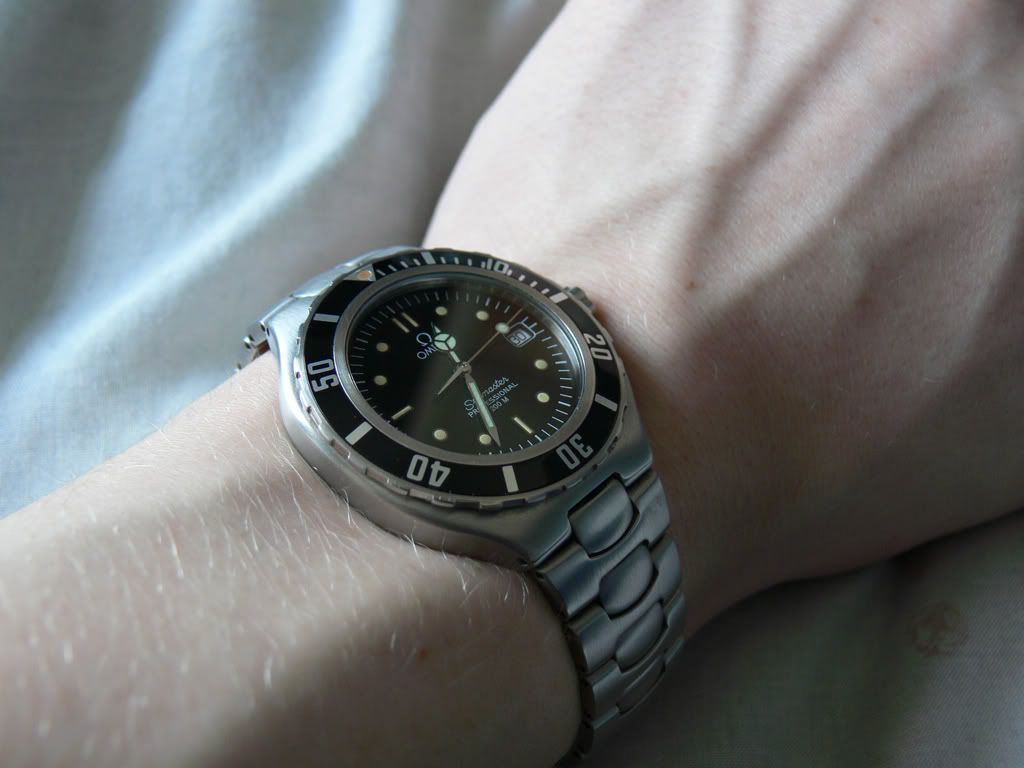 My watch is the exact same as the one in the picture provided, except I do not have the "mercedes" hour hand (Blackface/bezel, date, reads "Seamaster Professional 200M, ect. all the same). Instead I have the slim hour hand and widening second hand. Also my watch was purchased from a licensed Omega dealer in August of 1989 (about to have it's 20th birthday and looks brand new still :-!). The original band reads 1465/452
According to Omega's Vintage watch site the 1438 was produced in 1988 and the 1441 produced the first round of Seamaster Professionals (1987). But does not say that the 1441 was stopped for production or not. But it also states that the 1987/1988 model COULD have different dials. Their site reads - "This watch may have existed with different dials." So it seems it is almost impossible to try and pinpoint the watch to 1987 or 1988 and even then did Omega only produce the 1441 in 1987 and stopped after that single year?
I did read somewhere that the 1441 usually has the "mercedes" hands but can't find any pictures/hard data to backup their statement.
I just cannot seem to come to a conclusion without taking off the backing to solve if it is a 1438 or 1441.
Any help would be appreciated.
Thank you!