Discussion Starter
·
#1
·
Hey everyone! My first post here but I've definitely read a bunch of posts/discussions/polls etc on here over the last few months. Looking forward to contributing more going forward!
Anywho, I've been debating buying a chronograph for a while(will be my first) and wanted some thoughts/general feedback on options. At the moment I'm strongly considering the Hanhart monopusher. I just think it looks refined, elegant, comes with a solid pedigree and I'm a sucker for the red pusher.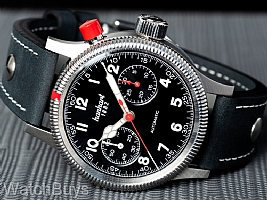 Single button chronograph - 40 mm

www.watchbuys.com
Anyone who owns this model willing to share some feedback or wrist pics?
Also would you recommend saving up for a more traditional option like a speedmaster or just going Swiss in general?
Looking forward to hearing your thoughts. Thanks!