I thought I'd compile this info into a thread of its own sans all the hoopla from the other recent threads to make it more readable/referencable.
Preliminary info:
This occurrence refers to the fogging seen behind the glass of a new or recent model that hasnt been opened or suffered severe trauma. Its possible to still happen after a properly done battery change but the O-ring should be checked first, just in case. The occurrence happens when a warm watch is exposed to a significant change in temp. eg. cold air/water.
The questions about this occurrence tend to spike around the same time every year ie. autumn in the northern hemisphere where the chances of going from a warm building/car to the cold outdoors is highly likely.
Casio's acknowledgement:
This can be found in the user manual (this was taken from a GA2100 manual)...
The inside surface of the watch glass may fog when the watch is exposed to a sudden drop in temperature. No problem is indicated if the fogging clears up relatively quickly. Sudden and extreme temperature changes (such as coming into an air conditioned room in the summer and standing close to an air conditioner outlet, or leaving a heated room in the winter and allowing your watch to come into contact with snow) can cause it to take longer for glass fogging to clear up. If glass fogging does not clear up or if you notice moisture inside of the glass, immediately stop using your watch and take it to your original retailer or to an authorized CASIO service center.
...and on Casio's support/FAQ website
Emailing Casio will also garner a similar response.
Note the distinction between "fog" and "moisture", in their terminology, "fogging" refers to water vapour ie. water in a gaseous state (ie. water in the air that you cant see till it condenses - when the temp drops below the dew point), and "moisture" refers to water in a liquid state that has entered the watch externally. In this context, it also distinguishes "nothing to worry about" and "take it to a service center".
Also note, the water content in the fogging is not enough to form drips, if it is, you have more than just fog.
The replication experiment:
Ive experienced the fogging in the wild a few times while on holidays to the snow or colder climates but there's very little chance of replicating it in nature here so I used water to recreate the temp. shift.
----
The experiment is to recreate a typical occurrence of going from inside (~21C) to outside (~7C).
The other thing to factor in is body temp, which depending on what youre wearing/doing could easily raise your skin temp and subsequently the temp of the air inside the watch* so to compensate for that, I measured my wrist temp for about 3min till the temp stopped fluctuating. 32C is about average for extremities.
Room temp was around 24C and I had done little to no exertion.
* - side note: its why models with a temp sensor need to be off your body for a period of time to adjust to the ambient temp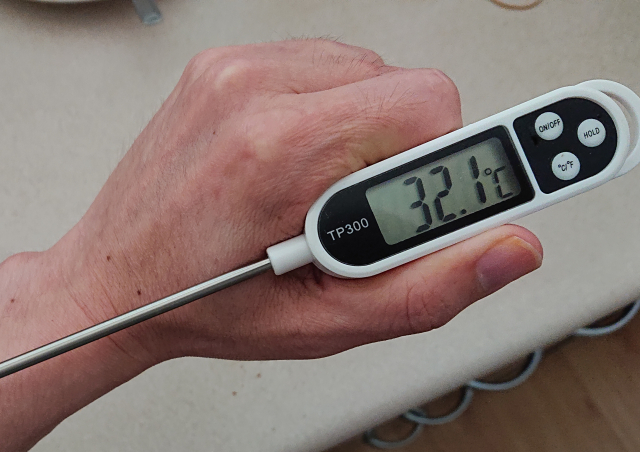 I prepped two bowls of water, one with warm and one with cold.
I waited for the temp to become steady on both. You can see the remnants of a couple ice cubes in the cold bowl, I left them in knowing it would warm faster than the warm bowl would cool.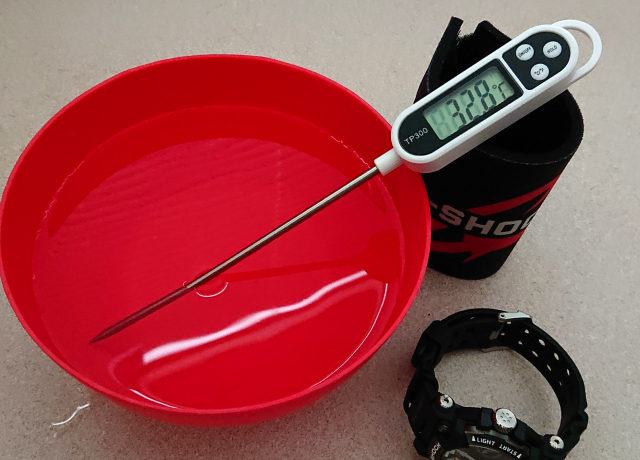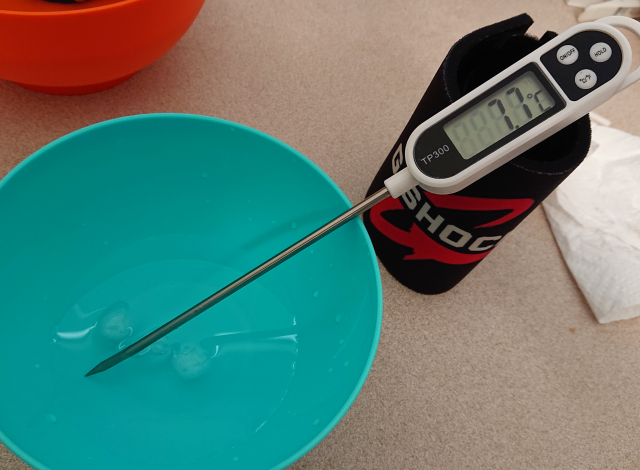 In goes the Afrog. I also grabbed the gf8250 and a gulfy for comparison re: another frog and another model with a crown.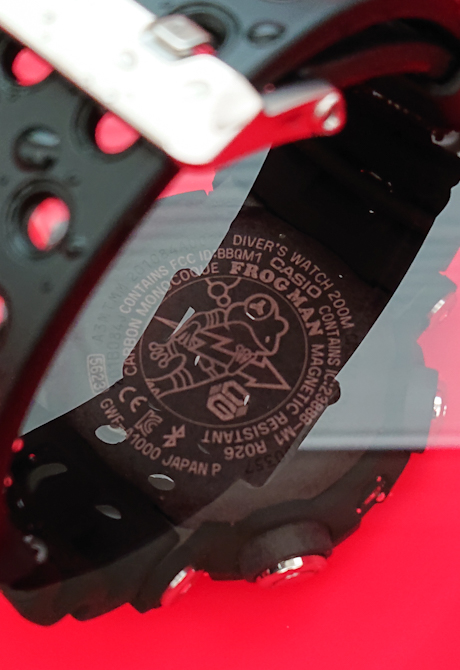 I left them there for about 15-20min then dunked them in the cold bowl. Temps had shifted 1-2 degrees but it was bringing the numbers closer, not apart so I wasn't too concerned.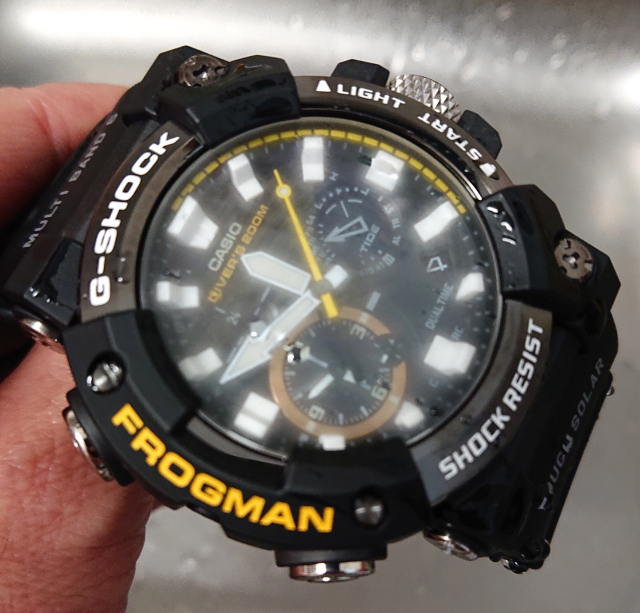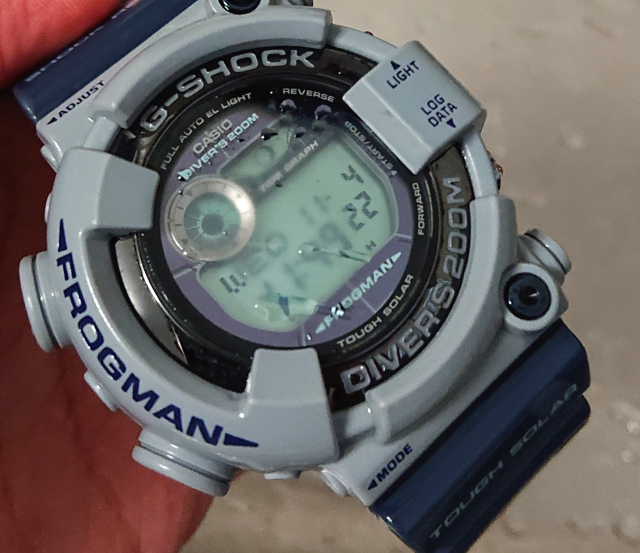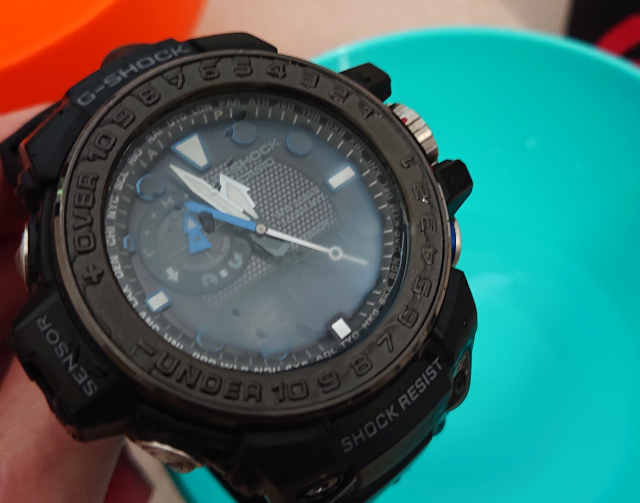 This is watch from the creator of other thread for comparison
Bit less noticeable on the 8250 cos of the lighter coloured background but it happened to another premium model just the same. I went a second dunk with the Afrog and it had just enough warmth for more fogging (tho it cleared a lot faster). obviously if the temp difference remained the same, the effect would continue.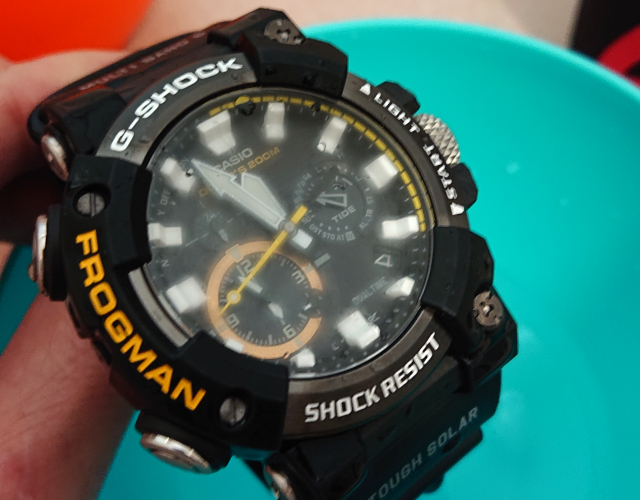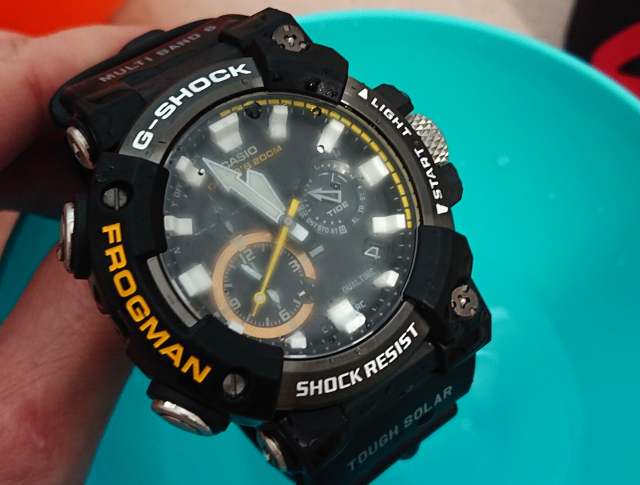 This effect varies between models and country of origin but as casio says, its within their operating parameters and classed as normal.
The DIY remedy:
If you cant live with it, it is fixable to some degree by going to a dry air environment eg. Aircon'd room and opening the case for 20min or so. I don't think rice is necessary cos the amount of air in the watch is so small and the number of water molecules attached to those air molecules would be even less.
Further reading:
Additional info:
RE: water droplets that makes it look like the condensation is on the outisde in the above photos
- Water droplets cause refraction of the light and cast their own shadow, having a light coloured background helps too. They can also have spectral highlights on the outside -and- inside. Its a clear bubble after all and light is truly magical.
- The pics I posted were the ones that had the best view of the fog cos that was the whole point of the experiment, the others where I did a quick dab with a paper towel (i didnt want to skew the result by rubbing my warm thumb over it) had a little too much motion blur or missed focus, again, just wanted the best view of the fog.
Here's one where its wiped cleaner but the fog is not as noticeable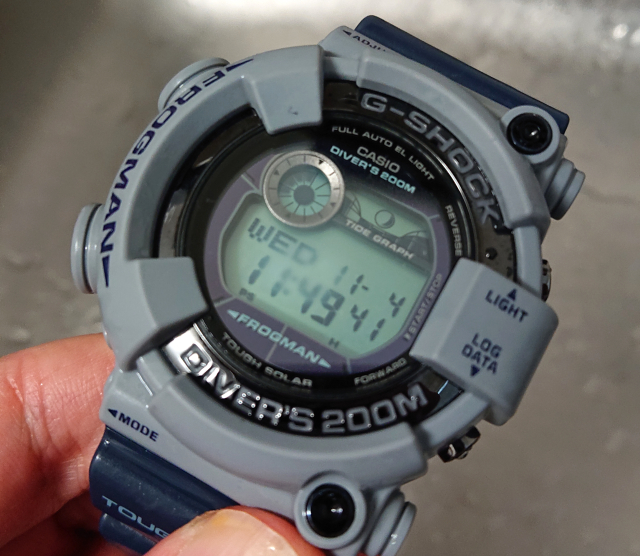 Condensation forms initially on the warm side of the surface, if you breath on your glasses, the condensation doesnt appear on the other side.
If condensation were to form on the outside it would be noticeably uneven and the process would have to been performed in reverse ie. watch made cold first then going to a hot air environment (hot water wouldnt work as it would wash the condensation away)
Additional test:
From wiki on ISO 6425:

Condensation test. The watch shall be placed on a heated plate at a temperature between 40 and 45 °C until the watch has reached the temperature of the heated plate (in practice, a heating time of 10 minutes to 20 minutes, depending on the type of watch, will be sufficient). A drop of water, at a temperature of 18 to 25 °C shall be placed on the glass of the watch. After about 1 minute, the glass shall be wiped with a dry rag. Any watch which has condensation on the interior surface of the glass shall be eliminated.

I guess he could try that with his watch.
I did this test as well and found its a pretty weak test for condensation. You need more water and a greater difference in temps to see any results. I believe most watches would be able to pass this easily.
If you have more factual info feel free to add it but lets try to keep the anecdotes, hearsay and other brands/types of watches to a minimum ?
This experiment is very easily to replicate and I welcome others to give it a try themselves.
---------------------------
UPDATE: 30/11/20
Experiment #2
Some minor tweaks to the original experiment.
Prelim info:
Instead of soaking the whole watch to get it up to temp. I simply used the one straight from my wrist. So instead of everything being the same temp, this will replicate how the top of the crystal is constantly cooled by the ambient air it is exposed to.
in the first experiment I didn't really focus on how I dunk it into the cold water, it varied from fully submerged to mostly. This time I tried to keep it only on the crystal ie. Submerging it about half way. I only did half the crystal so it was easier to see the contrast between fog and no fog. Easier said than done trying to hold it within mm of the sweet spot depth.
I made sure I wiped the crystal properly before taking photos since this was a source of contention in the first one.
to eliminate any (albeit unlikely) variables from a watch that had been worn about 10 times, the test subject is brand new, straight out of the box. Worn for about 2 hours before testing.
room temp was about 23C, tested near an open window, outside temp was about 19C and breezy at midnight.
Cold water bowl was ~8C. wrist/watch temp as per the pics ~30C
I don't know about anyone else but the results were unsurprisingly unsurprising.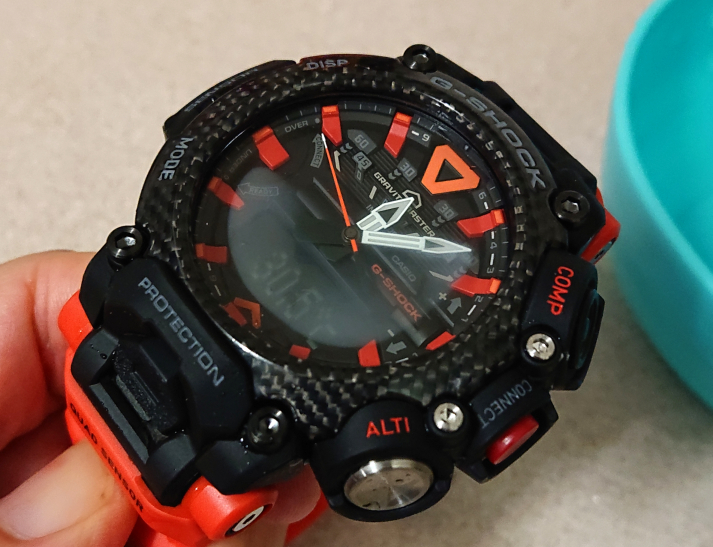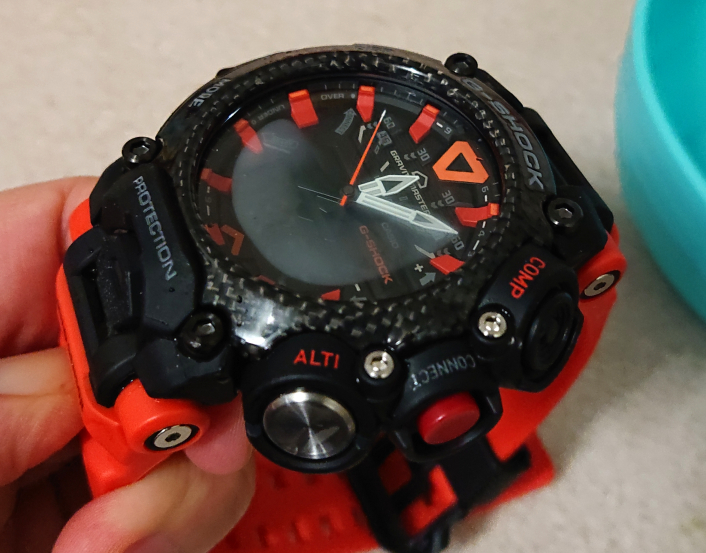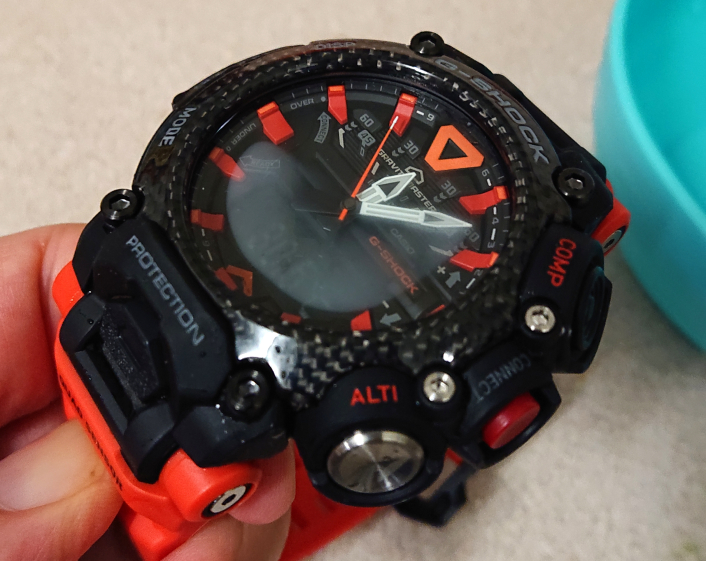 Looks very much like what I and the OP experienced originally
Conclusion:
Does light fogging occur? Yes.
Is light fogging bad? No, if it goes away after the temps have equalised.
Is there proof this will ruin your G? still none.
Will Casio accept a return and replace? Yes, as per a single reference case. Result will probably vary between countries, retailer, staff and possibly the model in question.
Is it worth being without your new watch for weeks if they replace it? up to the owner.
Will it occur on a brand new one or whatever condition the replacement is in? Most likely, as shown here with a brand new model. Original owner still waiting on his replacement.
* WARNING: This thread has unfortunately been derailed with alot of discussion on irrelevant watches and conditions, proceed with caution beyond this point *