Discussion Starter
·
#1
·
Hello everybody!
I'm very new to this forum and a total newbie to watches in general. (Keep that in mind as you read
)
I'm currently looking for my first watch. I've had a digital Casio for a bunch of years now and want to get something more... traditionnal (Analog, if you want)
So as i've been looking around, i have ran across "skeleton" watches a few times and instantly fell in love with this type of design. But, a few google searches later, i noticed that my wallet probably wouldn't have enough money in it to finance a true Swiss-made Skeleton watch. But on the other hand, i didn't want to buy some chinese-amazon brand either... But then i discovered a watch that seemed to just fit perfectly in my price range (200-300$), taste and quality expectations;
The Fossil Townsman.
Here's a look on the piece itself:
https://www.fossil.com/us/en/men/wa...utomatic-brown-leather-watch-sku-me3043p.html
if the link doesn't work, here are some images: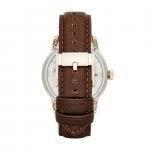 So, while looking around on this forum, i found out that Fossil was considered to be a "Fashion" brand, and not as a serious watch brand.
My question now is: As an amateur not very interested in having the best possible mechanical movement and who wants mostly just have a beautiful watch that yet has a respectable quality, is my choice good?
And how is fossil in general quality terms?
Note: I've also took a look on the Swatch Body&Soul, and it's nice too. Yet, i'm looking for a watch with a band, and not a bracelet, so that one doesn't suit me very well.
Hoping to find somebody who can help me!
PS: I'm Swiss (Yes a swiss person who buys chinese watches... what a sacrilege :think
so excuse any english mistakes