Going for a different direction with my addiction so I'm looking to move these for a grail.
I might not sell ALL of them so it depends which one goes first and I might withdraw one or two to keep.
So here is your chance to choose. First come first serve.
I'm trying to list everything first and will be adding MORE pictures and infos later one.
#1 Seiko Marine Master 300M
Not much to say everyone knows how great of a value this one is and I hope this one can stay.
Condition is 94% or better. Only reason I give less than 95% is because there is a tiny tiny indent on the left hand side of the case but it's towards the bottom/back of the watch so unless you turn the watch sideways or back, you can't see it at all on the wrist. Bezel is perfect and unbelievably glossy, so is the crystal. Bracelet has light desk diving wear and I could probably bring the clasp to like new condition.
Complete package with Boxes, papers, extra links and unworn MM300 rubber strap. I think polish cloth is also included.
Price: $2000
Just see for yourself how glossy and shiny the bezel looks. It's even more amazing in person.
#2 Olivier Bronze Black dial Miyota movement
Want an Olivier without the wait? Here it is.
Light Patina to the watch and it's close to mint. 97% I would say. Bronze bezel has a some patina brushed off near 10min mark but if you want to start over a quick clean up on the patina will bring it back to new condition. Otherwise nothing is wrong with the watch, like new complete package with the wooden box AND MORE!
Protective sticker still in tact on the case back.
Extras includes:
-Black ISOFRANE with BRONZE RS style buckle and tang ($151 value)
-Diaboliq Canvas/Leather strap with match brass hardware and buckle ($90 value)
-Olivier Vintage Style Leather Brown with polished buckle ($43 value)
-Olivier rubber strap with brushed buckle
So to sum up, that's 4 straps in total that you are getting which are worth $284.
I'm pricing this at $880
Excuse the lints in the macro shots. They are not scratches. Crystal is perfect.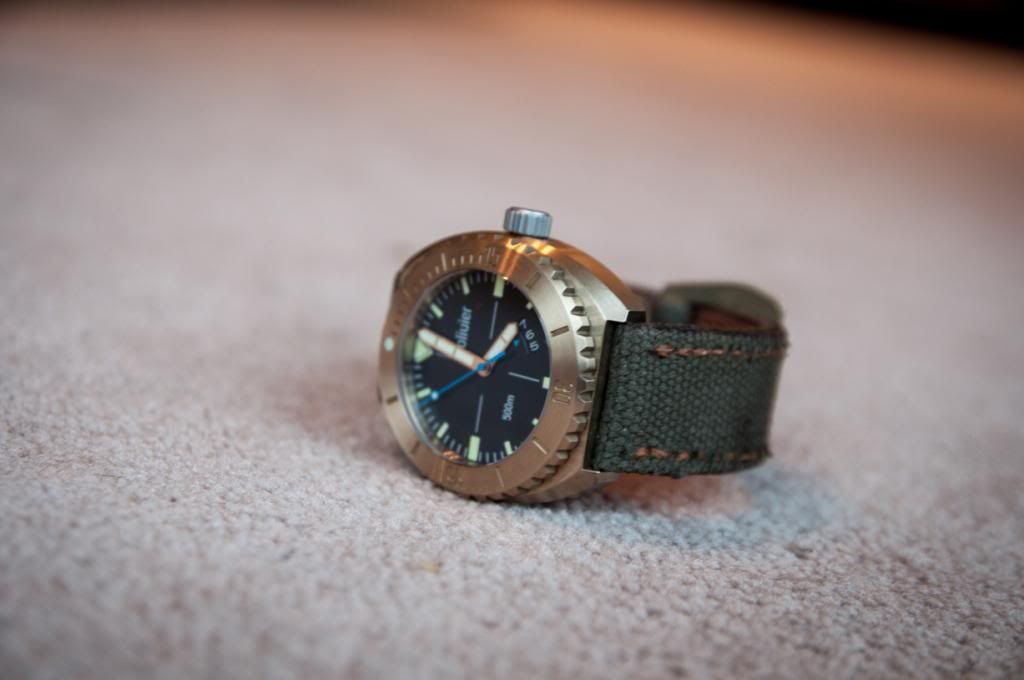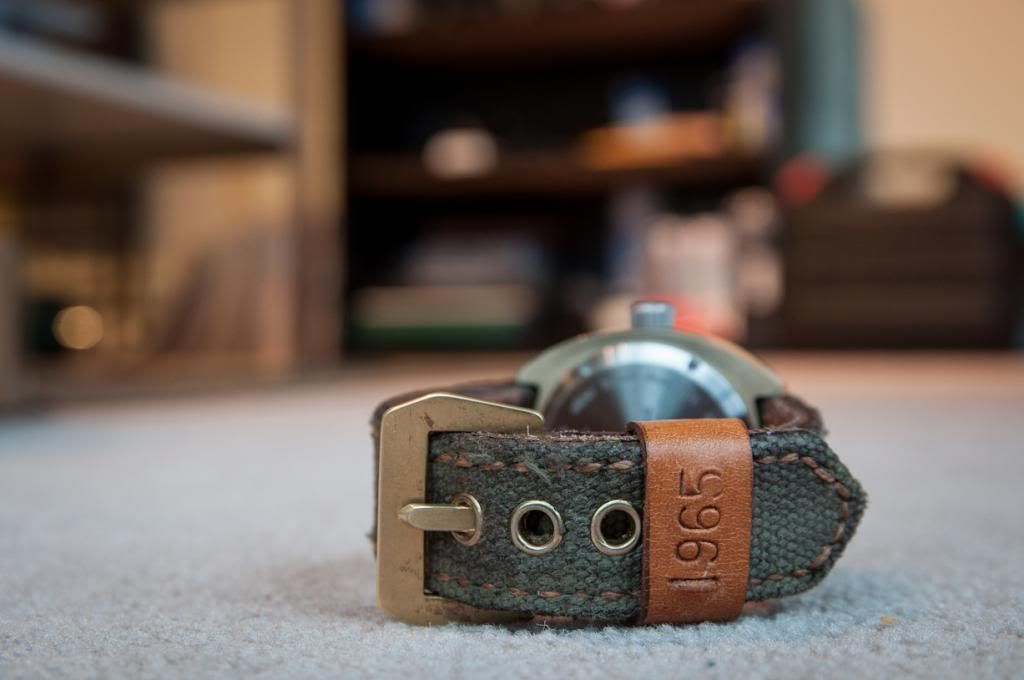 There are NO scratches on the crystal. It's perfect. It's just some dust I forgot to wipe off before taking the shot.
#3 Helson SharkMaster 600M White
Beastly and unique. You'll get compliments or people asking what kind of watch this is everywhere you go. Summer is coming up so this one is perfect for short sleeves.
LOVE the fully lumed bezel on this one. If I'm going out at night I'm usually always grabbing this one so that I get to see the lumed bezel. Great fit and finish. Feels solid as it can be.
Condition on this one is 98% like new.
Again, comes with complete package so Helson frane, mesh bracelet, tools and tube. Warranty still valid and plenty of time left.
Price: $880
#4 Halios LAGUNA Grey internal bezel
Here is a chance to get a hold of the discontinued grey bezel Laguna. Came from Jason's personal collection of the last couple grey bezel model.
Again, complete package with the updated wooden box, extra links, Isofrane, tool.
Condition is 98% or maybe even 99%. Hardly worn and I'll have to check if there are even any marks on the clasp. Protective sticker still in tact on the case back.
SOLD
Price: $760
SOLD
#5 HEXA K500 Bead Blasted
Great design and I really love the simpleness of dial which has a hint of Sinn U1 dial.
I wish every watch comes with this AWESOME clasp. Super easy to adjust and doesn't disrupt the look of the claps like other diver's extension.
Condition on this one is close to Mint again 98%. Hardly if any mark on the clasp.
Complete package with pelican case, two kinds of endlinks and several extra of the fitted endlinks for you to try. Extra links and rubber strap are also included. Just like a new package.
Price: $550
Prices are NET to me and if you pay by paypal please add 3% for fees.
Canadians can pay by EMT.
I might consider trades if you have a mint Omega PO XL black bezel orange numerals, Newer Breitlings, Maybe Oris Aquis. No other micros please.
I'm located in Vancouver, BC Canada and will take care of shipping within Canada. I will also ship to CONUS but you'll have to give me a few days of time as I do make a trip down to the States from time to time so I can ship out USPS priority mail from Washington State.
Prices are firm. Please no lowballer as they will be ignored.
Plenty of perfect transaction here on WUS. Just look under feedback section.
Here is a group photo of the listed watches: