100% Handmade/Saddle Stitched Straps, Custom Crafted To Your Specifications.
​
Even the adjustment holes are positioned for your wrist measurement, offering a superior tailored fit.
​
Custom Handmade Straps on Sale + FREE Domestic USPS Priority Fully Insured Shipping.


This offer ends on Sunday, March 26th, at Midnight CST.


** Please Note: Many of the North of Cordovan Horsehide leathers are in very limited supply **
​
Fellow Enthusiasts,
Your vision and complete satisfaction. The selection of amazing leathers, craftsmanship, and dedication to you. That's what my famous 100% Handmade straps are all about.
Each strap will be individually handmade to your specifications. You select the length, width, stitch color, keeper arrangement, adjustment hole placement and more. As I mentioned, each strap is 100% handmade. There is no machinery involved whatsoever. Each stitch hole is hand punched, each stitch is hand sewn using the very best and old-school method of saddle stitching. Each strap is hand burnished, hand skived, and each keeper is made (both adhered and stitched) for the strap it is destined for, thus ensuring the proper fitment. My "standard equipment" strap has a minimum of 37 different legitimate steps within the crafting process and a typical length strap has over 7 feet of cord, requiring 105 individual hand stitches.
The hides, cord (stitching), and tools I use are the best of the best. Every leather I use is produced by one of the finest tanneries in the world, Horween Leather Co., located an hour from myself in Chicago. As a result of my close proximity to them, each and every hide is hand selected and never ordered from a mere swatch. It's my belief that you absolutely must begin with a superior foundation, the leather itself, if you want to craft a world-class strap.
I cord stitching I use has anti-fray, anti-fade, and high tensile strength qualities—and there are 16 different colors from which to choose. The special cobbler's adhesive used is permanent and flexible, yet environmentally friendly.
Saddle stitching by hand: The time-honored benchmark for stitching of any kind. I can't stress enough how important this is to adding both strength and character to the finished piece. Old-school saddle stitching by hand requires several things: Over 7 feet of cord in your average length strap, two harness needles, two hands, a keen eye, and...frankly...lots of time. What's so great about a saddle stitch? It offers both strength and character. First, the stitching won't unravel if one were to be cut like a lockstitch provided by a sewing machine. Secondly, it is a much stronger stitch by nature which is why it has always been the gold standard for all things truly and honestly handmade. Lastly, and perhaps most importantly, it adds character to the finished piece. It's not perfect, yet it is not flawed. Each strap will vary slightly from one to the other, making each a one-of-a-kind in its own subtle way. A double needle hand saddle stitch offers a very unique look that is utilized on very few products in this day and age. It's a look that is distinctive to something made entirely by human hands and just for you.
While some of the above information may be more than you require, I believe each individual component plays an integral role in the recipe for the final product and your overwhelming satisfaction.
There are no shortcuts to quality. Ever.



​
Creating Your Masterpiece:
First, select the premium hide that appeals to you most. Next, go through this checklist and consider the following:
1.
Wrist Measurement:
Although it is not mandatory, your wrist measurement (in inches or cm) can be very helpful. Knowing the size of your wrist will not only help me suggest a strap length, but it will also enable me to strategically place your adjustment holes for a more tailored fit. For example: I would like to get you set up with 5 holes in total. Using your wrist measurement, I will do my very best to place you in position #3 most often. This will put you in the middle of the row, as well as leaving you with two options in either direction. As you can see, your wrist measurement can be very helpful in offering you the best fitment. I don't particularly like the look of "one strap fits most", where there are 7 or 8 unnecessary holes in otherwise beautiful leather.
That said, if I do not have your wrist measurement, I will hand punch 5 holes in these positions: 50, 57, 64, 71, 78mm each having a dead center from the lug end where it attaches to the watch
2.
Length and Width:
Now that you know your wrist measurement, you can either ask for my assistance in selecting a strap length, or simply refer to the sizing chart on the custom handmade page of my website. Select the length that you prefer and the width your watch requires. Currently, I am offering 18x18mm, 19x19mm, 20x20mm, 21x21mm, 22x22mm, 24x24mm, and 26x26mm straps in any length. If you need a width other than these...just ask!
3.
Stitch Color:
Each and very stitch hole is hand punched, then hand saddle stitched. It offers the utmost in strength and character. Consider the variety of 16 different stitch colors from which to choose, including 3 flavors of white. The most popular right now are: Vintage Patina, Bronze, Titanium, Natural, Black, and White.
4.
Edge Color:
All edges (sides) will be hand burnished. From there you can choose to leave them raw/natural, stained black, or stained brown.
5.
Keepers (Loops):
How do you like your keepers? 1 sewn in and 1 floating? 1 wide floating? 2 floating? Constructing a strap with 1 sewn in keeper and one floating is the most difficult and time-consuming, but it's also "standard equipment" on one of my handmade straps. Why? Because I think that's the right way to do it. However, if you prefer an alternative, just let me know and consider it done. My goal is to make it the way YOU want it!
6.
Buckles:
If you are in need of a buckle, there are several styles and shapes from which to choose:


Below are examples of what can be custom made to order,
and they represent only 5 of the 26 different Horween® leathers that I have in stock and available to work with:
​
Horween® Genuine North of Cordovan Horsehide
Truly, one of the finest leathers on earth. Period. It is available in Black, Oxblood, Chocolate, Limited Edition Burgundy, Limited Edition Cigar, and the new Limited Edition Marine Blue. Rather than being made from cow hide, this is made from the portion that connects and is just above the two shells on a horse. Hence the name "North of Cordovan". This is an amazing Pull-Up leather that will age beautifully. Essentially, it takes the very best characteristics of genuine shell cordovan and combines it with the very best characteristics of Horween's famed Chromexcel leathers. One example can be found within the finish. Rather than having an overly glossy finish like shell cordovan, or one that's more flat/matte, North of Cordovan has a satin finish that's perfectly situated in between. This results in the wonderful versatility of being able to dress it up or down depending on the stitch color you select. In the end, the result is a luxurious leather that is tough as nails, supremely supple comfortable to wear from Day 1, and versatile enough to compliment nearly any watch for any occasion. It is also impregnated with natural oils and waxes during the lengthy tanning process, so special care is not required like is with genuine shell cordovan. It is, by far, one of the most exquisite leathers I've ever seen.
Horween® Black North of Cordovan Horsehide:
Horween's highly-prized North of Cordovan leather produces a black color that is particularly special. Unlike some other black leathers that don't have a great deal of visual depth, Black North of Cordovan has a richness and depth of color that goes beyond the surface. By this, I mean it is exceptionally black in color—not a very dark grey that lacks life. The Pull-Up effect on black is usually less than on lighter leathers. The regular price is $189.00, but it has been reduced to $175 during this sale.

Black North of Cordovan Horsehide, shown with Bronze hand saddle stitching.
​
Horween® Oxblood North of Cordovan Horsehide:
The second color of North of Cordovan leathers, with this one having the one of most dramatic Pull-Up characteristics. The red tones are stunningly revealed within the break (bend), making this a truly magnificent leather. The remarkable richness and depth of color offered by this leather is simply exceptional. This Oxblood color derives from the original recipe that coined the name, and is less brown than Chocolate, while less red than Burgundy. Unfortunately, due to the rarity, cost, and difficulty in obtaining this color, the sale price isn't as deep. The regular price is $199.00 on sale now for $189.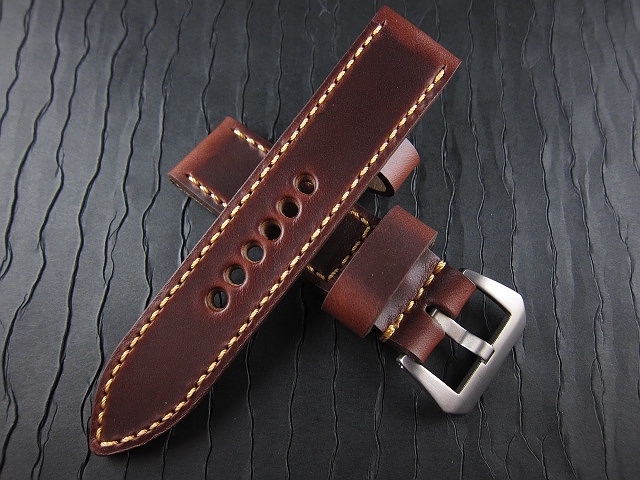 ​
Oxblood North of Cordovan Horsehide, shown with Vintage Patina hand saddle stitching.
​

NEW!
Horween® Limited Edition Marine Blue North of Cordovan Horsehide:
The third and newest color of NOC is Marine Blue. These are very rare specimens and I feel fortunate to have them. Are you the proud owner of a Panerai PAM 659, 690, or 689? This offers the perfect combination of colors to compliment both your dial and the lume.

Maybe you just want something different and unique. Something of exceptional quality that's still reasonably conservative. Something that feels just just as comfortable with a blue dress shirt as it does with your favorite pair of jeans.

Look no further. This is it right here.

The regular price is $219.00, but it has been reduced to $179 during this new release introductory sale.
​
Limited Edition Marine Blue North of Cordovan Horsehide, shown with Vintage Patina hand saddle stitching.
​




Horween® Limited Edition Burgundy North of Cordovan Horsehide:
This stunning leather shows more pronounced red tones than Oxblood, and the depth and richness of color is unsurpassed. At the same time, it's darker than Oxblood—and gets very close to Color #8. In my opinion, it's the benchmark of artistry when it comes to showcasing what Horween® can do with leather. Burgundy North of Cordovan reveals these more vivid red tones in a tight bend, such as the keepers or within the lug area. In addition, it provides an incredibly handsome contrast against a black, brown, or white dial. Consider one for yourself while it's available in very limited quantities. The regular price is $219.00, but it has been reduced to $189 for this sale.
Limited Edition Burgundy North of Cordovan Horsehide, shown with Vintage Patina hand saddle stitching.​

Horween® Limited Edition Cigar North of Cordovan Horsehide:
Cigar is a medium brown color that will reveal slightly lighter tones in a tight bend, such as the keepers or within the lug area. It is has somewhat of a vintage look and, in my opinion, presents itself as the most casual among the North of Cordovan leathers. When working with this leather, I quickly discovered that its perfect neutral tone encourages the use of virtually any stitch color. Logo Blue looks amazing when worn with jeans and/or a blue dress shirt, Olive Green is a creative way to coordinate with LumiNova markers, and Rustic Red can accentuate a splash of red that may already exist on your dial. Whether you want something traditional in an exquisite leather or are willing to have some fun with color, Cigar is truly the ultimate in refined vintage elegance! Consider one for yourself while it's available in very limited quantities. The regular price is $219.00, but it has been reduced to $189 during this sale.
​
Limited Edition Cigar North of Cordovan Horsehide, shown with Vintage Patina hand saddle stitching.​
Ordering:
Telephone or e-mail.
Feel free to either telephone or e-mail me with your order. Which ever works best for you is perfectly fine with me. That said, we can get more detailed on the phone with custom handmade orders. If you decide to call, you can reach me anytime between 8:00am—8:00pm CST at 219-309-9694. The two of us can discuss any questions you may have, we'll cover every aspect of your custom strap, and I'll likely have some questions for you, as well. However, if communicating by e-mail is more convenient for you, then by all means send me one. I'll reply quickly and with all of the answers to any questions you may have. My e-mail address is:
[email protected]

Delivery Times:
Anything that is 100% crafted by human hands will require more time than something mass-produced and/or machine stitched. However, my commitment to outstanding service does not end with your initial order. Since daily orders fluctuate and are impossible to predict, I'll have an accurate completion date for you when your order is placed. All custom handmade straps shipped here within the U.S. will be delivered via USPS Priority fully insured mail. International customers will have the option to select from USPS First Class Airmail, Global Priority, or Global Express.
Outstanding quality. Stellar customer service. Fast shipping to anywhere in the world. 8:00am-8:00pm CST telephone consultation. These benefits are only the beginning to your complete satisfaction. Please don't hesitate to ask if you have any questions. It would be my pleasure to help in any way that I can.
Best to you and yours,
Drew
Email:
[email protected]


Phone or Text: 219-309-9694