I had a recent experience with aliens controlling my mind and forcing me to buy a new PS3 and 42" HD television. I am trying to come up with some cash before the credit card statement comes, and so far, my Autozilla is not selling. This has forced me to reach under my bed for my yellow-dialed Orient Star 300m.
I bought this watch new from Japan on Aug 17, 2009 and have been storing it under my bed until my 10 year wedding anniversary next year. The watch is in perfect condition and I have never even opened the packaging for the bracelet, strap change tool, or manual. I have only had the watch out of its box on two occasions... once to photo it with a Sumo, and the other time to compare it with my Tuna and Autozilla. This watch is literally brand new.
Here are the photos I took: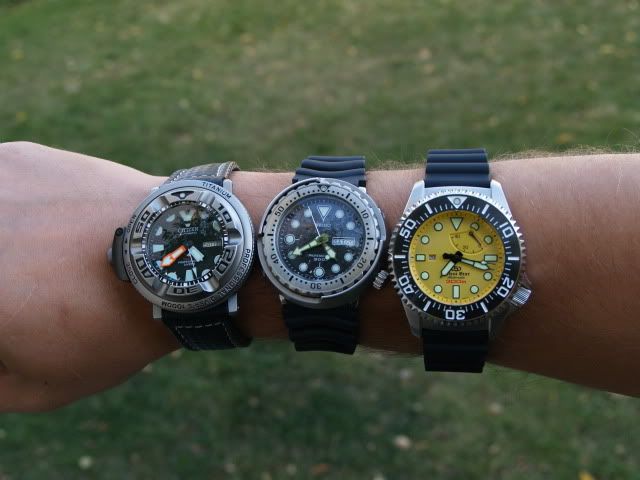 The bezel and date window line up perfectly - its like getting a brand new watch that had been checked to make sure there are no flaws on it.
The first $890 gets this watch shipped insured and tracked to anywhere in North America. I would really appreciate it if you could send your payment as a 'gift' so there are no paypal fees. I have references as well.
Thanks,
Chad