EDIT 3/19-
Grail located and paid for. I'm now a motivated seller but also a trader on a lesser level. will consider up down and straight across on the remaining pieces. So my guidelines are as follows: 39-43mm is my sweet spot. Not a quartz guy (unless you have a Hamilton Ventura or Tag F1 digital). Prefer classy timeless designs and retro reissue type stuff.A few pieces that come to mind +/- cash as needed.


Tactico Anko
Ward Trident-Especially white dial with Black bezel
Jenny Caribbean
Sinn U1/U2
Atlantic Worldmaster reissue
Hamilton Intra Matic 42mm
Tag Monaco
Oris Aquis
Oris miles davis,frank sinatra etc..

???????? Whatcha got?

Please nothing Bronze, PVD, DLC, lesser grade Asian movements..


I sit here feeling like my collection needs a little definition. If you know me or have traded with me, you know I go the extra mile for the details. I take care of my watches and in college I was professionally trained by jeweler at my part time job in watch refinishing. My watches always look great. I can't stand the idea of a beater!
NOW... on my chopping block are a few unique pieces...
1)
SOLD!!
Crepas L'Ocean black dial/bezel. Includes the classic ladder bracelet, blue (best smelling oem strap ever)oem rubber, two piece nato, 2 alternate OEM standard Natos and a 24mm Black Isofrane (real, not iso style) with 22mm signed Crepas buckle-Heavy machined piece that fits the Isofrane perfectly-This is NOT the lesser quality one that comes on the OEM rubber strap.. Isofrane buckle included. Comes complete with box, papers and if you are feeling wild, an oem blue dial. 95% condition and limited to 300 pieces. $1000.00
SOLD!!
2)
SOLD!!
Seiko 6309-7040 The original turtle. I might be able to say this is the nicest 7040 on the market. COMPLETELY serviced within 4 months. Retro modded (but dome right) with a flat OEM styled sapphire crystal with blue AR on the inside. Brand New bezel insert installed and the best part? Dial and hands all relumed by IWW-Glows like a bug zapper. Case is near perfect. Brushed where it should be and polished where is should be. Case back shows slight signs of wear, but I opted to leave it alone so as not to disturb markings. Will include an original black tropic strap (999 markings) with roller buckle as well as a high quality oyster (Strap code I think-Screw in links, machined fold but stamped ends). I actually have almost $900.00 in this... a labor of love... $450.00 OBO
SOLD!!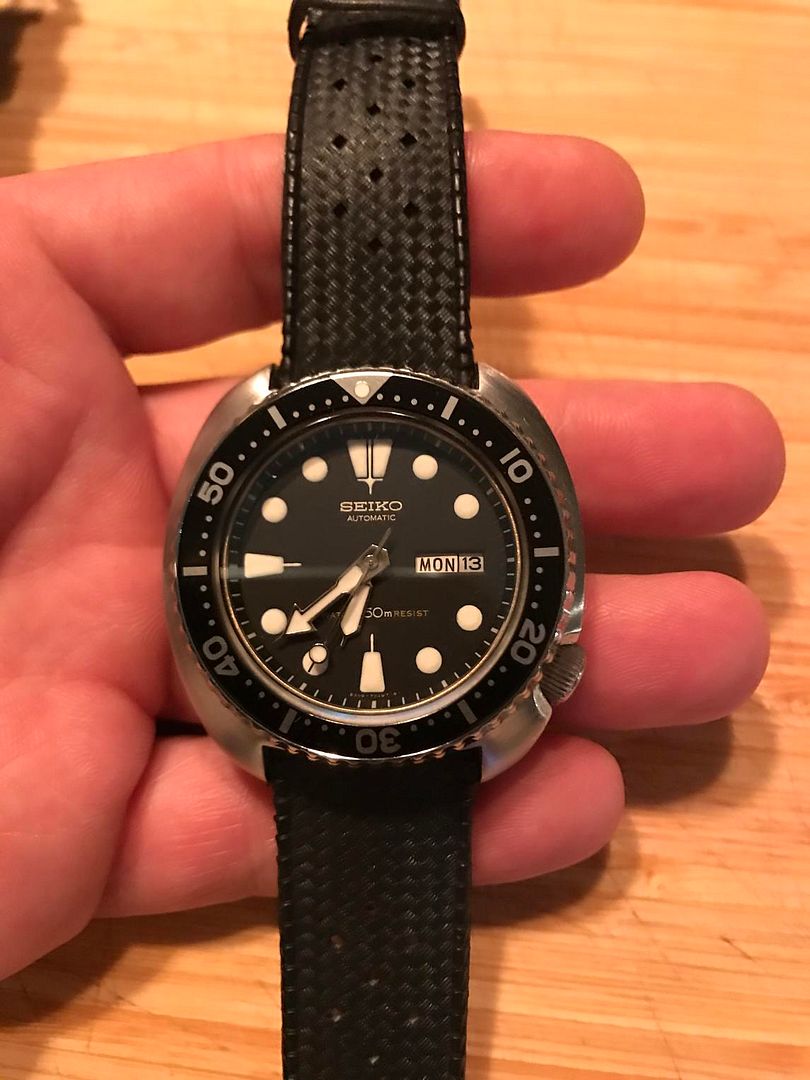 3) Glycine Incursore- A rare find anymore in the 44mm 6497 hand wind California dial. Full polished case and exhibition back. nicely decorated movement. Box, no papers. Has brand new glycine signed rubber (great vanilla smell) as well as nice vintage 22mm styled honey colored leather-glycine signed buckle fits both straps. Almost perfect condition.
$400.00 OBO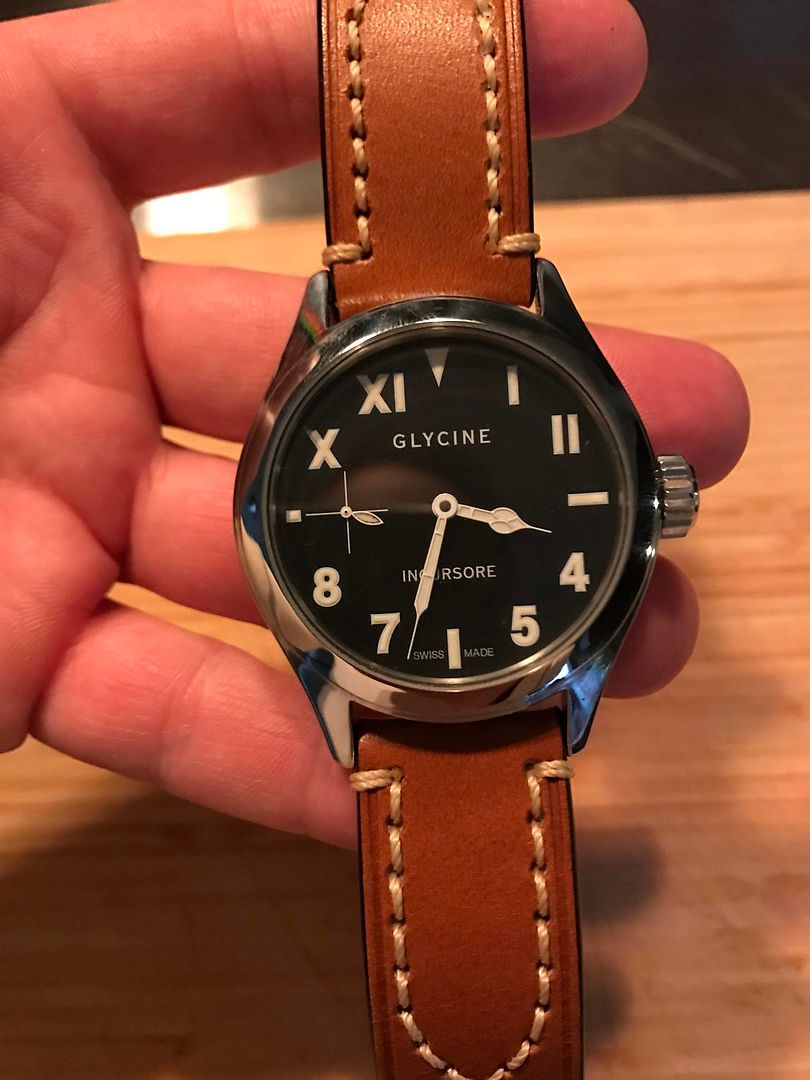 SOLD!!
Glycine Airman 1953- 42mm automatic with the black 12 hour dial thats actually legible. I love the whole line but the 24 dials don't work for my eye! box, paper and still under warranty from authorized dealer. Comes on the second nicest (only the tudor black bay is nicer) black Nato strap-Unworn and a vintage styled Steinhard brown strap as well as a black pebble bund. almost new condition. above 95% Its been on my wrist less than 12 hours total.
$700.00 OBO
SOLD!!!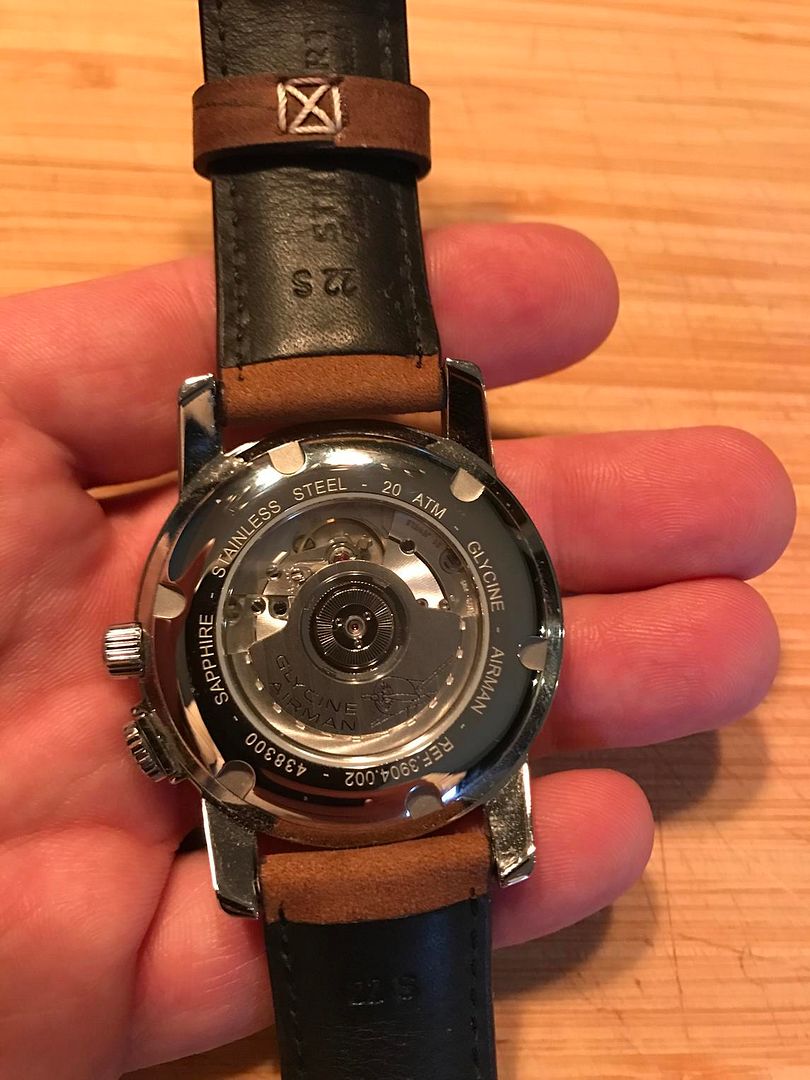 5) Prometheus Baiji-This is not the beat up Baiji's that pop up from time to time... I rescued this from certain death. This is the WHITE DIAL and Stainless case on the bracelet. The tritium is fantastic... and... wait for it... I ditched the Chinese Seagul 2824 and replaced it with the genuine Eta 2824 movement. The watch is rock solid and I question if I should part ways with her. I love the white dial. Just exactly how it should have been made. $350.00 OBO
Obviously I can send a lot more detailed pics. I'm willing to hear other trades upwards, but I'm really looking for one of two watches at this point in trade. I would like to combine a few of my pieces and or cash as needed for a 1998 Monaco reissue with the Heuer only dial or a 42mm Superocean Abyss black dial with black or silver chapter ring or White Water addition. They must be in comperable condition to mine.
Thanks guys!
Check my feedback and buy/trade with confidence.