Discussion Starter
·
#1
·
Ahhh, it's good to be back. I've been greatly enjoying my near-mint, complete, Second Generation Omega Speedmaster X-33: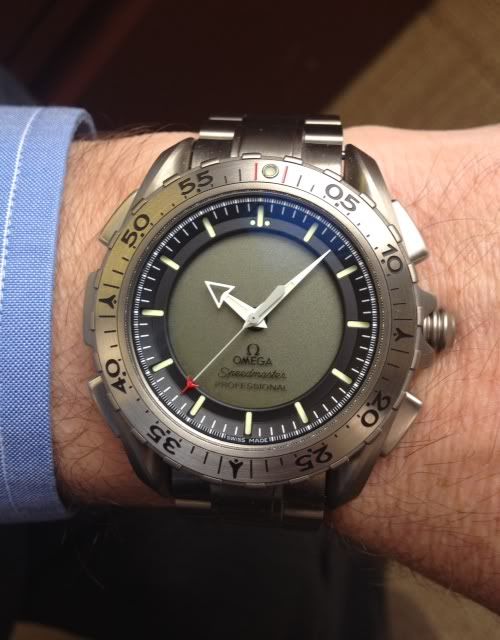 A handsome watch that is so functional, yet subtle . . . practical, yet exotic . . . and overall, it's just so very "legitimate".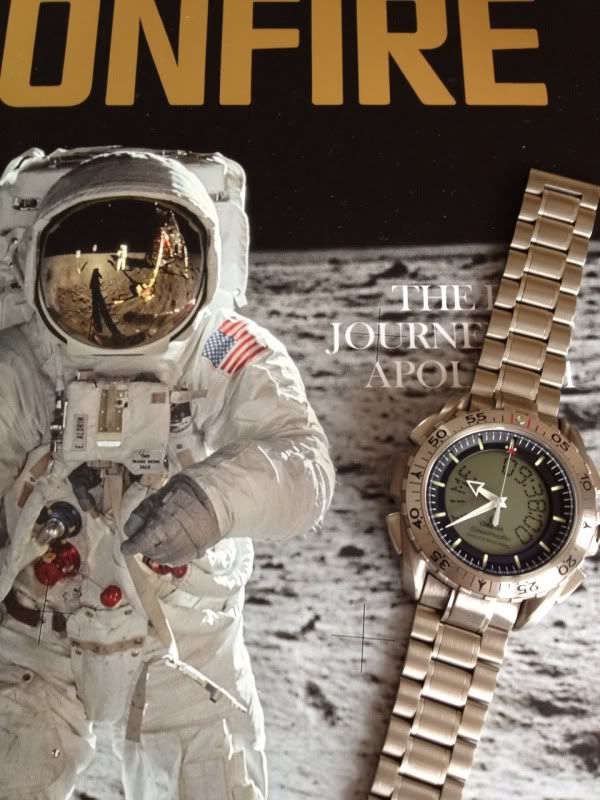 My backstory: I owned a Gen1 X-33 in the past, but at the time I didn't fully warm up to its less integrated looks. I sold it. But I talked up the watch so much, that a good friend of mine bought one for himself; a Gen2, and every time I saw it I kicked myself that I should have one. The aesthetics of the Gen2 model really clicked with me, but I just admired my friend's watch from afar. Then, recently, this inspiring thread nudged me to act. I missed out on this one a few weeks ago, due to my own sheer inattention. But I ended up being able to purchase that same watch from its buyer. Now, I'm really glad to own this very nice example (serial number 5.9 million), and I'm looking forward to enjoying it!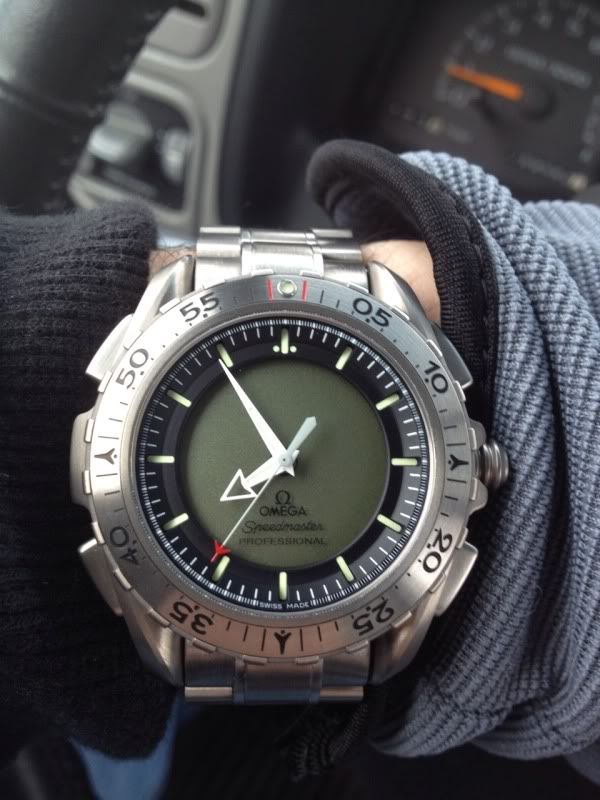 So -- what do I like about the X-33? This watch has so many attributes, it's difficult to prioritize. And, is there anything to say about the X-33 that hasn't already been said? Maybe not. But still, in no particularly logical order, here I go:
The X-33 is super legible, while being aesthetically appealing. The stark white hands, the matte black outer dial, the curved LCD readout that is intelligently designed and absolutely readable, yet can be shut off for austere cleanliness - wow, this watch tells time with exceptional clarity. And isn't that what a watch has to be all about, first and foremost? Yet, the red-airplane-tipped seconds hand brings a dash of jaunty verve to an otherwise deadly serious watch, and elicits a smile every time I see it. Plus, there is a pleasant three-dimensionality to the dial that is hard to capture in pictures, with the recessed markers, the beveled chapter ring, and the multi-level outer dial. The X-33 is a handsome, visually interesting watch, without being frivolous. It is a functional work of art that is a pleasure to behold.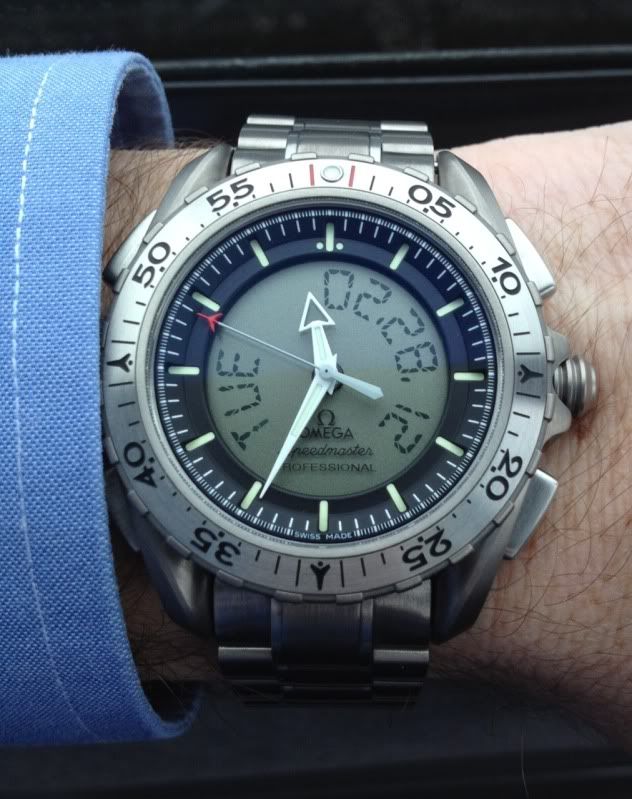 It is feature-packed, but in a way that makes each feature readily accessible and so easily useful. Everything is straightforward and intuitive. The richness of functionality, the flow of the modes, and the ease of setting each mode, were obviously well thought out.
Its workmanship and quality are impeccable. The way the whole watch is beautifully crafted . . . the contours of the case . . . the intricacy of the dial and precision of the bezel engraving . . . the smooth bezel action, with just the right amount of turning resistance . . . the domed sapphire crystal that looks like it's not even there . . . everything is just top-shelf. All the bezel markings are laser engraved, with incredible precision; versus being printed on, which is how they look in pictures. Very impressive. Even the way the buttons "snap" with precision when they're pressed is unlike any other watch - and evidence of sheer, high-quality, watchmanship. Plus, I got lucky; in that the accuracy of my example is as good as any HEQ I've owned - no noticeable timekeeping variation - and the hands align with the markers perfectly.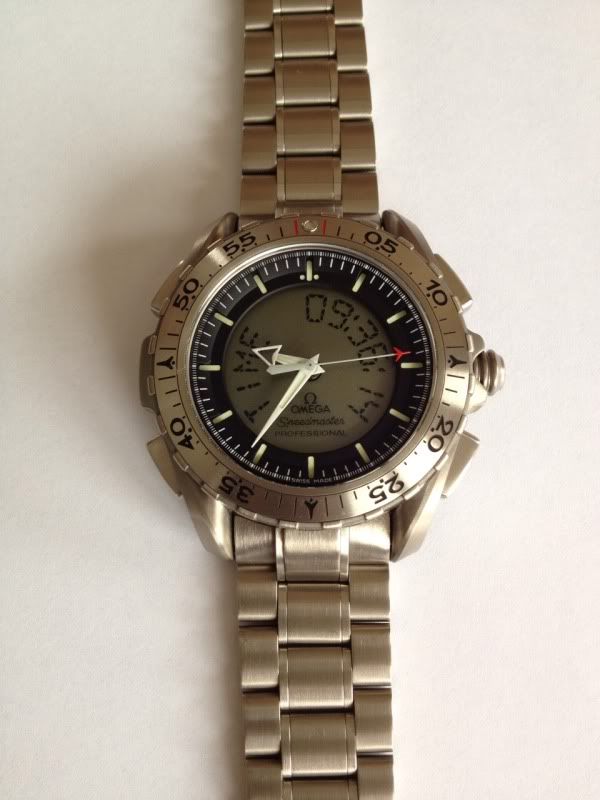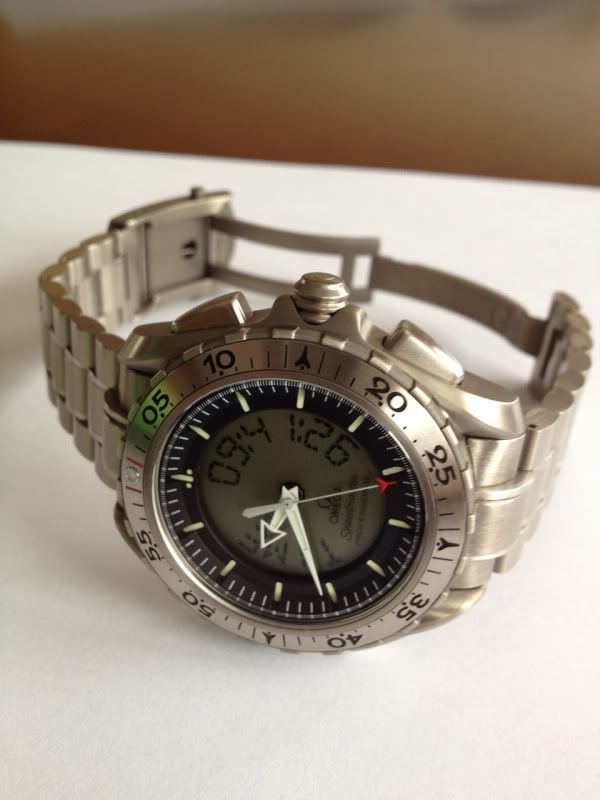 The X-33 is probably the world's best travel watch, with easy "fly-by-wire" resetting for time zone changes, a super loud alarm, and a combination of great lume with a fantastic backlight. It just works brilliantly as a real-world traveler's companion and tool.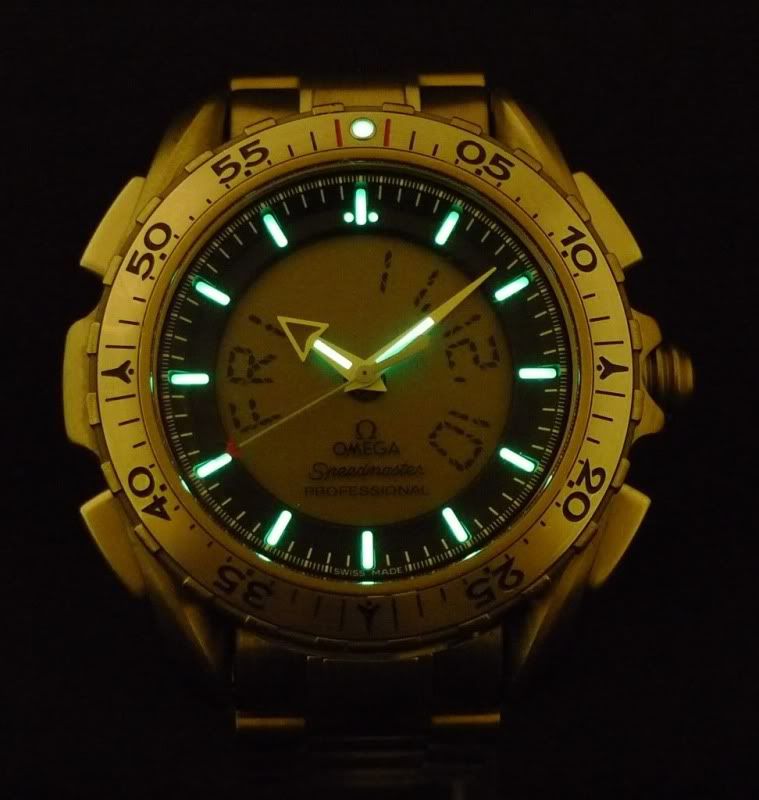 Lume pic courtesy of gslaskin
The lume on this watch is an appealing creamy vanilla color during the day, which provides a nice visual color contrast against the pure, snow-white hands and the black outer dial. And at night, the lume on this watch absolutely rocks! Very bright, and very long lasting, which is then further enhanced by the X-33's super-bright electroluminescent backlight. Well done, Omega.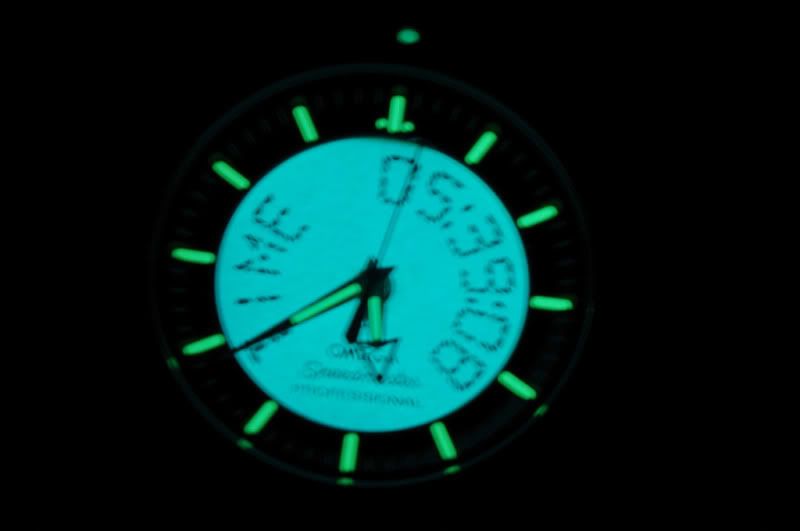 Nightlight pic courtesy of Jackhlin
"FLIGHT QUALIFIED BY NASA FOR SPACE MISSIONS". The watch has a super authentic pedigree as a working space watch, and is preferred by astronauts, military aviators, soldiers & marines, and commercial pilots the world over. There is most likely at least one X-33 circling above us on the International Space Station at all times. You can't say that about very many other watches!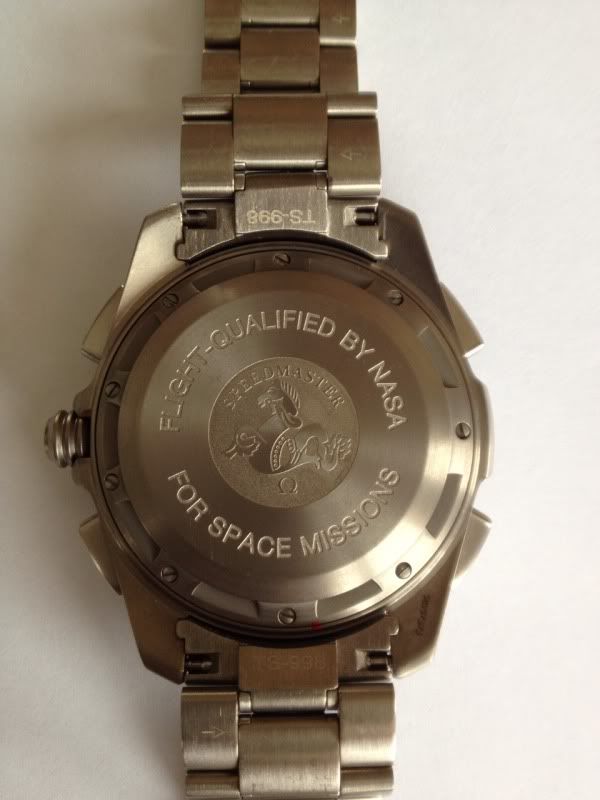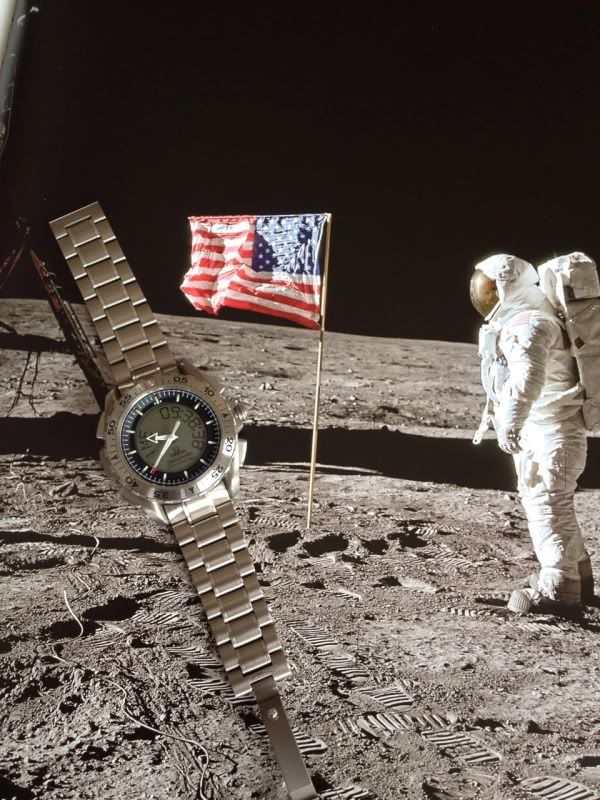 The all-Titanium X-33 is super light weight, and therefore extremely comfortable to wear. The X-33 bracelet is about as good as it gets, too, from a quality, clasp, comfort, and appearance standpoint. And the X-33's lustrous, grayish titanium-colored finish has a refined specialness that stands out from a parade of stainless steel watches.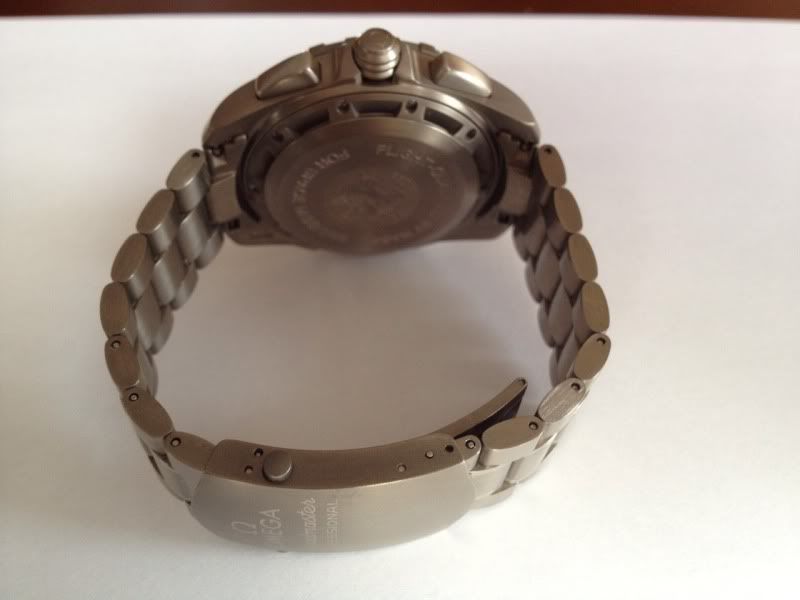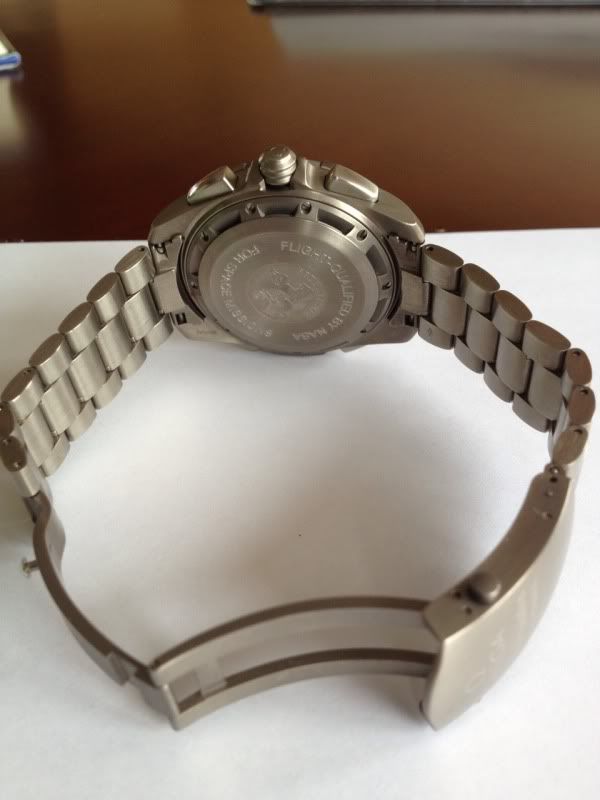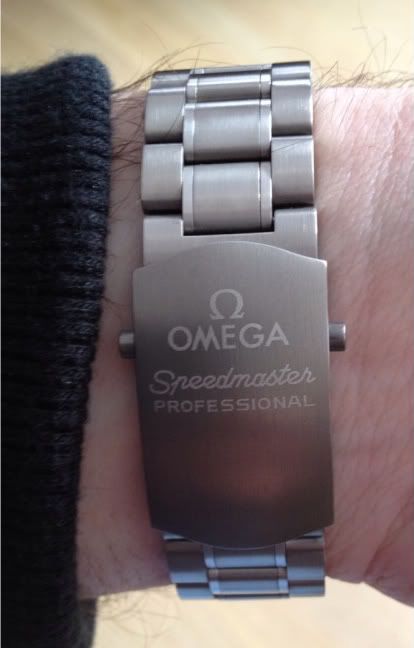 The curvaceous lugs, and the bold contouring of the solid end links are very impressive. You don't notice these in the typical "straight-on" pictures.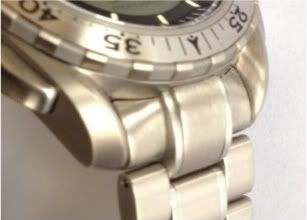 Size. Omega's official specification states that the X-33 is a 42mm watch. Well, by my measurement, the bezel is 40mm in diameter, the crystal is 31mm in diameter, and the watch case itself is about 43-44mm wide when measuring from the 9:00 protrusion across to the 3:00 crown guards. This does not count the crown, which sticks out another 2-2.5mm past the guards. Personally, I think that watches generally "wear" relative to the diameter of their bezel. Because some of its width is made up of the case protrusions that serve as button & crown guards, the X-33 "wears" a fair amount smaller than its dimensions would indicate. And its titanium gray color and all-satin finish tone it down on the wrist, too. From a size and visual prominence standpoint I would equate it to "wearing" similar to an old-style 40mm Rolex sports watch, but less prominently than the new "supercase" Sub-C, even though both of those are spec'd at 40mm. The X-33 fits me very well.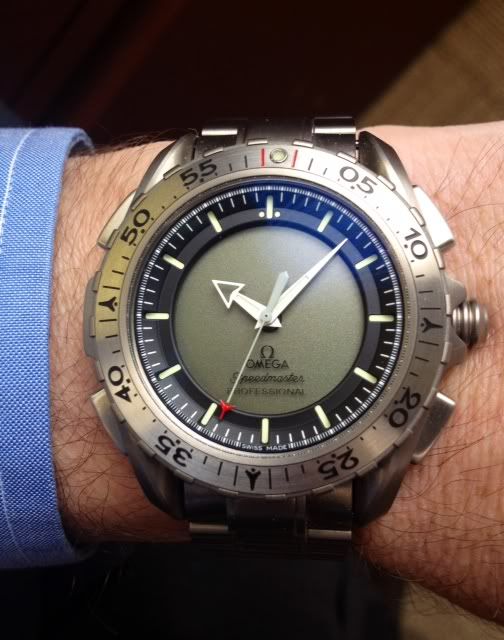 Finally, this watch has that understated, stealthy desirability that I really appreciate. Its look is "technical", versus "luxurious", and certainly not brashly "prestigious." Yet it carries itself with gravitas and significance. Very, very few people are going to notice or call out this watch as something as special or valuable as it is. For example, the "Omega" branding is so subtle as to be essentially unnoticeable. I like that. As such, the X-33 possesses a highly encoded, covert appeal that is singularly rare and oh-so desirable. A secret pleasure to privately savor, it represents an understated excellence that only is discernible by someone who's in-the-know.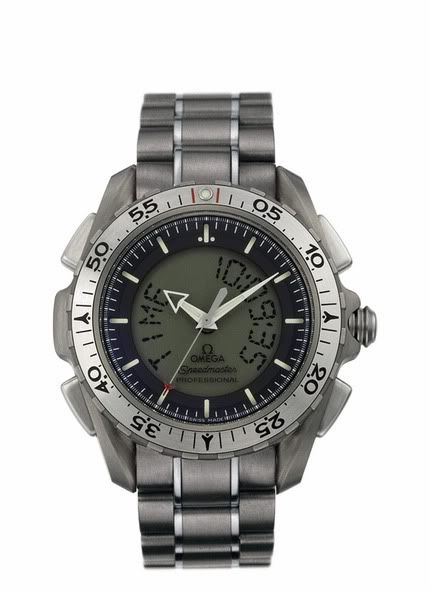 The X-33 is not perfect. You actually could argue that it is over-featured. Modes such as mission time, mission alarm, and universal time alarm are of little use to a ground-bound non-astronaut like me, and generate the need for some extra button pushes when scrolling through all the screens to get to the mode you want. Wishes? I wish the X-33 had a higher water resistance rating (mostly for peace of mind, not because I want to dive with it). Wish it had an hourly chime feature. I wish the finish had a super-hard protective coating like Grand Seiko's or Citizen's proprietary "scratchproof" titanium finishes. You could argue that a true "tool" watch ought to have drilled lug holes. It would have been cool if they would have put a little lume pip on the seconds hand -- maybe on the counterbalance section, a'la a Seiko diver. Finally (as long as it's fantasy time), it would be awesome if the watch was solar powered and atomic-synched. Maybe in the next generation -- if that ever comes to pass….

But I'm nitpicking. Criticizing the X-33 for being "over-featured" is a little like disparaging a leopard for having spots, right? Overall -- the "form follows function" design of the X-33 is just so fundamental to the watch, and what makes it so appealing. And it does have that "specialness", that "legitimacy", that "Right Stuff" air about it that is difficult to define, but so enjoyable to possess. A combination of a cool design, thoughtful functionality, high quality materials & finish, and lasting importance.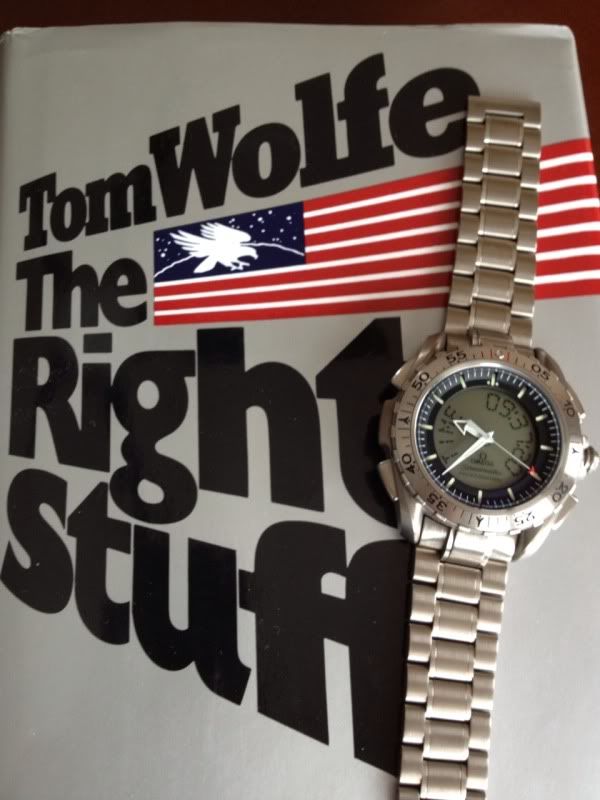 How do you define a classic? I might suggest a classic is a watch that has an authentic integrity about it . . . that stays relevant . . . stays in demand, stays useful, and stays attractive . . . even as the years pass, and despite having gone out of production for retail customers. The X-33? Check. Check. Check. Check. Check. Summary? I believe it's earned a spot as one of the true classics of watchdom.
It's definitely a milestone watch. A benchmark. A classic. And a keeper.
Cheers,
Dave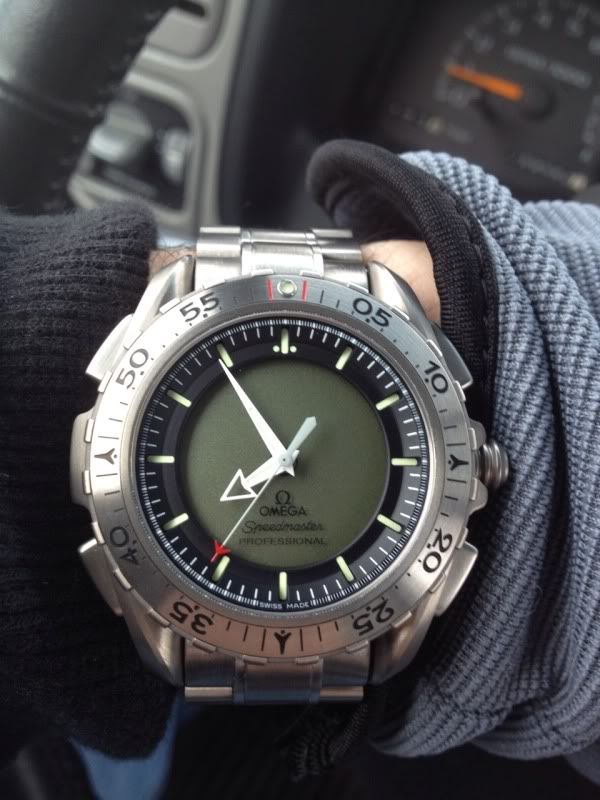 And before concluding, I need to confess and apologize that my photography skills are nowhere near the top echelon participants on this board: John Wilson, Cicindela, gslaskin, powerband, and many others…. So thank you for bearing with me anyway.
X33 3291 3291.50 32915000 3291.52 32915200 3290 3290.50 32905000 1666