Discussion Starter
·
#1
·
I thought it might be an idea just to compare two totally different G's – partly for the heck of it and partly to answer (maybe) why some watches cost more than others.
So here we have my GW 2000B 1AER Vs my G 7710 1ER
A not very good mugshot of the pair: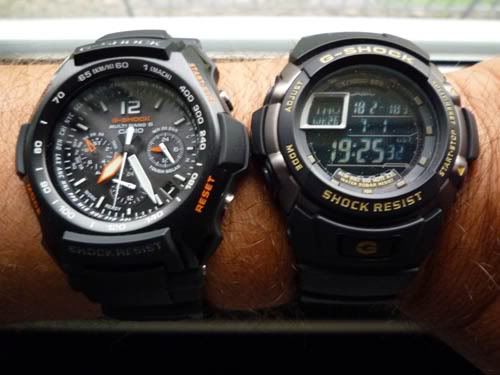 Price:
GW 2000 @ £176 GBP delivered / G 7710 @ £56 GBP delivered – big differential there although in reality both watches are cheap (IMO) with the G 7700 being ridiculously so.
Out of the box impressions:
Both watches are just the right size for me. I have 7.75 – 8.00" wrist which I guess is average and they do not look at all small to me. I did go through a big watch phase (Omega/Breitling) but now find oversized watches unattractive verging on crass. I appreciate that beauty is in the eye of the beholder and if someone likes a Frog perched on a 6" wrist then so be it as long as the owner is happy.
NB: both watches are more or less the same size; there is some perspective distortion in the piccie.
What does strike you immediately is that the GW 2000 looks a million dollars whereas the G 7710 looks ok. On the GW 2000 the glass is better quality (non-reflective), the lettering is crisper, there is better use of contrasting resin/plastic surfaces etc. However, the G 7710 is brilliant for the price, move it away from the GW 2000 and it looks like a great watch for the money. No way does it disappoint me.
Similarly the straps are a world apart. The GW 2000 is better detailed and is made of slightly rubbery plastic whereas the G 7710 is more of a plasticky plastic! The GW 2000 strap feels better. Both are fine and wear comfortable and at the end of the day they are both cheap plastic straps that do a great job. Both keepers stay put on my wrist. The fact that the GW 2000 has 2 tangs is neither here nor there and IMO is just a gimmick albeit a decent looking one.
Both watches appear built to the same standard and with a bit of case twisting both seem very solid as expected.
GW 2000 9/10 & G 7710 6/10
Technology:
Both are G's so very tough. The GW 2000 Waveceptor and Tough Solar are killer attributes for me. The battery of the G 7710 was not a deal breaker though.
The analogue watch has decent lume whereas the digital has an easy to use EL with full auto if required.
The digital watch has a much better feature set in terms of alarms (many) and infinitely better timing capabilities. The G 7710 has flashing alarms too and is much louder to boot. I love the snazzy hourly double beep.
GW 2000 9/10 & G 7710 8/10 (based on my priorities).
In use:
The GW 2000 has a clear easy to read main display. The sub dials are ok-ish. Timing functions (SW & CDT) are ok for 'more or less' measurements. Dual time zone feature is easy to use.
The G 7710 has a pretty legible dial although it is less easy to read in low light conditions than the GW 2000 although the EL comes to the rescue. It is blisteringly easy to use the function set. This is impressive when you consider the sheer number of functions that it has. I found it easier to get to grips with than the relatively simpler GW 2000.
GW 2000 8/10 & G 7710 9/10
As a timepiece ie telling the time:
The GW 2000 is faster to read, more legible and I find analogue more intuitive.
GW 2000 10/10 & G 7710 6/10
As a timing instrument:
The G 7710 wins this hands down, more functions, greater precision (1/1000 second) and is easy to read the result accurately. The GW 2000 falls flat on its face here; it is a faff to interpret the various components of an SW reading for instance. It is also a pain to set the CDT & SW functions - too slow!
GW 2000 2/10 & G 7710 10/10
Value for money:
GW 2000; this is a lot of watch for the money. It looks great and does a decent job as a timepiece plus has some nice features.
G 7710; this is a heck of a lot of watch for the money, astonishingly so in fact. It has way more capability in some respects than watches costing 60-100 times as much!
GW 2000 7/10 & G 7710 10/10
And the winner is:
The G 7710 with 49/60 closely followed by the GW 2000 with 45/60
Great result for the G 7710 at less than 1/3 the price of the GW 2000.
I'd still rather have the GW 2000 on my wrist though as I just love the looks of the beast!
I don't think that this has answered the why do some G's cost more question at all. Clearly (IMO) the G 7710 delivers way more bang for the buck but I still like the GW 2000 more. Subjectively it's just a nicer watch.
Obviously there are technical attributes eg Waveceptor to factor in and better fit & finish plus in this case some analogue gubbins which I guess costs more than a chip but is this really worth 3.5 times more?
I guess I have to say yes as the GW 2000 appeals to me more...........