Aloha Everyone,
I certainly hope everyone in WUS-land is having a great Thanksgiving. I am working today unfortunately, because from now until Baselworld, it is basically flat out work in order to be ready.
We have been putting in long hours to get together all the new ads (did anyone see our new one in iW?), a new catalog, new registration cards, and most importantly, new watches. I am happy to say we received a new shipment of 60 Benthics yesterday, which is a good thing since we had sold out of 4 models and were running low on everything else. We won't be able to make any more Benthics until Fall 2008 (when we get our next delivery of ETA 2892s), so if you've thought of getting one, I wouldn't wait until after the holidays because they will definitely all be gone by then. We're just about to drop big time in Honolulu with ads and a party at Ben Bridge, so I know these will be very popular there.
We've been designing new watches as well, both a womens and a mens quartz model. I know that most of you are pretty anti-quartz, so I'll be brief! :-d
I'll hold off on the womans watch for now, but let me get some feedback from you guys on this new all titanium diver we are doing. Right now we are considering a 46mm diameter case, 12.5mm case height, solid grade 5 titanium, coming in around 100 grams (most of which is movement), and with both a large date and a retrograde-day complication. Like this:
I don't recall if I have posted this before or not...don't think so. Oh and it will have the 10 and the 2...just not in this mockup....
Here's the basic case drawings, though the lug horns here are shown as round, which is not correct...they will be 'pointy' as in the rendering.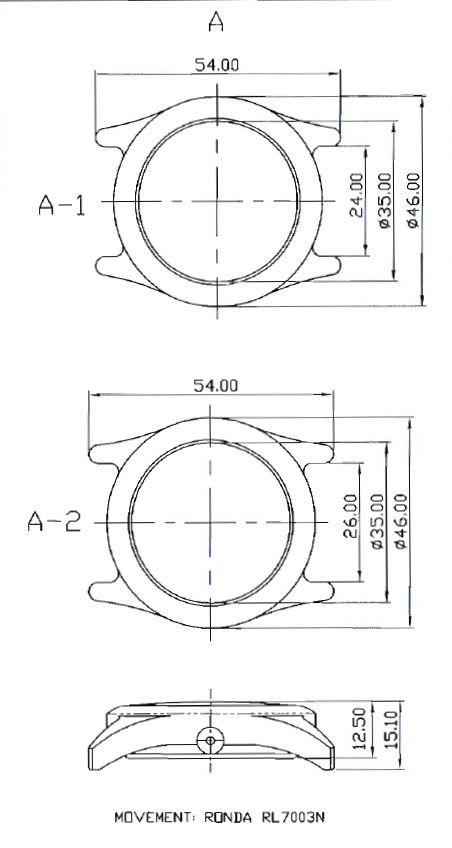 We plan to go with design A-1 in terms of using a 24mm strap.
We are still refining the overall design and I was interested in some feedback from the WUS crew. Regarding the whole quartz vs automatic thing...but not trying to restart a quartz vs. auto debate at all.
We would love to do this watch using an ETA or Sellita automatic movement, and we probably will at some point. But because of the extreme difficulty in obtaining these auto movements currently, we need to offer other quartz models as part of our line as well. And as I mentioned when I came back from Basel, there a certainly plenty of beautiful quartz movements out there that I would be proud to put in one of my own watches and wear every day.
Like this nice Ronda 7003.N movement. 4 jewels, all brass plates, 15"' and satisfyingly heavy...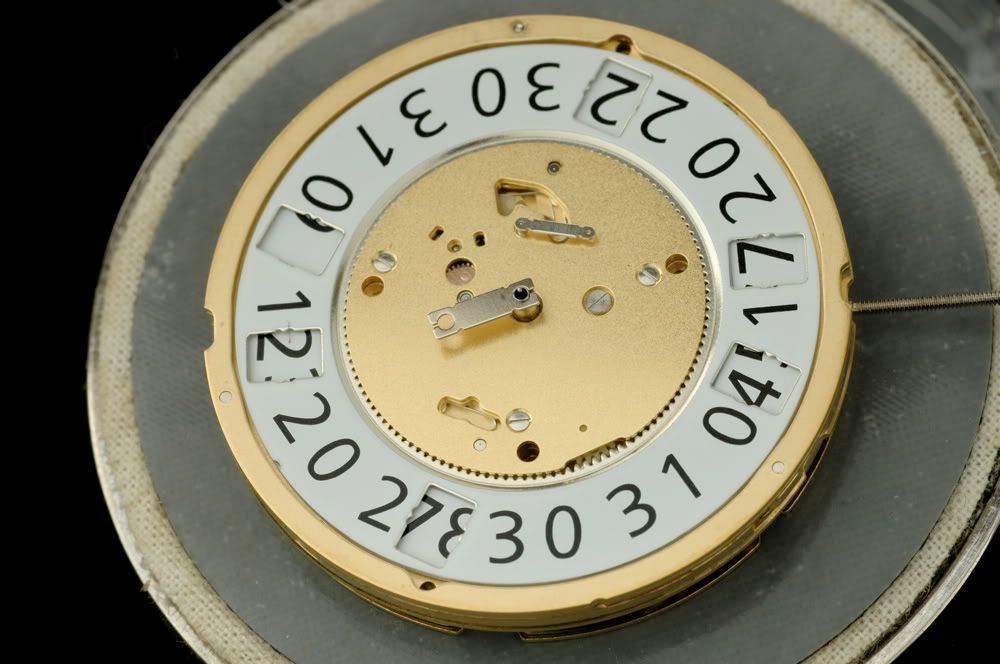 the back: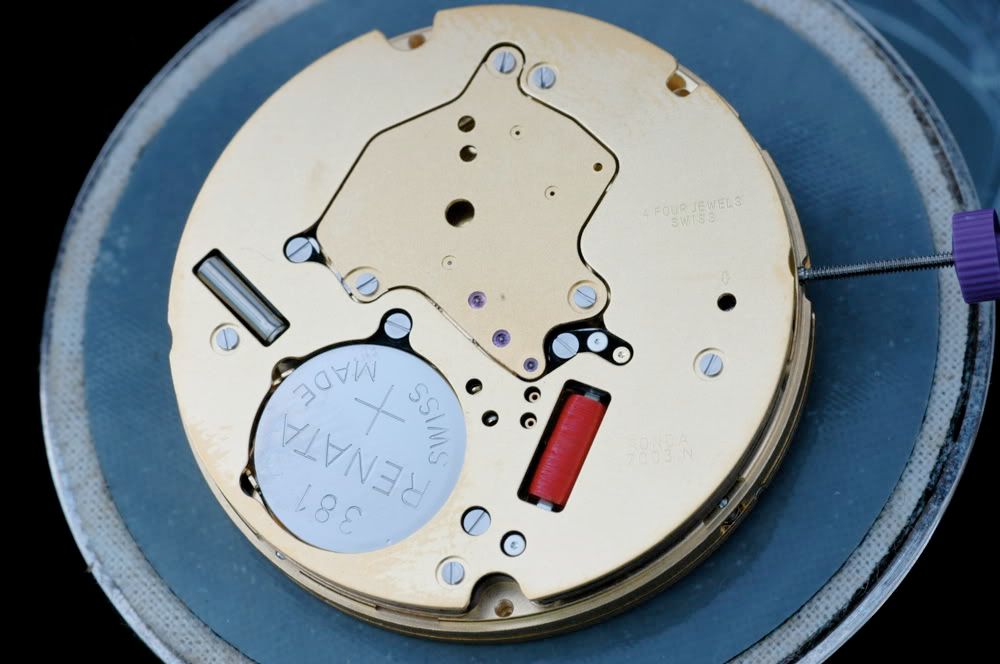 Here's a couple things I'm curious to get your feedback about...
What do you think about the size -46mm?
What do you think about the retrograde day?
If I use a quartz movement, how much do you care about the quality of the movement? Is your opinion more, "well screw quartz, so I don't care" or is could you be convinced that there are genuinely nice quartz movements out there?
(Remember, I came from a background of years of only wanting to wear a mechanical watch to the point I am at now, which is thinking that both types of movements have their place..even on my arm).
Please send along any comments and I'll come back later and check them out.
Oh and did you guys see this?:
http://www.urwerk.com/watches_103_08.asp
Not so sure about it being "the world's first wristwatch treated with TiAlN"..as everyone here can attest, Bathys did a TiAlN coating 2 years ago.
Kinda ticks me off because the Urwerk guys certainly could have / would have seen my strikingly purple UV quartz watch in the 2007 Baselworld catalog.
try searching for Bathys here:
http://baselcatalog.messe.ch/2007/exhList.asp
or when you google "TIALN watch" I see one whole page of Urwerk Press Releases, but at the top of the second page is a bathyswatch.com link, so this was there when they researched all this.
I mean I like their watches and all, but they really shouldn't take credit for coming up with this first.
And if you are wondering about Thanksgiving in Hawaii, well, it's nice outside as always, but as nice as it is, as usual, I could not find any fresh cranberries at the store and the first store I went to had nary a cranberry in the whole place...canned or otherwise.
I managed to get some of the last canned ones they had at store #2. Sigh..canned cranberry sauce.... :roll:
My mother would be turning in her grave, except that she's alive, so
please
do not tell her. :-d
So REALLY enjoy your fresh corn, your good bread, your non-frozen turkeys, your $2.89 gallons of milk, and most of all your fresh cranberry sauce! ;-)
And maybe even time with the family.....
Aloha Thanksgiving!
Cheers,
John
ps..we now have leather straps available the Benthic and anyone else who needs one. They will show up at Picciones in a week or two. $45 each I believe....