Hasta La Vista high price in the Vintage G-Shocks..

The days of abuse of prices ended ...
For many years many people from the world assembled old G-Shocks watches with multiple pieces, like the real "Transformers".
Today, the supply is greater than demand, and the watches are most original.
It's the end of a long date of high prices of the vintage watches.



The Facts:
About Dw5000, Dw5200, WW5100, WW5300, DW5400, DW5700 and DW 5800. More SWC and others
1) The steel box has lousy factory finish.
2) The liquid crystal has no resistance, he blurs and irreversible problems not resist the time in normal conditions.
3) The alarm system in the glass damage the internal screenprinting.Design flaw corrected in the model Dw5600E
4) screen printing does not support time, and creates the internal bubbles, self-destructing.(Poor quality)
5) The screws on the bezel break easily condemning all watch. There is no repair. The impact protection is partially compromised (Terrible project)
6) Only one screw 1mm broken, sacrifices all the watch?
7) The internal protection features large errors of project. The circuit turns inside of the box.
8)Let us be sincere where are the quality and resistance? The product was not planned to last no more than 10 years. It is a FACT.
It is a reality. Do not have the endurance of the Citizen watches or Seiko watches.

CITIZEN SHOCK RESIST 300 METERS MADE IN 1984
By Citizen Watch Co. Ltd. Japan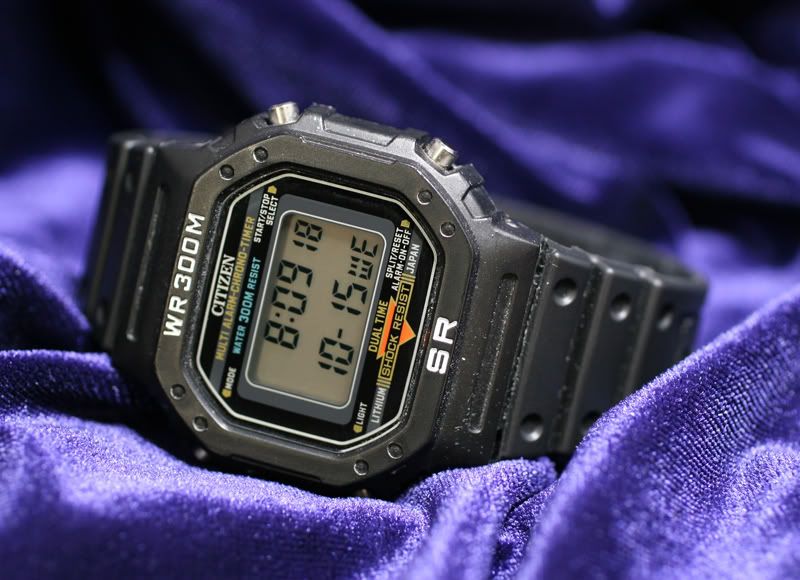 Excellent watch in every way.
1) Great liquid crystal.
2) Great silkscreened glass.
3) Steel case back and screws of excellent quality
4) Finished 100% higher than the Casio
6) There are perfect models today, You find it in Ebay
7) Great purchase price, cost & benefit unmatched.
____________________________________________
____________________________
______________________
___________________