Historically famous figures and their watches
Just neat, that's all. Please feel free to add others and enjoy!
Napoleon Bonaparte's pocket watch:
George Washington's pocket watch: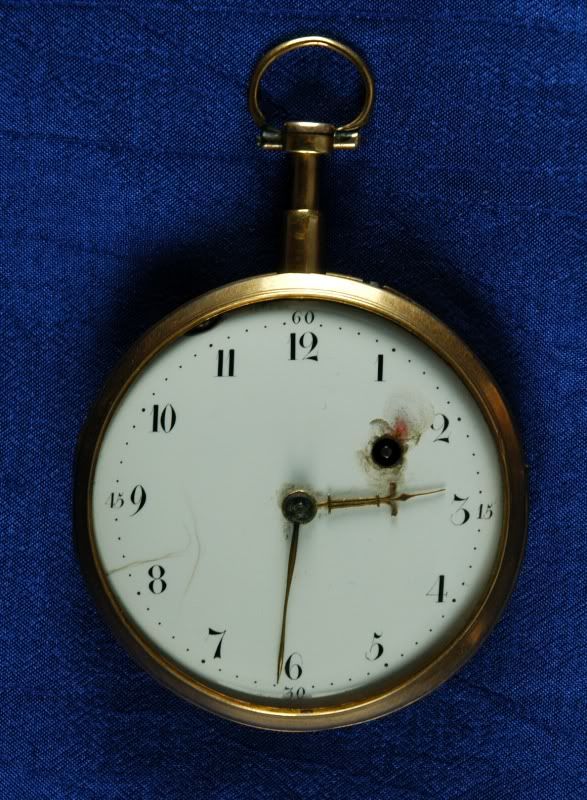 Benjamin Franklin's 18kt gold pocket watch, ca. 1770. The watch exchanged hands several times. Engraved below the key hole reads:
This watch first owned by / Benjamin Franklin 1706-1790 / to Timothy Folger 1732-1814 / to Benjamin Franklin Folger / 1769-1836 / to James Athern Folger / 1835-1889
Thomas Jefferson's gold pocket watch, approx. ca. 1782. The watch is dedicated to his wife and contains a lock of his wife's hair. The inscription reads:
Martha W. Jefferson Born 19 Oct. 1748, Died 6 Sept. 1782.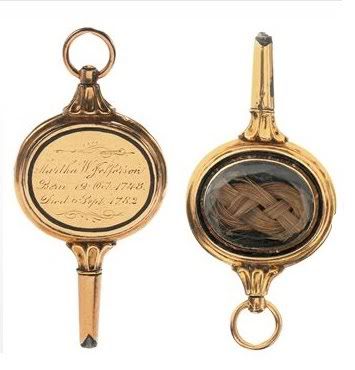 Marie Antoinette's gold Breguet pocket watch, ca. 1827. It took 44 years to complete after it was first commissioned in 1793. Marie Antoinette never saw the watch through to its completion, as she was sent to the guillotine 10 years before its completion. It is referred to as the Queen/Mona Lisa of watches.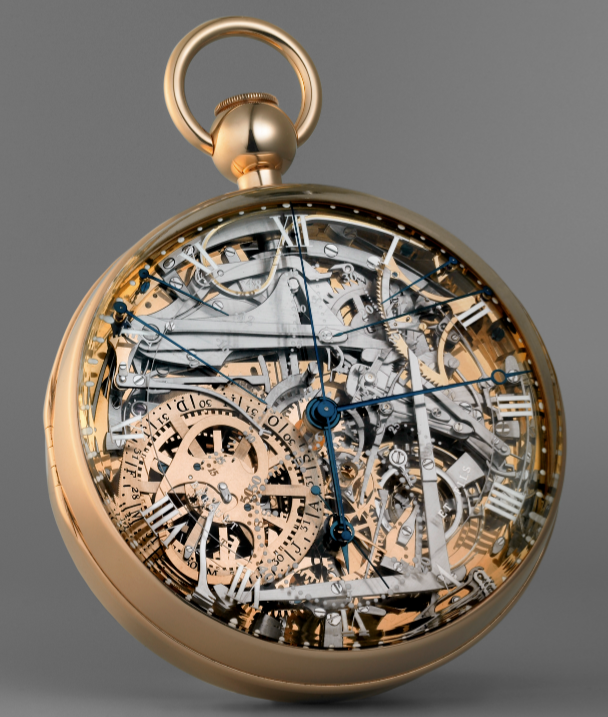 King Christian IX and Queen Louise of Denmark's yellow gold Patek Philippe pocket watch. 45 rose-cut diamonds form the intertwining letters
L
and
C
, with a ribbon crossing them with the dates,
1842
and
1867
. One side of the case is enameled with a portrait of Louise: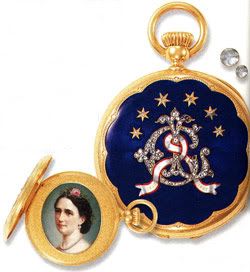 Abraham Lincoln's pocket watch made by Jonathan Dillon, ca. 1861:
Inside Lincoln's watch, the Smithsonian Institute discovered inscriptions made by Dillon. The inscription reads:
Jonathan Dillon April 13-1861 Fort Sumpter [sic] was attacked by the rebels on the above date. J Dillon" AND "April 13-1861 Washington. Thank God we have a government. Jonth Dillon.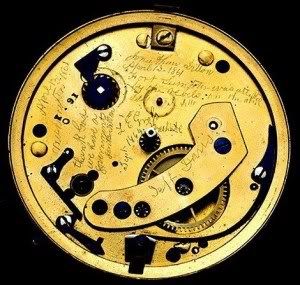 Abraham Lincoln's Waltham Watch Co. pocket watch, ca. 1863: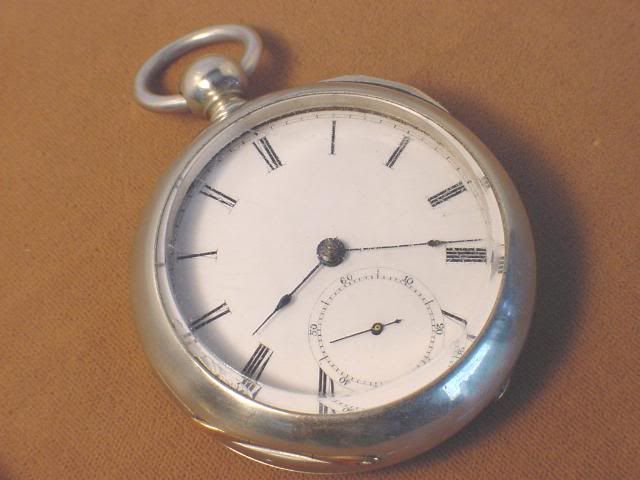 Queen Victoria's 2 Patek Philippe yellow gold with blue enamel pocket watches, purchased at the Great Exhibition in London 12 years after Patek Philippe's founding, ca. 1863: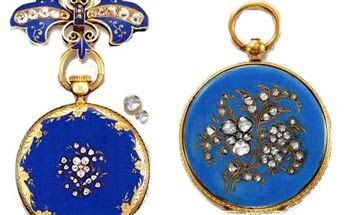 Pope Pius IX's custom-made 18kt gold with enamel Patek Philippe pocket watch, ca. 1867. Engraved inside it translates as, "Father, King, May you rule the souls and the hearts, Geneva 29 June 1867":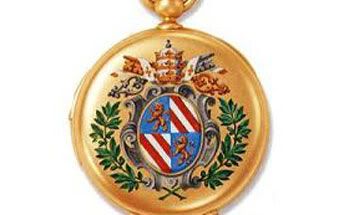 King Ludwig II of Bavaria's gold, enamel, and diamond pocket watch with fob seal, ca. 1880. The symbol on the watch is the royal military order of Saint George: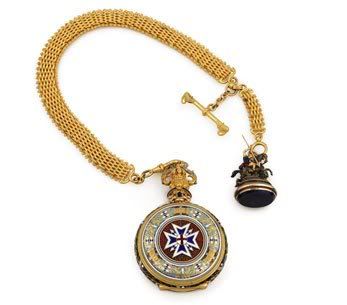 King Ludwig II of Bavaria's gold pocket watch, stopped at 6:53:
Teddy Roosevelt's Leroy et Fils pocket watch, ca. 1890. It is polychrome-enameled with the Roosevelt family arms and motto, "Qui Plantavit Curabit," translated from the Latin: "Anyone who bothers to plant something will take care of it.":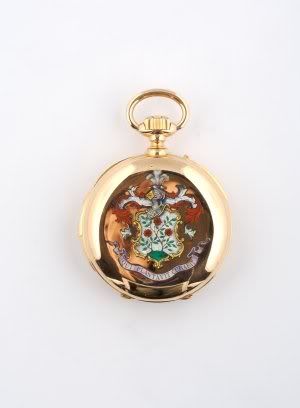 King Victor Emmanuel III of Italy's yellow gold Patek Philippe pocket watch worn during his reign. The pocket watch has an enameled ducal crown and the initials
VE
interlaced with the bow of Savoy:
Mahatma Gandhi's Zenith pocket watch with alarm complication, approx. ca. 1910:
Winston Churchill's gold Breguet pocket watch: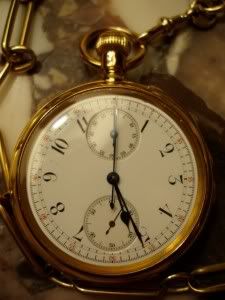 Among the items that Churchill kept on his person attached to a heavy gold waistcoat-chain:
a small round gold case for holding gold sovereigns
a V for Victory emblem
a silver head of Napoleon (of whom he was a great admirer)
a keepsake medallion of the Westminster Abbey Division by-election of 1924 (which WSC lost by just 43 votes)
a garnet-stone set in a gold heart (the gift of Clementine on their wedding day in September 1908)
another golden heart, which Clementine gave Winston on his 90th Birthday
Professor Albert Einstein's 14kt yellow gold, tonneau-shaped Longines watch given to him on February 16, 1931 in Los Angeles, ca. 1930: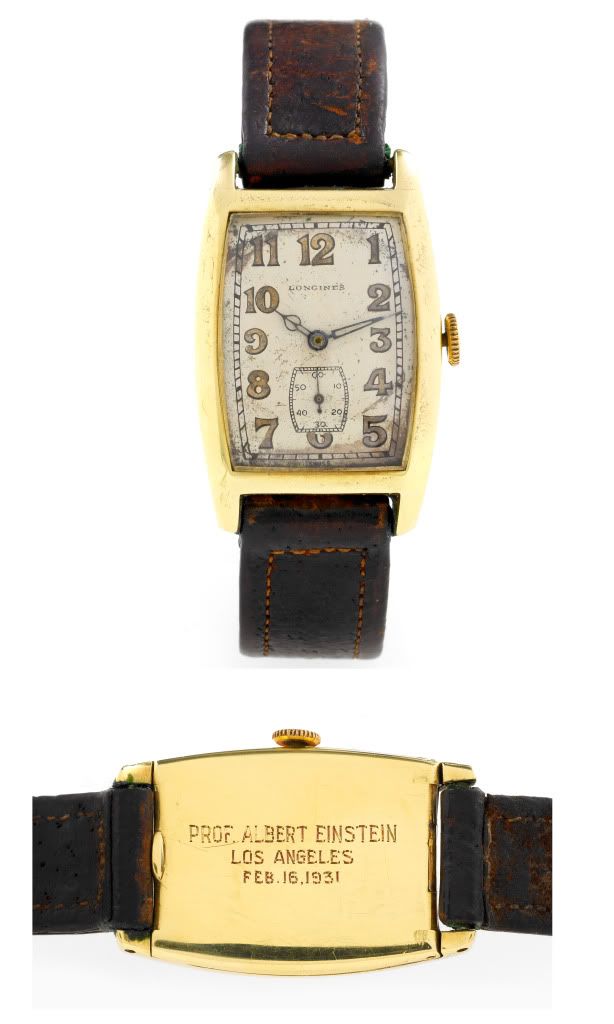 John Dillinger's 17 jewel gold-filled Hamilton pocket watch, found on his person the day of his death, ca. July 22, 1934:
Frank Sinatra's 14 karat white gold watch, ca. 1940:
Frank Sinatra's gold Cartier gifted to him by Ed Sullivan: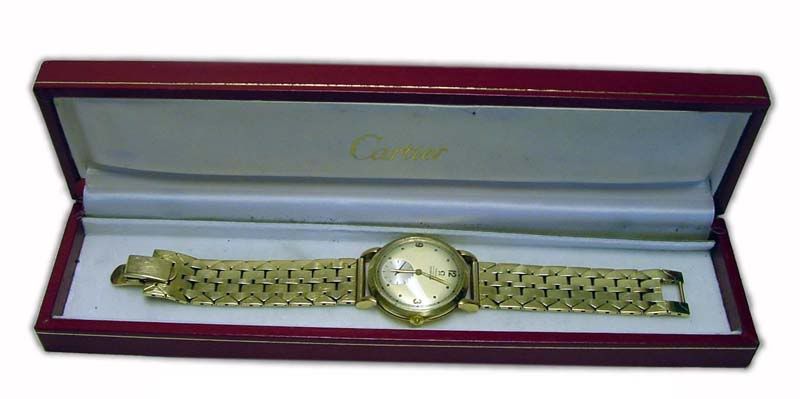 James Dean's gold-filled Standard Watch Co. pocket watch with Elgin movement, ca. 1951. As his first big purchase and a
lucky charm
favorite, he wore it throughout his early career and most notably in the film
East of Eden
. After a fatal car accident, the watch stopped at the time of his death at 5:43, though the watch purportedly is still functional.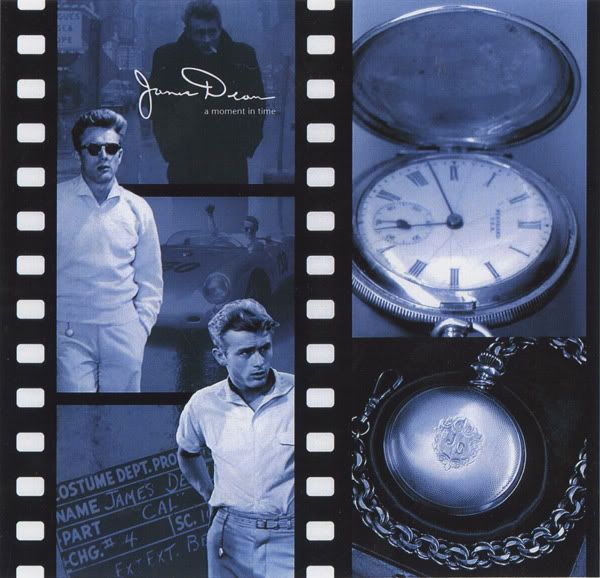 Dwight D. Eisenhower's yellow gold Rolex Datejust, ca. 1957:
Elivs Presley's Hamilton Ventura, ca. 1957:
John F. Kennedy's 18kt gold Rolex day/date, ca. 1962. The watch was given to him by Marilyn Monroe, with the case back inscription that reads, "JACK
With love as always from
MARILYN
May 29th 1962
":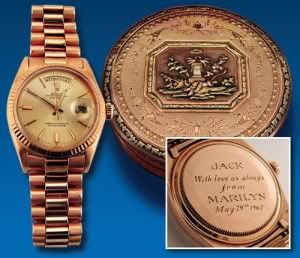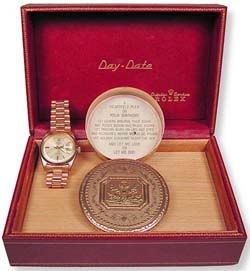 John F. Kennedy's 14kt gold Nastrix 57 jewels automatic, ca. 1962: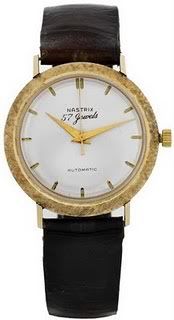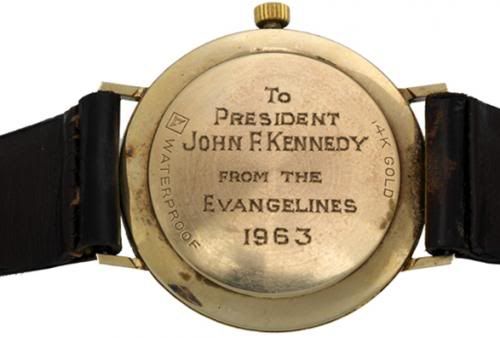 Dr. Martin Luther King, Jr's yellow gold Rolex Datejust: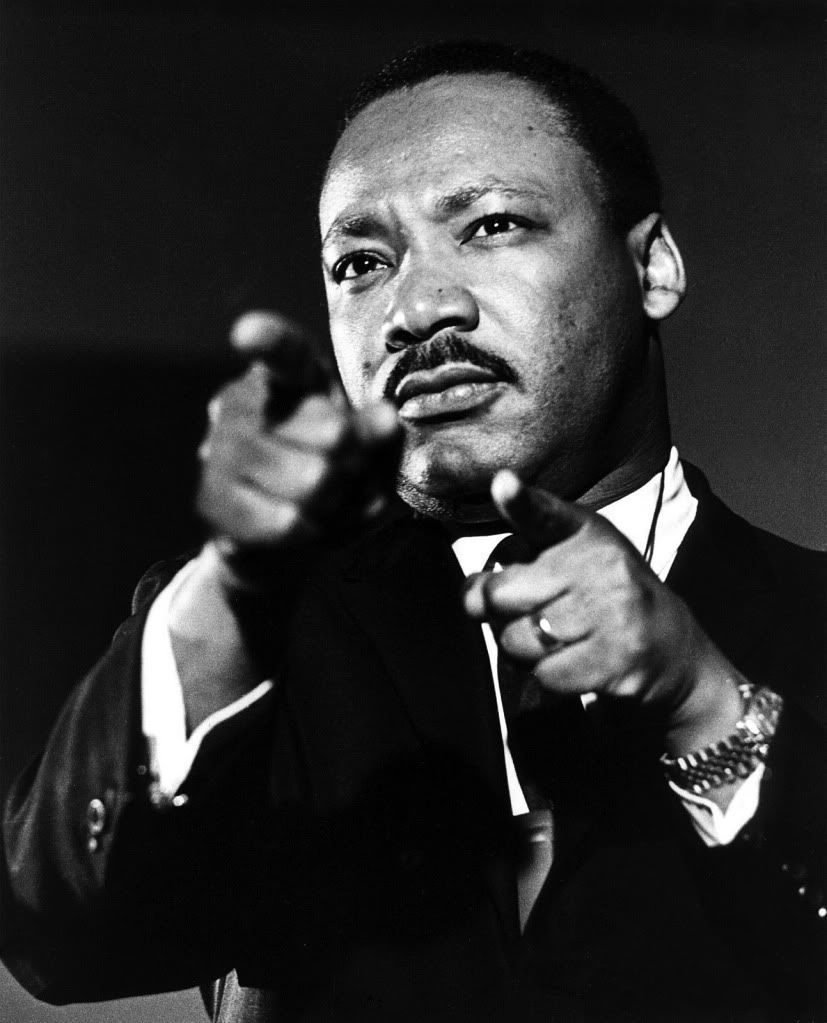 Dr. Buzz Aldrin's Omega Speedmaster ref. 145.012, ca. 1967. His watch was worn during the Apollo 11 mission, and became the first watch to be on the moon. Neil Armstrong, the first man to step on the moon, left his Omega as a backup timer back in the lunar module due to its electronic timer's malfunction: