Discussion Starter
•
#1
•
Hi -
Last weekend I had a few hours time and finally completed a small project I've been trying to get finished: a useful lightbox that I could quickly put together and use.
Like the most of us - I think - we've tried to get good shots of our watches. While there's something to be said for ad-hoc solutions, I decided a while ago that I really needed something that would give me a wonderful, diffused light from above. as if I were shooting under a large skylight on a slightly overcast day, but without being dependent on the weather.
I tried converting a frosted plastic waste can from Ikea, which was brittle and broke when I tried cutting holes in it; I tried a white plastic box from Ikea (we live near one, and they're cheap...) with a hole cut in the side for a flourescent lamp, and while that was okay, it was hard to put anything in the box (it was simply too small) and the light wasn't strong enough to do any hand-helds. It was also too specular (hot spot) to be really useful, hence back to the drawing board...
So I found myself a A4-sized CCFD light, using the same kind of light as the background lights on a LCD screen. The A4 size also meant that there wouldn't be any hotspots, just clean nonspecular light. Further, it stays cool, very useful when doing long photo sessions...
As always, a plastic bin from Ikea served as the holder. A little bit of velcro tape to ensure that the light would stay put when mounted on top, a piece of hand-made deep black art paper for a background, and I think I've got a very good start on making the perfect portable macrostand that doesn't require a huge amount of space and gives me good results...
Here's what it basically looks like:
That just sort of shows the basics, so let's take a step backwards:
and let's back out further...
and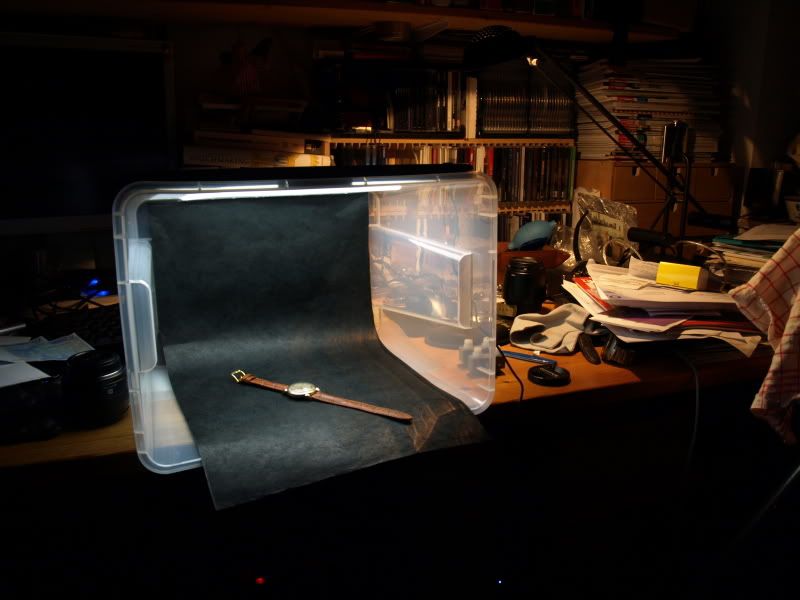 and let's zoom back out further so that you can see how little room I actually have...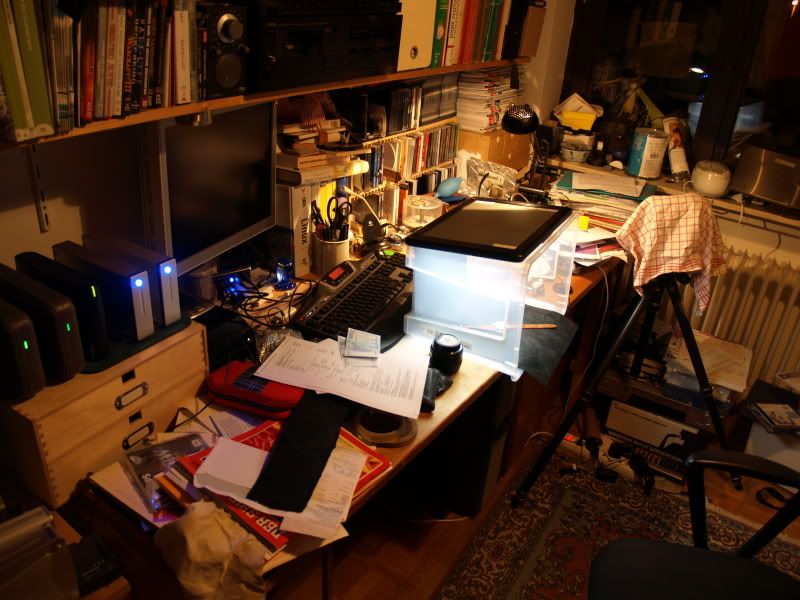 Whew. That's all the space I have: my small study at home isn't much larger than what you see right there...
So what kind of results do I get?
Well, there's these shots. Bear with me: these are straight resizes to 800x600 with no work on them, really a proof of principle after setting things up.
A fairly recent acquisition, a vintage Gruen...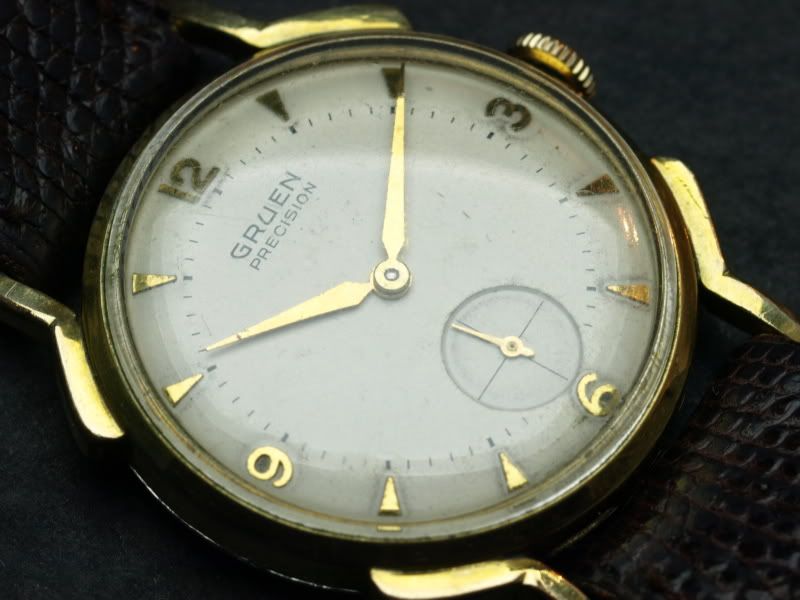 and the movement: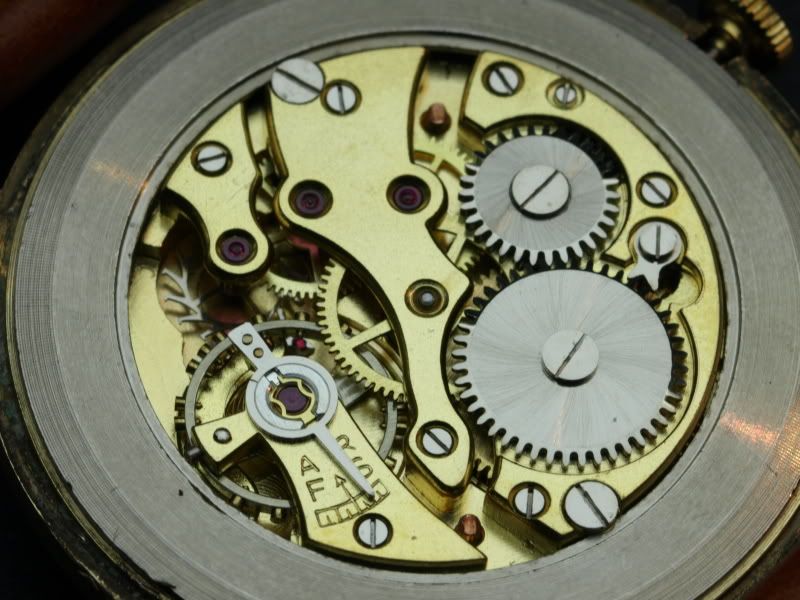 Wait a moment: that's not a Gruen movement: it's a Durowe 410! One of the last pre-war movements that Durowe built, dates from the late 1930s/early 1940s. Of course that's not in Gruen, but rather...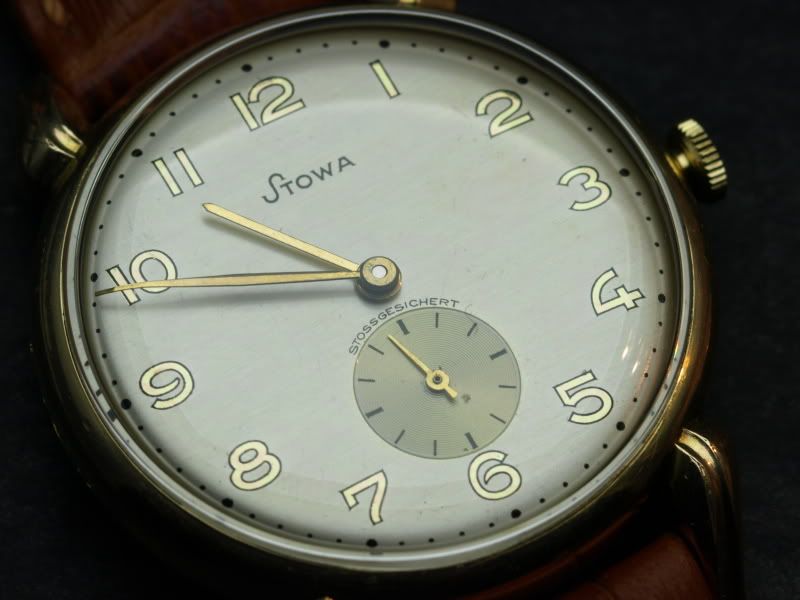 ...a Stowa.
Fifteen jewel movement, it's hard to capture just how nice it is.
But that's not all:
a lume shot of a new sterile titanium beater I bought a while ago...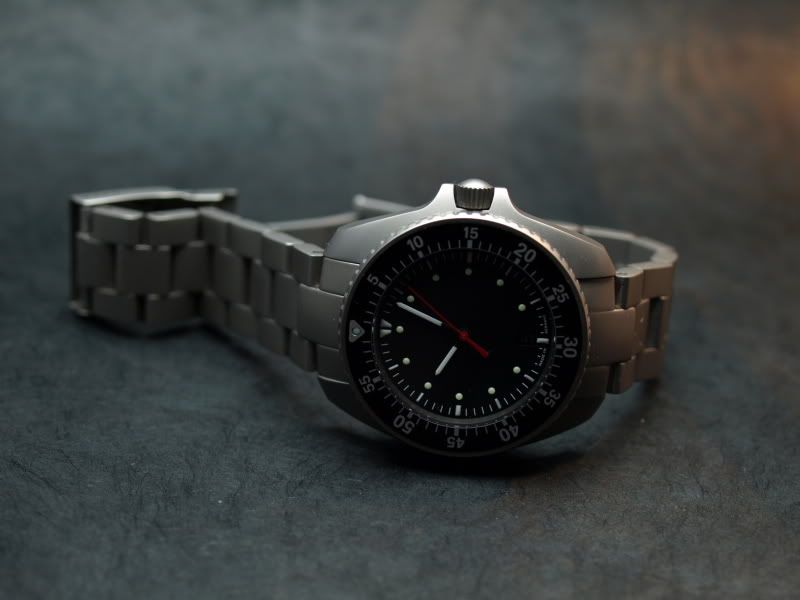 Now, adding a ring-LED light to this completes the setup:
and back to that Gruen: it needs some work done, but it's got a great piepan dial...
Anyway, that's my new homemade light box.
Total cost: around €80 for the A4-sized panel, another €2 for the plastic box, and €3 for three sheets of that background hand-made art paper (gives me a total of 6 backgrounds before I have to get new ones...). It's highly portable and all I need is access to normal electricity. I can store the light panel (which I got on UK eBay, just search for light boxes...) in the box, as well as the paper sheets. Self-contained and easily transportable!
Pictures with Olympus E510, 35mm f3.5 macro, movement shot with 100mm f4 Leica Macro-Elmar on bellows via Leica R-->4/3rd mount...
JohnF